Python Full Stack Developer Course in Hyderabad
100% Placement Assistance
Python full stack developer course in Hyderabad Batch Details
Python full stack developer course in Hyderabad Syallabus
Key Features Of Python full stack developer course
What is Python Full Stack ?
About Python full stack developer course in Hyderabad
Python is widely used for back-end development while HTML, CSS, and Java Script are commonly used in front end development, together they help to enable full stack development. 
Python is a high-level and performance-oriented programming language with dynamic semantics while Full stack technology refers to the entire depth of a computer system application.
A full-stack Python developer knows how to use the Python programming language suite for all types of projects. 
In addition, they have expertise with software that handles both structured and unstructured data.
Brolly Academy provides the Best comprehensive Python full-stack developer course in Hyderabad with a placement assistance program. 
This complete set of training programs conducted by our experts will help learners to develop skills in a range of areas such as –
Developing Desktop Applications

Web Applications, and programming etc.
We offer both online and offline training including self-paced video learning in Python Full Stack course for students and professionals along with guaranteed course completion certification, with global accreditation.  
Learners will also get placement support from our team post completion of the training. 
Enroll with us for a python full stack developer course in hyderabad with placement assistance.
Modes of Python full stack developer Training
We offer a range of learning methods, from classroom-based instruction to online and video-based training to acquire new skills. 
Python Full Stack Developer Classroom Training

We offer full stack python developer course classroom training with the best infrastructure and expert faculty. They will provide you with quality education, including answering any questions you may have during class We will provide theory sessions which are supported by adequate practical sessions to get hands-on with the latest tools and technologies with real-life projects
Python Full Stack Developer Course Online

Our online training modes are best for working professionals and learners who want to learn the Python full stack developer course with a flexible time schedule. We adopt the best practices and excellent learning pedagogues, such as easy-to-learn examples that enrich our students' learning experience. With this online session, students will get exemplary practical training which will make them completely job ready professionals.
Python Full Stack Developer Video Course

We offer complete support in your career progression to master the full stack Python developer course at your own convenience by enrolling in our self-paced video learning option. This video course is a collection of live instructional recordings supplemented by additional resources. The videos are designed to be engaging and interactive, offering you a unique learning experience.
Why choose us for Python full stack developer course in Hyderabad?
Practical-oriented training

Our Python full stack developer course training consists of assignments and completely real-time practical examples which make our students comfortable and easy to understand the Python full stack programming language. Our training covers topics from beginner level to advanced level and by the end of the training, students can be confident to work on Python full stack programming and become job-ready candidates
Expert trainers

Our trainers help students by focusing on both the basics as well as the advanced expects of the Python full stack programming languages such as Proper use of significant indentation. They go the extra mile to teach applicants how they can use programming language constructs and object-oriented approaches in real-world scenarios
Updated python full stack developer course syllabus

The Python full stack developer course syllabus offered here is carefully designed to ensure that it reflects the most up-to-date advancements made in the programming language and how those advances are reflected in the working lives of current Python developers at MNCs. Our course curriculum consists of extended sessions of small and large scale live projects that allow our students to enhance their skills.
Flexible class schedules

We offer flexible scheduling for our Python full stack training to accommodate trainees who are students, corporate employees, or working professionals. We offer self-paced, online, and classroom training as well as corporate training, with a free demo class. Our classes are conducted throughout the week in both morning and evening sessions.
Unlimited access to media

Our goal is to offer the best possible training experience for students, and we've designed our program accordingly. By offering course content, video recordings, LMS access, etc. we're giving you all of the resources you need to learn the python full stack developer course. You will also receive lifetime free access to the LMS, which includes the entire course content to learn the skills.
Small batches

We conduct our training batches with not more than 20 students in each batch Our training program is small enough that each participant can get personalized attention and real-time interaction with the instructor.
Python Full Stack Developer Certification
Our python full stack developer course training program ensures that our students master the skills needed to write code that implements smooth application processes with impressive memory management capabilities.
The entire course content is in line with this certification and prepares you to tackle it easily, getting the best jobs at top MNCs. 
Students will get an official fullstack python developer course completion certificate signed by Brolly Academy after they have completed the Python full-stack developer course that is accredited and accepted by most of the companies. 
Students can get a hard copy or as a digital python full stack developer course certificate, based on your requirement.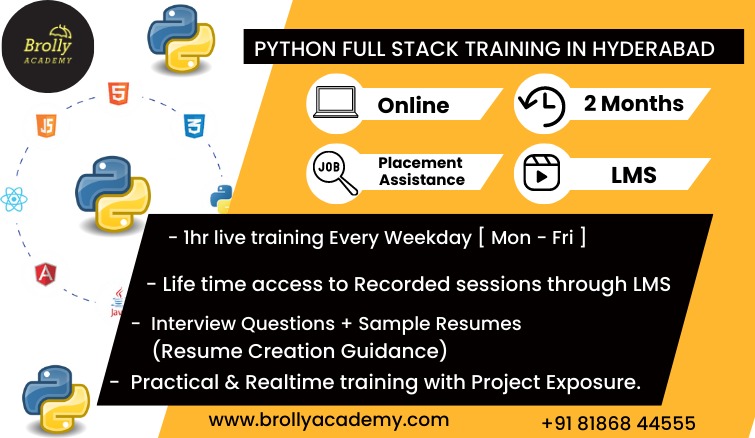 Advantages of Python Full Stack Developer Course
The most captivating part of using Python as a full stack web development language
Job Possibilities in Python Full Stack
full stack python developer salary
Market Trend in Python Full Stack
Objective of Python full stack developer course in Hyderabad
The objective of this course in brolly Academy is to guide our students to understand from basic to advance level of Python full stack developer course.
We also provide hands-on real-time knowledge and multiple advanced functionalities of Python full stack course. By the end of this course you will be able to
Prerequisites to Learn Python Full Stack Course
Who can learn the Python Full Stack Course
Is the Python Full Stack developer course easy to learn?
The learning curve for full stack Python is not as steep as it is for other languages, such as JavaScript. With so many resources available including courses and videos Python has become one of the easiest programming languages to learn.
Is Python full-stack developer a good career?
Full-stack development is considered one of the highest-paid jobs. A full-stack developer is responsible for both the back end (server side) and front end (browser/client side) of a website or application. A full stack engineer can work with programming languages such as Java, Python, Ruby and Node JS.
Is Python good for full-stack developer?
Since Python is one of the leading programming languages for modern back-end web development, it's just as valuable for full stack developers. The language is favored not only because of its versatility but also due to being simple and easy to learn.
How to be a full-stack python developer?
To become a full stack python developer you should -
Start Learning Front-end Web Development
Master the Fundamentals of Python
Learn a Web Development Framework
Find your front end and back end web development skills gaps
Build up a web development portfolio
Is python a full-stack language?
There are many full-stack developer languages dedicated to server-side programming. However, Python is the most popular one—and with good reason. It's a versatile language that finds applications in many fields, including Machine Learning and data science as well as back end web development.
what is the work of a fullstack python developer?
The job role of a fullstack python developer is to Design client-side and server-side architecture. Build the front end of applications through appealing visual design, as well as develop an effective database to run on top of it all. Write documentation for efficient APIs (Application Programming Interfaces).
Is Python useful for full-stack?
Python is a great programming language for learning full-stack development. Learning the skills to carry a web application from design through deployment will not only be an interesting and exciting process, but also good preparation for your future career as a developer.
What are the skills required for full stack Python developer?
A full stack developer requires skills such as Front-end Languages and Frameworks (HTML, CSS, JavaScript), Backend Technologies and Frameworks (NodeJS, ExpressJS, Django, Flask, C++), Database Management Systems (MySQL, SQL SERVER and PostgreSQL, MongoDB, and Oracle Database), Version Control, and Web Hosting Platforms.
What is the salary for Python full-stack developer?
Full Stack Python Developer salary in India ranges between ₹ 1.7 Lakhs to ₹ 12.6 Lakhs with an average annual salary of ₹ 4.3 Lakhs.