NetApp Storage Training in Hyderabad
100% Placement Assistance
NetApp Storage Training in Hyderabad Batch Details
Key Features Of NetApp Storage Training
NetApp Storage Course Curriculum
About NetApp Storage Training in Hyderabad
NetApp storage can be called both NAS and SAN. It provides complete solutions for enterprise customers from midrange to high end with hardware boxes containing the software needed for data infrastructure management. SAN Storage plays a key role in IT Infrastructure, cloud computing and the data center. We have Different Retailers like EMC, HP Hitachi IBM Storage NetApp.
 This course covers all NetApp functions, from basic to advanced concepts. You will gain expertise in configuring and administering clustered Data ONTAP 9 by practicing with real-world cases. NetApp provides student training, extensive ONTAP 9 cluster management expertise, NetApp command control unit management and network file system expertise. They offer general internet file system support too along with SPSA and SAN management techniques. NetApp training in Hyderabad, You will also take part in two projects focused on the real-time industry.
The Brolly Academy offers NetApp storage training in Hyderabad that teaches our  students how to create, maintain and expand on existing NetApp storage solutions. Our Qualified tutors will help Learners understand every aspect of the NetApp Storage Program, from its fundamentals to advanced techniques.
Our experts will advise you on how to prepare for interviews, they will conduct mock interviews and develop the skills that employers look for in potential employees.
Brolly Academy's NetApp Storage training Certification gives you in-depth knowledge of NetApp storage filers and backup, troubleshooting skills. You'll work on real life projects throughout the course.
NetApp Storage Certification Program is designed to prepare professionals for a career in NetApp's Data Storage Business Unit (DSBU). Brolly Academy's NetApp Storage training course certificate is valued by employers worldwide and can be used to enhance your resume.
We at Brolly Academy offer NetApp Storage training in three different modes: live classroom sessions, online video courses and self-paced recorded lectures. Our expert trainers will teach you how to apply various applications and their implications, by training you in this NetApp Storage course.
In addition to providing a high-quality NetApp Storage training program, Brolly Academy also offers its trainees access to our free job placement assistance program.
Enroll in our NetApp Storage training course in Hyderabad at our Brolly Academy.
Modes of NetApp Storage Training
Why choose our Brolly Academy Institute?
We are the leading NetApp Storage Training Institute in Hyderabad, with our training method being highly regarded by many. Our expert trainers have over 10 years of experience in the NetApp Storage industry and can prepare you for your future career.
 Our training is designed for professionals who want to pursue a career in the IT industry. Our NetApp Storage Training course will help you gain in-depth knowledge of the subject, which will enable you to get jobs with companies that use NetApp Storage products. 
Our NetApp Storage course will help you get the best possible preparation for your mock interviews, resume creation and question-and-answer sessions. Here are some reasons why you should enroll in our NetApp Storage training course in Hyderabad:
The NetApp Storage Course curriculum is designed by well-trained instructors, and its purpose is to make students "industry ready" and equip them with skills that will help them become compatible with the current scenario as well as land a good salary hike.
Brolly Academy's mock interviews give you the chance to prepare, practice and experience a real-life job interview all in one place. Our mock interviews are conducted by industry experts with an average experience of 10+ years so you'll have ample opportunity to improve your chances of getting hired!
Regardless of the obstacles our students face, we at Brolly Academy provide a dedicated support team to help them overcome those hurdles. We help our students build confidence and self-esteem, so they can achieve their goals. Our team works hard to give every student the one-on-one attention they need to succeed. 
Brolly Academy does not charge its students any additional fees for the software training programs it offers in Hyderabad.
Upon completion of our NetApp Storage certification course in Hyderabad, students will receive a certificate from us that proves their proficiency with the software program.
We will provide you with access to our study guide, as well as a learning management system, for the duration of your studies also after that.
Our placement team will help you find the right job for your skills and experience, interview well, negotiate a salary commensurate with that of other candidates in similar positions and more.
We've designed our course schedule so that students can take classes at times convenient to them and access class materials online.
Testimonials of NetApp Storage Training in Hyderabad
Certification in NetApp Storage Training
Brolly Academy's NetApp Storage Certificate Training, developed by real-time expert tutors based on scenario-based concepts and real-world practices, is very effective. Our certification is recognized by companies around the world, and this qualification will greatly enhance the value of your resume. With our certificate in hand, you can apply for a leading job post and we guarantee that only those who have successfully completed our training program will receive one!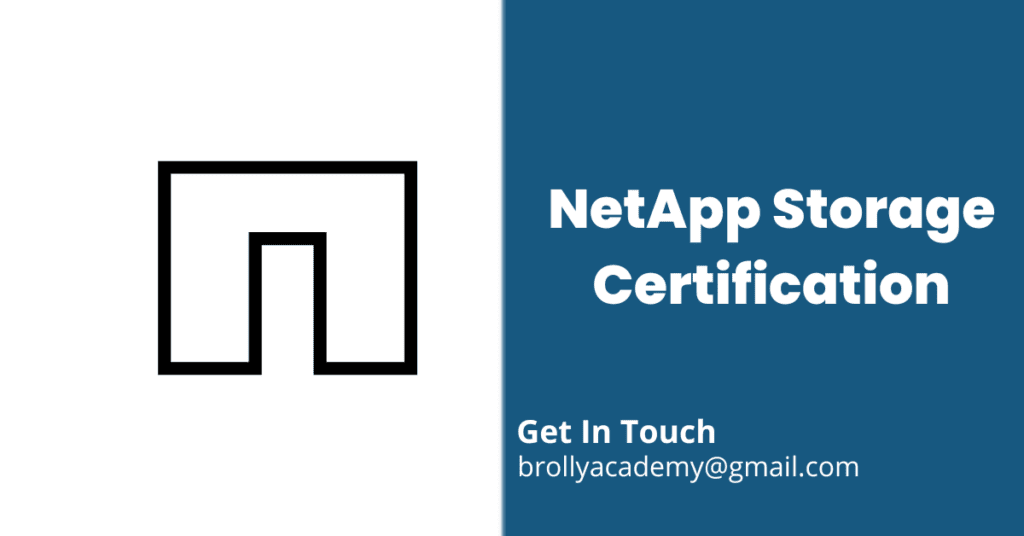 Advantages of this NetApp Storage course
Job Roles in NetApp Storage
Objective of NetApp Storage course:
Prerequisites to Learn NetApp Storage
What if I have more questions regarding NetApp Storage Training?
Please feel free to contact us if you have any questions about NetApp Storage training.
How much will it cost me for the NetApp Storage Course?
For more information about NetApp Storage course fees, please visit our website or contact us at one of our offices.
Will I get a job assistance after the compilation of this NetApp Storage Training?
Yes, our Job Assistance team helps Brolly Academy students prepare for interviews and create resumes. This service is available to all graduates of our NetApp Storage Training certification program.
Who will be my trainer in the NetApp Storage course?
At Brolly Academy, we'll train you according to the standards set by our expert NetApp Storage trainers.
What if I miss any classes on the NetApp Storage Course?
We will reschedule the NetApp Storage classes to accommodate your schedule. Please let us know all possible options for new class dates and times.
What are the top skill will I gain during this training?
• SAN, NAS, DAS & CAS • Data Protection, VMware vSphere • Cluster Administration • NFS, SMB • SAN Implementation • Connectors, Snapshot • Brocade, Cisco Switches • Snapmirror, Snapvault
Who should take this NetApp Storage training course?
• Database Administrators • Software developers • IT professionals • Support engineer • Administrators • Professionals who want to enhance their skill-set in data storage and management systems
What are the types of NetApp Storage Application?
• MongoDB (over SAN) • Oracle (over NFS or SAN) • Oracle (Real Application Group over NFS or SAN) • Microsoft SQL Server (over SAN or SMB)
Can I get access to the course material online?
Once you enroll in our NetApp Storage training program, you will be able to access a lifetime of study materials and video tutorials on the subjects covered by the certification.
What are the Benefits of Netapp Storage Training in Hyderabad?
This Technology offers excellent career opportunities worldwide. Certification programs have made learning the language more accessible and attracted more students from different backgrounds, which has increased demand for certified teachers as well as offering many alternative jobs with a wide range of salary levels. The Netapp Training Certification Course will help you learn how to use the streamlined processes that have made NetApp's software so successful in today's marketplace.