MVC Training in Hyderabad
100% Placement Assistance
MVC Training in Hyderabad Batch Details
Key Features Of MVC Training
MVC Training Course Curriculum
About MVC Training in Hyderabad
MVC stands for (Model-View-Controller) is a software design pattern used to divide programming logic into three sets: the model, which defines how data in your application should be stored and formatted. The MVC programming model is made up of three components. 
The Model contains the data necessary for an application; the View consists of components used to display and control activity; and the Controller bridges these two components. Known for its ability to handle large amounts of data, MapReduce can transform that information with high speed. Brolly Academy offers comprehensive MVC training courses in Hyderabad and certifies students upon completion. 
Our MVC course modules provide the best solutions to meet your challenges so that you can learn new skills and apply them appropriately when needed all in an environment suited for learning. This MVC training course will give you the tools you need to build a strong foundation, so that in no time at all, you'll be able to call yourself an expert.
 Brolly Academy provides the best MVC training in Hyderabad, where you will get 3 modes of MVC training which are  Online MVC Training, Classroom MVC Training, and Self-paced video course MVC Training. Our experienced trainers will guide you through every phase of the MVC process. 
We give you hands-on training by assigning you real-world projects in which to develop your skills with complex queries. The MVC training course offered by Brolly Academy is designed for beginners and advanced professionals alike, helping them improve their skills. Brolly Academy's MVC training course also offers a completion certificate. 
After completing the training process, you will receive this certification from Brolly that can help your application for various MVC roles within any company. Enrolling in to our MVC Training course You will not only gain knowledge of MVC but also exposure to Industry best practices and soft skills. You will learn The Architecture of ASP.NET MVC Internet Application, Controllers, Views, Models, Html Helpers, Data Annotations & Validations, CRUD Operations on Database using ASP. Net MVC, Filters, URL Routing, Master Pages and Layout Pages ect. through the training period. 
Our placement assistance team will guide you through the interview process, from preparing for interviews and crafting your resume to practicing with mock interviews. Enroll in our Brolly Academy's MVC training classes in Hyderabad today!
Why choose our Brolly Academy Institute?
We are the leading MVC Training Institute in Hyderabad, with our training method being highly regarded by many. Our expert trainers have over 11+ years of experience in the MVC industry and can prepare you for your future career. Our training is designed for both the freshers and professionals who want to pursue a career in the IT industry. 
Our MVC Training course will help you gain in-depth knowledge of the subject, which will enable you to get jobs with companies that use MVC technique. Our MVC course will help you get the best possible preparation for your mock interviews, resume creation and question-and-answer sessions. Here are some reasons why you should enroll in our MVC training course in Hyderabad:
In this course, we will provide you with assignments as soon as each topic is covered so that you can practice and review the material.
Highly Experienced Tutors
All of our trainers are experts in their fields and guarantee that each program they deliver will be executed by the best.
We regularly revise our courses to reflect the latest changes in data-quality testing and make them available as soon as possible.
Brolly Academy's instructors guide students through real-world case studies and projects, which helps students apply knowledge in practical settings.
Online and in-person learning opportunities, along with flexible scheduling options for classes, let you make your education a priority no matter what other commitments are on your plate.
Our 24-hour support team is available online to address any problems you may experience.
Brolly Academy's MVC course will prepare you for the certification exam and make your dream of earning a professional certificate a reality.
We can help you find a position that uses your talents to the fullest, negotiate salary and support you throughout the interview process.
Testimonials of MVC Training in Hyderabad
This MVC training course is designed for clearing Brolly Academy's MVC certification. The entire course content is in line with this certification and prepares you to tackle it easily, getting the best jobs at top MNCs. By enrolling in this MVC Training, you will receive access to real-world industry scenarios and projects that are directly tied to your success as an employee. 
At the end of this MVC Training program, there will be quizzes that test your knowledge of core concepts on MVC. You can take these quizzes to prepare for your MVC certification exams or just to check your understanding the choice is yours! Upon the successful completion of students' project work, Brolly Academy will award them with a MVC course completion certificate.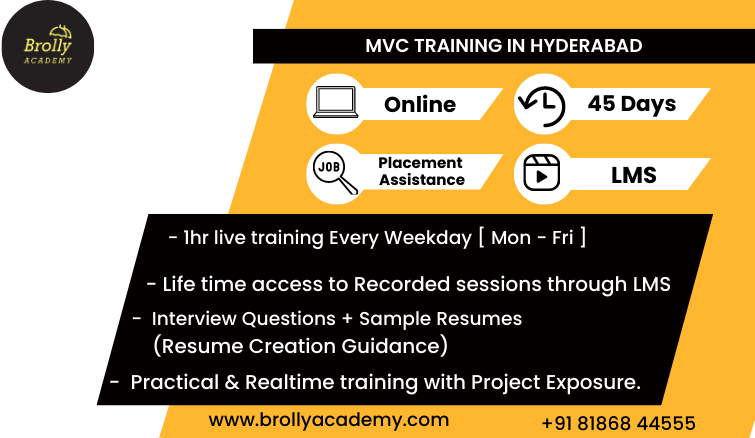 Advantages of Learning MVC course
Employment possibilities in MVC
Skills developed after the completion of the MVC course
Prerequisites to Learn MVC
Is MVC a programming language?
MVC was originally conceptualized in 1976 as a development architecture for creating desktop applications. Now, MVC has evolved into a framework for cross-platform compatible application development using different programming languages including Ruby on Rails and .NET.
What is the three-level of the MVC Model?
Model: This level is very important as it represents the data to the user. This level defines where the application's data objects are stored. Views: A view is a visual representation of the MVC model. This level creates an interface to show the actual output to the user. However, a view will not display anything itself. It is the controller or model that tells the view of what to display to the user. It also handles requests from the user and informs the controller. Controller: The controller is a level that acts as the brain of the entire MVC system. A controller is a link between a user and the system. It provides input by giving users what they want to see on-screen but it also understands their output, then translates that into something meaningful for other parts of the program.
How does the MVC pattern work?
The MVC design pattern splits an application into three interconnected parts: the model, view, and controller. All three of the above-listed components are built to handle specific development aspects for any kind of web or .net application. The controller receives all requests for the application and instructs the model to prepare any data required by the view. The view uses that prepared data from a controller, bringing forth the final output.
What are top reasons to consider a career in MVC platform?
● No More System. Web. ● It is User Friendly. ● It Runs on IIS. ● Easy to Monitoring. ● Has better JavaScript Integration. ● It is an Open Source and Growing Community. ● Has Cross-Platform. ● Unit Testable
What are the skills required to become a MVC developer?
● ASP.NET MVC Knowledge. ● Microsoft Certified Solutions Developer certification. ● Database application. ● Client-side web development technologies. ● Understanding of OOP (Object Oriented Programming) ● Experience.
Which are the company hires .net/C#/MVC developers in India?
Though MVC has experienced successes and setbacks throughout its history, it continues to be an important part of our economy. You can get many jobs by learning the MVC programming language. It's used to create server-side applications, J2EE web apps, and enterprise software you can even use it for developing Android mobile apps!
What is the future scope of MVC developer?
MVC is increasingly being adopted by companies to develop software for their organizations. Because of this, it has gained popularity among young people who want to work in tech.
Can I consider MVC good for Career?
Dot Net has a high growth prospect in the future. The person with prior experience in this field is highly sought after today, ASP.NET is an open-source web framework. NET is one of the leading frameworks used to create dynamic websites.
What if I don't want to continue the training, will I get a refund at Brolly Academy?
We can only issue a refund within the first 3 days of enrollment, after which no refunds will be issued.
Will I Be provided Sufficient Practical Training In MVC at Brolly Academy?
The course includes both theoretical and practical classes: students will learn the basics of each module, then apply that knowledge in high-intensity sessions designed to reflect real-world challenges.
Will I get a free demo before enrolling in Brolly Academy's MVC Training?
Yes, Brolly Academy offers free demo classes to all interested candidates and students who are considering enrolling in our MVC training program in Hyderabad.
What if I miss any MVC topic at Brolly Academy?
You can join in our next live course or we can provide you with backup classes.