CompTIA Training in Hyderabad
100% Placement Assistance
CompTIA Training in Hyderabad Batch Details
| | |
| --- | --- |
| Course Fee | 20,000 Rs |
| Course Duration | 2 Months |
| Timings | Monday to Friday (Morning to Evening) |
| Next Batch Date | 18-09-2023 AT 11:00AM |
| Training Modes | Classroom [HYDERABAD] / Online |
| Location | Hyderabad |
Key Points Of CompTIA Training in Hyderabad
CompTIA Course Curriculum
About CompTIA Training in Hyderabad
CompTIA is an industry-leading certification body that specializes in IT certifications. The company offers a wide range of training courses for various IT professionals, including networking and security professionals. The CompTIA training course provides students with the basic knowledge and skills required to work as a network technician. Brolly Academy offers the best CompTIA training in Hyderabad with a detailed course program. 
The training includes topics like Security concepts and practices, Networking fundamentals, protocols and standards, Network security threats and defenses, Information security management, and more. The CompTIA course training is a great way to get started in IT security. It covers all the basics you need to know, and it's a good place to start your career as a security professional. 
 Brolly academy offers a wide range of courses that include both IT and software training courses in Hyderabad with updated course curriculums and modules. All students who complete Brolly Academy's training program will receive a CompTIA certificate, which is internationally recognized and can be included on your resume to help advance in your career. The training program is designed for students of all experience levels. We can accommodate both complete beginners and people who have a background in IT. 
Our instructors are experts in their fields, and they'll help you learn everything you need to know about computers and technology. Once the student completes all modules included in this course, a certificate will be issued. Brolly Academy's CompTIA certification can verify your skills and experience. The CompTIA course is conducted by experienced and certified trainers who are experts in their respective fields. 
The courseware is also designed by experienced professionals to ensure that students gain practical skills and knowledge that can be applied immediately after completion of the course. We offer online CompTIA training in Hyderabad, as well as classroom-oriented courses that can be tailored to suit the learning needs of a wide range of audiences. 
Our placement cell plays an essential role in guiding students toward suitable career paths and training them for interviews. Enroll with us to get the most comprehensive CompTIA training in Hyderabad.
Modes of Training For CompTIA Training in Hyderabad
Why choose us for CompTIA Training?
Our experts are highly skilled and experienced with complete technical knowledge of industry specifics and requirements. They can provide guidance or fulfill your career-related apprehensions, while respecting the complexity involved in such matters. 
We provide CompTIA online and video training that is self-explanatory, instructive, and accessible to learners around the world. Our instructors will make sure classes are consistently scheduled so you don't miss any sessions.   
Practical enhancement sessions
At Brolly academy, we focus on giving students practical and core technical knowledge of the curriculum so that they can gain hands-on experience in their fields.
We prepare students for job interviews by giving them a curriculum and guiding them through mock interviews. By providing our clients with exclusive interview questions, we help build their communication skills so that they can perform well under pressure in real-world situations.
Our support staff is available 24/7 for students with questions about our training, registration fees and class schedules. They will respond quickly to your concerns or queries.
We have trained 45+ trainees with 15+ successful placements in some of the top companies in Hyderabad with excellent packages.
CompTIA course certificate
Students who complete our CompTIA training program will receive a certificate that shows their achievement. This credential will help them get jobs at leading companies around the world.
We only take in a limited number of students at any given time, creating an environment where the trainer can give each student individual attention and provide them with a personalized learning experience.
Testimonials of CompTIA Training in Hyderabad
Upon completing this course, you will receive a CompTIA certification that has been accepted by all major companies around the world. It can be downloaded as a hard copy or digital copy. This course is designed for people who are looking to start a career in IT or just improve their knowledge of the field. It will provide you with all the tools and skills necessary to succeed in this growing industry. 
The course is designed in such a way that it will help you learn CompTIA from scratch. It covers everything you need to know to get you started with a career in IT. CompTIA is the most recognized certification for IT professionals, and it will help your career take off. Our certification is proof of your skills and efficiency in CompTIA certifications. some of the common CompTIA certifications include .
CompTIA A+ certification – This is the most basic of all IT certifications. It's a great way to get started in IT, and it's also an important stepping stone for other CompTIA certifications.
CompTIA Network+ certification – This certification will prove that you have the knowledge necessary for network management and troubleshooting tasks.
CompTIA Security+ certification – This certification is for IT security professionals who want to prove their expertise. It's an important step if you want to work in cybersecurity or penetration testing.
There are many other CompTIA certifications available, including Cloud+, Linux+, Server+ and more.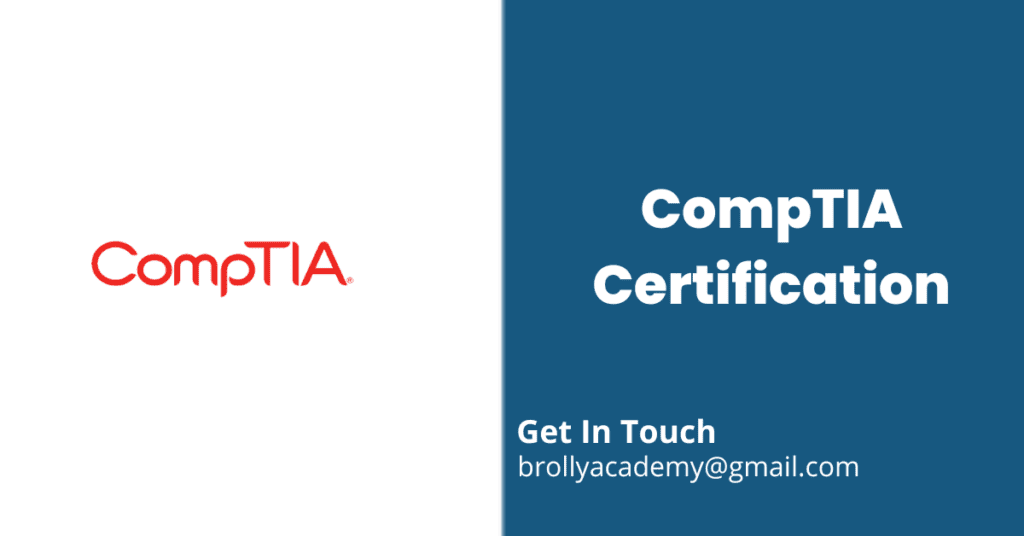 Advantages of learning CompTIA training in Hyderabad
Brolly Academy's advanced CompTIA training will help you gain complete understanding and competence in the course subject. The comprehensive program allows our trainees to learn all they need to know, as well as develop skills that apply directly.
Skills developed after the CompTIA course training –
Prerequisites of CompTIA training course in Hyderabad
To be eligible for CompTIA training course in Hyderabad, you must have a good understanding of the following-
Career Opportunities in CompTIA
Which is the best CompTIA training institute in Hyderabad?
Brolly Academy offers the best CompTIA training in Hyderabad that provides excellent advanced training and coaching services.
What is the CompTIA training fee in Hyderabad?
The cost of CompTIA courses in Hyderabad varies from one institute to another. At, Brolly Academy, the course is offered at an affordable price without compromising on quality
What is the average salary of a CompTIA in Hyderabad?
The average salary of a CompTIA professional in Hyderabad ranges from Rs. 8 lakhs to Rs. 20 lakhs per annum, depending on their experience and skills.
Where can I find CompTIA training near me?
We offer CompTIA training in Kphb and CompTIA training in Ameerpet, you can visit us or get in touch with us for further queries.
What if I miss a class?
Students can make up for missed sessions by attending our next live batch or we can also arrange backup classes for you.
Do you provide placement assistance?
Yes. To help our students land jobs after the completion of their training program, we assist them with mock interviews and resume preparation by providing personal guidance from industry experts as a part of our CompTIA placement assistance.
Who are the trainers at CompTIA training in Hyderabad?
The Brolly Academy's CompTIA course is taught by trainers who specialize in the field and have ample working experience.