Datastage Training in Hyderabad
100% Placement Assistance
Datastage Training in Hyderabad New Online Batch Details
Datastage Training in Hyderabad Curriculum
Key Points Of Datastage Training in Hyderabad
About Datastage Training in Hyderabad
Datastage is an ETL tool that extracts, transforms, and loads data from source to target. Datastage can work with various kinds of input sources: sequential files, indexed files (including XML), relational databases or external data sources; archives produced by business applications.
DataStage enables market research by collecting and analyzing data that you can use to make informed decisions. 
DataStage is used as an interface between various systems in a broad organization, taking care of the processes involved in moving information from one place to another. 
Brolly Academy offers the best  industry-oriented DataStage training in Hyderabad with a detailed course program. The training program includes topics like – 
Data warehouse fundamentals 

ETL designing processes

Data modeling 

DataStage administrator

DataStage designer

DataStage director 

experiential knowledge in Parallel job stages

advanced stages in parallel job

IBM Information Server Administration Guide etc. 
We have a team of highly talented faculty with real time experience in datastage fields and they will train you on real-time projects to get prepared for interviews.
This DataStage Training in Hyderabad gives in-depth knowledge and skills to develop parallel jobs in DataStage with real-world examples. 
It covers all the basics of DataStage from basic to advanced level techniques and also prepares you for making the DataStage certification. 
Upon completion of the course, you will receive a verified DataStage certification that is widely accepted by all companies and organizations. 
This certificate would greatly impact your career opportunities in the right direction. Our placement assistance cell offers interview questions, referrals, resume preparation, mock interviews and much more. 
 All specifically designed for training and guiding students throughout the interview process. Enroll with Brolly Academy for the best DataStage Training in Hyderabad.
Modes of training in Datastage course
We offer Datastage learning in different modes with online and offline training options along with self-paced video learning options for students worldwide. 
Students will be able to take Datastage training on their own schedules, with different sessions available at different times.
DataStage training online

We are one of the leading providers of Datastage online training in hyderabad. Our professionals cover each topic related to Datastage using a real-time project that provides hands-on experience in the datastage concepts to our students through our training. We offer DataStage training online using e-learning platforms to enable excellent remote assistance and deepen understanding of the concepts.
DataStage training offline

This classroom training in Hyderabad is conducted at our study centers located in Ameerpet and Kphb. Our trainers teach students with hand picked datastage examples to make them well versed on all the fundamentals of the DataStage. We provide the best industry-oriented Datastage full course training for our trainees which will help them to build their professional careers. This training will give them a solid foundation in Datastage, from the basics to advanced level techniques.
Datastage training videos (Self-paced) -

Students will get comprehensive self-paced video training to gain expertise in Datastage technology. You will get industry-focused Datastage training from our certified experts, who deliver lectures in a practical way to help you gain real experience with Datastage. You can access these datastage training videos from anywhere around the world with your convenience.
Why choose us for DataStage Course?
DataStage certification

A Brolly academy-certified DataStage course completion certificate will be given to students who enroll in the DataStage training in Hyderabad. This will have a validity that lasts for a lifetime and an acceptance rate that is high among companies. Our courses are designed to help you learn, practice and master the skills needed to pass the datastage certification exams and get a job in its firms.
Flexible class timings

Our DataStage classes are scheduled for a time that suits all students, as well as the needs of working employees who seem interested in attending the training program. You can either attend our morning session or the evening session based on your convenience and schedule.
Group discussion sessions

We help students apply their DataStage knowledge to real-world situations by conducting study sessions and workshops to give them a chance to deliberate and discuss the theory of the subject. Our instructors will be happy to help students who have questions or need assistance. You may ask any question during these group discussion sessions and we recommend you take advantage of this opportunity to enhance your knowledge.
Expert DataStage Trainers

Our staff includes experienced IT professionals with 8+ years of experience in DataStage training. They will teach you how to create scalable, efficient solutions to business problems by exploring key issues associated with the use of parallel application development techniques. This will give you real-world experience that you can use to boost your career.
Job-oriented curriculum

We have a job-oriented datastage course curriculum that will help you learn the ins and outs of datastage technology and its concepts. The datastage course content is curated by industrial experts, with topics ranging from the basics to advanced use cases of datastage.
Placement support

Our placement support program helps our trainees to get a head start on the job market after completing our datastage training course. We help trainees develop the skills needed to land a job as a datastage professional with the right resume writing tips and other job interview guidance.
Testimonials of Datastage course in Hyderabad
Datastage Course Certification
IBM Certified Solution Developer – InfoSphere DataStage v11.3 is one of the exams in the world which tests IT professionals on their ability to design and develop scalable solutions, build operations, and monitor skills around IBM's DataStage products.
Link to Website – IBM Certified Solution Developer – InfoSphere DataStage v11.3
Please find the exam details below – 
Exam Name – DataStage Certification Exam – C2090-424: InfoSphere DataStage v11.3
Exam Code – C2090-424
Exam Price in INDIA – $100 / Rs.8269.00 (The price change according to different country)
Duration – 90 mins
Number of Questions – 64
Number of questions to pass the exam – 41
Passing Score – 64%
Certification Validity – Lifetime
Exam Type – Multiple choice Q&A
Exam status – Live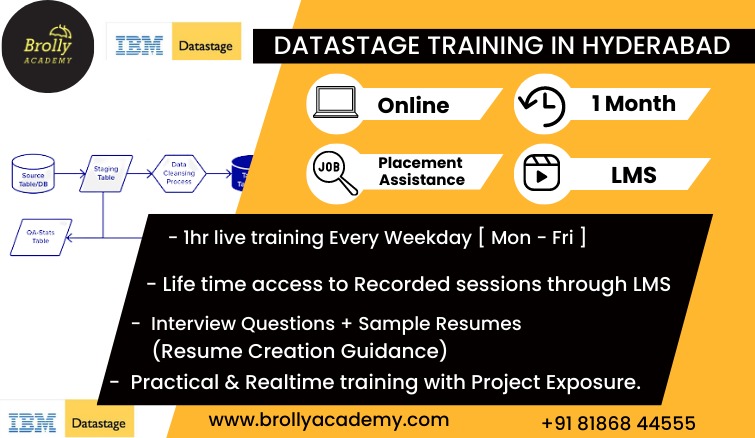 Advantages of learning DataStage course
Skills developed post DataStage course -
Brolly Academy provides well-developed DataStage training in hyderabad, enabling students to acquire a valuable career through the adaptive and effective DataStage technical assistance that they receive. In this training you will learn – 
Prerequisites to learn DataStage course
Career Opportunities in Datastage
Our Datastage training helps learners develop the skills they need to advance in their careers or serve as key contributors in an organization. it makes an individual enter to the professional world with different career options such as –
Who should learn DataStage Course?
Market Trend in DataStage
Is DataStage easy to learn?
The amount of time it takes to become proficient in DataStage depends on how much "computer" experience (programming, UNIX, scripting) you have and if you've used another ETL tool before. In general, learning an ETL tool doesn't take very long—DataStage included
Is DataStage in demand?
DataStage is the industry leader in data-management tools because of its reliability and scalability. I have used Informatica, which is another leading product; however, it does not offer as many features or flexibility as DataStage does.
What language does DataStage use?
InfoSphere® DataStage® Basic is a programming language designed to work with the InfoSphere DataStage environment. It can be used by beginning programmers while still providing experienced ones with powerful capabilities.
What does a DataStage developer do?
A DataStage developer is responsible for using IBM InfoSphere DataStage, a data-transformation tool that extracts and transforms information to support business needs.
In this career, you manage the server and use the software to develop tests for your organization's ETL processes.
Which is the best Datastage training institute in hyderabad?
Brolly Academy offers the best technical Datastage training in Hyderabad by providing comprehensive instruction in Datastage, the best technical tool for ETL (Extract, Transform, and Load) operations.
What is the Datastage training fee in Hyderabad?
The cost of Datastage training in Hyderabad depends on the type of institute and the features they offer. You can get in touch with our team at Brolly academy, for more details.
What is the average salary of a Datastage developer in Hyderabad?
The average salary of a Datastage developer in Hyderabad is ₨ 4.8 lakhs per year.
Where can I find Datastage training near me?
We offer Datastage training in Kphb and Datastage institutes in Ameerpet, you can visit us or get in touch with us for further queries.
What if I miss a class?
We accommodate anyone's need to miss a class, by hooking students up with special backup classes or allowing them to attend the next session taken by our trainers.
Do you provide placement assistance?
Yes, we do. We offer Datastage placement training in Hyderabad to help students navigate the challenges of finding a job after graduation by providing career development services and hands-on experience with industry professionals.