Blue Prism Training in Hyderabad
100% Placement Assistance
Blue Prism Training in Hyderabad Batch Details
| | |
| --- | --- |
| Course Fee | 20,000 Rs |
| Course Duration | 2 Months |
| Timings | Monday to Friday (Morning to Evening) |
| Next Batch Date | 7th Feb 2022 AT 11:00AM |
| Training Modes | Classroom [HYDERABAD] / Online |
| Location | Hyderabad |
Key Features Of Blue Prism Training
Blue Prism Course Curriculum
About Blue Prism Training in Hyderabad
The Blue Prism platform is one of the tools used in Robotic Process Automation (RPA). It can fetch high for an organization with less effort and it's usable by both IT and business industry people. Brolly Academy makes the aspirant learn all the concepts from the basic level to the advanced level of Blue Prism Technology with ease. The Blue Prism software platform eliminates repetitive manual tasks, lowers costs, and improves accuracy by transforming the way companies collect and act on information. Blue Prism was recently recognized as one of the "Cool Vendors in Digital Infrastructure" by the Gartner Group.
Brolly Academy's Blue Prism Training will help you gain expertise in the Blue Prism technology field. As part of the training, you will master Blue Prism Concepts like –  RPA, Blue Prism Architecture, working with process studio, Mastering process flow, Inputs and outputs, Business objects, Object studio, Exception handling, Case management, Additional features, Advanced features, Other APP Types. In this training you will learn not only this but also get a chance to work on hands-on projects, case studies, and assignments during this training period at our Brolly Academy institute.
This Blue Prism certification training course designed by our industry experts at Brolly Academy. After completing Brolly Academy's Blue Prism training program, you will receive a certificate that recognizes your expertise in Blue Prism Technologies. The certificate will be awarded to you upon completing all the training modules of Blue Prism. Our trainers provide students with a solid understanding of the technical and theoretical aspects of the Blue Prism fields. We offer both online and classroom training courses and also self-paced video recording classes to help you choose the one that is best for your needs. Our placement assistance program includes an intensive interview preparation workshop. In this workshop you will be guided with Mock interview, Resume making, Q&A sessions and much more.
Enroll with us to get the Best Blue Prism Training in Hyderabad.
Modes of Blue Prism Training at Brolly Academy
Why Choose Our Brolly Academy Institute For Blue Prism Training?
Brolly Academy is the leading Software training institute in Hyderabad and has been recognized for its effective teaching methods. Our expert trainers have over 10+ year's experience in Blue Prism and can prepare you to enter this exciting industry. Whether you're a fresher looking for certification or an experienced professional with expertise. Our Blue Prism Training course in Hyderabad from Brolly Academy provides you with the skills and expertise you need to apply at companies that use this Blue Prism Technology. Our Blue Prism Training course will help you get ready for your mock interviews, resume creation and question-and-answer sessions. Here are some reasons why you should consider Brolly Academy for enrolling in our Blue Prism Training in Hyderabad:
Best Blue Prism Tutors in Industry
Our Blue Prism experts have a deep understanding of the latest concepts and skills in the blue prism field, and they share this expertise with our students by providing their exclusive training method. Our instructors are experts who have been training both professionals and students for years.
At our Brolly Academy we have a 24/7 support system where our dedicated support team will assist you with all your queries regarding the course and other technical queries you may face during the training period.
With Brolly Academys training methodology, you can now learn the Blue Prism training from anyplace in the world at your convenience time.
We will help our students apply the skills they learn here in Blue Prism technology to real-life situations by guiding them through all phases of the job search, from creating a resume to practicing for interviews.
Limited Blue Prism Batches
Our Blue Prism classes are limited to 10 students each so that all of them receive the attention they require.
Earn Your Blue Prism Certificate
All students who complete our Blue Prism course will receive a Blue Prism certification from Brolly Academy. This certificate is recognized worldwide and can help you find a job in the Blue Prism field. This certificate proves that you have taken a big leap in mastering the domain comprehensively. Now you are equipped with real-industry knowledge, required skills, and hands-on experience to stay ahead of the competition.
Students can benefit from lifetime learning access by enrolling in our course, they can visit the website anytime to update their knowledge taught the course topics at no extra cost with our anytime learning access. With 24X7 student support in place, they are free to contact Brolly Academy anytime for clarification to any queries.
You can post the Blue Prism certificate on LinkedIn and other job sites to boost your profile
Testimonials of Blue Prism Training in Hyderabad
Certification in Blue Prism
This Blue Prism training course is designed for clearing Brolly Academy's Blue Prism Certification. The entire course content is in line with this certification and prepares you to tackle it easily, getting the best jobs at top MNCs. By enrolling in this Blue Prism Training, you will receive access to real-world industry scenarios and projects that are directly tied to your success as an employee. At the end of this Blue Prism Training program, there will be practical exercises that test your knowledge of core concepts on Blue Prism. You can take these exams to prepare for your Blue Prism Certification exams or just to check your understanding the choice is yours. Upon the successful completion of students' project work, Brolly Academy will reward them with a Blue Prism Course Completion Certificate which will add more value to your resume.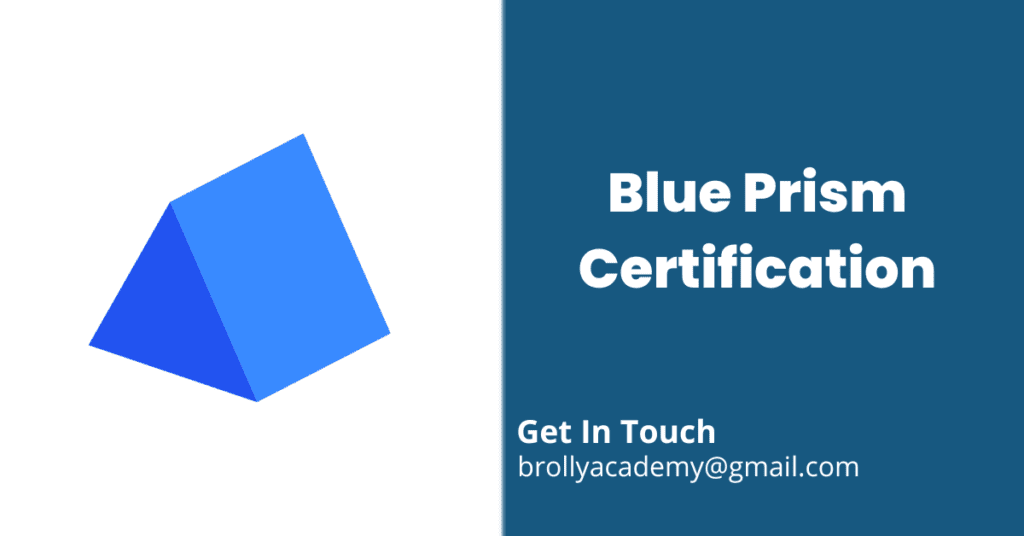 Advantages of Learning Blue Prism Course
Employment possibilities in Blue Prism
Completion of the Blue Prism Course you will learn
Prerequisites to Learn Blue Prism
Who should take up this Blue Prism course?
● Business Analysts
● IT Professionals
● Business Process Executives
● Developers,
● Project managers,
● Administrators
● Fresh Graduates can also do the course
What are the Highlights of Blue Prism?
● Code-Free: Blue Prism does not require any coding or programming knowledge.
● Non-Disruptive: Blue Prism would aid in avoiding system complexity.
● User-Friendly for Business
Top reasons to consider a career in Blue Prism?
● Popularity and High Salary.
● Time Saving and Automation.
● Easy to Learn.
● Enhances Security.
● High return on investment.
● Less Competition.
● Seamless Integration.
What Exactly Is BluePrism Tool?
BluePrism is considered to be one among the leading Robotics Automation tools which have acquired a huge market across various platforms. Effective BluePrism implementations within an organization can lead to delivering improved revenue outcomes, customer satisfaction and as well as helps the implying organization to attain hold of strategic methods involving automated business and marketing intelligence.
Is Blue Prism enough to get a job?
Even as a fresher, you can get a job in the Blue Prism domain. There are some opportunities where companies look for skilled people with experience with specific tools if such requirements include Blue Prism then you might be able to apply. The companies tend to look for people who are skilled in multiple tools of RPA. If you want to grab such opportunities then you need a versatile skill set that can help in grasping these opportunities properly.
Can I learn Blue Prism without Coding Experience?
Blue Prism is complete free from coding as it is completely tool based.
Will I Be Given Sufficient Practical Training In Blue Prism?
We offer a course that gives students the opportunity to work with Blue Prism in an interactive way. The course is made up of theoretical classes that teach the basics of each module, followed by high-intensity practical sessions reflecting the current challenges and needs faced by workers in their chosen industry.
If I wanted to learn more about this training program then whome should I contact?
You can contact us using the contact details shared on our Brolly Academy website, or select the live Chat link. Our team will give you more details about your questions.
How can I practice the Blue Prism course?
The instructor will provide students with an LMS (learning management system), and they can install the necessary software on their own computers by following the instructions provided in the LMS.
What is the batch size of Blue Prism class at Brolly Academy?
Our small classes and expert instructors give students opportunities to ask questions, which help them learn at their own pace. Class size is kept below 10 people per batch.
What are the training modes offered by Brolly Academy for this Blue Prism Course?
Brolly Academy provides various types of Blue Prism training such as - Classroom training, One to One Training, Self-paced video learning, Customized Training & Online Training mode at our Brolly Academy in a comprehensive training method.