Blue Prism Training in Hyderabad
100% Placement Assistance
Blue Prism Training in Hyderabad Batch Details
Blue Prism Course Curriculum
Key Features Of Blue Prism Training
About Blue Prism Training in Hyderabad
Blue Prism is a global leader in the application and automation of IT process, performance and compliance management software. 
Our mission is to empower people through technology to make smarter decisions, gain insight into business processes and deliver value more efficiently than ever before.
Blue Prism's products are used by leading global companies in a wide range of industries including financial services, retail and logistics. 
Blue Prism's customers include some of the world's largest banks and insurance companies as well as many other blue-chip organizations such as Shell, BP, Marks & Spencer and Lufthansa
As a global company, they help customers to transform the way they do business by simplifying and accelerating the delivery of technology.
Through their software-as-a-service platforms, they provide a single repository for all apps, technologies and infrastructure. 
This enables organizations to unlock their potential by reducing costs, improving product quality and delivering new business value faster than ever before.
Brolly Academy offers Blue Prism training courses designed to help you get maximum value out of your investment in the software. 
These courses are available either in-person or online.
Brolly Academy has a Blue Prism certification course designed by industry experts. 
This will provide you with all the skills and knowledge needed to become a professional in this field.
Some of the topics that are covered in Blue Prism course are
Introduction to Blue Prism

Installation and deployment of Blue Prism

Mastering the basics of Blue Prism including creating assets, users, templates and more

Migration from other systems such as SAP and Oracle
Modes of Blue Prism Training at Brolly Academy
Brolly Academy offers training in three main modes:
Classroom Training

Virtual Training

Pre Recorded Video Courses
Classroom Training

Classroom Training is the most common form of training. It involves a classroom setup where you will be taught by an instructor in person. The instructor will be there to guide you through the course and answer any questions that may arise during the training session.
Virtual Training

The Online Training is delivered through an online video conferencing platform. This provides students with the flexibility to participate from anywhere in the world. This is one of the most popular forms of training as it provides students with the flexibility to participate from anywhere in the world.
Pre Recorded Video Courses

The Pre Recorded Video Courses are just that, video courses that have already been recorded and can be watched at any time. This format is ideal for people who want to get started on their training right away without having to wait for a live session.
Why Choose Our Brolly Academy Institute For Blue Prism Training?
Expert Trainers

Our expert trainers are highly experienced with Blue Prism and have many years of experience in the IT industry. They are able to answer all your questions and provide real world examples.
Training Materials

We provide you with the latest course materials including manuals, videos, sample projects, lab exercises etc.
Support

We provide 24/7 support through our live chat, email and Skype. You can also contact us via phone during our office hours.
Flexible Schedules

Our courses can be taken at your convenience. You can attend our classes on weekdays or weekends, early morning or late nights.
Free Hands on practice

We provide you with the opportunity to practice on real-world projects. This will help you get hands-on experience and build confidence in using Blue Prism.
Placement Assistance

We provide placement assistance to our students. We have a strong network of companies that we regularly work with and know their hiring needs. Our Career Counselors will help you build a resume and prepare for interviews.
Testimonials of Blue Prism Training in Hyderabad
Certification in Blue Prism
What are they?
Blue Prism Associate Developer

Blue Prism Professional Developer

Blue Prism Solution Designer

Blue Prism Technical Architect

Blue Prism Installation Enginee

r
Process to clear the certifications –
You need to pass the Blue Prism certification exam by answering at least 80% of the questions correctly. 

The exam is usually offered in two formats: online and onsite. If you choose online, you will be given a date, time and location that you should attend. You will receive an email with all the required information, including where to take the exam.

If you choose onsite, then you must arrange for your own testing facility and schedule a date with them.
Certification Fee –
The cost of obtaining certification in Blue prism courses is $70 for a single attempt.
Certification Code – 
Note: There are no particular Certification codes for the Blue Prism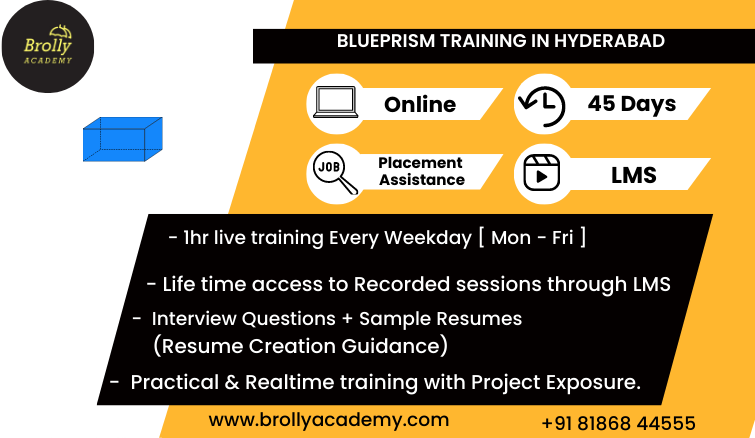 Advantages of Learning Blue Prism Course
Employment possibilities in Blue Prism
Skills Developed Post Blue Prism Training in Hyderabad
The skills that you can develop post Blue Prism Training in Hyderabad are:
Prerequisites to Learn Blue Prism
The average salary of a Blue Prism developer in India is INR 4 lakh per annum . The top-paid Blue Prism software engineers earn upwards of INR 8 lakh per year .
Market Trend in Blue Prism
How long does it take to learn Blue Prism?
The time taken to learn Blue Prism depends on the person's knowledge of computer science and programming languages. It typically takes about six Weeks to 8 Weeks for a beginner to become proficient in using this tool.
What is the scope of Blue Prism?
The scope of Blue Prism is very wide, it can be used to automate any kind of business process.
How much salary can I expect after getting trained by you?
The salary varies from person to person and depends on your profile. However, you can expect a starting salary of INR 4.5 Lacs per annum.
Where do you provide the Training for Blue Prism course?
Hyderabad is a city located in southern India. Its neighborhoods of Ameerpet and Kukatpally have class room training available, although you can also take the course online if you do not live near these locations
What are the prerequisites for becoming a Blue Prism developer?
You should have knowledge of SQL database, C# programming language and Visual Studio IDE .
Do you provide any kind of placement assistance after the training?
Yes, we provide job assistance for all our trainees in the form of resume building, CV preparation and interview tips to help them get placed with top MNC's in India
What are the career opportunities available for Blue Prism Developers?
The job opportunities at Blue Prism are quite promising as the company is expanding its operations in the growing IT sector of India by opening new branches in different cities across the country.
What are the job responsibilities of a Blue Prism Developer?
A Blue Prism Developer should be able to handle all kinds of development activities including:
-Managing the overall development cycle of the projects
-Creating and maintaining applications and databases
-Working on various technologies like Java, .Net, C# etc.

What are the skills required to become a Blue Prism Developer?
The skills required to become a Blue Prism Developer include:
-Strong knowledge of various programming languages like Java, .Net etc.
-Knowledge of latest technologies like HTML5, CSS3 etc.
-Expertise in Linux/Unix operating systems
What are the job profiles of Blue Prism Developers?
Ans. The job profiles of Blue Prism Developers are as follows:
1) Software Developer
2) Technical Support
3) Client Relations Management