API Testing Course in Hyderabad
100% Placement Assistance
API Testing Course in Hyderabad Batch Details
| | |
| --- | --- |
| Trainer Name | Mr.Chetan |
| Trainer Experience | 15+ Years |
| Next Batch Date | 14-11-2022 |
| Training Modes: | Online Training (Instructor Led) |
| Course Duration: | 30 Days |
| Call us at: | +91 8186844555 |
| Email Us at: | brollyacademy@gmail.com |
| Demo Class Details: | ENROLL FOR FREE DEMO CLASS |
API Testing Course Curriculum
Key Points of API Testing Training in Hyderabad
About API Testing Training in Hyderabad
API stands for Application Program Interface. It is a software protocol that enables applications to communicate with each other and is the process of verifying the correct operation of an API by testing the API's response to requests.
 It lets you access the data and functionality of a website and allows you to ensure that your API will work with the application you're developing. 
If you want to make sure that your API will work, you should first run an API test. 
The API test will ensure that your API works with the application you're developing.
 Brolly Academy is a well known IT training institute in Hyderabad offering the best API Testing course. 
We are the go-to source for API training and resources for both beginners and experienced developers. 
We provide a complete set of API testing courses that will teach you to build APIs, write tests, and run them in any environment. 
Our trainers are well- experienced in the field and are dedicated to providing quality training services. 
We provide the best training materials, tools, and resources to ensure that our students can succeed in their careers. 
We offer training in both online and offline modes with specialized classes for corporates and working professionals.  
Enroll with Brolly Academy for API Testing training in Hyderabad
Modes of Training - API Testing Training
In this modern world, the need to develop a strong understanding of APIs is more important than ever. 
Brolly Academy offers API Testing course in 3 different formats to support a convenient learning environment for our  students – 
API Testing online Training

Brolly academy is the best place to get online training in API testing. You can learn about various types of testing, how to write a test case, how to run the tests, and how to automate the testing process. Learn through a mix of video tutorials, live online training classes, and live coaching sessions.
API Testing offline training

We are offering our API Testing classroom training in Hyderabad and is available for both individuals and corporates. Our training is completely based on practicals and will help you to learn the API testing in detail. you get live demonstrations from our trainers with a good experience of training and knowledge in the field.
Self-paced video course

Our video course for API testing, includes videos that walk you through the entire process of API testing. It is a simple, easy to follow, and fun way to learn about our API Testing with classroom course recordings and assignments. You can now learn from the comfort of your own home at your own pace and earn a digital course completion certificate.
Why choose us for API Testing Training?
Expert Tutors

We have certified experienced API Testing trainers with more than 9 years of experience in the field. Our trainers are well versed in various programming languages and tools. They have hands-on experience in building and deploying APIs. Our team has a proven track record of delivering high quality, cost effective solutions.
Certification guidance

We offer a professional training course that will give you the knowledge and skills to become a professional API tester. The API Testing certification exam is one of the most sought-after certifications in the software testing industry and we will train you for it. We help you master the skills you need to ace the API Testing certification exam and get certified.
Placement support

At Brolly academy, we have a complete API Testing training system that provides post training assistance to the students. We specialize in helping people get the right job and internship through our assistance by fully preparing them for real-time interviews. We are a one-stop shop for all your professional career needs, From resume preparation to mock interviews, we provide you with everything you need to get ahead in your career.
Lab sessions

We provide training that is focused on technical aspects of API testing and will also cover the more business-oriented aspects of API testing. Our training covers a wide range of topics and we have designed our training to be both flexible and challenging. We expect our students to leave our training with the knowledge and skills required to test APIs.
Flexible classes

We provide complete training on API testing with hands-on practice in all aspects of API testing with classes scheduled at convenient timings. We offer an online, instructor-led learning platform that offers an extensive library of skills and concepts of API. Our API Testing course is designed to help the students in their personal and professional development
Limited batches

We only conduct our training batches with not more than 30 students per batch. We do this to ensure that the quality of learning remains high and that you get the best out of the training. We've built a unique, real-time learning environment that lets you learn the skills you need in API testing.
Testimonials for API Testing Training Online
API Testing Certification
API Testing is a fast-growing and important part of the software development process. 
The API Testing certification is a great way to get your foot in the door for a new job or internship. 
We offer training in API Testing certification that is curated to help you perform well in the examination. 
It covers the knowledge of API testing, including the process, tools, techniques, and best practices that are used by the testers.
We also reward our trainees with an API Testing course completion certificate that is verily certified with global acceptance.  
The certificate will be given towards the end of the training program. 
At Brolly Academy, we facilitate the option of getting the certificate in a digital format or as a hard copy based on your personal requirements. 
You can greatly impact your career prospects with our API Testing training and certification program in Hyderabad.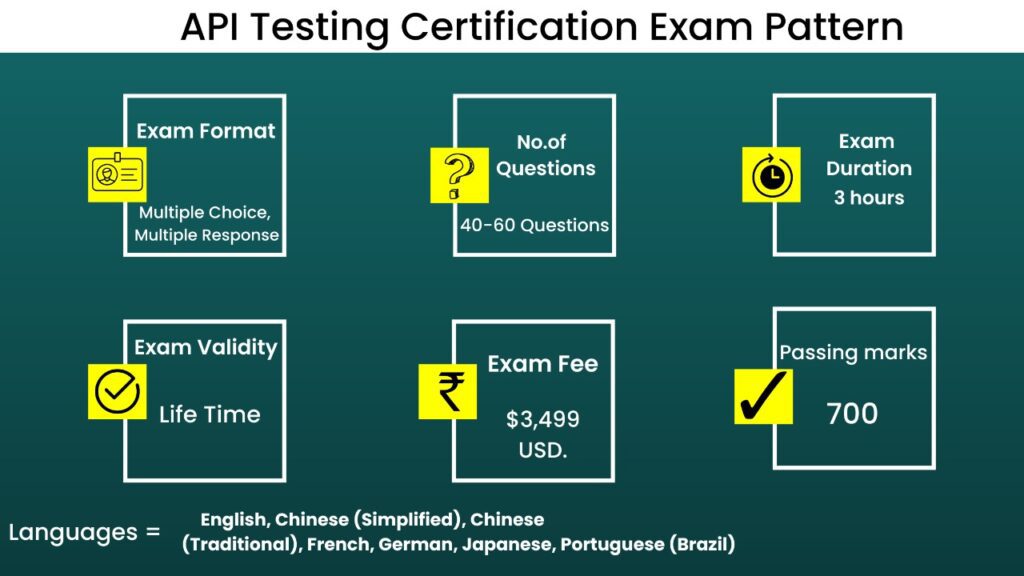 Skills developed Post API Testing training in Hyderabad
Career opportunities in API Testing
The API testing field is very lucrative with many companies looking to hire quality API testers to work for them. 
With the increasing number of companies that are involved in API testing, there are plenty of job opportunities in this field. 
Some of the API jobs are – 
Market Trend in API Testing
Prerequisites of API Testing training
Brolly Academy offers API Testing training for beginners as well as advanced professionals. 
The prerequisites required to attend our API Testing course are – 
Where can I find the best API Testing course in Hyderabad?
Brolly Academy offers the best API Testing course in Hyderabad with quality training facilities and opportunities.
Is API Testing in demand?
Yes, API testing is a type of software testing that offers flexibility with a steady salary hike and scope in the future.
Is API Testing easy to learn?
At Brolly Academy, we ensure every student gets trained with the highest level of excellence and grasp the concepts of API testing by providing a beginner friendly course that makes learning easy.
How to learn API Testing?
You can learn API Testing in Hyderabad at Brolly Academy from expert trainers with an affordable fee structure.
What is the average API Testing salary in Hyderabad?
The average salary of an API Tester in Hyderabad ranges from 10,00,000 - 20,00,000 PA based on a candidate's skills and experience.
How long does it take to learn API Testing?
We offer a 3-month API Testing training program with multiple case studies and project assistance along with a course completion certificate.
What if I miss a class?
You are free to attend the next live training batch or we can also make arrangements for a backup class upon request.
Do you offer placement support?
Yes, we at Brolly Academy offer placement support where we train and prepare you for real-time job interviews. However, we do not guarantee a job after training as it totally depends on your performance during the interviews.
Do I get a free demo before enrollment?
Yes, Brolly Academy offers a free demo class so you can get an overview of our training procedure and understand our learning process before enrolling for the API Testing course.