Teradata Training in Hyderabad
100% Placement Assistance
Teradata Training in Hyderabad Batch Details
| | |
| --- | --- |
| Course Fee | 20,000 Rs |
| Course Duration | 2 Months |
| Timings | Monday to Friday (Morning to Evening) |
| Next Batch Date | 7th Feb 2022 AT 11:00AM |
| Training Modes | Classroom [HYDERABAD] / Online |
| Location | Hyderabad |
Key Points Of Teradata Training in Hyderabad
Teradata Course Curriculum
About Teradata Training in Hyderabad
Teradata is a global leader in data science, analytics and advanced business intelligence solutions. It is one of the most preferred choices by enterprises looking to solve complex business problems and improve customer engagement. Teradata offers products that are easy to use and extremely powerful. It has a wide range of products that are designed to help organizations solve business challenges across all industry verticals. Brolly Academy offers the best Teradata training in Hyderabad with a detailed course program.  Teradata course training includes topics like data science, machine learning, visualization, and natural language processing. It also covers topics like data preparation, analysis and reporting. The course content is well organized and easy to follow. It is also very practical with lots of examples and exercises that help you learn by doing. The course is well organized, with each lesson building on the previous one. The material is very practical and will help you get started with teradata learning. Brolly academy offers a wide range of courses that include both IT and software training courses in Hyderabad with updated course curriculums and modules.After completing Brolly Academy's training program, you will be awarded a certificate in teradata. This certifcate can then be added to your resume and included with other job applications, helping demonstrate that you have the relevant skills for positions being sought by hiring managers. The certificate is also a good credential if you are applying for jobs related to teradata. Our instructors are dedicated to helping students achieve their goals. We are passionate about helping you succeed, and we believe in our mission of providing high-quality education. We have built a team of instructors who are not only experts in their fields but also care deeply about your success. Your instructors will provide you with feedback and guidance, while teaching you expert techniques in your chosen field. We yearn to provide clients with the best possible training experience. This course is regularly updated so that students can learn the most up-to-date technology. The instructors are real experts in their field, allowing them to share all of their knowledge and skills with students. We help our students find jobs that match their skills with the assistance of our placement department. Our placement department will prepare you for a job that matches your skills and interests. We have several partnerships with companies who are looking for employees with the necessary skills to work in their organization.
Enroll with us to get the most comprehensive Teradata training in Hyderabad.
Modes of Training For Teradata Training in Hyderabad
Why choose us for Teradata Training?
Our Teradata trainers have expert-level knowledge, and they will impart that expertise to you. They give everyone an opportunity to master the key concepts of our technology. They teach only the most current Teradata concepts, so you'll have workforce-ready skills. Our Teradata trainers are industrial experienced professionals who have worked in the IT industry for years, training professionals and students.
our teradata course is built to cater beginners and experienced professionals alike. The course is perfect for both IT professionals, as well as general users who have a keen interest in learning the basics of this powerful database solution.
our teradata virtual classes are designed to be engaging and informative with videos to give you the opportunity to learn from experienced teradata instructors who are experts in their field. We offer both Video course training as well as online training sessions.
We help trainees learn job skills and gain professional polish. Our counselors assist them with everything from resume writing to interviewing techniques and finding jobs that match their skill sets and interests. We also offer a variety of services that can help students find jobs. This includes resume review, interview prep and mock interviews, cover letter writing, LinkedIn profile review and more.
Our staff is available 24/7 to answer students' questions about training registration fees and class schedules and usually responds within a few hours of receiving the query.
We have trained 50+ trainees with 20+ successful placements in some of the top companies in Hyderabad with excellent packages.
You will receive a Teradata certificate after completion of the curriculum. This certificate is accepted by all companies, and can greatly promote your career opportunities.
we take in only 10 students per batch and provide them with a highly personalized and rigorous training program. Our training batches are small and highly focused on providing top notch training facilities to the students.
Testimonials of Teradata Training in Hyderabad
Upon successful completion of this course, you will be prepared to take both the Teradata certification exam and perform well on it. Your certificate will be accepted by companies all over the world including many of today's top ones. This class is taught by an experienced instructor with a reputation for excellence. Brolly Academy offers a course completion certificate, which can be downloaded in both hard copy and digital format. This will prove useful to anyone who wants to begin their careers or gain further knowledge by learning the Teradata course. Certification is valid for a lifetime, and can be included on your resume.
Some of the common Teradata certifications include –
Teradata Certified Professional (TCP) – This is the most sought-after certification in the Teradata industry. It is a must-have qualification for anyone who wants to make a career in this field.
Teradata Certified Associate (TCA) – This is an entry-level certification. It is designed for beginners and no prior knowledge of database administration or programming languages is required.
Teradata Certified Technical Architect (TCA) – This certification is designed for experienced professionals who want to become technical architects. They need to complete a minimum of four years of work experience in the field and should have a strong understanding of database administration, business intelligence, data warehousing and analytics.
Teradata Certified Master (TCM) – This certification is designed for experienced professionals who want to become master database administrators. They need to complete a minimum of five years of work experience in the field and should have a strong understanding of database administration, business intelligence, data warehousing and analytics.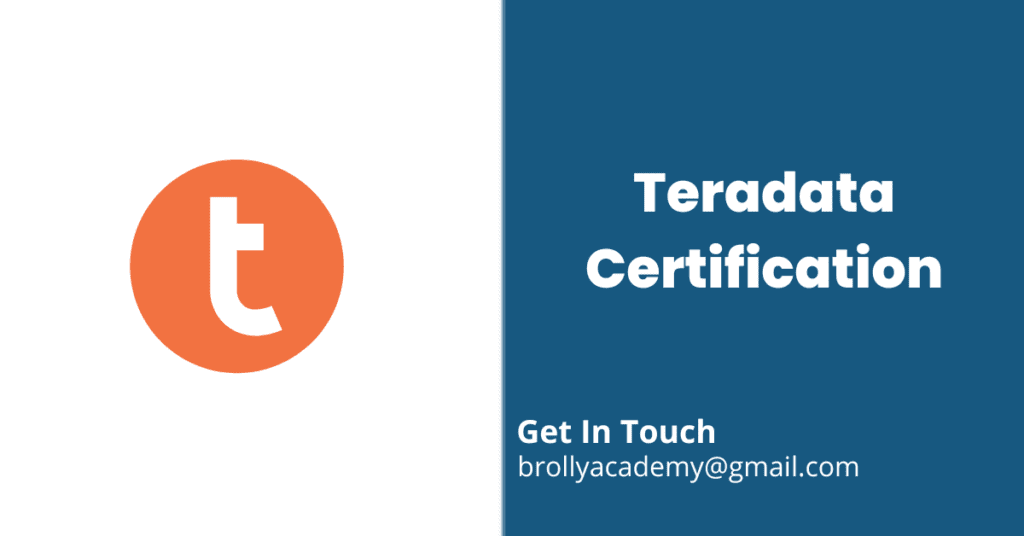 Advantages of learning Teradata training in Hyderabad
Brolly Academy's advanced training will give you the knowledge and skills needed to master Teradata. Our unique approach, combining theoretical knowledge with practical experience enabled by our trainees applying what they've learned directly in real-time projects is unlike any other available today.
Skills developed after the Teradata course training –
Prerequisites of Teradata training course in Hyderabad
To be eligible for Teradata training course in Hyderabad, you must have a good understanding of the following-
Career Opportunities in Teradata
Which is the best Teradata training institute in Hyderabad?
Brolly Academy offers the best Teradata training in Hyderabad that provides excellent advanced training and coaching services.
What is the Teradata training fee in Hyderabad?
Brolly Academy offers the most affordable prices without sacrificing quality, making our institute a great place to get your Teradata training.
What is the average salary of a Teradata professional in Hyderabad?
The average salary of a Teradata professional in Hyderabad is Rs. 6,00,000 per year.
Where can I find Teradata training near me?
We offer Teradata training in Kphb and Teradata training in Ameerpet, you can visit us or get in touch with us for further queries.
What if I miss a class?
Students can make up for missed sessions by attending our next live batch or we can also arrange backup classes for you.
Do you provide placement assistance?
Yes. To help our students land jobs after the completion of their training program, we assist them with mock interviews and resume preparation by providing personal guidance from industry experts as a part of our Teradata placement assistance.
Who are the trainers at Teradata training in Hyderabad?
The Brolly Academy's Teradata course is taught by trainers who specialize in the field and have ample working experience.