Teradata DBA Training in Hyderabad
100% Placement Assistance
Teradata DBA Training in Hyderabad Batch Details
| | |
| --- | --- |
| Course Fee | 20,000 Rs |
| Course Duration | 2 Months |
| Timings | Monday to Friday (Morning to Evening) |
| Next Batch Date | 18th Sep 2023 AT 11:00AM |
| Training Modes | Classroom [HYDERABAD] / Online |
| Location | Hyderabad |
Key Features Of Teradata DBA Training
Teradata DBA Course Curriculum
About Teradata DBA Training in Hyderabad
Teradata, a relational database management system (RDBMS), is used by many organizations. Teradata DBA is known for its consistency in handling data and transactions, extensive security features, outstanding performance when working in parallel mode, solid structure that is easy to scale up and all these qualities combined with SQL-queries capability. 
Teradata's components are Storage Architecture, which handles input and output; Access Module Processors or AMPs, which manage information requests made to the system by users; Parsing Engines that break down queries into smaller tasks for other systems to carry out (e.g., retrieving data from databases) and a corresponding Message Parsing layer used in communication between Teradata products. 
Brolly Academy provides real-time and placement-focused Teradata DBA training in Hyderabad. Our Teradata DBA course includes basic to advanced levels, and our Teradata DBA course is designed to get you a job in good MNC companies as quickly as possible after certification. Our Teradata DBA trainers are certified experts with 7+ years of experience working on hands-on real-time multiple Teradata projects. We have designed our Teradata course content, syllabus, and teaching methods based on students' requirements to achieve everyone's career goal.
The course covers fundamental skills, along with advanced concepts of Teradata DBA so you can develop your knowledge base at every stage of growth. Our comprehensive training also gives you a chance to work on real-world projects that boost your Teradata DBA learning curve. Brolly Academy's Teradata DBA placement course will help you prepare for interviews, practice answers to questions, craft resumes and develop strategies that make you ready for real-world situations. 
We at Brolly Academy offer 3 types of training: online Teradata DBA training, classroom Teradata DBA training and Teradata DBA Self-paced Video course in Hyderabad. Our Teradata DBA course includes video recordings of class sessions, as well as materials such as sample resumes and everything students need to learn. 
The Brolly Academy offers certification programs for Teradata DBA. You will receive a course completion certificate at the end of the course. Brolly Academy's complete Teradata DBA training certification program will help you maximize your career opportunities in this growing field. To get the best Teradata DBA training in Hyderabad associate yourself with our Brolly Academy.
Enroll in Brolly Academy for Teradata DBA training in Hyderabad and build a lucrative career.
Modes of Teradata DBA Training
Why choose our Brolly Academy Institute?
Brolly Academy, a leading Teradata training institute in Hyderabad, is known for its method of teaching. Our expert trainers have over 7+ years of experience in the Teradata DBA Industry and can prepare you to launch your career. Whether you're a fresher looking for certification or an experienced professional with expertise. Our Teradata DBA Training course provides you with the skills and expertise you need to apply at companies that use this technology. Our Teradata DBA Course will help you get ready for your mock interviews, resume creation and question-and-answer sessions. Here are some reasons why you should enroll in our Teradata DBA Training course in Hyderabad:
Instructors will be available to answer questions and provide clarifications during the course. You can also use the discussion forums to ask your fellow learners about any topics that you find unclear or confusing.
Get Practice for Interviews
Brolly Academy's Interview preparation method simulates real job interviews by having students answer questions from potential employers. Our interviewers are experts in their fields and conduct interviews that have been refined over years of experience. These interviews will boost your confidence whether you're facing a job-interview for the first time or going through one more often.
Get trained from Anywhere Anytime
Enrolling in our Brolly Academy, you can now learn Teradata DBA training program anywhere in the world at your preferred time.
Our instructors are skilled at teaching Teradata DBA fundamentals. They will impart their knowledge to you during your training sessions. They will give you the skills that employers are looking for, so your training will be workforce-ready! Our trainers have years of experience in the industry and know how to train students effectively.
Limited Teradata DBA batches
We work with a limited number of students at a time so that we can give each student the personalized attention they deserve.
We have placed more than 20+ trainees in successful jobs at some of Hyderabad's top companies, where they earn excellent salaries
Brolly's Teradata DBA certification will be given to every student enrolled in our training program. This certificate is widely accepted and recognized throughout the world, which accelerates your chances of securing amazing job opportunities.
Doubt clarification sessions
We offer dedicated classes each week for students to meet with our trainers and pose questions about concerns they have regarding Teradata DBA course training. Our trainers will clear up any confusion during these individual sessions.
Testimonials of Teradata DBA Training in Hyderabad
Certification in Teradata DBA
This Teradata DBA training course is designed for clearing Brolly Academy's Teradata DBA certification. The entire course content is in line with this certification and prepares you to tackle it easily, getting the best jobs at top MNCs. By enrolling in this Teradata DBA Training, you will receive access to real-world industry scenarios and projects that are directly tied to your success as an employee. 
At the end of this Teradata DBA Training program, there will be quizzes that test your knowledge of core concepts on Teradata DBA. You can take these quizzes to prepare for your Teradata DBA certification exams or just to check your understanding the choice is yours! Upon the successful completion of students' project work, Brolly Academy will award them with a Teradata DBA course completion certificate.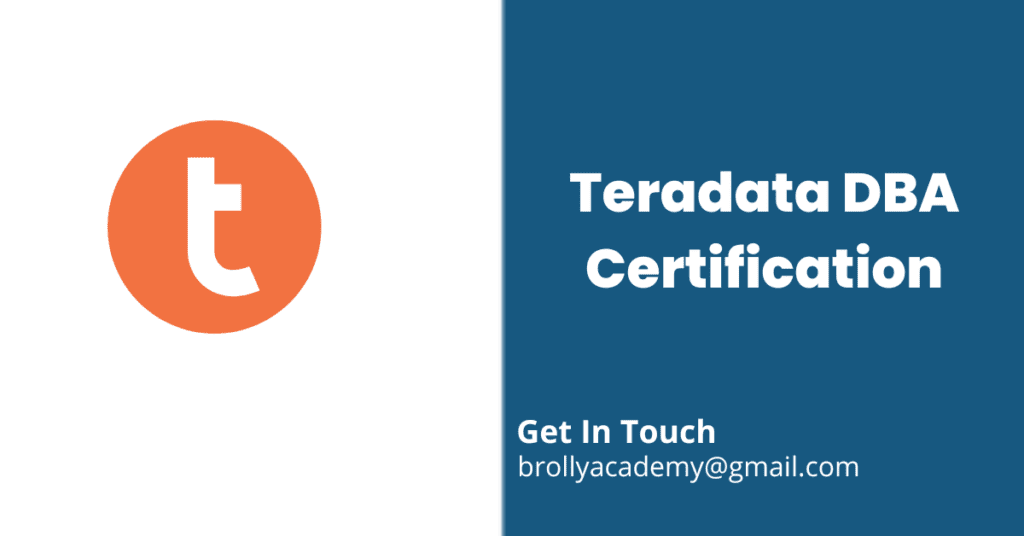 Advantages of Learning Teradata DBA course -
Employment possibilities in Teradata DBA
Completion of the Teradata DBA course you will learn
Prerequisites to Learn Teradata DBA
Why should I consider a career in Teradata DBA Technology?
Teradata DBA is a company that produces large-scale data warehousing applications. It runs on massively parallel open processing systems and offers analytic database platforms, application software, and other related services. The firm develops a product to gather data from various sources and make it available for analysis.
Will you provide Practical Training In Teradata DBA at Brolly Academy?
Our Teradata DBA training offers a comprehensive introduction to the software, including both theoretical and practical classes. Students will learn about each module before applying that knowledge in high-intensity sessions reflecting real-world challenges
Will you providing a free demo before enrolling in Teradata DBA Training?
Brolly Academy offers free demo classes on Teradata DBA to all interested students, giving them the chance to experience our training program before enrolling.
What if I miss any Teradata DBA class at Brolly Academy?
In case you could not attend the class you can join in our next live course or we can provide you with backup classes.
Will I get job assistance in the Teradata DBA Training Course at Brolly Academy?
We keep an eye out for job openings at companies you'd be interested in, and we alert you immediately when one appears. We provide interview practice sessions and real-world projects to help prepare you for your next job. Then we send your updated CV to all of the prospective employers
What is the advantage of Learning teradata DBA?
Teradata DBA is a data warehouse product. It's meant to help you analyze your data more easily by taking it from various sources and transforming it into an easy-to-understand form. This process of gathering, preparing and organizing all your company's information together under one roof so that you can run charts or queries on any individual component at anytime. It can handle far more data than traditional RDBMS systems without affecting performance
Which institute is best for learning Teradata DBA Training in Hyderabad?
Brolly Academy know as the best Teradata DBA Training provider in Hyderabad. With our expert trainers, you can learn all aspects of the language and become a skilled professional
What is the Teradata DBA course fee in Hyderabad?
The cost of Teradata DBA courses in Hyderabad depends on the type of training different institutes provide. We at Brolly Academy provide the course at an affordable price without compromising the quality
Who are the trainers at Brolly Academy for Teradata DBA training?
The Brolly Academy offers Teradata DBA classes, taught by skilled and experienced professionals with 7+ years of experience. Our aim is to provide you with the best training and support, so that you can be confident in your ability
Where can I fine Teradata DBA training Institute in Hyderabad?
We offer Teradata DBA Training in Kphb and Ameerpet, You can reach out to us to know about the more information.