Android Training in Hyderabad
100% Placement Assistance
Android Training in Hyderabad Online Batch
Android Training in Hyderabad Course Curriculum
Key Features Of Android Training in Hyderabad
Android is used by many businesses and organizations, including:
Who should learn Android?
About Android Training in Hyderabad
Android is the most popular mobile operating system (OS) based on the Linux kernel and is developed by Google recently. 
Most organizations across multiple domains are building Android Apps both for enterprise and retail products.
It has a user interface based on direct manipulation and it is primarily designed for mobile devices such as – smartphones and tablets, with specialized user interfaces for Android TV, Android cars, and Android wristwatches.
Android is an open-source operating system which means anyone can customize and modify the operating system.
Java programming language used in Android to write the code and able to run multiple apps at the same time. 
Till now, No other software replace the Android platform, it is a powerful mobile operating system in the world till date and no other software replaced this platform.
Brolly Academy is known for its excellent approach to training students by providing practical and technical sessions in Android training in Hyderabad. 
Our Android course in Hyderabad is fully immersive, and instructor-led that helps our learners to master the Android ecosystem, with hands-on practical demonstrations.
The syllabus of the Android course online consists of each and every concept that is necessary to clear the Android certification exam and required for job interviews. 
This intensive training helps the students of this course to get in-depth knowledge of intents, activities, messaging APIs, rich user interface creations, Android SDK, and lot more.
Our android course syllabus covers the topics as – 
Introduction to Android Architecture overview

Basic Android User interface

Android Views and Widgets

Main Building Blocks

Overview of Android Resources

Data Storage

Android Media API etc. 
We conduct both online and offline to cater to every student's requirement with convenient class timings and also provide android training in hyderabad with placement assistance.
Learners will also be given a course completion certificate after the successful completion of the training.
Learn Android from scratch and master the technology to become a professional in the high demanding field. 
Enroll with us for the android training institute in hyderabad with placement assistance by Brolly Academy. 
Modes of Android Training Program -
Classroom training

We have designed our classroom Android App Development training program to meet the needs of today's student workforce, with courses that revolve around real-world scenarios. As part of our classroom training, we use real-world projects and live scenarios so that students feel confident working independently. Students will be provided with a course guide and study material, as well as access to our online exclusive classes, where they can interact with other students.
Android Course Online

Our Android Course Online program is conducted via e-learning platforms, so students can learn at their own pace and on the go. Our online courses are comprehensive, providing in-depth coverage of core concepts as well as advanced features of Android architect and its various concepts. This is designed to give students first hand exposure on mastering their knowledge in the applications like Eclipse, Android Studio, DDMS, Drawables, Listeners Screen reader support enabled and more advanced concepts of Android.
Android Video Course

This Android video course is made up of video tutorials giving detailed and step by step proceedings of the Android course syllabus. The Android App Development Video Course offers a hands-on learning experience, allowing you to work with the information through step-by-step videos and exercises. The learning mode is self-paced, so students can move through the material at their own pace. Students can listen to the entire training course at their convenience.
Why Consider Us for Android Training in Hyderabad?
Registered and Experienced Instructor -

We have certified instructors with more than 10+ years of experience in Android technology. They are well versed in Android technology and know exactly how to guide you get the job done. Whether you're an experienced professional or you're just a fresher's, our instructors can help you learn the Advanced Android training concepts from scratch with ease with their expert guidance.
Certification Guidance

We offer a professional training course that will give you the knowledge and skills in learning Android app development technology from scratch to become a professional Android Developer. We help you to master the skills you need to ace the Android certification exam and get certified. By the end of this course students will get a course completion certificate on Android training signed by Brolly Academy which is accredited by top companies world wide.
Placement Support

At Brolly academy, we have a dedicated Android placement guidance team that provides post training assistance to our students. We specialize in helping students get the right job and internship through our assistance by fully preparing them for real-time interviews. We are a one-stop solution provider for all your professional career needs, starting from resume preparation to mock interviews, we provide you with everything you need to get ahead in your career.
Remote Learning

We provide Advanced Android training online that are conducted via e-learning platforms, and self-paced video courses. You'll get a chance to master the Android technology from the comfort of your home by enrolling in our remote learning options. You can get access to our online and video learning training modes from anywhere in the world.
Access to Android LMS

We provide you free access to our online learning management system (LMS) upon enrollment. This will include access to our exclusive video recordings, android course content pdf, live training courses, assignments, and case studies of Android training. We expect our students to leave our training with the knowledge and skills required for Android technology and become a skilled professional in the field of Android app development.
Live Project Assistance

We conduct workshops and assigned our students real-time projects by Industry experts that will help them to gain high-level knowledge in the android technology and its various concepts. We make sure all our students work on live projects and know the day-to-day updates in Android App Development. We test your knowledge and improve your skills by completing daily assignments. This will also help you to enhance your Technical Skill.
Android Training Certification
Android is one of the most South after career options in today's job market. There is a huge demand for Android developers in the current job market and it is continuously growing. 
This Android certification course provides you with developer-level insights into Android technology and its platforms.
Brolly Academy's Advanced Android training program is curated by top-notch industry experts and is designed to meet the current market standards. 
Our android course syllabus will provide you with an overview of the structure and deployment of Android.
towards the end of the training program, We will provide our trainees with a Android course completion certificate that is verily certified with global acceptance. 
You can get this certificate in digital form or as a hard copy based on your personal requirements. 
Some of the top Android certifications include –
Google Play Store Listing Certificate

Associate Android Developer

Tensorflow Developer Certificate

Professional Cloud Certificate

Professional Data Engineer
Process to clear the certifications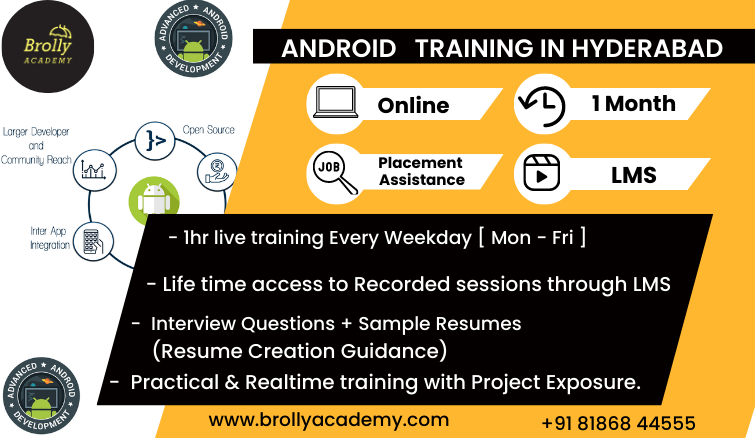 Benefits of learning Android Course Certification
Objectives of Android Training Program
Prerequisites for Learning Andoraid Training Program
Job Possibilities in Android Course
Is android development a good career?
With the rapidly growing Android market, the job opportunities for Android Developers are also increasing with a good salary package in this industry. There is a huge demand for both beginners and experienced Android developers offering many career opportunities. You can work both the way permanently or work as a freelancer in the field of Android development technology.
What is android development course?
Android development is the process using which applications are created for devices running the Android operating system. Google states that "Android apps can be written using Kotlin, Java and C++ languages," but other languages are also possible.
Is opera gx available for android?
Opera GX has a host of useful features. One is the ability to search for information on the Internet by using your voice or scanning a QR code, as well as typing queries into its bar.
Which class sd card is best for android?
A microSD card for your mobile phone should ideally be class 10 U1. If you plan to shoot high-quality videos, make sure that the video speed of your card is at least 30Mbps. A V30 will support a minimum write speed like this.
Can I do programming on android?
Yes, you can do programming on android.
What is dp android?
One dp is a virtual pixel unit that's roughly the size of one physical pixel on a medium-density screen (160 dpi), but Android translates this value so it matches what each density requires.
How long does it take to learn android?
Master the skills of core Java which leads to android development would take 3 to 4 months. It is estimated to take around 1.5 to 2 years to have a good understanding and to start with android development projects.
Android Training Institute near me?
Brolly Academy has 2 branches - Android Training Institute in Kphb and Android Training Institute in Ameerpet, you can visit us or get in touch with us for further queries.
What is the Android course duration?
The Android course duration depends on the curriculum and modules. You can contact us for further details related to the Andoraid training program.
How much is the Android course fee?
Brolly Academy offers an affordable Android course fees in Hyderabad for everyone. To know more about the cost feel free to reach out to us by the given contact details on our website.
Do you provide placement assistance?
Yes, we do provide placement assistance program to help our students land jobs after the completion of their training program. We assist them with mock interviews and resume preparation by providing personal guidance from industry experts as a part of our Android Training in Hyderabad with placement assistance program.