OBIEE Training in Hyderabad
100% Placement Assistance
OBIEE Training in Hyderabad Batch Details
Key Features Of OBIEE Training
About OBIEE Training in Hyderabad
Oracle Business Intelligence Enterprise Edition (OBIEE) is a business analytics tool developed by Oracle Corporation that can be used to collect, store and analyze data for the purposes of creating corporate reports, dashboards, etc. OBIEE is a multi-server structure that separates access to data and presentation aspects of the assessment, thus enabling its implementation using Siebel Analytics technology. 
Oracle OBIEE also specifies a suite of web-based techniques for collecting and analyzing data that are organized around dashboards and composed of tables, graphs, pivot tables, etc. This tool is excellent at offering end-user expertise in this field.
The Brolly Academy Oracle Business Intelligence training program helps you gain the experience and skills needed for a career in this technology. Through our hands-on training sessions in OBIEE training, users could very well obtain an in-depth understanding of OBIEE's innovative features, BI dashboards reports, etc. 
You will work on two real-time industry-based projects during our OBIEE training online, which will make it easier for you to clear the certifications. The curriculum for Brolly Academy's OBIEE training course has been designed by certified experts to enhance the learning experience. 
The following module includes all of the course content in detail such as OBIEE, Variables, OBIEE Overview, OBIEE Components, Repository Basics, Repository Modes online and offline, Error Messages, Importing data sources, Defining logical joins, Creating dimension hierarchies, Oracle BI for MS Office. 
When you complete the training modules, you will receive a Brolly Academy certificate of achievement for obtaining your OBIEE certification. By earning this certification, you can apply the knowledge it imparts to create more effective solutions for your customers and provide them with a greater understanding of business processes. 
We offer a variety of training options including OBIEE online training, OBIEE in-person instruction classroom training, as well as OBIEE self-paced video courses so that people can find what works best for them. Our extensive OBIEE training programs and placement assistance schemes offer excellent employment opportunities to our candidates.
Brolly Academy is the premier provider of OBIEE Certification courses in Hyderabad. Enroll with us to get the best OBIEE Training in Hyderabad.
Why Choose Our Brolly Academy Institute For OBIEE Training?
Brolly Academy is the leading Software training institute in Hyderabad and has been recognized for its effective teaching methods. Our expert trainers have over 9+ years experience in OBIEE and can prepare you to enter this exciting industry. Whether you're a fresher looking for certification or an experienced professional with expertise. Our OBIEE Training course provides you with the skills and expertise you need to apply at companies that use this technology. Our OBIEE Course will help you get ready for your mock interviews, resume creation and question-and-answer sessions. Here are some reasons why you should enroll in our OBIEE Training course in Hyderabad:
Expert OBIEE Training Staff
Our OBIEE instructors have years of experience training both professionals and students. They share their expertise with our students, who benefit from learning about the latest concepts in their field.
Our OBIEE virtual classes offer engaging instruction and convenient video content from experienced instructors that can be accessed at your convenience.
We have a 24*7 support system where our dedicated support team is always ready to help out with any course-related or technical queries.
Brolly Academy is a comprehensive online course that provides you with the skills and knowledge required to use Oracle Business Intelligence Enterprise Edition.
Our career services staff will help our students apply the skills they learn here to real-life situations, guiding them through all phases of their job search from creating a resume to practicing for interviews.
We limit our class size to a maximum of 10 students in each batch so that all get the attention they need.
Students who complete Brolly Academy's OBIEE training program will receive our course completion certificate. This is a globally recognized certification that can open doors for your career in the world of business intelligence.
We offer weekly sessions, during which our trainers meet with students to help address questions they may have regarding the OBIEE course.
Testimonials of OBIEE Training in Hyderabad
This OBIEE training course is designed for clearing Brolly Academy's OBIEE Certification. The entire course content is in line with this certification and prepares you to tackle it easily, getting the best jobs at top MNCs. By enrolling in this OBIEE Training, you will receive access to real-world industry scenarios and projects that are directly tied to your success as an employee. 
At the end of this OBIEE Training program, there will be practical exercises that test your knowledge of core concepts on OBIEE. You can take these exams to prepare for your OBIEE Certification exams or just to check your understanding the choice is yours.  Upon the successful completion of students' project work, Brolly Academy will reward them with a OBIEE Course Completion Certificate which will add more value to your resume.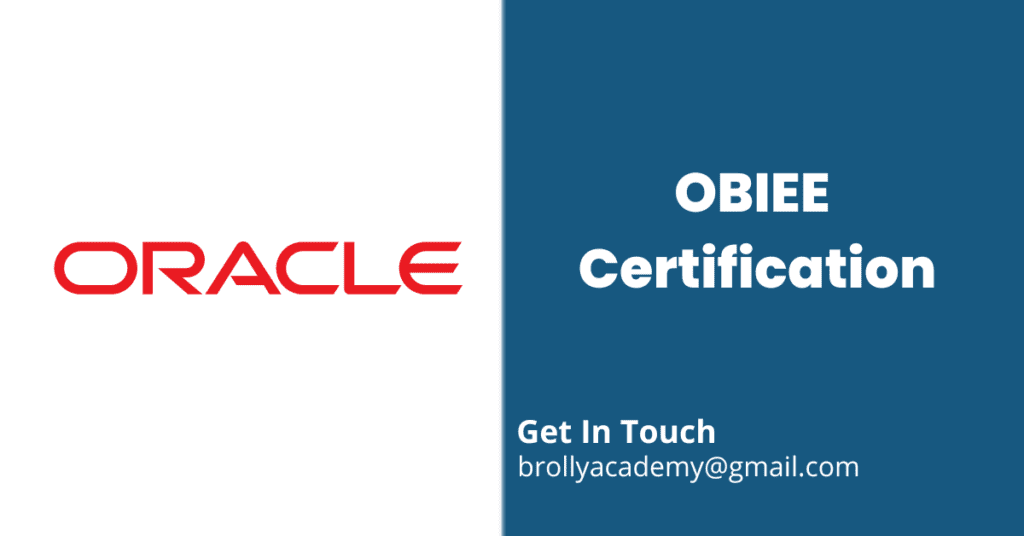 Advantages of Learning OBIEE Course
Employment possibilities in OBIEE
Completion of the OBIEE Course you will learn
Prerequisites to Learn OBIEE
Who should take this Training OBIEE Course?
● Programming Engineers
● Mainframe experts
● Business Intelligence Professionals
● Extend Managers and Database experts
● Individuals who need to manufacture their profession in Reporting and Analytics
What is the average Salary of a OBIEE certificate holder as per Market?
Employees with an OBIEE Certification Salary Ranges by $102,000.
What are the Key features of OBIEE?
● OBIEE has very interactive and easy to use dashboards.
● OBIEE provides robust reporting.
● With OBIEE you get a common infrastructure for creating and delivering reports, tracking the scorecards, performing ad-hoc analysis and OLAP analysis.
● OBIEE has cost efficient architecture.
● OBIEE allows the users to visualise their data using map based visualisations, wide range of animated charted options and more.
● It has proactive detection and alerts.
● OBIEE Provides Microsoft Office Integration.
Is OBIEE enough to get a job?
Even as a fresher, you can find employment in the OBIEE domain. Although its share is declining, OBIEE has many large-scale implementations and offers new products for modern BI. Though Tableau is growing fast, it has experienced a slowdown in recent years.
Can I learn OBIEE without any Coding Experience?
OBIEE is an enterprise software company that produces business intelligence applications. The OBIEE platforms support dashboards, scorecards, reports, and other tools that let you consolidate data into actionable information. Interfaces incorporate web, desktop, and Microsoft Office coordination. OBIEE stays one of only a handful couple of autonomous, traded on an open market BI programming suppliers in the Business Intelligence (BI) market one that's growing substantially as organizations investigate staff change and economy-driving innovation practices.
What are the tasks and duties of an OBIEE Developer?
● To Design, development, delivery, and maintenance of OBIEE.
● Project Management via use of Oracle platform.
● Installation and configuration of system environments.
● Development and migration of OBIEE Reports.
● Analyzing business challenges & translating them into solutions etc…
Will I get proper expert guidance on my Resume Preparation at Brolly Academy for job purposes?
Yes, our experts can develop a resume that highlights your skills and accomplishments.
Will you provide Practical Training In OBIEE at Brolly Academy during the training period?
Our OBIEE training provides both theoretical and hands-on instruction, enabling you to become a proficient user of the software. During class, students will be given an overview of each module before being asked to apply that information by facing real-world challenges and getting extra practice.
What are the training modes offered by Brolly Academy for this OBIEE Course?
We offer OBIEE course in Classroom training, One to One Training, Self-paced video learning, Customized Training & Online Training mode at our Brolly Academy in a comprehensive training method.
Will I be provided with a free demo class before enrolling in OBIEE Training at Brolly Academy?
Brolly Academy offers a free demonstration of its Oracle Business Intelligence training class to students who express an interest in enrolling.