Workday Training in Hyderabad
100% Placement Assistance
Workday Training in Hyderabad Batch Details
| | |
| --- | --- |
| Course Fee | 20,000 Rs |
| Course Duration | 2 Months |
| Timings | Monday to Friday (Morning to Evening) |
| Next Batch Date | 7th Feb 2022 AT 11:00AM |
| Training Modes | Classroom [HYDERABAD] / Online |
| Location | Hyderabad |
Key Features Of Workday Training
Workday Course Curriculum
About Workday Training in Hyderabad
Workday is a cloud-based software vendor that specializes in human capital management and financial management applications. With technology similar to SAP and Oracle, the company provides demand-side financial as well as human capital or employee management services. Workday provides Human Capital Management, Financial Management, and Payroll software to businesses. It is used by thousands of companies as a leading web-based ERP solution. Workday Training in Hyderabad at Brolly Academy will help you to build your career graph with technology that has established itself as the market leader. Workday is a technology that's becoming increasingly popular, with many people using it to start and advance their careers in well-known companies. Brolly Academy is an excellent choice for those looking for a thorough and expert-level of Workday training course in Hyderabad. The Workday course in Hyderabad is designed to automatically activate the Human Resources department and make its applications simple, secure, and easy to use cloud computing. Our trainers have experience in implementing real-time solutions on queries related to a variety of topics in Workday technology so that students gain deep subject knowledge and can get jobs in the competitive world. Aspirants can acquire both practical and theoretical knowledge in every module, which will help them solve complex business solutions with ease and in real-time scenarios. We will maximize the return on investment and adoption of workday applications by delivering training that is comprehensive, timely, and cost-effective. Our program covers the basics, plus a number of more advanced topics: from Fields of Implantation to Document Transfer, Time Management Calculated Work Day's Employee Compensation Management. iLoads and even Transactions are also covered in our workday training. You will receive Workday certification upon completion of the training program and approval by most companies. Attaching the Workday certificate to your professional resume can help you promote dynamic and flexible job opportunities for candidates with the right skills. It is also a way of enhancing your own potential employment opportunities by uplifting career growth. This course is designed for both novice and advanced Workday users. Our training staff has more than nine years of experience in delivering successful courses and coaching students through learning experiences. With three different modes of training that include Workday online training, Workday video course training in Hyderabad, and Workday classroom training in Hyderabad, Brolly academy stands as one of the leading institutes in Hyderabad. At Brolly academy we also prioritize training the students by making them job-ready with our Workday placement assistance training programs. Interview questions, resume preparation, mock tests, mock interviews, referrals and much more can be accessed as a part of our Workday Placement program.
Join Brolly Academy for a demonstration of our Workday Training in Hyderabad, where we will provide an overview of Workday's evolution and its importance in the market.
Modes of Workday Training
Why choose our Brolly Academy Institute?
Brolly Academy is a leading Software Training institute in Hyderabad, is known for its method of teaching. In Brolly Academy our Workday expert trainers have over 9+ years of experience in the Workday Industry and can prepare you to launch your career. Whether you're a fresher looking for certification or an experienced professional with expertise. Our Workday Training course provides you with the skills and expertise you need to apply at companies that use this technology. Our Workday Course will help you get ready for your mock interviews, resume creation and question-and-answer sessions. Here are some reasons why you should enroll in our Workday Training course in Hyderabad
We offer two kinds of Workday training online courses and video classes. Both options let you train on your own schedule, no matter where in the country you might be
We also go the extra mile by organizing live group discussions where course tutors and students can share their experiences.
Brolly Academy offers expert training in interview preparation that helps students get jobs. Our program includes mock interviews, Frequently Asked Questions (FAQs), and other resources to help our students prepare for their dream careers!
We will help guide you through your career and offer an opportunity to work with us on our mission of helping people find jobs.
Learn from Best Instructors
Our Instructors are well experienced and have years of real-time exposure using Workday. They make the Workday concepts simple by communicating them in a way that sticks with our students. Our best trainers work passionately to help people understand!
We only accept a small number of students, so that each one receives the individual attention they deserve.

A certificate from our training program would be awarded to each student in the program. With this certificate under his or her belt, a graduate has an excellent chance of landing a great job opportunity.
We offer personal one-on-one classes in which our trainers can meet with students and answer questions about Workday course training.
Testimonials of Workday Training in Hyderabad
This Workday training course is designed for clearing Brolly Academy's Workday certification. The entire course content is in line with this certification and prepares you to tackle it easily, getting the best jobs at top MNCs. By enrolling in this Workday Training, you will receive access to real-world industry scenarios and projects that are directly tied to your success as an employee. At the end of this Workday Training program, there will be quizzes that test your knowledge of core concepts on Workday. You can take these quizzes to prepare for your Workday certification exams or just to check your understanding the choice is yours! Upon the successful completion of students' project work, Brolly Academy will award them with a Workday course completion certificate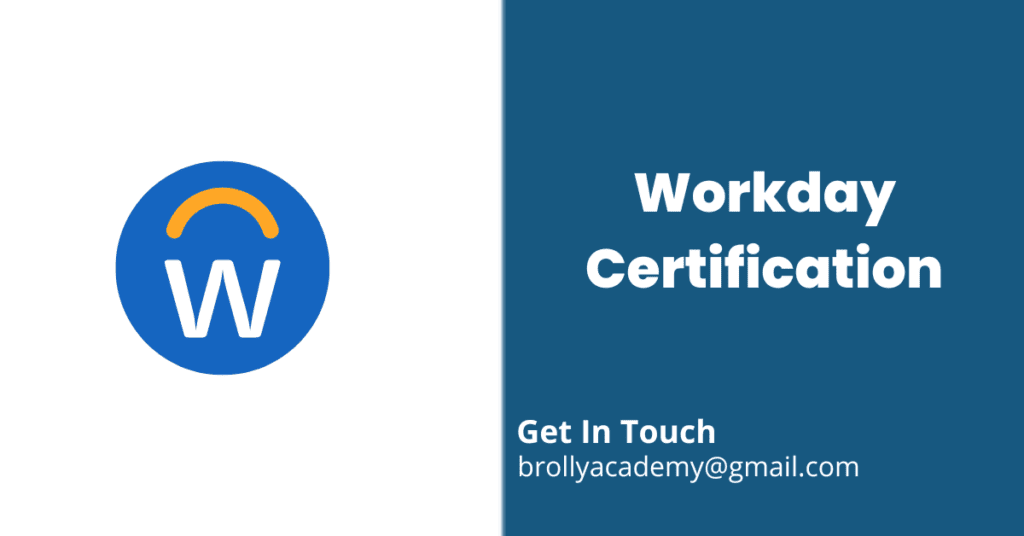 Advantages of Learning Workday course -
Employment possibilities in Workday -
Completion of the Workday course you will learn -
Prerequisites to Learn Workday
What are the skills you will learn during this Workday training?
● Workday Integrations ● Latest terminologies and business processes involved in Workday Suite ● Calculated Fields ● Create and configure reports ● Create and configure the business process ● Workday Studio ● EIB integrations
Who can take this Workday training?
Anyone who is interested to start a career Workday training. ● Business analysts ● Project managers ● HCM Practitioners ● System administrators ● IT professionals ● ERP Consultants who want to explore Workday ● Workday Consultants curious about integrations
Does Brolly Academy provides practical training sessions in Workday training?
Yes, our Workday training provides a solid foundation in the software, including both theoretical and practical lessons. Before being challenged with scenarios reflecting real-world challenges (and receiving feedback on his work), students will first learn about each module.
Will I be getting a free demo before enrolling in Workday Training?
Brolly Academy offers free, hands-on classes on Workday to help you decide if our training program is right for you.
Will I get a placement assistance program in the Workday Training Course at Brolly Academy?
We help you prepare for job interviews and create resumes that we send to employers on your behalf.
Which institute is best for learning Workday Training in Hyderabad?
Brolly Academy is the best provider of training in Workday technology. We provide expert trainers who can help you become a skilled professional by learning all aspects of this language including how to apply it to your job.
Who are the trainers at Brolly Academy for Workday training?
Brolly Academy is a leading provider of Workday training, consulting, and implementation services. Our experts help individuals and organizations throughout the world master their use of Workday technologies
What are the benefits of getting certified in Workday certification?
Certification will improve your career prospects and help you find a job with one of the leading companies in Hyderabad.
What if I am not satisfied with the Workday training provided by Brolly Academy?
We provide special training to any student who is not satisfied with the general course we offer.
Who are the companies that hire Workday professionals?
The major companies hiring Workday professionals in Hyderabad are IBM, Capgemini, Accenture, UnitedHealth Group, Birlasoft, CSC, Amazon, TCS Oracle, CGI, and many more.
What is the Average salary of a Workday professional?
The average annual pay for Workday professionals in Hyderabad ranges between 4.5 LPA to 11 LPA.