SAP Testing Training in Hyderabad
100% Placement Assistance
SAP Testing Training in Hyderabad Batch Details
| | |
| --- | --- |
| Course Fee | 20,000 Rs |
| Course Duration | 2 Months |
| Timings | Monday to Friday (Morning to Evening) |
| Next Batch Date | 7th Feb 2022 AT 11:00AM |
| Training Modes | Classroom [HYDERABAD] / Online |
| Location | Hyderabad |
Key Features Of SAP Testing Training in Hyderabad (Online Classes)
SAP Testing Course Curriculum
About SAP Testing Training in Hyderabad
SAP testing is a generic approach to ERP software testing. This means that it can be used as the primary methodology for other large-scale enterprise resource planning (ERP) systems, such as Oracle's EBS and Peoplesoft products. 
SAP Testing can be done both manually and with automation tools. When testing a change in SAP R/3 or Enterprise Portal, first it must be designed as a test case for the application, then executed to verify how well the new feature works.
Brolly Academy offers SAP Testing training in Hyderabad with real-time experts. We provide all SAP Modules like ABAP, HR, FICO, and others all in one place! Whether you need online or corporate training, we have the right program for your requirement. 
Brolly Academy is one of the best leading IT training institute with a talented staff and exceptional resources. This SAP Testing course is designed to help students develop the skills needed for a career in that field. 
The curriculum, which focuses on both testing and configuration management, allows participants to master key concepts while also acquiring relevant hands-on experience. We continually improve our training methods, incorporating the most advanced technology and curriculum to keep our trainees ahead of their peers.
Our Best SAP Testing Training in Hyderabad is a great way to get started learning about this software, as all of our trainers are experts and use live projects during the class. Since all Trainers are SAP Testing domain working professionals, they have access to many live projects and use these in their training sessions. 
You will receive an SAP Testing certification upon completion of the training program. This certificate can be attached to your professional resume and used to promote dynamic, flexible job opportunities for candidates with the right skills. Obtaining the SAP Testing certificate offered by Brolly academy will greatly enhance your career potential and help you achieve growth within the company. We offer online training, video-based courses in Hyderabad, and classroom-oriented training to suit the learning needs of all kinds of trainees.
At Brolly academy we also focus on training the students by making them job-ready with our placement assistance programs. Interview questions, resume preparation, mock tests, mock interviews, referrals and much more can be accessed as a part of our SAP Testing Placement program.
Enroll with us for the SAP Testing training in Hyderabad and build a lucrative career. 
Modes of Training For SAP Testing Training in Hyderabad
Why choose our Brolly Academy Institute?
We are the leading SAP Testing Training Institute in Hyderabad, with our training method being highly regarded by many. Our expert trainers have over 11+ years of experience in the SAP Testing industry and can prepare you for your future career. Our training is designed for both the freshers and professionals who want to pursue a career in the IT industry. 
Our SAP Testing Training course will help you gain in-depth knowledge of the subject, which will enable you to get jobs with companies that use SAP Testing products. Our SAP Testing course will help you get the best possible preparation for your mock interviews, resume creation and question-and-answer sessions. Here are some reasons why you should enroll in our SAP Testing training course in Hyderabad:
Customized course curriculum
The SAP Testing course curriculum was designed by instructors with extensive experience in the IT field. The goal is to train students so they can secure jobs and advance their careers; whether you're a beginner or an advanced-level user, this course will take you from newbie status all the way up to being qualified for your dream job.
At Brolly Academy's SAP Testing mock interviews, you practice for a real-life job interview with the help of experts who've been through hundreds of interviews themselves. We give your application expert attention so you know it'll be taken seriously here.
Post training guidance cell
Our support staff helps students address problems they encounter during the training period and build confidence in themselves that will carry forward after their time with us has ended.
We keep our class sizes small so that each student receives individual attention during training and can receive personal assistance from their trainer. We take great pride in the success of our students and their achievements.
Brolly SAP Testing Certificate
Students who complete our SAP Testing training in the Hyderabad program will earn a certificate that makes it easier for them to land jobs at leading companies around the world, and their certificates are widely accepted by other organizations as well.
We have created a lifetime learning management system for SAP Testing. Our comprehensive study guide is easy to use and provides you with all the core concepts that you will need as an SAP tester.
We help you find jobs that are a good match for your skills and experience level of SAP Testing so employers want to hire you, negotiate salary packages commensurate with others in similar positions and more.
We offer quality SAP Testing training that can be accessed from anywhere in the world. Our online and video courses are comprehensive, with tutorials, recordings and more.
Testimonials of SAP Training in Hyderabad
Brolly Academy's SAP Testing Certificate Training, developed by real-time expert tutors based on scenario-based concepts and real-world practices, is very effective. Our certification is recognized by companies around the world, and this qualification will greatly enhance the value of your resume. With our certificate in hand, you can apply for a leading job post and we guarantee that only those who have successfully completed our training program will receive one!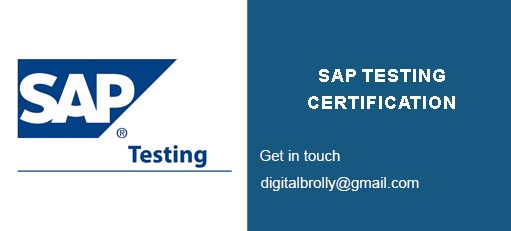 Advantages of learning SAP Testing Training Program
At the completion of the course you will get experiential knowledge in –
Employment possibilities in SAP Testing
Prerequisites to Learn SAP Testing
Whom should I contact if I have more questions regarding SAP Testing Training?
We welcome the opportunity to discuss our SAP Testing training with you. Please feel free to contact us on the given number if you have any questions about this course.
What is the cost for the SAP Testing Course at Brolly Academy?
Please visit our website or contact us at one of our offices for more information about the cost of an SAP Testing course.
Will you provide me a job assistance after the compilation of this SAP Testing Training?
Yes. To ensure that our graduates get jobs, we provide mock interviews and resume preparation assistance so they know how to handle an interview well on the first try and land their dream job.
Who are the trainers in the SAP Testing course at Brolly Academy?
At Brolly Academy, we'll train you in the ways of SAP Testing that are approved by our expert instructors.
What if I miss a class?
Students who miss a session can make up for it by scheduling one-on-one training with our experienced instructors or attending the next consecutive batch.
What are the learning objectives of SAP Testing Training?
SAP testing is the approach to testing ERP software made by SAP. This method can be used for other types of ERP systems, like Oracle EBS or Peoplesoft.
What are the concepts included in the SAP Testing Course?
Software Development Life Cycle
Software Testing Life Cycle
Defect Management Life Cycle/ Bug Life Cycle
Will I get career opportunities after completing the SAP Testing Course?
Getting SAP Testing will work with plenty of opportunities for your job. It is a decent range of skills to have as a few engineer jobs inside the work market require skills in SAP Testing. Leading SAP Testing by using up the SAP Testing course can support you to begin along with your business in IT.
Who can get benefited through SAP Testing Certification Training?
This course is for anyone who wants to learn about testing and validating all SAP modules in the SAP Testing environment. It's meant to help you develop these skills.
What is the average salary of an SAP Testing employee?
Certified SAP Testing professionals can earn extremely high-paying jobs in putative corporations that rely on the tool for business processes. These companies pay square measures to these certified individuals around a median of $109,089 each year.