Oracle GoldenGate Training in Hyderabad
100% Placement Assistance
Oracle GoldenGate Training in Hyderabad Batch Details
| | |
| --- | --- |
| Trainer Name | Mr. Srinivas Chinta |
| Trainer Experience | 7+ Years |
| Next Batch Date | 19-09-2023 |
| Training Modes: | Online Training (Instructor Led) |
| Course Duration: | 30 Days |
| Call us at: | +91 81868 44555 |
| Email Us at: | brollyacademy@gmail.com |
| Demo Class Details: | ENROLL FOR A FREE DEMO CLASS |
Key Points Of Oracle GoldenGate Training in Hyderabad
Oracle GoldenGate Course Curriculum
About Oracle GoldenGate Training in Hyderabad
Oracle Cloud Infrastructure (OCI) GoldenGate is a real-time data mesh platform that uses replication to keep your data highly available and enables you to perform analysis in near real time. Oracle GoldenGate is a software product that enables the replication of data from one database to another.
It allows you to replicate, filter, and transform data between Oracle databases as well as other supported heterogeneous databases. Brolly Academy offers the best Oracle GoldenGate training in Hyderabad with a detailed course program. The training includes core topics like architecture, installation of Oracle GoldenGate, configuration of integrated extracts, configuration of initial loads, configuring change deliveries, extract trails, parameters, data filtering, data selection, bidirectional in GoldenGate, mapping data, manipulating data, managing EMCC plug-ins, managing GoldenGate monitors, configuring SNMP alerts, managing email alerts and more.
Brolly Academy offers a wide range of courses that include both IT and software training courses in Hyderabad with updated course curriculums and modules. The Oracle GoldenGate certificate offered by Brolly Academy can be mentioned in your resume, accelerating career growth and opportunities in the field. Your skills and experience will be verified with this certificate and can help you advance to higher positions or land a job interview at any time of your choosing.
This course is designed for anyone, regardless of employment status or educational level. Expert trainers will provide assistance with finding placement if needed. In order to reach a wide range of students, our institute offers Oracle GoldenGate online training classes, Oracle GoldenGate video course,s and Oracle GoldenGate classroom-based sessions. Our placement cell's guidance, advice, and background information help you make well-informed decisions about where to work.
 Interested in learning how to use Oracle GoldenGate? Enroll with us and take advantage of our complete training package. 
Modes of Training For Oracle GoldenGate Training in Hyderabad
Why choose us for Oracle GoldenGate Training?
Our experts have comprehensive technical knowledge of the industry and its requirements. They'll help you address any concerns about your career, resolving them with patience and attention to detail.  
Our modes include Oracle GoldenGate online and video course training that are instructive and easy to learn by giving the trainees an advanced learning experience. A carefully planned, structured curriculum that allows students the flexibility to take classes at times convenient to them will be established.  
Course related Technical sessions
We help students develop the skills and expertise they need for success in their field by providing them with technical knowledge as well as instruction on how to apply it.
We help our students learn the material in their curriculum, but we also train them for later interviews by guiding and preparing them with frequently asked interview questions (and answers), providing multiple mock interviews and tests.
Our support staff is always available to answer any questions you might have related to the training, fee structure, class schedules or other issues. They will guide and direct you as needed with a usual quick response time.
We have trained 45+ trainees with 20+ successful placements in some of the top companies in Hyderabad with excellent packages.
All students enrolled in our training program will receive a certificate of completion from Brolly academy. This certificate demonstrates that you have mastered the skills necessary for your new career as an expert on GoldenGate technology.
At Brolly Academy, we take in only limited batches of trainees (to maintain an intimate learning environment), who can receive personalized attention from their trainer.
Testimonials of Oracle GoldenGate Training in Hyderabad
Oracle GoldenGate Certification
After completing this course, you will be issued an Oracle GoldenGate certificate by Brolly Academy. The successful completion of the training with certification from Brolly guarantees scope of opportunities in companies throughout the world. You can choose whether to receive a hard copy or digital download version of your certification or both as per your requirement. It has been established that the high-quality training and Oracle GoldenGate certification provided by Brolly Academy increases job placement success for our students and trainees.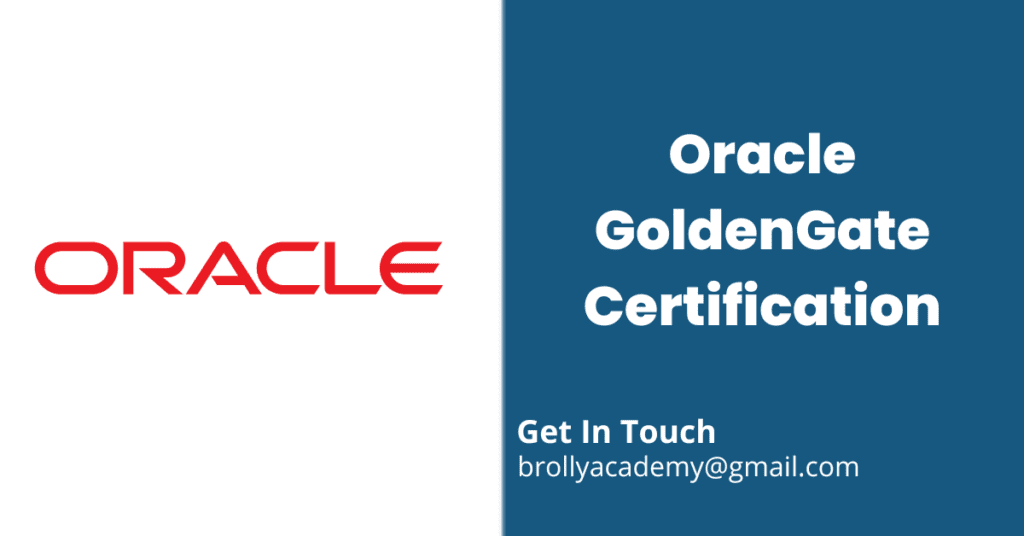 Advantages of learning Oracle GoldenGate training in Hyderabad
Our advanced Oracle GoldenGate training at Brolly Academy will give you both a solid theoretical and practical foundation for building your career in this field. We offer comprehensive training programs that allow our trainees to become experts in Oracle GoldenGate and its applications. Our curriculum is updated by expert trainers who are well-versed in leveraging their skills and knowledge onto students like you.
Skills developed after the Oracle GoldenGate course training
Prerequisites of Oracle GoldenGate training course in Hyderabad
Career Opportunities in Oracle GoldenGate
Which is the best Oracle GoldenGate training institute in Hyderabad?
Brolly Academy offers the best Oracle GoldenGate training in Hyderabad. Our instructors provide expert guidance and coaching to help you master this technology.
What is the Oracle GoldenGate training fee in Hyderabad?
The cost of Oracle GoldenGate courses in Hyderabad varies depending on the type of training different institutes offer. Our institute, Brolly Academy, offers affordable and quality training with experienced instructors.
What is the average salary of an Oracle GoldenGate developer in Hyderabad?
The average salary of an Oracle GoldenGate developer in Hyderabad starts from 11 lakhs per annum.
Where can I find Oracle GoldenGate training near me?
We offer Oracle GoldenGate training in Kphb and Ameerpet. You can visit us or get in touch with us for further queries about our training course offerings
What if I miss a class?
We will make sure that students who miss sessions can still keep up with the class by offering backup classes or previously recorded versions of our classes.
Do you provide placement assistance?
Yes. Our Oracle GoldenGate job placement assistance includes mock interviews and resume preparation by providing personal guidance from industry experts, so that our students can have an edge over the competition after completing their training program.
Who are the trainers at Oracle GoldenGate training in Hyderabad?
The Brolly Academy's Oracle GoldenGate course provides instruction from instructors who are expert practitioners in the field.