QlikView Training in Hyderabad
100% Placement Assistance
QlikView Training in Hyderabad Batch Details
| | |
| --- | --- |
| Course Fee | 20,000 Rs |
| Course Duration | 2 Months |
| Timings | Monday to Friday (Morning to Evening) |
| Next Batch Date | 7th Feb 2022 AT 11:00AM |
| Training Modes | Classroom [HYDERABAD] / Online |
| Location | Hyderabad |
Key Features Of QlikView Training
QlikView Course Curriculum
About QlikView Training in Hyderabad
QlikView is a Business Discovery platform that empowers your business with self-service BI, enabling everyone to find answers in the data and use it to support decisions. It enables you to ask your own questions and answer them, pursue insight on your own terms and make decisions based on the answers you find. Brolly Academy's QlikView training will help you master data modeling, visualization, reporting, and dashboarding with ease. You will work on real-life projects throughout our QlikView course, which is in line with the certification exam conducted by Qlik. We offer the most competitive and industry-recommended classes for aspiring developers in Hyderabad. This QlikView training at Brolly Academy is delivered by some of the best-in-industry instructors who impart in-depth knowledge about this tool.
Brolly Academy offers QlikView Training in Hyderabad in a more practical way for its students. We offer QlikView Classroom training, QlikView Online Training, and QlikView video learning services. At Our Brolly Academy, our team of QlikView faculty designed the course syllabus to match the real-world requirements for both beginner-level to advanced levels. We are providing the QlikView training on both weekdays and weekends depending on the trainee's requirement for both freshers and working professionals. Brolly Academy also offers One-to-One QlikView Training. During the training period, you will learn some of the major topics we cover such as – OLTP V/S DWH, QlikView data structures, In-memory BI /OLAP, QWT (Access File example) primary data source, QlikView with Big data Hadoop, Advanced Scripting, Resident Load, and Group Function, etc. and all topics will be covered in a practical way with real-time examples. With the guidance of our trainers, our trainees will eligible to clear all types of QlikView interviews at the end of the training sessions and become job-ready candidates for the QlikView technology. Brolly Academy is not only providing QlikView training in Hyderabad but also focusing on the QlikView placement assistance program. Our dedicated placement assistance team will guide our trainee's throughout this program and build their confidence by conducting mock interviews, resume making, interview Q&A sessions, group discussions on the QlikView topic, and many more. In addition to the extra plus point, Brolly Academy's QlikView course fees are very moderate compared to other training providers. So take the chance and enrolled in our QlikView training in Hyderabad at Brolly Academy and build a lucrative career in the IT industry.
Modes of QlikView Training
Why choose our Brolly Academy Institute?
Brolly Academy's QlikView training methods have been recognized as being among the best in Hyderabad. Our expert QlikView trainers have over 7+ years of experience in the industry and can prepare you for your future career. Our training is designed for professionals who want a jump start on their IT careers. Our QlikView Training course will give you in-depth knowledge of the subject, making it easier for your resume to stand out when compared with other job applicants. Our QlikView training course will help you get the best possible preparation for your mock interviews, resume creation, and question-and-answer sessions. Here are some reasons why participation in our QlikView training program:
Our instructor at Brolly Academy offers students the benefit of their many years' experience in QlikView field by providing the live training sessions, and are available if you have any doubt/questions about the course.
Industries Expert Trainers
Our trainers are real-time experts who have trained thousands of students, professionals, and corporates. They are dedicated to their craft and make sure that you not only learn a new skill but also master it. They are always willing to help you with anything from tech support or troubleshooting problems related to your course.
We offer classes throughout the day at scheduled times. You can sign up for one when you're comfortable to attend the class.
We provide dedicated support to ensure that no one faces hurdles in pursuing their education, regardless of any challenges they may face. With the help of our dedicated support team, each student is able to meet their own goals no matter if they are large or small.
Brolly Academy, offers software training programs in Hyderabad and does not charge students any additional fees for these courses.
Upon completion of our QlikView certification course, students will receive a course completion certificate signed by Brolly Academy which will add an extra value to their career and open the job opportunity in QlikView technology.
E-learning videos + Study Materials
Study materials and access to an online learning management system will be made available throughout your studies, as well as after the course is completed. Students will be offered a life-time access to our E-learning video materials.
Our placement team will help you find the right job for your skills and experience in the respective field you got certified in and also guide you how to negotiate a salary that is fair based on what other candidates in similar positions are earning. In addition, our HR professionals will teach you how to give interviews well and more.
Testimonials of QlikView Training in Hyderabad
Certification in QlikView Training
Brolly Academy's QlikView Certificate Training, developed by real-time expert tutors based on the concepts and real-world practices, is very effective. Our certification is recognized by companies around the world, and this certification will greatly enhance the value of your resume. With our certificate in hand, you can apply for a leading job post and we guarantee that only those who have successfully completed our training program will receive the certificate.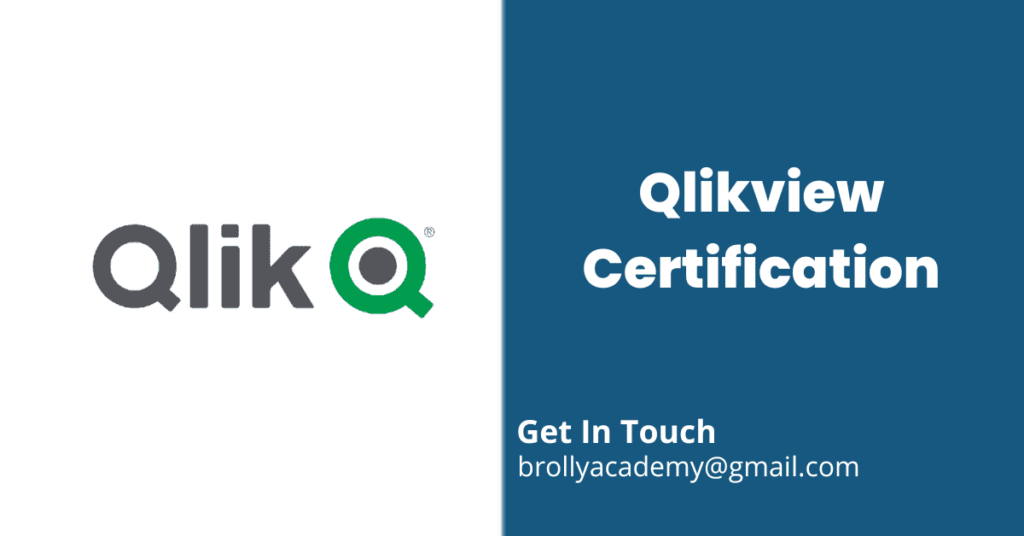 Advantages of this QlikView course
Objective of QlikView course:
Prerequisites to Learn QlikView
You need to have Basic knowledge of SQL, Data Understanding, Understanding the Business, Knowledge of data model, Layout Designing.
Who are the onboard faculty at Brolly Academy for QlikView Training?
Brolly Academy have experienced and dedicated faculty's who are working professional with the experience of 7+ year in the same domain who provide the training with personal attention, real-world insight, and practical advice.
What is the course duration of QlikView training at Brolly Academy?
The QlikView course duration is depending on the course curriculum.
What is the job role of a QlikView consultant?
A QlikView consultant extracts, transforms and loads data from multiple sources into QlikView. They perform data and systems analysis to translate business needs into technical code, they also maintain and support code Troubleshoot issues with existing data model and dashboards.
What does a QlikView developer job?
● A QlikView Developer is able to comprehend and translate the complex and advanced functional, technical and business requirements into executable architectural designs.
● They create and maintain technical documentation.
● Experienced in data integration through extracting, transforming and loading (ETL) data from different sources.
In which language is QlikView written?
● QlikView Desktop and QlikView Server service are written in C++.
● QlikView Management service, QlikView Distribution service, etc. are written in C#.
● Ajax client and the Qlik Sense UI are written in Java script and html.
Does QlikView use SQL?
Yes, you can use any valid SQL query in Qliksense/QlikView to load the data from databases.
Who should take up this QlikView training?
● Designers
● Business Intelligence Analysts
● Reporting Professionals
● Software Developers
● IT Architects
● Testing Professionals
● Those who are interested to build a career in data visualization.
What programming language does QlikView use?
QlikView has a combination of languages that can be used to manipulate data, VB scripting, SQL Server & C++, and a few other languages
How much do I need to pay for learning QlikView course at Brolly Academy?
The course fee is based on the curriculum and mode of study chosen by the candidate. For more information about QlikView's fees, please visit Brolly Academy's website or you can contact us.
Will I get placement assistance after the compilation of this QlikView Training at your Brolly Academy?
Yes, Our Job Assistance team helps our graduates prepare for interviews and create resumes. This service is available to all students who complete our QlikView Training certification program.