German Training in Hyderabad
100% Placement Assistance
German Training in Hyderabad Batch Details
| | |
| --- | --- |
| Course Fee | 20,000 Rs |
| Course Duration | 2 Months |
| Timings | Monday to Friday (Morning to Evening) |
| Next Batch Date | 7th Feb 2022 AT 11:00AM |
| Training Modes | Classroom [HYDERABAD] / Online |
| Location | Hyderabad |
Key Points Of German Training in Hyderabad (Online Classes)
Functional Grammar based on text book
Prescribed textbook: Sprachkurs Deutsch 1 and 2, Verlag Moritz Diesterweg Frankfurt am Main 1989/ GOYLSaab Publishers and distributors, New Delhi, 1997.
Comprehension of simple texts and precis writing
Essays on simple topics, questions on civilization
Translation of simple passage into English and simple sentences into the language of study
Recommended books: Langenscheidts Verb ae Tabellen Deutsch, Berlin Munchen/ OYLSaab Publishers and distributors, New Delhi, 1997. Lernzeil Deutsch, 1 and 2, (Wolfgang Hieber), Max Hueber Verlag 1991Langenscheidt Taschenwaqrterbuch, German-english, English-German, GOYLSaab, Delhi, 1994.
Reading of texts, general questions on- the country and civilization.
Material for oral expression will be supplied by the College
About German Training in Hyderabad
Achieving the German Certification at Brolly Academy will help you to provide yourself with various career opportunities in India, Abroad, and more in German-speaking countries. The German language is seen as a high-demand helping the country's economic growth and wealth. This is the major reason for the spread of the language worldwide and the growing demand for German speakers  in various sectors. At Brolly Academy we provide planned training for all levels From beginners to advanced teaching them in an easy and clear manner. Our Teaching professional experts will conduct practical classes to make students familiar with the language, its grammar, dialects, and intricacies. Mock practice tests are conducted to improve students' overall knowledge of the Language, helping them attain better in Speaking, Listening, Reading, and Writing German. Providing the Brolly academy German Course in Hyderabad does not mean only training in the Language, but it is more professional training helping candidates to achieve success in all skills to achieve their personal and professional goals.
German Language Training in Hyderabad provides 100% placement assistance and platform under the support of world-class language experts.
Enroll with Brolly Academy for the best German Language Training in Hyderabad with 100% placement assistance and be ready to grab opportunities around the world.
Modes of Training For German Training in Hyderabad
Why choose us for German Language Training?
Our experts are highly skilled and experienced with complete technical knowledge of industry specifics and requirements. They can provide guidance and fulfill your career-related apprehensions with maximal resolution and patience.   
Our modes include the German Language online and video course training that is instructive and self-explanatory to ease the learning experience of trainees across the globe. Systematic and smooth-running classes will be organized at flexible schedules to maintain a professional and balanced training program.   
Practical enhancement sessions
Our prime focus at Brolly Academy is to enrich the students with practical and core technical knowledge of the curriculum to forge them with hands-on experiential proficiency.
We not only train the students with the given curriculum but also guide them with the job interview processes by providing multiple exclusive frequently asked interview questions, a round of mock interviews, and mock tests with communication-building skills.  
Our support staff is always available for students with queries related to the training, fee structure, class timings, trainer inquiries, and more. They will guide you and direct you whenever required with a usual quick response.  
We have trained 50 trainees with 20+ successful placements in some of the top companies in Hyderabad with excellent packages.
A German Language certification will be given to every student in our training program. This certificate is widely accepted and certified to help you secure amazing job opportunities.
We only take in limited batches to ensure a comfortable learning environment is created for our trainees wherein the trainer can pay individual attention to the students with a personalized learning experience.
Testimonials of German Training in Hyderabad
Upon successful completion of this course, you will be prepared to take both the German certification exam and perform well on it. You will get comprehensive German certification training at our institute along with a well recognized Brolly course completion certificate that will be accepted by companies all over the world including many of today's top ones. This class is taught by an experienced instructor with a reputation for excellence. Brolly Academy offers a course completion certificate, which can be downloaded in both hard copy and digital format. This will prove useful to anyone who wants to begin their careers or gain further knowledge by learning the German course. Certification is valid for a lifetime, and can be included on your resume.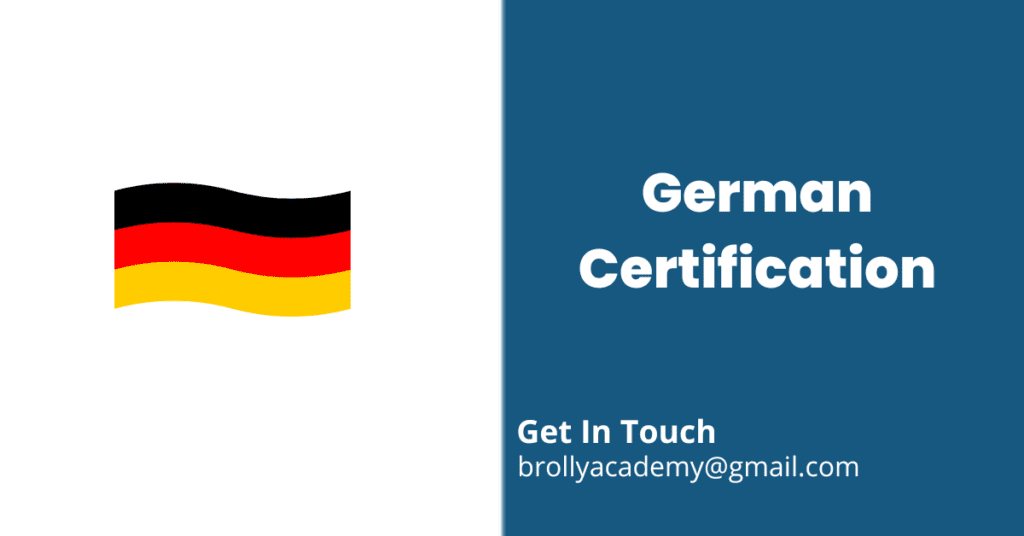 Advantages of learning German Training Program
Skills developed after the German Language course training
Prerequisites of German Language training course in Hyderabad
To be eligible for German training course in Hyderabad, you must have a good understanding of the following-
Career Opportunities after the German Language course
Which is the best German Language training institute in Hyderabad?
Brolly academy is one of the prominent institutes in Hyderabad known for providing practical knowledge with advanced teaching techniques.
What is the average salary of a German Language in Hyderabad?
The average salary of a German language tutor is 30k - 2.4 lakhs.
Where can I find German Language training near me?
We offer German Language training in Kphb and German Language training in Ameerpet, you can visit us or get in touch with us for further queries.
What if I miss a class?
Students can make up for missed sessions by attending our next live batch or we can also arrange backup classes for you.
Do you provide placement assistance?
Yes. To help our students land jobs after the completion of their training program, we assist them with mock interviews and resume preparation by providing personal guidance from industry experts as a part of our German Language placement assistance.
Who are the trainers at German Language training in Hyderabad?
The trainers at Brolly Academy are specialized in the field and have many years of working experience.