100% Placement Assistance
SQL Course in Hyderabad, Ameerpet (Online classes)
| | |
| --- | --- |
| Trainer Name | Mr. Srinivas Chinta |
| Trainer Experience | 7+ Years |
| Next Batch Date | 21-11-2022 |
| Training Modes: | Online Training (Instructor Led) |
| Course Duration: | 30 Days |
| Call us at: | +91 81868 44555 |
| Email Us at: | brollyacademy@gmail.com |
| Demo Class Details: | ENROLL FOR FREE DEMO CLASS |
Key Points of SQL Course in Hyderabad
SQL Course in Hyderabad Curriculum
About SQL Course in Hyderabad
The structured query language (SQL) is a programming language that was developed in the 1970s to allow programmers to easily manipulate data in relational database management systems (RDBMS).
 It's a language used by database administrators, developers, and programmers to interact with databases. As the world's largest database management system (DBMS), SQL has become the standard for storing, querying, and managing data in relational databases. 
It is the most widely used programming language in the world, and it is used to write data-driven applications, such as databases. Brolly Academy offers the best SQL training Hyderabad with quality education in SQL courses. 
We offer a complete set of training courses designed to teach SQL skills to beginners and experts alike. Our SQL training can help you to develop skills in a range of areas, such as database management, Data entry, and programming. 
You can learn to build databases and work with tables and columns, and you can also learn to write SQL queries. If you're a SQL aspirant looking to get certified, then you've come to the right place, Enroll with us today. 
SQL Course in Hyderabad - Online & Offline
We are an IT training institute offering training to students, professionals and corporations. Our training is based on the latest technologies and industry standards. We offer training facilities in both online and offline modes .
Why choose us for SQL course?
We have the best SQL trainers, our instructors are the best at what they do, and they have a wealth of experience. 
They know exactly how to help you get the job done. Whether you're an experienced developer or you're just starting out, our instructors can help you learn SQL.
Progressive Project allotment
We assign live SQL projects to our trainees as a part of our SQL course training, they can get their hands on real-life data sets. 
We have found that this helps students gain a better understanding of SQL syntax and how to use it in their work. 
Our SQL course syllabus is designed as per the industry standards created to provide in-depth knowledge of the subject matter. 
We have put together a beginner-friendly course that will teach you how to build databases and data models in SQL.
We provide live video lectures from top SQL instructors at our Academy making it more accessible and affordable. 
Our videos are recorded in real time in our classroom and are available for immediate viewing after the class is over.
We conduct online SQL training that is conducted via e-learning platforms, virtual meets, self-paced video courses and more. 
With this SQL course, you'll get a crash course on the most popular database management system (DBMS) in use today from the comfort of your home.
If you're looking for a low-cost, fast, and effective way to learn SQL, then look no further. We offer affordable SQL training and support for both beginners and advanced users. 
Our goal is to provide you with a clear understanding of the SQL language and how to apply it to real world problems.
SQL course in Hyderabad Online Testimonials
If you want to become a certified SQL developer, it's important that you learn the right set of skills. Luckily, we have a dedicated team of experts who will be happy to help you learn the right set of skills to pass the SQL certification exam. 
If you're interested in becoming a certified SQL developer, we've got you covered.  
We at Brolly Academy, provide SQL certification training where we'll walk you through the SQL certification process and prepare you for the exam.
Our team of certified professionals will provide you with the necessary skills to pass the exam. you will also be rewarded with a SQL course completion certificate from Brolly Academy.  The  certificate will be authorized as a digital copy or in the form of hard copy as per your requirement. 
With Brolly Academy, you can become a certified SQL professional and get your career off to a great start. 
Database Developer 

Database Administration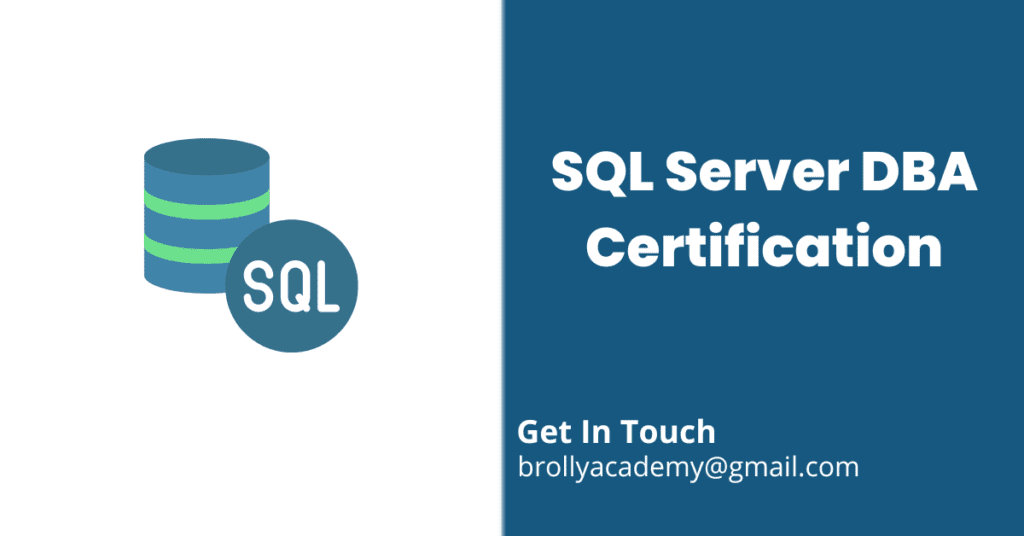 Benefits of attending SQL Course in Hyderabad
Skills developed at SQL course in Hyderabad
Career opportunities in SQL
If you're looking to work in a career that's constantly growing in demand, then a career in SQL could be just what you're looking for. Some of the SQL jobs are – 
Prerequisites to attend SQL Course in Hyderabad
The basic prerequisites required for SQL training include the following – 
What is SQL course?
SQL is a Structured Query Language which is a programming language that is used to manage and modify data in a relational database. Brolly Academy offers the ebay SQL course training that covers a complete set of topics and concepts.
Is SQL a good career?
SQL is one of the most in-demand skills and professions with profitable job opportunities and high package salaries.
How many days does it take to learn SQL?
We offer a 2-month extensive SQL training Hyderabad that will make you proficient in the course with practical knowledge.
What is the average SQL Developer salary in Hyderabad?
The average salary of a SQL Developer in Hyderabad is ₹4.2 Lakhs per year
What are the basic SQL skills?
The basic skills a beginner should know include SQL syntax, knowledge in Database servers as well as the commands in SQL.
Who can learn SQL?
Anybody can learn SQL as it is one of the most popular, versatile and easy to learn programming languages with immense scope in the future.
Where can I find the best SQL training near me?
Brolly Academy offers the best SQL training in Ameerpet and SQL training in Kukatpally
Do you provide a demo class?
Yes, we provide a free SQL course tutorial session so you can get a better idea of our training program before enrolling for the course.
What if I miss a class?
You can always attend our next live training batch or we can make backup training session arrangements for you.
Do you offer placement assistance?
Yes, Brolly Academy offers placement assistance but does not guarantee a job after training. We can only prepare you for the interviews but it ultimately comes down to your performance during real-time job interviews