Ionic Training in Hyderabad
100% Placement Assistance
Ionic Training in Hyderabad Batch Details
| | |
| --- | --- |
| Course Fee | 20,000 Rs |
| Course Duration | 2 Months |
| Timings | Monday to Friday (Morning to Evening) |
| Next Batch Date | 18th Sep 2023 AT 11:00AM |
| Training Modes | Classroom [HYDERABAD] / Online |
| Location | Hyderabad |
Key Features Of Ionic Training
About Ionic Training in Hyderabad
Ionic is a free and open source tool that allows developers to create mobile applications for multiple platforms (Android, iOS, Windows) without having to learn different programming languages. Starting to develop apps by learning Ionic is all that you need in order to build iOS, Windows or Android apps. Ionic offers software development kits and services to create hybrid mobile applications using web technologies like HTML5, CSS & Sass. Mobile Apps can be built entirely from scratch by using web technologies and then distributed in app stores to be installed on devices through the use of frameworks like Cordova. 
Brolly Academy presents a comprehensive Ionic training course that teaches students how to use the Ionic Framework for hybrid mobile app development. This Ionic workshop is hands-on, so that you may understand the practical aspects of Ionic including its backbone AngularJS and then move onto understanding Ionic fundamentals and services. In this Ionic Training course, We help developers create cross-platform mobile apps using CSS, HTML, and JavaScript by allowing them to build on the Iconic framework while giving each app a native look and feel without needing to learn various languages.
 Brolly Academy offers advanced Ionic training from expert trainers who use case studies and projects to help you better understand the core concepts of Ionic technology. Brolly Academy will also provide you with an Ionic Certification Training completion certificate upon completing the course. This Ionic certification denotes your expertise in using Ionic Basics to develop cross-platform mobile apps, and it will help launch a successful career as a skilled mobile app developer. 
We provide the best Ionic training in Hyderabad with the guidance of our experienced trainers. Our Ionic lessons are designed to be more practical and include real-world projects, helping you secure a job at a high-salary company in Ionic technology quickly! At Brolly Academy, we offer Ionic training in three different modes: live classroom sessions led by expert trainers, online courses and self-paced recorded lectures. 
In this Ionic course our most comprehensive offering you'll learn how applications work by building them yourself. Besides offering high-quality Ionic training, Brolly Academy's job placement assistance program helps trainees find work soon after finishing the course. This placement program will assist you with mock Interview preparation, Resume making guidance, Interview Q&A preparation etc…
Enroll in our Ionic Training course in Hyderabad at our Brolly Academy.
Why choose our Brolly Academy Institute?
Brolly Academy's Ionic training methods have been recognized as being among the best in Hyderabad. Our expert Ionic trainers have over 10+ years of experience in the industry and can prepare you for your future career. Our training is designed for professionals who want a jump start on their IT careers. Our Ionic Training course will give you in-depth knowledge of the subject, making it easier for your resume to stand out when compared with other job applicants. Our Ionic training course will help you get the best possible preparation for your mock interviews, resume creation, and question-and-answer sessions. Here are some reasons why participation in our Ionic training program is crucial:
Instructor-Led Live Sessions
Our expert trainers offer students the benefit of their many years' experience, and are available if you have any questions about the course
Industries Expert Trainers
Our trainers are real-time experts who have trained thousands of students, professionals and corporations.
We offer classes throughout the day at scheduled times. Simply sign up for one when you're ready to begin.
We at Brolly Academy are passionate about helping our students build confidence and self-esteem. We provide dedicated support to ensure that no one faces hurdles in pursuing their education, regardless of any challenges they may face. With the help of our team, each student is able to meet their own goals no matter if they are large or small.
Brolly Academy, located in Hyderabad, offers software training programs and does not charge students any additional fees for these courses.
Upon completion of our Ionic certification course in Hyderabad, students will be able to use the software program proficiently.
Study materials and access to an online learning management system will be made available throughout your studies, as well as after the course is completed.
Our placement team will help you find the right job for your skills and experience, negotiate a salary that is fair based on what other candidates in similar positions are earning. In addition, our HR professionals will coach you how to give interviews well and more.
Testimonials of Ionic Training in Hyderabad
Certification in Ionic Training
Brolly Academy's Ionic Certificate Training, developed by real-time expert tutors based on scenario-based concepts and real-world practices, is very effective. Our certification is recognized by companies around the world, and this certification will greatly enhance the value of your resume. With our certificate in hand, you can apply for a leading job post and we guarantee that only those who have successfully completed our training program will receive one!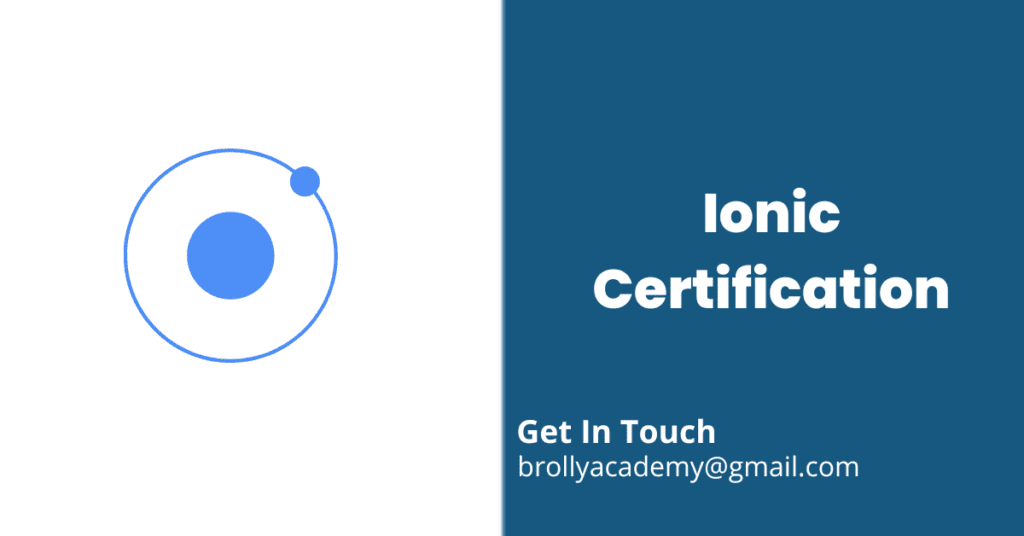 Advantages of this Ionic course
Objective of Ionic course:
Prerequisites to Learn Ionic
Who are the onboard faculties at Brolly Academy for Ionic Training?
Our experienced and dedicated faculty's are Web development experts who provides students with personal attention, real-world insight, and practical advice.
What is the duration of this Ionic training at Brolly Academy?
The Ionic course duration is depending on the choice of course and mode, durations vary as per the course curriculum.
Which programming language is used in Ionic?
Ionic apps are built using the languages of the web: HTML, CSS, and JavaScript.
How much do I need to pay for learning Ionic course at Brolly Academy?
The course fee is based on the curriculum and mode of study chosen by the student. For more information about Ionic's fees, please visit our website or call us at our office.
Is Ionic easy to learn?
Ionic is easy to learn: frontend developers can quickly grasp the basics or choose between various web frameworks that Ionic supports. Ionic doesn't compile the whole app into a native language, but having expertise in it would be beneficial. It's easier to learn Ionic with the support of expert trainers and real-time examples at Brolly Academy.
What practical skill set do I need to have for learning Ionic?
Be proficient with Ionic 3 core features, Ionic components, Ionic native, navigation.
Do I need to learn Angular before Ionic?
If you want to take your development career seriously and move up quickly, then yes it's essential that you understand AngularJS.
Will I get placement assistance after the compilation of this Ionic Training at your Brolly Academy?
Our Job Assistance team helps our graduates prepare for interviews and create resumes. This service is available to all students who complete our Ionic Training certification program.
What if I miss any classes on the Ionic Course?
If you have difficulty finding time to attend our regular Ionic classes, we will be happy to schedule a special session for you.
Who should take this Ionic training course?
This course was designed to give web developers a variety of tools and skills so that they can succeed in the fast-changing mobile app landscape.