Duck Creek Training in Hyderabad
100% Placement Assistance
Duck Creek Training in Hyderabad Batch Details
Key Features Of Duck Creek Training
Duck Creek Course Curriculum
About Duck Creek Training in Hyderabad
Duck Creek is one of the popular rating and policy systems being implemented by US and UK carriers to address evolving market imperatives. However, one challenge these implementations face is getting enough quality talent at low cost a crucial factor for profitability in a competitive environment where many large fleets have already undertaken some sort of HR transformation. Insurers need flexibility in the way they implement performance improvement programs and develop their resources at Duck Creek so that real business needs can shape how these processes take place.
Brolly Academy provides the best Duck Creek training in Hyderabad, where you will get 3 modes of Duck Creek training which are available as Online Duck Creek Training, Classroom Duck Creek Training, and Self-paced video course Duck Creek Training. We give you the training by assigning you real-world projects that allow you to develop your skills in Duck Creek technology. Our Duck Creek Training comes with a certificate, you can attach this certificate to enhance your professional resume after completion of our training process. 
We also provide Duck Creek training course with 100% placement assistance and training with real-time projects to upskill your knowledge. This will help you to achieve your dream job with our range of training processes. Our placement assistance team will guide you through the interview process, from preparing for interviews and crafting your resume to practicing with mock interviews.
Enroll in our Duck Creek training classes in Hyderabad and start building a lucrative career in the IT sector.
Modes of Duck Creek Training in Hyderabad
Why choose Brolly Academy for Duck Creek Training in Hyderabad?
Brolly Academy in Hyderabad is the leading software training institute provides Duck Creek Training, with its exclusive training method it is highly recommended by many. Our expert trainers have more then 13+ years of experience in the Duck Creek industry and can prepare you for your future career. 
This Duck Creek training is designed by our experts for both the freshers and professionals who want to pursue a career in the industry. Our Duck Creek Training course will help you gain in-depth knowledge of the subject. This course will help you get the best possible preparation for your mock interviews, resume creation and question-and-answer sessions. Here are some reasons why you should enroll in our Duck Creek training course in Hyderabad:
100% Money-Back Guarantee
If you are not satisfied with Brolly Academy's Duck Creek Training, then post completion of the first 2 demo session, we will refund you the entire amount.
Brolly Academy's well curated Duck Creek course curriculum by our experts is designed to make you industry-ready to meet the challenges of the job market.
Projects Assignments from Brolly
Brolly Academy will provide all its students with project assignments as soon as each topic is completed, and this is to help our students for a better understanding of the course and pass the Duck Creek Certification exam.
Highly Experienced Mentors
All our trainers are experts in their respective fields, and we guarantee that each of our software training programs is delivered by our top-notch expert trainers. Our trainers are masters in the Duck Creek technology and they will train you with real time live project experience they carry on Duck Creek technology.
Customizable Time Schedule
Brolly Academy's Online and classroom learning opportunities provides you with the flexible time scheduling options for classes, this facility given by us gives you the chance to make your education work with your own time convenience.
Brolly Academy provides a 24/7 support system. In this our team will be available online to address any problems that students may experience throughout the training period also after completion of all the software training course.
Brolly Academy's Duck Creek course will prepare you for the certification exam and make you a Duck Creek certified professional.
Brolly Academy's dedicated support team will assist you to find the right position for your talents, negotiate a reasonable salary and support you throughout the interview process until you get placed in your respective field that you have chosen for.
Testimonials of Duck Creek Training in Hyderabad
Certification in Duck Creek Training at Brolly Academy
The course is in line with certification programs and upon the completion of Duck Creek training, Brolly Academy will award you its course completion certificate as soon as you complete the certification exam. This certificate shows that you have mastered the domain. You can share your achievement on social media. Students will get the Duck Creek certificate from Brolly Academy only after successfully completing the course.
Advantages of Learning this Duck Creek Training Program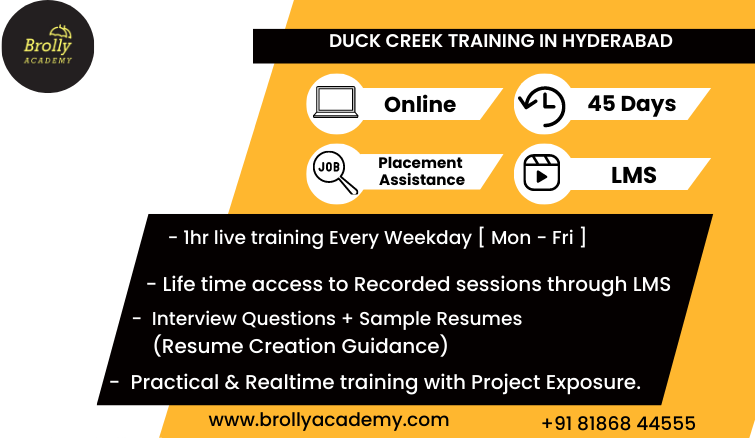 Employment possibilities in Duck Creek
Skills developed after the completion of the Duck Creek course
Prerequisites to Learn Duck Creek
Who can enroll for Duck Creek Training?
● Professionals like Billing Executive,
● Business Insurance owners,
● Management staff,
● Property Managers,
● Assistant Manager and anyone interested in learning Duck Creek can ideally join our course
Will I Be provided Sufficient Practical Training In Duck Creek at Brolly Academy?
Yes, Our Duck Creek training course includes both theoretical and practical training classes at Brolly Academy.
Will I get a free demo before enrolling in Brolly Academy's Duck Creek Training?
Yes, Brolly Academy offers free demo classes to all its candidates who are enrolling in our Duck Creek training program in Hyderabad.
What are the programming language used in Duck Creek technology?
● NET Framework.
● Composed in C#
. ● JavaScript and
● AJAX provides rich customer features.
What are the top companies to work with in duck creek technologies?
● Accenture
● Capgemini
● Mindtree limited
● HTC global services
● Xceedance
● Coforge
● Duck Creek Technologies
What is the Pay Scale of a Duck Creek Developer?
The Average Duck Creek Software Developer salary in India is 6.8 Lakhs. Software Developer salary at Duck Creek ranges between 5.1 Lakhs to 9.3 Lakhs.
What is the use of a Duck Creek Tool?
It is used by insurance companies to calculate their liability coverage.
In which sectors Duck creek technology is used for?
Duck Creek technology is widely used in the banking and financial sector.
Whom should I contact if I want to know more about the training process?
You can always reach out to our customer support cell available 24/7 to solve all your queries about the training process. We provide the contact details on our website and also you can send us an e-mail in the given mail-id. Our team will reach out to you as soon as possible.
What if I miss any Duck Creek topic at Brolly Academy?
No worries, You can join in our next live course or we can provide you with backup classes for the missed sessions.
Do you offer placements in the Duck Creek Training Course?
Yes, we do offer a placement assistance facility to all our candidates who ever enrolled for our Duck Creek training course at our Brolly Academy located in Hyderabad, India.