Manual Testing Course in Hyderabad
100% Placement Assistance
Manual Testing Course in Hyderabad, Online Training Details
| | |
| --- | --- |
| Trainer Name | Mr. N. Venkatest Kumar |
| Trainer Experience | 15+ Years |
| Next Batch Date | 21-11-2022 |
| Training Modes: | Online Training (Instructor Led) |
| Course Duration: | 60 Days |
| Call us at: | +91 8186844555 |
| Email Us at: | brollyacademy@gmail.com |
| Demo Class Details: | ENROLL FOR FREE DEMO CLASS |
Key Points of Manual Testing course in Hyderabad
Manual Testing Course in Hyderabad - Curriculum
About Manual Testing course in Hyderabad
The Best Manual Testing Course in Hyderabad is offered by Brolly Academy. Manual testing is a simple skill to pick up. 
The procedure for fixing flaws without using automated technologies, includes various types of manual testing, software testing, online testing, and application testing. 
The manual testing course is ideal for both new and seasoned professionals who want to improve their manual testing abilities. 
Our manual testing course module provides basic to advanced manual testing instruction for the SDLC, STLC, and SDLC vs STLC life cycles.
Learn from experts in the field as they explain Manual Testing concepts in real-time practical knowledge with a live, hands-on case study. 
Trainers lead students through various databases and have a combined experience of more than 8 years working on manual testing projects. 
They are also certified Manual testing industry professionals with a solid understanding of Manual Testing courses, Theory, and Practical. 
As part of our course, you will study some concepts like the following:
Unit testing

white-box testing

black-box testing

User acceptance testing

Integration testing 
Our Best Software Testing Training offers 100% placement support, and both classroom and online manual testing training.
Register right away for software testing in the expanding industry trends that offer great prospects in global IT projects.
Manual Testing Course - Online, Offline
We are Hyderabad's Best Manual Testing Training Institute and offer 100% Placement Support. Interested candidates can enroll in our manual testing online or traditional classroom. 
Additionally, we also have a self-paced video course.  At Brolly Academy, you can learn everything there is to know about manual testing
Why choose us for manual testing course?
All of the trainers at the institute who work for the Brolly Academy have more than eight years of experience working directly with the industry. They can provide our trainees with the greatest technology because they are skilled in manual testing, automation testing,  Selenium Webdriver,  performance testing, UFT, and  API Level Testing.
The curriculum for this manual testing course was created by subject-matter specialists within the industry. You will learn how to carry out several forms of software testing, including unit testing, user acceptability testing, regression testing, security testing, and more with this manual testing training.
Real-world manual testing projects
Our manual testing training program strives to provide high-quality instruction that focuses on practical application while covering fundamental knowledge of key concepts. Students' abilities will be enhanced and they will be able to complete real-world projects using the best practices given to exposure to use cases and scenarios from the present industry.
Manual testing certification
After the students have finished the theoretical and practical sessions, we give them the course completion certificate. It improves the worth of your CV, and you can get top jobs in top companies with the help of this certificate. Only after successfully completing our training and practice-based projects will the certification be granted.
Our team of professional career coaches will work with you to make sure you are properly equipped for manual testing jobs with the necessary skills and interview capabilities. We assist our students with job placements.
Testimonials for manual testing training
Manual testing certification
The Manual Testing Course from Brolly Academy has been created to help you achieve certification using the most recent syllabus. 
You will receive the knowledge and abilities required to pass the Manual Testing certification exams from our training professionals. 
You will also receive a Brolly Academy course completion certificate after completing the manual testing instruction, which is accepted and recognized by all the top companies.
Depending on your preference, this certificate may be issued as a hard copy or a digital copy. You can start your career off right by earning your manual testing certification from the Brolly Academy.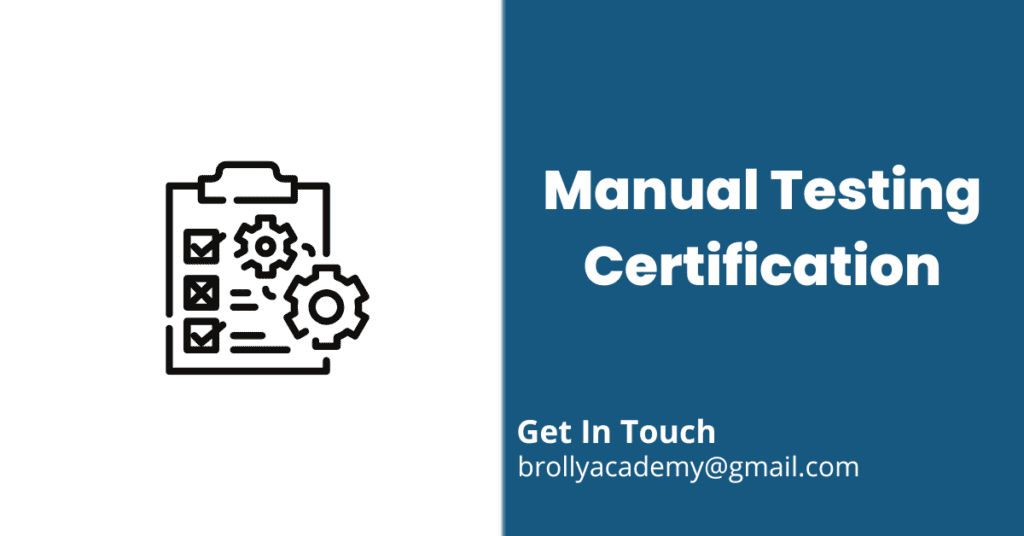 Benefits of Manual testing
Find errors using human intelligence:
When identifying software errors, manual testing enables testers to make use of their higher cognitive talents, such as logical reasoning and common sense. 
This aids in the discovery of faults that computerized exams could miss.
That is also the fundamental reason why manual inspection of the tests created by automated testing technologies will never be sufficient.
Tester familiarity with the project:
By taking more time to become familiar with a product's features and functionalities during manual testing, testers are able to keep track of the quality of a product as it goes through the development process.
This keeps them knowledgeable about the project, which will be helpful if problems develop after code modifications have been implemented.
This is one of the reasons we always advise testing a scenario manually before thinking about automating it.
Accurately simulates the user experience
Testers have the ability to apply their skills to simulate the user experience while using manual testing. On the other hand, automated tests run the danger of being unable to replicate various user experiences brought on by a variety of factors under real-world conditions.
This keeps the system testable:
Manual testing can assist testers in utilizing their knowledge to find issues that could render an application untestable.
Skills developed Post manual testing training in Hyderabad
Prerequisites for manual testing coaching
There are no prerequisites to learning manual testing. People from all backgrounds can use manual testing. You only need a fundamental understanding of how computers work and experience using simple applications. 
This program also accepts applicants from non-programming backgrounds who have a knack for understanding programming and data administration.
Career opportunities in manual testing
Software testing have a substantial potential for expansion in the industry. Therefore, a job as a manual tester will prove to be very successful. The need for skilled, experienced manual testers is always growing in the industry. 
Since software testing is done across the whole product life cycle, including the planning, coding, and user approval phases, it is a need. In all reputed companies, software testers and developers receive the same compensation. 
So enrolling in a manual testing coaching program may help you start along the path to a successful career.
Some of the most well-known manual testing job roles: 
You must now be aware of the necessity of manual/human testing for the delivery of high-quality products. 
The first step in becoming a top-notch manual tester is to recognize the value of QA Manual Testing and understand what makes it unique.
Does manual testing require coding?
Manual testing doesn't require any coding expertise. However, that does not imply that everybody can perform manual testing. For the testing field, you need the ability to detect many flaws, such as UI-related issues, functionalities-related bugs, and performance-related bugs. You also need good analytical abilities, but patience is maybe the most crucial requirement.
Is manual testing a good career?
In terms of functionality and requirements, manual testing is moving ever closer to software development. It is evident from the modifications and operational advancements in manual testing that manual testers must expand their abilities and everyday working habits.
What is qa manual testing?
In manual testing, test cases are carried out by a testing engineer by hand, without the use of any automated tools, as part of the software testing process. Finding all the defects, problems, and flaws in recently built software products and apps is the primary objective of manual testing. Manual testing is a crucial sort of testing that aids in identifying serious flaws in software programs.
How to learn manual testing?
I advise everyone to become familiar with both theoretical and practical principles before attending interviews. You mostly become familiar with the fundamentals and concepts during graduation. Joining the QA Software Testing Training Program is the greatest option for gaining practical experience. The greatest manual testing training facility is Brolly Academy, in which you can learn everything from scratch.
Will there be a demo?
Candidates interested in enrolling in the course can request a free demo from Brolly Academy. A free manual testing demo class with our trainer will be set up by us.
What qualifications must you meet to enroll in this course?
The course does not have strict eligibility requirements, and we accept applications from individuals with a variety of backgrounds. Freshers, working adults, and graduates from a range of academic fields are also among our trainees.