Salesforce Vlocity Training in Hyderabad
100% Placement Assistance
Salesforce Vlocity Training in Hyderabad (Online course)
| | |
| --- | --- |
| Trainer Name | Mr. Rajesh S |
| Trainer Experience | 6+ Years |
| Next Batch Date | 21-11-2022 |
| Training Modes: | Online Training (Instructor Led) |
| Course Duration: | 30 Days |
| Call us at: | +91 8186844555 |
| Email Us at: | brollyacademy@gmail.com |
| Demo Class Details: | ENROLL FOR FREE DEMO CLASS |
Key features of Salesforce Vlocity training in Hyderabad
Salesforce Vlocity Training in Hyderabad course Curriculum
About Salesforce Vlocity Training in Hyderabad
The most popular technology piece on the Salesforce platform, which is the sole provider of software and industry-specific solutions, is Salesforce Vlocity. 
The goal of Salesforce Vlocity Training is to create professionals that can use the platform effectively while also developing solutions to maintain their particular businesses and careers far ahead of the competition. 
The latest technology on the Salesforce platform is called Vlocity, and it is the leading provider of software and solutions for certain sectors. It sets itself as a world leader in customer relationship marketing, completely changing the way customers interact with brands.
Velocity also aids in the comprehension of the CMT, healthcare, and insurance sectors. The Salesforce Vlocity Certification is the last stage that serves as actual proof of your level of comprehension of this particular course and makes it easier to seize new employment prospects.
Salesforce Vlocity Training in Hyderabad Overview
On the Salesforce platform, which is the main supplier of business-oriented solutions and software, Salesforce Vlocity is a popular technology. 
By establishing itself as a world leader in customer relationship marketing, it completely changes the customer experience. Gaining more knowledge in the areas of CMT, health, and insurance is also beneficial.
One of the best resources for learning Salesforce Vlocity is Brolly Academy. For people who wish to advance their careers in Salesforce Vlocity, they offer fantastic training. 
The subjects covered in the Salesforce Vlocity include the fundamentals of Vlocity, naming conversion, an understanding of JSON, integration techniques, data Raptors, Omni Scripts, the fundamentals of Vlocity cards and layouts, the CMT Vlocity data model, the Vlocity Interaction Launcher, the Vlocity CPQ, and other topics. 
You will learn all there is to know about Salesforce Vlocity in this online course. Our live workshops will be accompanied by comprehensive practical training. 
You will receive support and assistance from our instructors until you finish the course. So register right away.
Learning Modes of Salesforce Vlocity
There are many different types of training available everywhere, including online and offline training. however, the safest and most efficient training method. At this time, online training is, in my opinion, the finest option. 
I'd recommend Brolly Academy as the top training facility where you can learn from industry leaders and devoted professionals. Even study materials, support, career advice, and job placement will be made available to you.
Here there are two different types of instruction available in online training.
Why choose Brolly Academy for Salesforce Vlocity?
Industries Professional Trainers
Our instructors use their practical experience to enhance learning. They treat every learner as an individual and offer them individualized training programs. They are constantly available to assist students in resolving technical issues that develop both during and after their course of study.
Projects for Salesforce Vlocity Training in Real-Time
Our Salesforce Vlocity Training program seeks to provide high-quality instruction that prioritizes practical application while covering essential knowledge of key ideas. Students' abilities will be enhanced and they will be able to complete real-world projects using the best practices due to exposure to use cases and scenarios from the present industry.
Salesforce Vlocity Certification
Our Salesforce Vlocity training provides all subjects needed to pass the certification exam for Salesforce Vlocity. Salesforce Vlocity certification practice questions, sample questions for the certification, and the material will be shared by the trainer.
Our Salesforce Vlocity course will provide you with significant knowledge of Salesforce to enable you to complete hands-on Salesforce training. Students will receive real-time training with job placement assistance and they can advance in their profession.
Salesforce Vlocity Training Reviews
Certification in Salesforce Vlocity Training
Salesforce Vlocity certification training offered by Brolly Academy will provide you with sufficient exposure and help you learn the Salesforce Vlocity platform. Our course syllabus is designed by real-time expert tutors based on the concepts and real-world practices which is very effective. Our certification is recognized by companies around the world, and this certification will greatly enhance the value of your resume. With our certificate in hand, you can apply for a leading job post and we guarantee that only those who have successfully completed our training program will receive the certificate.
Who can enroll in Salesforce Vlocity Training
If you are one of these or are trying to be one of them, then you can get register for the course training as soon as possible:
Different types of certifications that Salesforce Vlocity provides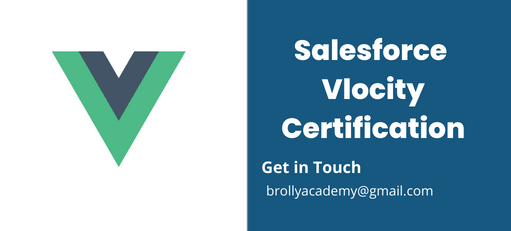 Salesforce Vlocity training in hyderabad Benefits
Skills Developed After Completion of Salesforce Vlocity
Prerequisites to learn Salesforce Vlocity?
Vlocity can be learned without any particular prerequisites. Due to its no-code/common code platform, Salesforce Vlocity is easily understandable by those without any prior knowledge of coding.
What is Vlocity salesforce?
On the Salesforce platform, Vlocity provides pre-built solutions that address the demands of specific industries. These typical needs are taken on by Vlocity and packaged as "cloud" solutions that can be used by different companies.
Is coding needed for salesforce Vlocity training?
To study Vlocity, there are no prerequisites. Salesforce Vlocity is a no-code platform, making it easy for anyone to comprehend even if they have no previous knowledge of coding.
What is the purpose of salesforce Vlocity?
On the Salesforce platform, Salesforce Vlocity offers a range of solutions that address the needs of many industries, including the public sector, insurance, healthcare, media, energy, and utilities. These solutions include omnichannel marketing, service, sales, and CPQ options.
what is difference between salesforce and Vlocity?
Salesforce is a top CRM software that enables remote working for an organization's sales, marketing, commerce, IT, and service employees. In addition, Salesforce Vlocity is a Salesforce platform-based company that develops software and industry-specific solutions to meet the demands of a certain business.
What is the Future Scope of salesforce Vlocity?
Before Salesforce came into play, it was impossible to have a career that was genuinely in demand, trusted, secure, appropriately spent, and also impactful. Due to its increasing demand, becoming a Salesforce Vlocity Software Developer these days is a fantastic chance. Being knowledgeable about Vlocity can benefit you in whichever industry you are involved in because it has established its presence in almost all industries.
How much does salesforce Vlocity certification cost?
Salesforce Certification examinations can cost somewhere between $200 to $600. However, most certifications have a price tag of about $200.
Why should I learn salesforce Vlocity?
The best customer relationship management (CRM) software available today is Salesforce. It has the ability to lower costs while increasing developer resources. Because of this, there is a big need for Salesforce Vlocity developers right now. Organizations are constantly searching for qualified people due to a shortage of talent and rising demand. The worth of Salesforce Vlocity developers is also expected to increase in the future as more businesses overload their operations with the power of Salesforce industries.