OpenSpan Training in Hyderabad
100% Placement Assistance
OpenSpan Training in Hyderabad Batch Details
| | |
| --- | --- |
| Course Fee | 20,000 Rs |
| Course Duration | 2 Months |
| Timings | Monday to Friday (Morning to Evening) |
| Next Batch Date | 18-09-2023 AT 11:00AM |
| Training Modes | Classroom [HYDERABAD] / Online |
| Location | Hyderabad |
Key Features Of OpenSpan Training
OpenSpan Course Curriculum
About OpenSpan Training in Hyderabad
OpenSpan Studio is an automation tool that teaches you how to construct application integration and automation projects. It operates as a plug-in for Visual Studio or in Isolated Shell mode inside of Microsoft Visual Studios. OpenSpan is one of the tools used in robotic process automation, which improves user performance by automating, simplifying, and integrating technology. With our well-qualified instructors and placement assistance team, Brolly Academy provides the top OpenSpan training facility in Hyderabad. We offer classroom instruction training, Live-online training, and self-paced recorded video learning in our training institute.
Brolly Academy provides real-time and placement-focused OpenSpan training in Hyderabad. Our OpenSpan course includes basic to advanced levels, and our OpenSpan course is designed to get you a job in good MNC after certification of the course. Our OpenSpan trainers are certified experts with 10+ years of experience. We have designed our OpenSpan course content, syllabus, and teaching methods based on students' requirements to achieve everyone's career goal. 
In this OpenSpan training you will get hands-on learning such as- Windows Integration, Interaction Framework, Web Integration, Project Deployment, Diagnostics and Debugging, Agile Desktop and Deployment. Brolly Academy's OpenSpan placement support will help you prepare for interviews, practice Q&A, resume making and develop strategies that make you ready for real-world situations. Our OpenSpan video course includes video recordings of class sessions, as well as materials such as sample resumes and everything students need to learn. The Brolly Academy offers certification programs for OpenSpan. You will receive a course completion certificate at the end of the course.
Enroll in Brolly Academy for OpenSpan training in Hyderabad and build a lucrative career.
Modes of OpenSpan Training in Hyderabad
Why choose Brolly Academy for OpenSpan Training in Hyderabad?
Brolly Academy is a leading Software and IT Training institute in Hyderabad, is known for its method of teaching. In Brolly Academy our OpenSpan expert trainers have over 10+ years of experience in the OpenSpan Industry and can prepare you to launch your career for the course you enrolled into. Our OpenSpan Training course provides you with the skills and expertise you need to apply at companies that use this technology. Our OpenSpan Course will help you get ready for your mock interviews, resume creation and question-and-answer sessions. Here are some reasons why you should enroll in our OpenSpan Training course in Hyderabad:
Our Instructors will be available to answer questions and provide clarifications during the course. You will also provided to a group discussion forum where you can ask fellow learners about anything you find confusing or want to discuss new things in the particular subjects.
We have expert Instructors who train the students and prepare them for interviews. Our dedicated placement assistance team will guide you with mock interviews, Frequently Asked Questions and more. We help our students maintain good resumes by providing some helpful formatting tips and templates to them to use it during their job search
Real-Time OpenSpan Projects
Brolly Academy's OpenSpan Training course aims to provide quality training that covers solid fundamental knowledge and core concepts with a practical approach. Such exposure to the current industry use-cases and scenarios will help learners improve their skills and perform real-time projects with the best practices.
Career Counseling Sessions
Once you learn the skills and become confident, we recommend you the eligible job roles, scope, and opportunities. Once you complete our course, we will provide career counseling to help you pursue a path in your chosen field.
We make sure to address any real-time challenges our students face during their careers through our community platform. Our support team proactively assists them with any difficulties that they may occur during their learning and also after that.
Brolly Academy's instructors are experienced OpenSpan professionals with exceptional skills. They can impart knowledge to you during your training sessions, and will make sure that you're prepared for the workforce when they're done. Our trainers are experienced and know how to train students well.
We limit the number of students we train with a maximum of 10 people in a group, so that each one gets the personal attention they need.
Brolly Academy's OpenSpan certification will be awarded to each student in our training program. Our certificate is widely accepted and recognized throughout the world which increases your chances of securing a great job opportunity.
Testimonials of OpenSpan Training in Hyderabad
Certification in OpenSpan
This OpenSpan training course prepares you to tackle the Brolly Academy's OpenSpan  certification program and get jobs at top MNCs. Our OpenSpan Training program is based on real-world industry scenarios and projects, giving you the skills you need to be successful in today's workplace. At the end of this course, there will be quizzes that test your knowledge of core concepts. This is a set of quizzes to prepare for OpenSpan certification exams or just to check your understanding. Upon successful completion, Brolly Academy will award students with course completion certificates. This certificate from Brolly Academy is recognized by top companies.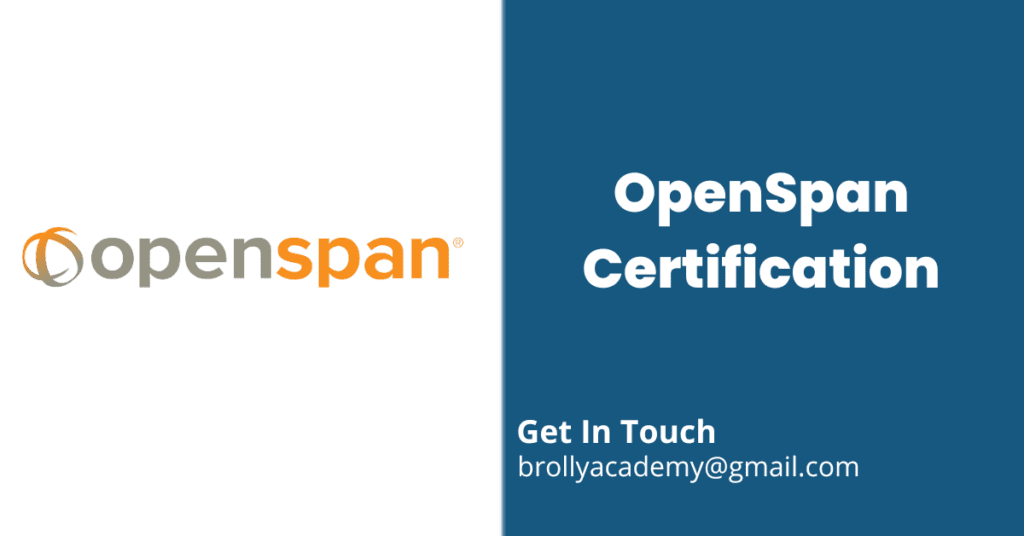 Advantages of Learning OpenSpan course
Employment possibilities in OpenSpan
Completion of the OpenSpan course you will learn
Prerequisites to Learn OpenSpan
Will I get assistance from the instructor for clearing my doubts during and after the training is completed?
Yes, our instructor will assist you during or after the OpenSpan training by providing you one-on-one doubt clearing sessions or in group discussions where you can clear all your doubts either in the current session or in the previous sessions.
What are the features of OpenSpan?
● Automates graphical design environment.
● Performs Desktop Analytics.
● Integration of the capabilities.
● Integration and automation of the identified capabilities.
What are the scope of an OpenSpan Developer?
This technology opens up many new possibilities for communication and collaboration. It's particularly revolutionary in larger industries like manufacturing, where it can free workers from repetitive tasks that are better suited to robots or computers. RPA is a software package that makes it possible to automate repetitive manual tasks, bringing about a silent revolution in the way operations are performed and manpower utilized.
Who can learn OpenSpan technology?
● Business Process Employees.
● Analysts.
● End Users.
● IT Professionals.
● Job Seekers.
● Administrators.
● Flowchart Designers.
What are the aditional benifits that one can get from Brolly Academy by enrolling OpenSpan course?
Brolly Academy always provide some additional benefits to its students by guiding them for interview preparation, mock tests and many more…
Will I get a good discount on OpenSpan training at Brolly Academy?
Brolly Academy offers a good discount percentage to its students, to know about the offers you can contact us on given contact details on our website.
Should I attend a demo session before enrollment for OpenSpan training at Brolly Academy?
Yes, you are welcome to attend the free demo session conducted by Brolly Academy on OpenSpan training for a better understanding of the training. We have a limited number of participants in a live session to maintain the Quality Standards. If you are not able to attend the session you can go through our Pre recorded video session on OpenSpan training of the same trainer, it would help you to give a clear information about how the classes are conducted, quality of trainers, etc…
Can I learn OpenSpan without having any experience in coding?
No, for learning you need to have knowledge and experience in coding.
What is the future scope of OpenSpan?
Data entry and data rekeying tasks can be easily automated with RPA. The various repetitive tasks such as formatting, assembling data or anything which requires a series of steps all these things are very easy to accomplish with the help of RPA.
How soon would I get access to the learning course material at Brolly Academy?
At Brolly Academy you will be provided access to all the learning materials after the complete payment for the OpenSpan course.
What are the top skills will I gain in OpenSpan training at Brolly Academy?
● Windows Integration
● Interaction Framework
● Web Integration
● Project Deployment
● Diagnostics and Debugging
● Word Connector
● Excel Outlook
● SMTP Open Span Components
What if I miss any OpenSpan training class at Brolly Academy?
If you missed any of the class in OpenSpan, no need to worry. We have recorded videos of each and every class session you undergo through this OpenSpan training and we will share the class recordings of each session with you for your better practice on the subjects.