SharePoint Admin Training in Hyderabad
100% Placement Assistance
SharePoint Admin Training in Hyderabad Batch Details
Key Features Of SharePoint Admin Training
SharePoint Admin Training Course Curriculum
About SharePoint Admin Training in Hyderabad
SharePoint Administration courses instruct attendees on how to install, configure, roll out and tune SharePoint. Server administrators are responsible for maintaining the server, including configuring and securing it. Site collection administrators have administrative permissions for a collection of sites, including permission to add and remove users.
 Site owners are responsible for the content and permissions on their site. Our training courses also focus on how to monitor and troubleshoot SharePoint, including how to maintain a healthy farm. These classes are beneficial for both administrators and developers who want to learn the ins and outs of SharePoint Admin.
Our Brolly Academy in Hyderabad prepares students with the skills they need to develop in the world of SharePoint Admin. Our SharePoint Admin training in Hyderabad will enable you to be marketable in the SharePoint Admin industry and to increase your opportunities for career advancement in the field of SharePoint Admin.
At Brolly Academy, we help our students achieve their professional ambitions by guiding them through each stage of the job-hunting process and providing assistance in obtaining a position that is both rewarding and well-paying.
We offer placement assistance services which help our students to find employment easily. In this program, you will get help with resume writing assistance, job search advice, and mock interview preparation, etc. Our ultimate goal is to help you secure a high-paying position in the field.
A course compilation certified certificate will be provided to you after successfully completing this SharePoint Admin course and this will help you to increase the value of your resume.
Our SharePoint Admin training available in 3 modes, classroom and online classes, and self-paced video-based courses. Our expert instructors from Brolly Academy in Hyderabad take the time to impart training that is both clear and practical. They will train you in the implementation of SharePoint Admin and other programming languages, as well as teach you how to apply the various applications of these tools.
Join us by enrolling in our SharePoint Admin training in Hyderabad. You will also get a free demo of SharePoint Admin training at our Brolly Academy before enrolling in the course.
Don't let this opportunity pass you by. Start a lucrative career with Brolly Academy today!
Modes of SharePoint Admin Training
Why choose our SharePoint Admin Institute?
Brolly Academy is known as the best SharePoint Admin training institute in Hyderabad for its exclusive training method and student satisfaction. The training program is conducted by our top-notch expert trainers with 10+ years of experience on SharePoint Admin Platform, who will guide you to becoming a skilled professional in this SharePoint Admin training Program and make you a job-ready candidate. 
By enrolling in our SharePoint Admin course you will get the best mentorship for mock interview preparation, resume creation, and Q&A sessions for your interview purposes.
Here are some reasons why you should enroll in our SharePoint Admin course in Hyderabad.
Brolly Academy provides the best placement assistance programs for SharePoint Admin training in Hyderabad. Our placement assistance program team assists our candidates during and after training. This program offers mock interviews, career counseling, and question-and-answer sessions to ensure that our candidates are fully prepared for real interviews
Career Counselling Guidance
You will be provided support and proper guidance from our Brolly Academy for SharePoint Admin Training even after the completion of the course. Our dedicated support team will guide you 24/7 whenever you need their guidance for any course or interview-related question.
A compulsory course completion certificate will be issued to all our students after they successfully complete the SharePoint Admin training course in Hyderabad. Our certificate is 100% valid and can be used to apply for jobs in SharePoint Admin. The certificate provided by us will add more value to your resume.
Learn from a remote location, Any Time
All our SharePoint Admin training sessions can be attended from anywhere and using any device on your own time. Staying at home or office, you can upgrade yourself with the latest technologies of SharePoint Admin training by enrolling with us.
Life-Time Self-Paced Videos Access
Our SharePoint Admin course videos are available for live-online and virtual classrooms, which offer a library of self-paced videos that users can access at any time and from anywhere in the world.
Testimonials of SharePoint Admin Training in Hyderabad
Certification in SharePoint Admin Training
Get the most effective SharePoint Admin Training Certificate Trained by our real-time expert tutors at Brolly Academy in Hyderabad. The entire course content is developed based on real scenario-based concepts.
 Our certification is recognized by the top companies across the world, and this certification will double the value of your resume. With the help of our certificate, you can apply for a leading job post. This certificate you will get only after successfully completing the training period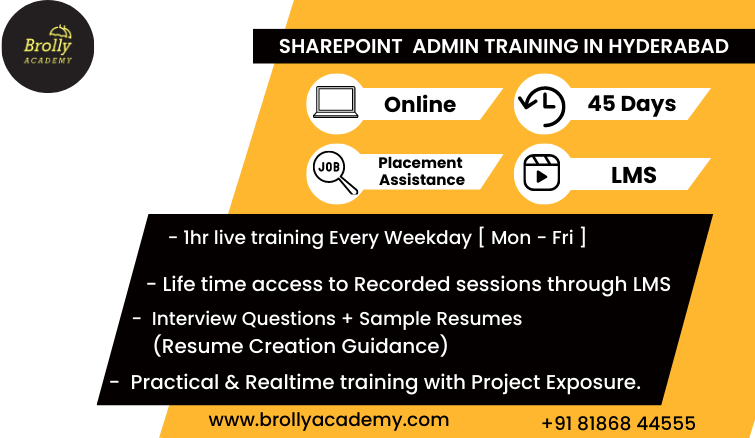 Advantages of Learning this SharePoint Admin
Job Roles in SharePoint Admin
Learning Objective of SharePoint Admin course:
Prerequisites to Learn SharePoint Admin
Can I learn SharePoint Admin without having prior knowledge?
You should have a basic knowledge of how to install and configure Windows Server 2003 - 2008, Active Directory, and SQL Server and experience with system administration in a Windows network environment.
Whom should I contact if I need more information regarding SharePoint Admin Training?
If you have more questions about SharePoint Admin, please feel free to contact an expert at any time.
How much will it cost me for the SharePoint Admin Course at Brolly Academy?
To know about the cost and better offer you can contact us on the contact details provided by us to find out about the complete course fee structure.
Will you provide guidance after the compilation of this course?
Yes, you will receive guidance from our dedicated team including by phone and email after the completion of your SharePoint Admin Training course. This service is available to all students who complete Certification
Who can learn the SharePoint Admin course?
The SharePoint Admin Training course is designed for Administrators who need to set up, configure, and manage SharePoint Online as a part of their Office 365 responsibilities.
Who will be my trainer in the SharePoint Admin course at Brolly Academy?
At SharePoint Admin training in Hyderabad, our expert trainers will help you master the skills needed to become a successful SharePoint admin.
Do you provide training on the latest technology version of SharePoint Admin?
Yes. As the technology upgrades, we regularly update our course content to ensure that it reflects the latest version of SharePoint Admin training.
Which Skills will I learn in this Course?
In this SharePoint Admin Course in Hyderabad, you will be learning SharePoint Admin from basic to advance level with components such as Introduction to SharePoint, SharePoint Terminology, SharePoint Admin Management Model etc…
Why should I enroll this SharePoint Admin Training in Brolly Academy Hyderabad?
We are the best SharePoint Admin training institute in Hyderabad for our outstanding methods of teaching and extraordinary commitment. Our highly qualified experts will guide you through your learning and make sure that by the end of the program, you have all the necessary skills required to become an expert on SharePoint Admin.
What is the market rate for the SharePoint Admin field?
The Average SharePoint Administrator salary is $100,858 PA.