EMC Storage Training in Hyderabad
100% Placement Assistance
EMC Storage Training in Hyderabad Batch Details
Key Features Of EMC Storage Training
EMC Storage Course Curriculum
About EMC Storage Training in Hyderabad
The EMC storage training course is vendor neutral and prepares the participant to understand a large number of technology surrounding storage area networks and various complex problems. Due to exponential data development, the course is constantly updated in order for trainees not get left behind.
A full program in EMC training, covering information storage, Celera solutions (information storage), big data solutions (#BigDataSolutions) , unified storage (#UnifiedStorage), Symmetrix Solutions(bigdata-emc2training.com/symmetrix/) – a fantastic career opportunity is available for students who complete this course!
The Brolly Academy offers EMC storage training in Hyderabad that teaches our  students how to create, maintain and expand on existing EMC storage solutions. Our expert mentors at Brolly Academy will guide students through the EMC Storage training program and ensure that they attain a high-paying job. EMC Storage is a leading software and storage technology provider in the world.
EMC Storage Certification Program is designed to prepare professionals for a career in EMC's Data Storage Business Unit (DSBU). Brolly Academy's EMC Storage training course certificate is valued by employers worldwide and can be used to enhance your resume.
Brolly Academy offers EMC Storage training in three formats: live classroom sessions, online video courses and self-paced recorded lectures. Our expert trainers will teach you how to apply various applications and their implications, by training you in this EMC Storage course.
In addition to providing a high-quality EMC Storage training program, Brolly Academy also offers its trainees access to our free job placement assistance program.
Enroll in our EMC Storage training course in Hyderabad at our Brolly Academy.
Modes of EMC Storage Training
Why choose our Brolly Academy Institute?
We are known as the best EMC Storage Training Institute in Hyderabad for our exclusive training method. Our expert trainers, all with more than 10 years of EMC Storage industry experience, will guide you through the training and help make you a work-ready candidate. By enrolling in our EMC Storage course, you will get the best mentorship for mock interview preparation, resume creation and Q&A session for your interview purpose.
Here are some reasons why you should enroll in our EMC Storage course in Hyderabad.
Our Placement assistance programs provided by Brolly Academy in Hyderabad offer you the best Digital Marketing training in Hyderabad. Our dedicated team conducted the placement assistance program team by guiding our candidates for Job assistance. This program includes mock interviews, career counseling, question, and answer sessions, and resume preparation facilities, guiding to clear google certification to ensure our candidates are fully prepared for interviews.
The curriculum of the EMC Storage Course is well-designed by well-trained instructors, and it has been curated to make you 'industry ready' and equip you with skills that will help you become compatible with the current scenario and land a good salary hike
Brolly Academy's mock interviews give you the chance to prepare, practice and experience a real-life job interview all in a relaxed environment. Our mock interviews are conducted by industry experts with an average experience of 10+ years. This means you will improve your chances of getting hired!
We at Brolly Academy provide a dedicated support team for all of our students, no matter what hurdles they're facing.
Brolly Academy does not charge any additional fees for its Hyderabad-based software training programs.
After finishing our EMC Storage certification course in Hyderabad, students will receive a certificate from us that employers recognize as evidence of their proficiency with the software program
We will give you access to our study guide and learning management system for as long as you wish
Our placement team will assist you in every aspect of your job search from finding the right opportunities to preparing for interviews
Testimonials of EMC Storage Training in Hyderabad
Certification in EMC Storage Training
EMC Storage Certificate Training provided by our real-time expert tutors at Brolly Academy in Hyderabad is very effective. The entire course content is developed based on real scenario-based concepts. Our certification is recognized by the top companies across the world, and this certification will double the value of your resume. With the help of our certificate, you can apply for a leading job post. This certificate you will get only after successfully completing the training period.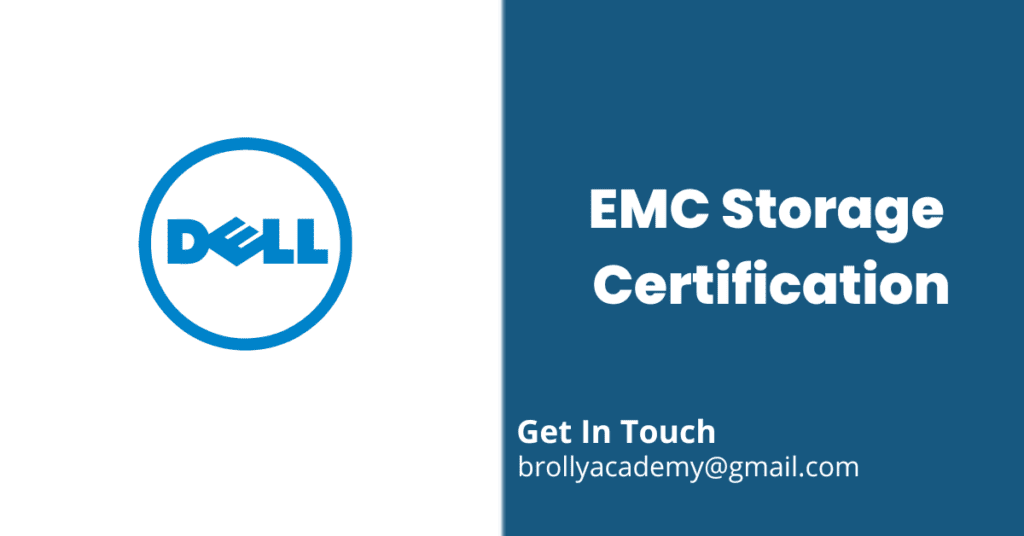 Advantages of this EMC Storage course
Objective of EMC Storage course:
Prerequisites to Learn EMC Storage
What if I have more questions regarding EMC Storage Training?
You can contact us at any time if you would like to ask questions about EMC Storage training.
How much will it cost me for the EMC Storage Course?
For further details about the EMC Storage course fee structure, please visit our website or contact us at one of our offices.
Will I get a job assistance after the compilation of this EMC Storage Training?
Yes, Brolly Academy students receive assistance preparing for interviews and creating resumes from our dedicated Job assistance team. This service is available to all graduates of our EMC Storage Training certification program.
Who will be my trainer in the EMC Storage course?
At Brolly Academy, our expert EMC Storage trainers will guide you throughout your training they have extensive experience in the industry.
What if I miss any classes on the EMC Storage Course?
Don't worry: we will reschedule the EMC Storage classes to accommodate your schedule we just need you to let us know all possible options.
What are the top skill will I gain during this training?
• DAS, NAS, SAN • AVAMAR, CLARiiON • BROCADE, CISCO • POWERMAX, XtremIO • ISILION, ECS • SC Series, VMAX All Flash • Cloud IQ, Data IQ, VPLEX, Power Path • VNX, RecoverPoint
Who should take this EMC Storage training course?
• Aspirants looking for a career in this field. • Freshers who want to start their career in data storage and management systems. • EMC SAN engineers • Researchers • Database administrators. • Software developers. • Professionals who are interested in learning advanced concepts of storage area networks.
What is the average salary of an EMC Storage Developer in India?
The Average salary of an EMC Storage Developer in India is ₹4,43,568 per annum.
Can I get access to the course material online?
Yes, you will be able to access our EMC Storage student portal with study materials, videos, and top-MNC interview questions for a lifetime once you enrolled
What are the different types EMC tests?
• EMC Immunity Testing • Magnetic Field Testing • Voltage Drop Testing • Surge Immunity Testing • Conducted Resistance Testing • Radiated Immunity Testing • ESD Testing • EFT Testing