IOT Training in Hyderabad
100% Placement Assistance
IOT Training in Hyderabad Batch Details
| | |
| --- | --- |
| Course Fee | 20,000 Rs |
| Course Duration | 2 Months |
| Timings | Monday to Friday (Morning to Evening) |
| Next Batch Date | 19-09-2023 AT 11:00AM |
| Training Modes | Classroom [HYDERABAD] / Online |
| Location | Hyderabad |
Key Features Of IOT Training
IOT Training Course Curriculum
About IOT Training in Hyderabad
The Internet of Things (IOT) is the network of physical objects "things" that are embedded with sensors, software, and other technologies for the purpose of connecting and exchanging data over the internet. At Brolly Academy IOT Certification course is designed with care to make sure you understand the core concepts of IOT.
 You will learn how to develop solutions that use sensors and components for integration, as well as build applications on top of big data collections. This course will teach you everything you need to know about how IOT Technology is going to change the future! By the end of this training, it will prepare you for roles as an IOT Developer and ready for implementation. Through Brolly Academy, you'll gain the knowledge of IOT and learn how to implement it.
Brolly Academy provides real-time and placement-focused IOT training in Hyderabad. Our IOT course includes basic to advanced levels, and our IOT course is designed to get you a job in good MNC after certification of the course. Our IOT trainers are certified experts with 10+ years of experience. We have designed our IOT course content, syllabus, and teaching methods based on students' requirements to achieve everyone's career goal.
 Brolly Academy's IOT placement support will help you prepare for interviews, practice Q&A, resume making and develop strategies that make you ready for real-world situations. We at Brolly Academy offer 3 types of training: online IOT training, classroom IOT training and IOT Self-paced Video course in Hyderabad. 
Our IOT video course includes video recordings of class sessions, as well as materials such as sample resumes and everything students need to learn. The Brolly Academy offers certification programs for IOT. You will receive a course completion certificate at the end of the course.
Enroll in Brolly Academy for IOT training in Hyderabad and build a lucrative career.
Why choose our Brolly Academy Institute?
Brolly Academy is a leading Software Training institute in Hyderabad, is known for its method of teaching. In Brolly Academy our IOT expert trainers have over 10+ years of experience in the IOT Industry and can prepare you to launch your career for both freshers and professionals with expertise. 
Our IOT Training course provides you with the skills and expertise you need to apply at companies that use this technology. Our IOT Course will help you get ready for your mock interviews, resume creation and question-and-answer sessions. Here are some reasons why you should enroll in our IOT Training course in Hyderabad:
Instructors will be available to answer questions and provide clarifications during the course. The group discussion forums are also a great way of asking fellow learners about anything you find unclear or confusing in the particular subjects.
At Brolly Academy, we have experts who train students and prepare them for interviews. We will guide you with mock interviews, Frequently Asked Questions and more. We help our students maintain good resumes by providing some helpful formatting tips and templates to them to use it during their job search.
Brolly Academy's IOT Training course aims to provide quality training that covers solid fundamental knowledge on core concepts with a practical approach. Such exposure to the current industry use-cases and scenarios will help learners improve their skills and perform real-time projects with the best practices.
Career Counseling Sessions
Once you know the skills, we recommended you understand the eligible job roles, scope, and opportunities. Once you complete our course, we will provide career counseling to help you pursue a path in your chosen field.
Privileged Community Support
We make sure to address any real-time challenges our students face during their careers through our community platform. Our support team proactively assists them with any difficulties that they may occur during their learning and also after that.
Our instructors are experienced IOT professionals with exceptional skills. They can impart knowledge to you during your training sessions, and will make sure that you're prepared for the workforce when they're done. Our trainers are experienced and know how to train students well.
We limit the number of students we trained with, so that each one gets the personal attention they need.
Our IOT certification will be awarded to each student in our training program. This certificate is widely accepted and recognized throughout the world which increases your chances of securing a great job opportunity.
Testimonials of IOT Training in Hyderabad
This IOT training course prepares you to tackle the Brolly Academy certification and get jobs at top MNCs. Our IoT Training program is based on real-world industry scenarios and projects, giving you the skills you need to be successful in today's workplace.
 At the end of this course, there will be quizzes that test your knowledge of core concepts. This is a set of quizzes to prepare for IOT certification exams or just to check your understanding. Upon successful completion, Brolly Academy will award students with course completion certificates.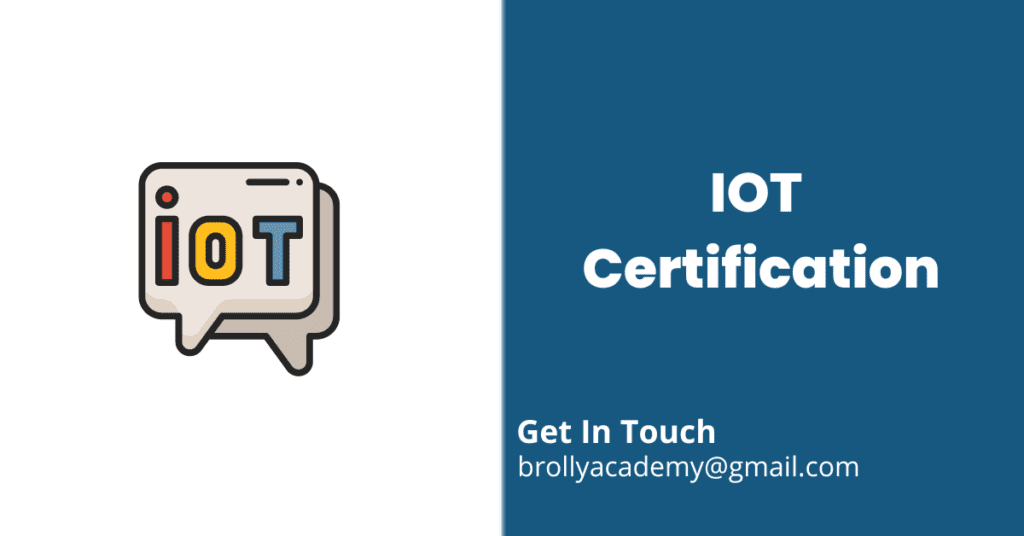 Advantages of Learning IOT course
Completion of the IOT course you will learn
Employment possibilities in IOT
Prerequisites to Learn IOT
Basic Knowledge on Linux and Python Programming is required for attending this course.
Will I get assist from the tutore for clearing my doubts during and after the training is completed?
Yes, our tutors will assist you during or after the training was completed by providing you one-on-one doubt clearing sessions or in a group discussions where you can clear all your queries/doubts either in the current session or in the previous sessions.
Can I costomized the IOT course curriculum?
Yes, you can customize the IOT course curriculum as per your requirements.
Will I get help on my resume making preparations from Brolly Academy?
Yes, our dedicated expert team members will help you draft the perfect resume that matches your desired job roles
How does the refund policy work at Brolly Academy?
At Brolly Academy we will make sure that you get a hassle-free payment option and refund policy if you are eligible to get.
● To get a refund you should not attended more than two (Live-online) sessions.
● Our refund options are not applicable for self-paced video learning, as we allow students to go through live online classes.
What do you learn in this IoT Training?
● Understand the concepts of IoT architecture, IoT standards.
● Ge knowledge on Sensor programming.
● Learn about IOT platforms, Cloud Computing.
● Learn different wireless communication standards.
● Master the concepts like Data visualization, End-to-End Security ect…
Who Should join IOT training?
● Candidates aspiring to be IoT Analysts
● Analytics Managers
● IoT Experts
● Professionals who wish to understand IoT Architecture, Cloud IoT and IoT Implementation Strategy.
Can I learn IOT without having any prior experience in programming?
Yes, you can learn IOT without having any prior experience in programming. Python packages are mostly use for developing IoT applications.
How many different batches will I be allowed to attend if I enrolled for IOT training at Brolly Academy?
Brolly Academy offers a blended mode of learning. In this candidates can attend classroom training, online training and e-learning (recorded video sessions) with a single enrolment. One can attend multiple Instructor-led live online sessions for one year from different trainers at no additional cost.
Is it mandatory to be from an electronics background to learn IOT?
No, Those who have minimum graduation levels can enroll for IOT.
What if I miss any IOT training class at Brolly Academy?
No need to worry, If you missed any of the class in IOT. We record each and every class session you undergo through this IOT training and we will share the class recordings of each session with you for your better practice on the subjects.
What is the instructor led online training?
Online instructor-led training is an interactive way to learn. The trainer and participants all log in at the same time for sessions that can involve lots of active participation from everyone involved.