PHP Training in Hyderabad
100% Placement Assistance
PHP Training in Hyderabad Batch Details
Key Points of PHP Training in Hyderabad
PHP stands for hypertext pre-processor, (earlier known as personal homepage)which is a recursive acronym. 

PHP is an open-source server-side scripting language that is embedded into HTML and used for web development.

It can make the website function faster and using PHP we can create dynamic web pages and these dynamic webpages makes the website interactive.

PHP files can carry text, HTML, CSS, JavaScript, and PHP code.

It is a cost-effective language and provides security encryption.

It is very compatible as it works efficiently with different databases and programming languages.

It is platform-independent which means a PHP application can run on any environment. 

According to w3techs, 79.2% where is still powered by PHP. which nearly translates to 20 million websites and 1 million web servers. 
Features of PHP (In short)
Simple – PHP is an easy-to-learn language 

Highly Flexible – changes can be done without the developer's intervention 

Platform Independent – it doesn't require any special plugins to run and can basically run on any environment.

Interpreted – PHP is an interpreted language and does not compile the entire code hence taking less time.

Fast – Websites developed in PHP is faster, This is why developing dynamic websites using PHP is considered the best option 

Open Source – PHP is called an open-source language which means it is free to use and implement.

Security – the language consists of a few built in remarks that provide benefits like encryption and hence protection from cyber-attacks.

Large PHP Community – since PHP is an old language it is grown into a large community which is very helpful and makes the language more stable.
About PHP Training in Hyderabad
PHP is one of the most popular programming languages used today, and has been around since the late 1990s.
It's a powerful language that allows developers to build dynamic websites, web applications, and APIs. 
It is a server-side scripting language that is easy to learn and use and plays a significant role in being able to program in PHP as
it is the most common language used for developing websites and web applications.
If you are planning to build a website, or develop a web application, you will need to know how to code in PHP. 
We at Brolly academy, offer the best PHP training in Hyderabad offering quality and well-structured PHP training to the aspirants who wish to get a career in the field of web development. 
We are a team of professionals who have been training students in PHP development for the past 8+ years with a proven track record of delivering high-end training facilities to our trainees. 
Some of the concepts covered as a part of our PHP training include –
Fundamentals of PHP 

Variables & constants in PHP 

Functions in PHP 

Structures in PHP 

Arrays & functions 
We offer both online and offline training with standard timings to cater convenience for students, corporates and working professionals.
At Brolly Academy, we focus on imparting knowledge and technical skills that match the industrial target along with a registered course completion certificate to all our participants.
Enroll with us for PHP training with placement assistance 
Modes of Training - PHP Training
Brolly Academy is a leading training institute in the IT sector that offers quality PHP training at affordable prices.
Our trainers are well versed with the latest technologies and trends in the industry. 
We offer both online training to professionals and students alike. 
PHP Online training

You will be able to attend live sessions with our instructor with a personalized one-on-one learning experience. Get live demonstrations of PHP course content and technical assistance to execute and illustrate first hand knowledge and expertise.
PHP video course

The PHP video course is designed for you to learn at your own pace and time with accessibility from any device and country. You will get a complete PHP course syllabus pdf along with video recordings, assignments and a digital certificate from Brolly Academy
Why choose us for PHP Training?
Expert PHP Tutors

We have an experienced staff of PHP trainers who provide PHP training for beginners to advanced level. Our trainers are well versed in PHP and can help you get up to speed with this language quickly. They will teach you everything from the basics of PHP to the advanced features via live demonstrations.
Technical Training

Our mission is to help trainees with the right set of skills that benefit during job trials. We do this by providing practical, hands-on training and mentoring sessions. Students are given projects, case studies and assignments to execute their theoretical skills and knowledge.
Fee convenience

Our PHP training fees are affordable, allowing you to get the most out of your investment. We offer a complete PHP training course with live projects to help you learn PHP in the most effective manner. It is designed to provide you with a comprehensive understanding of PHP along with its complete technicalities.
Placement assistance

We've been providing training and career development support to students and professionals for over 8+ years now. We offer PHP placement assistance to our students and prepare them for real world interviews and jobs. Our team conducts multiple mock interviews along with professional resume preparation that will give you an upper hand and a confident skill set.
Certification Prep

Are you looking for a way to get certified as a PHP developer to advance your career? If so, then you're in the right place! Our PHP training is designed to help you with the PHP certification exam from expert PHP trainers. The PHP training includes study materials, PHP courseware and practice tests that are required to help you pass the PHP exam.
Adaptable schedules

We offer a PHP training course, from basic to advanced levels for beginners and professionals. Our PHP classes are scheduled at flexible and standard timings, making it convenient for our trainees to attend our batches. We also offer training in both online and offline modes along with a video course that can be accessed at any given time.
According to w3Techs, 78.8% of all websites are using PHP for their server-side. Here are some Global Websites that use PHP in 2022 –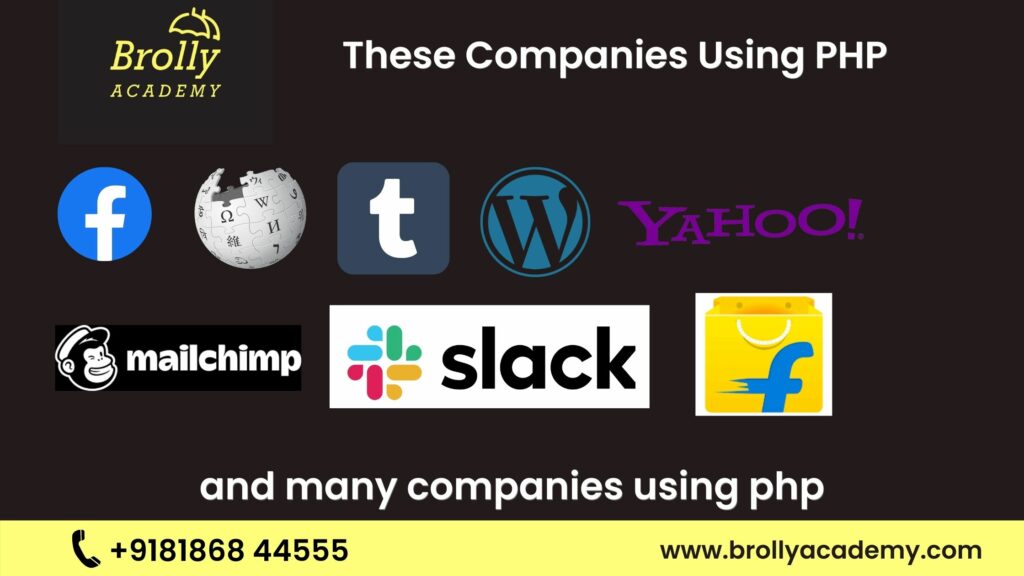 PHP Framework was initially known as Personal Home Page and later got its professional name as Hypertext Preprocessor. It is the most popular language on the globe for web designing. 

According to market research, 78.8% of websites are developed on the server-side programming language, i.e. PHP and this growth will definitely rise in the future for sure as PHP is introducing and upgrading a plenty of new features to make it trending.

The PHP framework is the best option for SMBs' and startups owing to its feature; it can easily manage a large amount of data.

PHP is the eighth most popular language in terms of GitHub pull requests.

This programming language commands a massive market share in 2021.

PHP remains so popular because of WordPress itself. This content management system (CMS) powers 40% of all the websites on the internet, which makes up a significant part of that 79.2% (Market share- 2021) of sites that use PHP.

According to the website similar web PHP is visited by users for nearly 22 billion times per month, this means the social media platforms has to deal with huge traffic volumes and PHP helps the website with this.

Most importantly, PHP's market share has remained relatively steady throughout the last five years (oscillating between 78–80%).
Testimonials for PHP Training Online
PHP Course Training Certification
PHP is the most widely used web programming language in the world and is one of the most popular web programming languages in India. 
We offer PHP Certification Training that is tailored to the needs of the industrial standards and expectations. 
Our training is very effective, ensuring the students get a thorough understanding of the concepts of PHP. 
The PHP Certification Training comes with real time project training that will prepare the students for the certification exams. 
We also provide a PHP course completion certificate from Brolly Academy that will recognize your skills and competency in the subject.
The certificate is widely accepted by companies and comes with lifetime validity. 
Some of the most common and well-received PHP certifications include –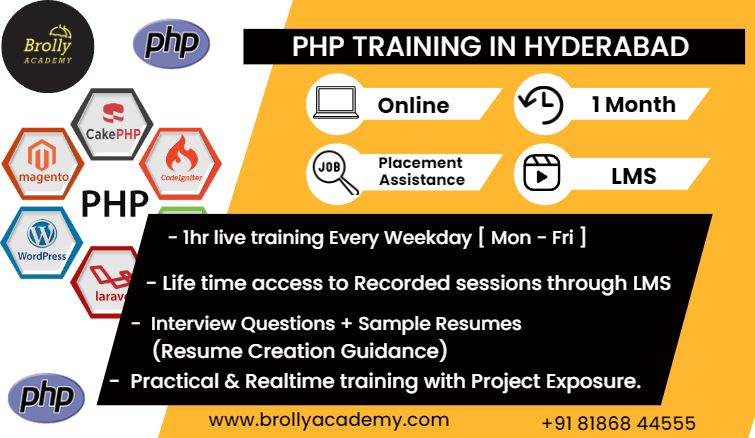 Benefits of PHP Course in Hyderabad
Career opportunities after PHP Training
PHP is one of the most popular programming languages, and it's a great choice for beginners. 
A PHP certificate can enable qualified individuals to hold a variety of careers. Some of these include: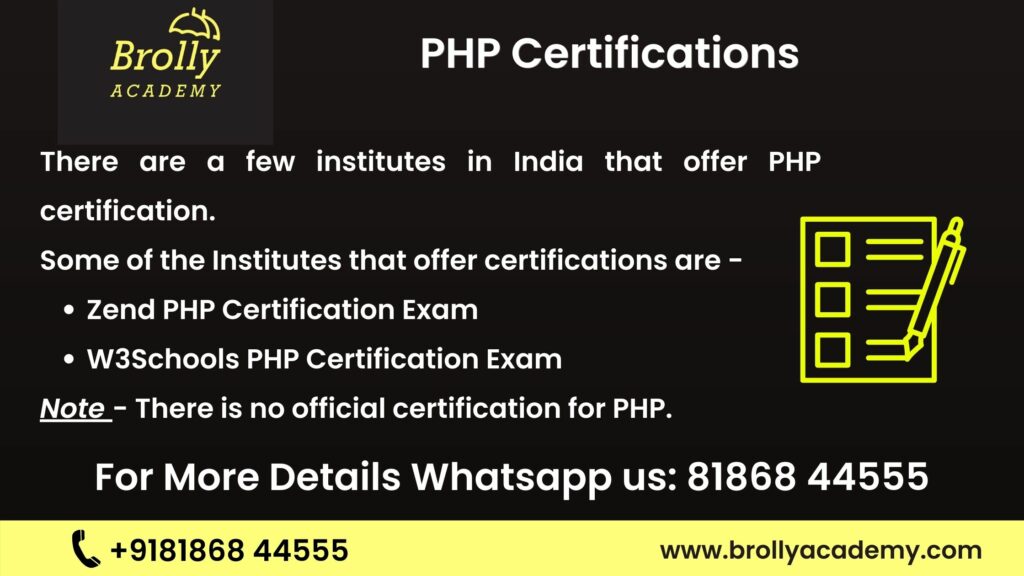 Skills developed Post PHP training in Hyderabad
Prerequisites of PHP training in hyderabad
PHP is fairly easy to learn and understand, however, there are some prerequisites in order to learn PHP
What is PHP course?
PHP is a powerful programming language that can be used for a wide variety of applications, including Web development. Brolly Academy offers the best PHP course training from expert trainers.
Is PHP worth learning in 2022?
Yes, even with the rise of other technologies, PHP still has immense scope and offers plenty of career opportunities for skilled professionals.
Is PHP hard to learn?
PHP is definitely one of the most easy programming languages with concepts that can easily be understood by beginners as well.
Can I learn PHP without prior experience in programming?
PHP in itself is a programming language that is comparatively easy to learn and understand so yes, you need not have prior knowledge or experience.
Who can learn the PHP course?
Anybody can learn the PHP course but people who are experienced in coding and WP developers would particularly find it more useful.
Can I learn PHP in a month?
At Brolly Academy, we offer a 2-month PHP training program with quality teaching methods that will give you the right practical knowledge and exposure.
Where can I find the best PHP training institute near me?
We offer PHP training in Ameerpet and PHP training in Kukatpally. You can contact us for further details regarding the course and its fees.
What if I miss attending a class?
We provide backup classes for all the missed sessions or you can also attend the next live consecutive batch.
Do you offer placement assistance after training?
Yes, we offer placement assistance at Brolly Academy post the PHP training sessions to prepare students for interviews. We can't assure guaranteed jobs as it depends on your capability and performance during the interview.
What is the PHP course fee?
Our PHP course fee at Brolly Academy is absolutely affordable and can be paid in installments.