Informatica Training In Hyderabad
100% Placement Assistance
Informatica Training In Hyderabad New Batch Details
Informatica Training in Hyderabad Curriculum
Key Points of Informatica Training In Hyderabad
What is Informatica used for?
Data integration is done using Informatica. Informatica Training In Hyderabad provides the ability to connect to, retrieve data from, and process data from a variety of sources. 
An ETL (Extract, Transform, and Load) tool used to create enterprise data warehouses is called Informatica Training In Hyderabad. PowerCenter Express, a free but constrained version offered by Informatica, as well as a Professional version.
The comprehensive Informatica training in Hyderabad offered by Brolly Academy will help you master this ETL program as well as concepts like data integration, transformations, data warehousing, performance tuning, Informatica architecture, data migration, and others. 
Users may learn how to set up, personalize, and manage the tool, as well as how to experiment with and oversee crucial data utilizing an independently audited, scalable approach, and automated, execute the workflow, maintain the repository, and much more during the Informatica Training In Hyderabad.
While giving you all the necessary training on ETL and storage systems,  Brolly Academy Informatica training in Hyderabad may very well teach you how to use the more well-known tool as well. 
Training in PowerCenter Informatica helps you gain a deeper grasp of PowerCenter objects at the intermediate and advanced levels as well as their practical applications like Designer, Workflow Monitor, Workflow Manager, and creative transformation concepts. 
Users would then receive complete assistance, support, and real-time project assistance from seasoned experts during the training process. To take on new challenges and acquire the best Informatica training in Hyderabad, enroll right away at Brolly Academy.
Who should learn Informatica Training in Hyderabad?
About Informatica Training In Hyderabad
Modes of Training - Informatica
The best Informatica Training In Hyderabad is what we are, and we provide 100% placement support. Candidates who are interested in learning Informatica can sign up for our traditional or online classes. Also available is a self-paced video course. You can learn everything there is to know about Informatica at Brolly Academy.
Informatica training online:

We provide an online Informatica Training In Hyderabad option that allows you to join our sessions via an e-learning platform, led by knowledgeable instructors, and learn how to utilize Informatica. you can attend the course whenever it is most convenient for you, wherever in the world.
Informatica classroom training:

We provide comprehensive Informatica classroom training with in-person interaction and qualified instruction. We'll walk you through using Informatica during the Informatica Training In Hyderabad a simple, step-by-step tutorial. The top Informatica training institute in Hyderabad is Brolly Academy. We use the most up-to-date training materials, all of which are based on real-world scenarios.
Why choose us for Informatica training?
Informatica self-paced video course:

You do not have any time constraints to finish this self-paced video course. You get unrestricted lifetime access to the Informatica Course's lectures, homework assignments, and installation instructions. You have access to more than 15 hours of high-quality videos at any time on your computer or mobile device.
Industry Expert Trainers:

The Brolly Academy's trainers at the institute have all had more than nine years of experience working directly with the industry. Due to their expertise with Informatica PowerCenter, they can give our trainees the best technology.
Hand On Project Based Learning:

As soon as they finish each topic of the Informatica Training In Hyderabad, Brolly Academy will give students real-time project tasks, which will help in their understanding of the course's numerous abilities and technology and help them pass their Informatica Certification.
Placement Assistance:

The dedicated support staff at Brolly Academy will walk you through the interview procedure and provide you with mock interviews and Informatica Q&A sessions. In order to provide candidates additional preparation time before being hired, they also offer training materials like Informatica training pdf.
Course Content:

Subject-matter experts in the industry developed the Informatica course's curriculum. and as new developments happen, we keep them updated. This enables our students to stay current with technological advances.
Convenient class timings:

We have a variety of classes available at various times during the week, and we are flexible in scheduling them to fit your schedule. Every one of our classes has a convenient time slot and is accessible from anywhere in the world.
LMS access:

Once you enroll, we grant you free access to our online learning management system (LMS). This gives you access to our premium video archives, live training sessions, homework assignments, and case studies.
Testimonials for Best Informatica Course in Hyderabad
Informatica certification
There are two levels of Certifications are there
Foundation Level Certifications

Professional Certifications
What are they?
Foundation Level Certifications
Cloud Data Warehouse & Data Lake Modernization 

Cloud Integration for Application Modernization 

Data Governance and Privacy

Business 360

CDI for PowerCenter for developers
Professional Certifications
Data Governance
Axon Data Governance 6: Professional 

Axon Data Governance 7 Professional
Data Engineering
Data Engineering 10.2: Developer
Data Quality
Data Quality 10: Administrator

Data Quality 10: Developer
Data Catalog
Enterprise Data Catalog 10.2: Developer

Enterprise Data Catalog 10.5 Developer
Cloud
Cloud Data and Application Integration: R34

Cloud Data and Application Integration R38

Cloud Data Quality R35: Professional

Cloud Data Quality R41
Master Data Management
Master Data Management 10: Administrator

Master Data Management 10.3: Developer

Master Data Management 10.4 Developer

Product 360 10.0: Professional
Data Integration
PowerCenter Data Integration 10: Administrator

PowerCenter Data Integration 10: Developer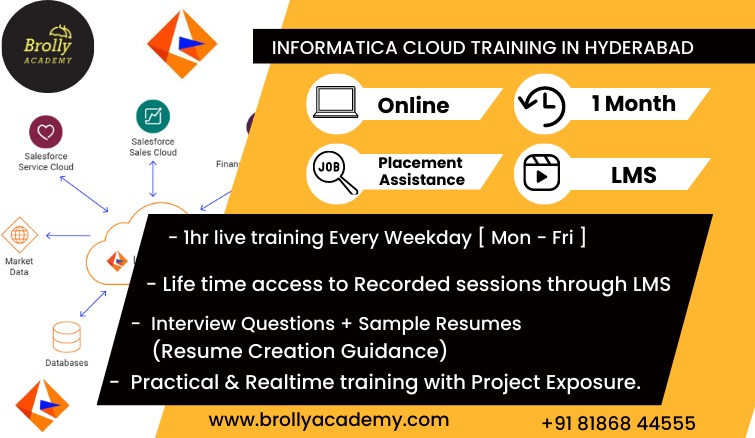 Skills developed Post Informatica training in Hyderabad
Prerequisites of Informatica Training In Hyderabad
Career opportunities in Informatica
Jobs in data development, data management, and data governance are known as Informatica careers.
A market-leading ETL tool is Informatica, which is also known as the extract, transform, and load process.
As an ETL developer with Informatica, there are several employment prospects for both entry-level and experienced professionals.
Informatica consultant, Informatica administrator, or Informatica architect.  
A career in Informatica can be obtained with the aid of Informatica capabilities such as Informatica PowerCenter,  Informatica MDM or master data management, Informatica Cloud, and Data Quality.
Some of the most well-known Informatica job roles: 
Market Trend in Informatica
what is Informatica course?
A useful ETL tool for creating highly scalable data warehouses at the enterprise level is Informatica Training In Hyderabad. With live training and in-person instruction, learn Informatica PowerCenter from Brolly Academy experts.
is Informatica easy to learn?
Neither is it difficult nor simple to learn Informatica. Everything depends on creating and implementing transformations. You can build the process flow for data extraction, transformation, and loading by dragging and dropping the various elements.
is Informatica a good career choice?
Informatica professionals have a very strong and great future. There is a good chance of moving on to the next level with experience and expertise with this tool. Start your career as an Informatica Developer by learning the fundamentals to advanced skills from Brolly Academy.
does Informatica require coding?
No coding knowledge is required to learn Informatica.
is Informatica open source?
There is no open-source version of Informatica available. The high cost of the maintenance fee makes it difficult for customers to pay for it. The majority of businesses want flexible licensing to allow users to access, utilize, and distribute it.
is Informatica free?
To get started with installing Informatica, we first download the free version of the Informatica PowerCenter from Oracle.
Who should enroll in the Informatica course?
Anyone interested in learning Informatica and those with prior knowledge of the fundamental concepts of Informatica can enroll in the course.
What is the Informatica training fee in Hyderabad?
Brolly Academy is an excellent place to receive your Informatica training because we have the most reasonable fee without compromising quality. For more information please contact our support staff.
Where can I find Informatica training near me?
we provide Informatica training in Kphb and Ameerpet. You can visit us or contact us for more information about the Informatica training