VMware Training in Hyderabad
100% Placement Assistance
VMware Training in Hyderabad Batch Details
| | |
| --- | --- |
| Course Fee | 20,000 Rs |
| Course Duration | 2 Months |
| Timings | Monday to Friday (Morning to Evening) |
| Next Batch Date | 18-09-2023 AT 11:00AM |
| Training Modes | Classroom [HYDERABAD] / Online |
| Location | Hyderabad |
Key Points Of VMware Training in Hyderabad
About VMware Training in Hyderabad
VMware is a software company that specializes in virtualization. VMware's products allow organizations to easily create and manage multiple, isolated operating environments on a single computer. These virtual machines allow businesses to run multiple applications without having to purchase additional hardware or software licenses. The company's software allows companies to consolidate their servers, reduce energy costs and cut down on IT management costs.
 The technology also provides businesses with more flexibility in dealing with changing market conditions and the need for more agile computing infrastructure. Brolly Academy offers the best VMware training in Hyderabad with a detailed course program. 
The VMware course training includes topics like The VMware course training includes topics like Understanding VMware Components, Installation and Configuration of VMware, Planning, Designing, and Implementing a vSphere Environment , Configuring vCenter Server, Managing Virtual Machines and ESXi Hosts, Monitoring and Troubleshooting VMware Environments, Configuring Integrated Solutions, Configuring vSphere Networking, Configuring vSphere Storage, Managing and Monitoring Virtual Machines, Configuring Auto Deploy, Configuring VMware Storage APIs for Data Protection (VADP), Configuring vCenter Site Recovery Manager and more.
 Brolly Academy offers a wide range of courses that include both IT and software training courses in Hyderabad with updated course curriculums and modules. Once you have completed Brolly Academy's VMware training program, we will issue you a certificate that recognizes your expertise in the field. Once you complete the course, a certificate will be issued to recognize your achievement.
 The certificate will list your name and details of the course, which you can share on LinkedIn and mention on your professional resume. Our trainers give students a solid grounding in the technical aspects of their craft so that learning becomes easier. Our online and in-person training courses help you choose the one that is best for you, as well as a placement program with an intensive interview preparation workshop.
Enroll with us to get the most comprehensive VMware training in Hyderabad.
Modes of Training For VMware Training in Hyderabad
Why choose us for VMware Training?
Hands-on practical training
We give our students a chance to get hands-on VMware experience. This gives them a chance to work on projects that are interesting and challenging. The program will also give our students a chance to explore the world of cloud computing and learn all about the latest developments in this field, allowing them to make informed decisions about their future careers
Our VMware virtual classes are engaging and informative with videos that allow you to learn from experienced instructors who are experts in their field. We offer both Video course training as well as online training sessions that promote distance learning wherein our trainees can attend our learning program from any part of the world.
Our VMware course is designed to accommodate both beginners and experienced users. We start with the basics and then move on to more advanced topics. The course is designed to help you achieve the skills and knowledge required to implement, configure, manage and troubleshoot VMware vSphere 6.
Our VMware instructors are among the most knowledgeable in their field, and you will benefit from this expertise. Our VMware trainers share their expertise about key concepts in technology, and teach both current and emerging skills. They've spent years training professionals and students alike.
After completing this curriculum, you will receive a VMware certificate officially signed by Brolly Academy, which is widely accepted by companies and can greatly enhance your career prospects.
Our counselors help students learn job skills and gain professional polish. We assist them with everything from resume writing to interviewing techniques, and we match their skill sets with jobs that make the most sense for their career paths. In addition to resume and cover letter review, interview prep workshops are available for those seeking employment.
We take in only 10 students per batch and provide them with a highly personalized and rigorous training program. Our training batches are small and highly focused on providing top notch training facilities to the students.
Testimonials of VMware Training in Hyderabad
Upon successful completion of this course, you will be prepared to take both the VMware certification exam and perform well on it. You will get comprehensive VMware certification training at our institute along with a well recognized Brolly course completion certificate that will be accepted by companies all over the world including many of today's top ones. 
This class is taught by an experienced instructor with a reputation for excellence. Brolly Academy offers a course completion certificate, which can be downloaded in both hard copy and digital format. This will prove useful to anyone who wants to begin their careers or gain further knowledge by learning the VMware course. Certification is valid for a lifetime, and can be included on your resume.
Some of the most common VMware certifications include –
VMware Certified Professional (VCP) – This certification is for those who want to learn more about VMware technology and prepare for a career in IT operations.
VMware Certified Advanced Professional (VCAP) – This certification is designed for IT professionals who are looking to improve their skills and advance their careers.
VMware Certified Advanced Professional – Data Center Administration (VCAP-DCDA) is a technical certification that validates the skills and knowledge needed to administer a vSphere environment.
VMware Certified Advanced Professional – Design (VCAP-D) is a technical certification that validates the design skills and knowledge needed to create complex VMware environments.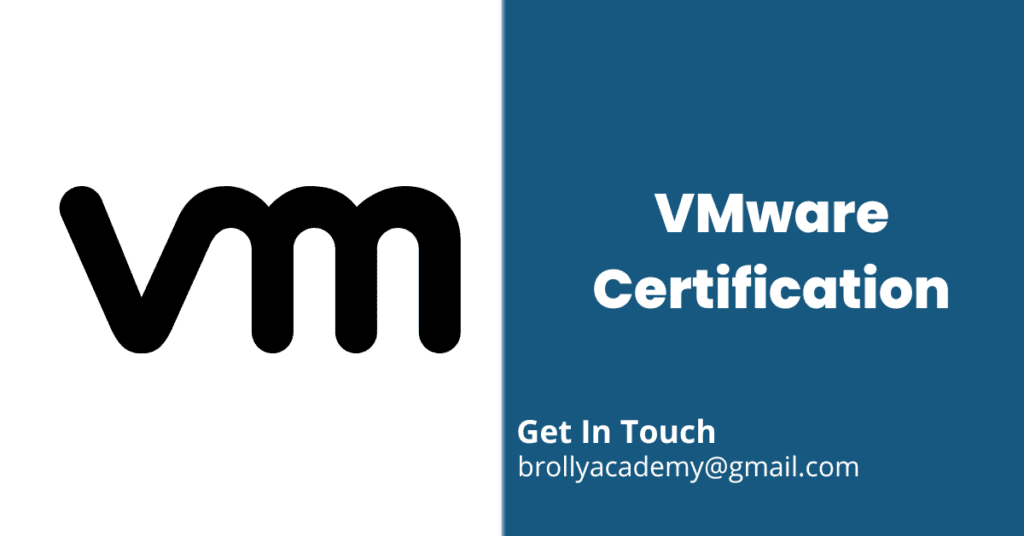 Advantages of learning VMware training in Hyderabad
Brolly Academy's advanced training will give you the knowledge and skills needed to master VMware. Our unique approach, combining theoretical knowledge with practical experience enabled by our trainees applying what they've learned directly in real-time projects is unlike any other available today.
Skills developed after the VMware course training –
Prerequisites of VMware training course in Hyderabad
To be eligible for VMware training course in Hyderabad, you must have a good understanding of the following – 
Career Opportunities in VMware
Which is the best VMware training institute in Hyderabad?
Brolly Academy offers the best VMware training in Hyderabad that provides excellent advanced training and coaching services.
What is the VMware training fee in Hyderabad?
Brolly Academy offers the most affordable prices without sacrificing quality, making our institute a great place to get your VMware training.
What is the average salary of a VMware professional in Hyderabad?
VMware professionals working in Hyderabad can expect to earn a salary of Rs. 4,25,000 per year on average.
Where can I find VMware training near me?
We offer VMware training in Kphb and VMware training in Ameerpet, you can visit us or get in touch with us for further queries.
What if I miss a class?
Students can make up for missed sessions by attending our next live batch or we can also arrange backup classes for you.
Do you provide placement assistance?
Yes. To help our students land jobs after the completion of their training program, we assist them with mock interviews and resume preparation by providing personal guidance from industry experts as a part of our VMware placement assistance.
Who are the trainers at VMware training in Hyderabad?
The Brolly Academy's VMware course is taught by trainers who specialize in the field and have ample working experience.
Who should take the VMware course?
The VMware course is designed for IT professionals who want to learn how to deploy and manage VMware vSphere. It's also ideal for anyone who wants to gain the skills they need to pass the VCP5-DCV certification exam.