Chat GPT Course in Hyderabad
100% Placement Assistance
Chat GPT Course New Batch Details
Key Features of Chat GPT Course in Hyderabad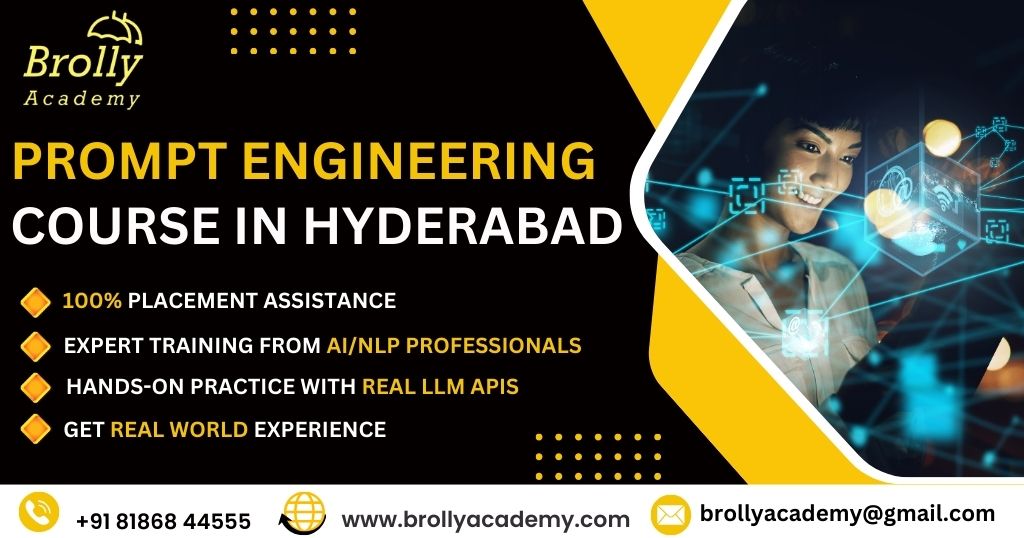 Chat GPT is an advanced AI technology designed to create chatbots and virtual assistants.

Chat GPT enables machines to engage in text-based conversations with users.

Chat GPT can be used in customer service, content generation, and more.

Chat GPT is a powerful tool for automating and enhancing human-computer interactions.

It uses natural language processing to understand and generate human-like text.

It's powered by deep learning models that learn from vast amounts of text data.

It's known for its ability to respond intelligently and contextually to user queries.

It continues to evolve and improve, making it a valuable asset in various industries.
About Chat GPT Course in Hyderabad
Chat GPT, short for "Chat Generative Pre-trained Transformer," is an innovative and cutting-edge technology that leverages natural language processing and deep learning techniques. It enables the creation of chatbots and virtual assistants that can engage in human-like conversations.
Chat GPT has gained widespread recognition for its versatility in applications, from customer support to content generation, making it an indispensable tool in the world of artificial intelligence. As businesses increasingly embrace automation and seek more efficient ways to interact with their customers, Chat GPT plays a pivotal role in shaping the future of communication and service delivery.
Brolly Academy in Hyderabad offers a comprehensive Chat GPT course that equips individuals with the knowledge and skills needed to excel in this transformative field. The course provides hands-on experience in chatbot development, real-world project work, and expert guidance from instructors with industry experience.
Whether through classroom training, online sessions, or pre-recorded videos, Brolly Academy caters to a variety of learning preferences. Students benefit from job placement assistance, networking opportunities, and a flexible schedule, ensuring they are well-prepared to harness the potential of Chat GPT technology in the dynamic world of AI and chatbot development. Brolly Academy's Chat GPT course in Hyderabad is a gateway to a promising career in this emerging and high-demand sector.
Modes of Chat GPT Course In Hyderabad.
Why Choose Brolly Academy Chat GPT Course In Hyderabad.
Students Testimonials of Chat GPT Course in Hyderabad
Chat GPT Training & Certification
A Chat GPT certification validates your expertise in chatbot development and natural language processing technology.

It demonstrates your ability to create and manage advanced chatbots for various applications.

Having a Chat GPT certification can boost your career prospects in AI and customer service fields.

It provides a recognized credential that sets you apart in the competitive job market, showcasing your proficiency in Chat GPT technology.
Skills Developed Post Chat GPT Course in Hyderabad

Proficiency in building and deploying chatbots using Chat GPT technology.

Proficiency in fine-tuning and customizing chatbot responses to meet specific business needs.

Knowledge of natural language processing (NLP) principles and their application in chatbot development.

Ability to troubleshoot and maintain chatbot systems to ensure uninterrupted service.

Ability to create conversational interfaces for diverse industries, enhancing customer engagement.

Understanding of ethical considerations in AI and chatbot development, ensuring responsible use of technology.

Understanding of data processing and analytics for optimizing chatbot performance.
Career Opportunities in Chat GPT
Pre-requisites for Chat GPT Course in Hyderabad
Who can enroll for Chat GPT Course?
The market trend in Chat GPT is experiencing significant growth due to the increasing demand for intelligent chatbots across various industries.
Many businesses are incorporating Chat GPT to enhance customer service, automate tasks, and engage with users effectively.
Integration of Chat GPT in e-commerce platforms for product recommendations and personalized shopping experiences is on the rise.
Content generation powered by Chat GPT is gaining popularity, especially in content marketing and SEO.
Education and e-learning platforms are adopting Chat GPT to provide instant assistance and guidance to students.
The healthcare sector is utilizing Chat GPT for patient support, appointment scheduling, and medical information dissemination.
As AI technology continues to advance, the trend in Chat GPT is likely to extend to new applications and industries.
The market trend shows a growing interest in responsible AI usage and ethical considerations in Chat GPT development.
Education Eligibility for Chat GPT
What is Chat GPT Used For?