Windows Server Administration Training in Hyderabad
100% Placement Assistance
Windows Server Administration Training in Hyderabad Batch Details
Key Features Of Windows Server Administration Training
Windows Server Administration Course Curriculum
About Windows Server Administration Training in Hyderabad
The Windows Server is a group of operating systems that supports enterprise-level management, data storage, applications, and communications. Previous versions have focused on stability and security as well as improvements to the file system. Windows administrative tools provide advanced users and system administrators with the ability to monitor and configure individual devices as well as entire networks.
 Windows Server Administration certification is an advanced computer networking course that covers installation, configuration and troubleshooting, server roles, storage, Active Directory and Group Policy, file, print, and web services, remote access, virtualization, application servers, performance, and reliability.
Brolly Academy offers the best Windows Server Administration training in Hyderabad with a detailed course program. The training includes topics like the Windows server administration, Windows OS, Installation of Windows Operating System, Features of Windows 7 operating system, Post Installation Configurations, Disk Partitions, Licensing of Windows Server / Clients, Local User Administration, User Profiles and Quotas, Local Security Policy / Firewall Infrastructure, Creating DHCP Infrastructure etc…. 
Brolly academy offers a wide range of courses that include both IT and software training courses in Hyderabad with updated course curriculums and modules.You will receive a Windows Server Administration certification upon the completion of the training program that is approved and received by most of the companies. The Windows Server Administration certificate will promote dynamic and flexible job opportunities for candidates with the right skills when attached to your professional resume.
 The Windows Server Administration certificate offered by Brolly academy can greatly enlarge your potential employment opportunities by uplifting your career growth. This course is purposed for absolute beginners as well as Windows Server Administration professionals looking for a certified and advanced Windows Server Administration course to further refine your skills.
 We have trainers with a vast industrial exposure and proficiency with an impressive 11+ years of training and working as senior developers. Brolly academy offers three different modes of training that includes Windows Server Administration online training in Hyderabad, Windows Server Administration video course training in Hyderabad and Windows Server Administration classroom training in Hyderabad.
 At Brolly academy we also focus on training the students by making them job ready with our placement assistance programs. Interview questions, resume preparation, mock tests, mock interviews, referrals and much more can be accessed as a part of our Windows Server Administration Placement program. Enroll with us to get the best Windows Server Administration training in Hyderabad with Brolly Academy.
Modes of Windows Server Administration Training
Why choose our Brolly Academy Institute?
Brolly Academy is a leading Software Training institute in Hyderabad, is known for its method of teaching. In Brolly Academy our Windows Server Administration expert trainers have over 11+ years of experience in the Windows Server Administration Industry and can prepare you to launch your career. Whether you're a fresher looking for certification or an experienced professional with expertise.
 Our Windows Server Administration Training course provides you with the skills and expertise you need to apply at companies that use this technology. Our Windows Server Administration Course will help you get ready for your mock interviews, resume creation and question-and-answer sessions. Here are some reasons why you should enroll in our Windows Server Administration Training course in Hyderabad:
We offer classes throughout the day to accommodate your schedule.
All of our trainers have broad experience, which gives them a unique ability to explain current trends.
Comprehensive practical sessions
Students are given ample time to practice the skills they learn in each class. This helps them gain a deeper understanding of what they're being taught as well as develop their own personal style.
Our faculty members come from various sectors of the industry, including middle-level managers and data scientists as well as experienced professors who have previously held positions at other prominent institutes.
Industry relevant curriculum
At Brolly Academy, we keep our curriculum updated so that you can stay on top of the latest developments in your field.
Our Windows Server Administration training courses are available in two formats either as online self-study classes or through video instruction.
Brolly Academy provides expert training in interview preparation that prepares students for their dream careers. Our program includes mock interviews, Frequently Asked Questions, and other resources to help our students get jobs.
Windows Server Administration Certification
The program offers each student a certificate upon completion. This recognition is an excellent tool for job seekers because it indicates their qualification and expertise in the field.
Testimonials of Windows Server Administration Training in Hyderabad
Certification in Windows Server Administration
This Windows Server Administration training course is designed for clearing Brolly Academy's Windows Server Administration certification. The entire course content is in line with this certification and prepares you to tackle it easily, getting the best jobs at top MNCs. By enrolling in this Windows Server Administration Training, you will receive access to real-world industry scenarios and projects that are directly tied to your success as an employee.
 At the end of this Windows Server Administration Training program, there will be quizzes that test your knowledge of core concepts on Windows Server Administration. You can take these quizzes to prepare for your Windows Server Administration certification exams or just to check your understanding the choice is yours! Upon the successful completion of students' project work, Brolly Academy will award them with a Windows Server Administration course completion certificate.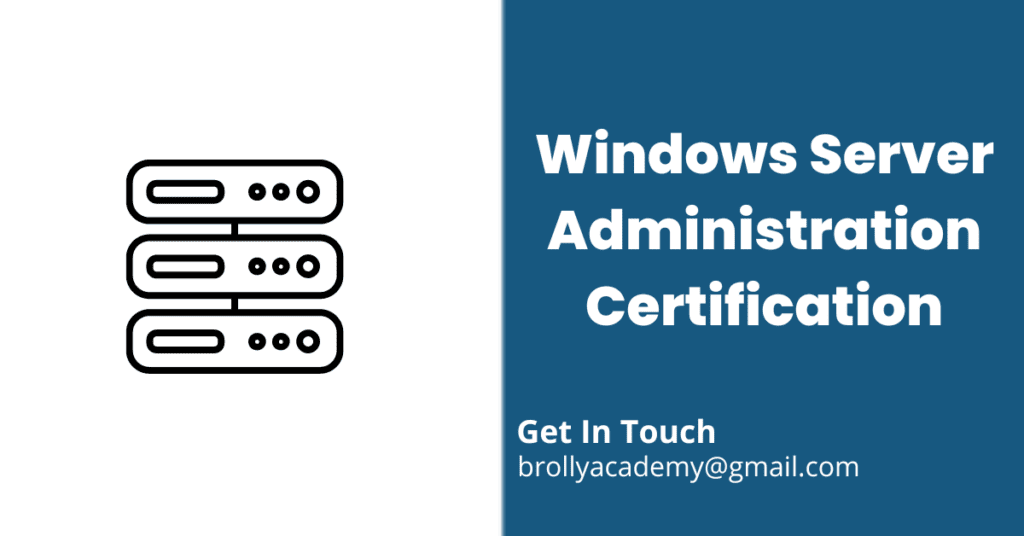 Advantages of Learning Windows Server Administration course -
Employment possibilities in Windows Server Administration -
Completion of the Windows Server Administration course you will learn -
Prerequisites to Learn Windows Server Administration
Do I need to know programming as a window server Administrator?
A computer system administrator does not need to be a programmer; however, he or she must have a solid understanding of networking and operating systems. Although experience in programming may have primed you to identify solutions to the issue, it is not a requirement for your role.
Why should you learn Windows Server Administration course online?
Online learning will help you develop a deeper understanding of Salesforce and its cloud-based technologies.
Does Brolly Academy provides practical training sessions in Windows Server Administration training?
Yes, our Windows Server Administration training provides a solid foundation in the software, including both theoretical and practical lessons.
Will I be getting a free demo before enrolling in Windows Server Administration Training?
Brolly Academy offers free, hands-on classes on Windows Server Administration to help you decide if our training program is right for you.
Will I get placement assistance program in the Windows Server Administration Training Course at Brolly Academy?
Yes we do offer placement assistance to all our aspirants. We help you prepare for job interviews and create resumes that we send to employers on your behalf.
Why should I consider Brolly Academy is the best for learning Windows Server Administration Training in Hyderabad?
Brolly Academy offers the best Windows Server Administration training courses. We provide expert trainers who can help you become a skilled professional by learning all aspects of this language, including how to apply it to your job.
What are the skills you will learn during this Windows Server Administration training?
● Test management ● Product development lifecycle ● Live traceability ● Modern requirements management
Is Windows Server Administration a good career choice?
Yes, many people believe that Windows is easier to use and learn than Linux. And it's true: UNIX-based operating systems have a steep learning curve. However, once you've mastered using one of these OSes (and yes, they can be mastered), there are tremendous advantages in terms of flexibility and power over software written for commercial operating systems.
What is the scope of Windows Server Administration Developer?
Windows Server is mostly used by enterprises because of the GUI consoles it offers. There is still a debate on Linux adoption out in the market, but so if you learn Windows admin and assume you are Indian there's a lot of work out there waiting for you!
Who should learn Windows Server Administration training course?
The following job roles get benefit from learning this technology. ● Computer Support specialists ● Network Administrators ● System Administrators ● IT Managers