French Language Course in Hyderabad
100% Placement Assistance
French Language Course in Hyderabad Batch Details
| | |
| --- | --- |
| Course Fee | 20,000 Rs |
| Course Duration | 2 Months |
| Timings | Monday to Friday (Morning to Evening) |
| Next Batch Date | 18th Sep 2023 AT 11:00AM |
| Training Modes | Classroom [HYDERABAD] / Online |
| Location | Hyderabad |
Key Features Of French Language Course
French Language Course Curriculum
About French Language Course in Hyderabad
The French language is often portrayed as the most romantic, and we believe that this view holds water. It is a simple, flowing language that requires thoughtfulness from its speakers. As such it has been spoken in many countries across five continents for decades or centuries. French is a language that 125 million people around the world can speak and understand. It has had a great influence on many areas of life, including fashion, music, theatre, and cooking. 
The French language is used in international relations and the tourism industry, so those who are seeking bright careers outside of their native countries often have better opportunities to find work if they can speak French. French is the official language of many countries, including France. It is also used in surrounding areas such as Monaco, Luxembourg and parts of Belgium and Switzerland. 
In Canada, it's widely spoken in Quebec; this French-speaking community extends into North America (the U.S.), Africa (Senegal), Madagascar and Asia.Our experts estimated that it will take you about six months to reach a level of proficiency called general professional proficiency, in which your reading and speaking skills are considered advanced.
Brolly Academy is dedicated to providing you with the best French Language Course in Hyderabad. We want to ensure that you have all the facilities needed for learning French, including Classroom Training, Online Training, Video tutorials, practice tests and much more. A comprehensive grammar guide that covers all aspects of the language. Videos with real native speakers who will teach you how to speak French naturally. 
Audio files for pronunciation practice, as well as flashcards for learning new vocabulary words. This Course starts with Beginner, Intermediate and Advanced levels of training to help you achieve your goals with ease. At the end of the French language training course you will be provided with the French language course completion certificate, and the certificate we offer has global value. 
During this Course period you will learn to read, write and speak French fluently. Our experts will teach you the advanced level of French grammar, pronunciation and vocabulary so that you can begin to speak like a native speaker.
Join our free demo class to learn more about the French Language and then enroll with Brolly Academy for the French Language Course in Hyderabad.
Modes of French Language Training in Hyderabad
Why choose Brolly Academy for French Language Course in Hyderabad?
Brolly Academy's French Language training program in Hyderabad is one of the best in the institute offering unique instruction and helping students develop careers that take advantage of their talents. Our expert trainers will guide you through the entire French Language training program and make you fluent in French. With our institute's reputation for quality language courses, the certificate we offer has international value. 
Therefore, after completing a course here you will not hesitate to contact any multinational corporation or other organizations that are looking to hire people who are fluent in French. Our test preparation courses can help you pass any French-language exam. You can take our classes here in Hyderabad and learn other languages from around the world. Top reasons to consider Brolly Academy for French Language Training in Hyderabad.
The certificate we offer has international value that can be used to apply for jobs in French Language. The certificate provided by us will add more value to your resume and students will get certified after completion of each level. 
Learning from remote location
Brolly Academy's online Course and recorded video Course facilities allow learners to attend all the sessions from anywhere at your own convenience. Upgrade your French language skills at Brolly Academy.
Brolly Academy conducts group discussions on each topic of the French Language course for better understanding and fluency. We are also equipped with native French-speaking tutors who provide one-on-one tutoring sessions. This Course is to help students develop proficiency in French language skills, including reading, writing, listening and speaking.
Brolly Academy's trainers are professional experts and fluent in French language. They trained thousands of students and professionals to improve their communication skills in French. During Course, they will teach you and guide your decisions after the program is over.
At Brolly Academy, we designed the course so that our students could become masters of the French language by its end. We run tests to assess proficiency, and these play a major role in self-evaluation. We have a globally accepted certificate in clearing exams. Therefore, we ensure that our students have perfect mastery of the French language after completing our course even if they are not native speakers.
This french learning course at Brolly Academy is designed for learners of any age group, starting from Kids, Teenager, Students, Working professionals, and whoever wants to learn french.
You'll have access to an E-book, LMS and other materials that include reading passages, grammar instruction and vocabulary lists for Beginner, Intermediate, and Advanced French at Brolly Academy for life-time
Testimonials of French language Course in Hyderabad
Certification in French Language Course
By Enrolling in our French Language Course in Hyderabad at Brolly Academy you can get the most effective Certification Course from our expert tutors in French Language. Upon completion of this course, you will receive the level of course completion certificate from us acknowledging your accomplishment in the French Language Training. This certification will provide you with the skills, knowledge and expertise to advance your French language career globally.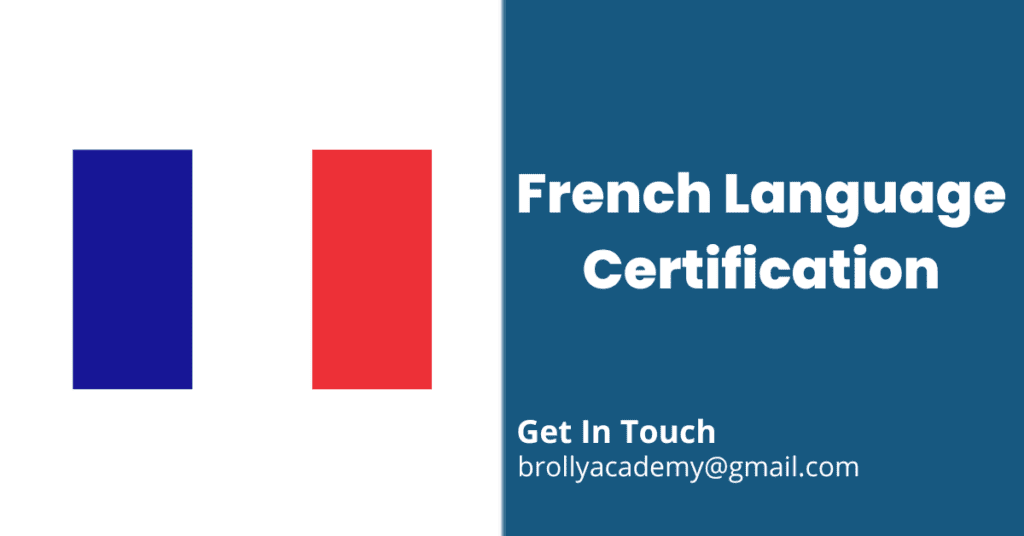 Advantages of French Language Course Program
Employment Opportunities in French Language
Objectives of learning French Language
Prerequisites to Learn French Language
How many levels do you have in this French Language Training Course?
We offers 6 levels of French Language in this training course -
1. A1 Level (Beginner) Basic French Vocabulary, Greetings in French, and Basic Grammar (Nouns, Pronouns, Verbs, Plural, Adjectives, and more) are covered in this level.
2. A2 Level (Elementary) Grammar such as Future tenses, Relative pronouns, Comparative/Superlative Sentences, Adverbs, Demonstrative Pronouns, and more are covered in this level.
3. B1 Level (Intermediate) writing, reading, and listening skills. The candidates will learn how to structure sentences in the French language.
4. B2 Level (Upper Intermediate) write long speeches in French and how to communicate complicated ideas clearly and commercialize them in this level.
5. C1 Level (Proficiency) the candidate will be able to comprehend longer texts and their implicit meaning to express themselves fluently and spontaneously in this level.
6. C1 Level (Master) learners will be able to understand virtually any speech or writing presented in their second language. They can take ideas from a variety of sources and combine them into well-structured arguments based on logic at this level.
What are the best certification for French?
DELF and DALF are two of the most prestigious French proficiency tests for non-native speakers, awarded by the Ministry of Education in conjunction with CIEP.
Which is better DELF or DALF?
Though DELF and DALF can be taken at the same levels, they assess different skills: while one focuses on elementary or intermediate-level language abilities (A1- A2 or B1 -B2),DALF corresponds to advanced proficiency (C1 -C2).
What you learn in this French Language Training?
● Get a basic understanding of grammar practices as well as vocabulary.
● Grammar Methodically.
● Learn grammar concepts such as adjectives.
● Making sentences in French Language.
● Words and their Pronunciations.
● Practicing the Most Used Words and more on the list…
What skills do you requires for Learning French?
● Reading French
● Listening French
● Speaking French
● Writing French
Will you provide guidance after the compilation of this course?
Yes, our dedicated team will guide you even after the completion of the course they will help you to clear all your doubts in French Language.
Who can enroll in to this French Language course?
Any one interested to learn French Language can enroll for this course.
Does the French Language Online training come with a certificate?
Yes, upon successful completion of each level of the French Language training program at our Hyderabad academy, you will receive a course completion certificate.
Will you provide a free demo on French Language before enrolling in the subject at Brolly Academy?
Yes, we give a free demo session before the language training starts. This is an opportunity for all students who are interested in taking our French Language training to get a better understanding of what they will be learning during the real class sessions.
What are the training modes offered by Brolly Academy for this French Language training course?
At Brolly Academy, we offer French Language training in classroom instruction, one-on-one tutoring, self-paced video learning and online training.