Pyspark Training in Hyderabad
100% Placement Assistance
Pyspark Training in Hyderabad Batch Details
Pyspark Course Curriculum
Key Points Of Pyspark Training in Hyderabad
PySpark is a Python API for Apache Spark(support the collaboration of Apache Spark and Python), an open source, distributed computing framework and set of libraries for real-time, commonly used tool to build ETL pipelines for large datasets. 
PySpark allows its users to interface Spark with Python. While Python is a high-level programming language and popular for its clear syntax and code readability, Whereas Spark is an open-source data processing engine used in query, analyze, and transform big data.
PySpark, helps to interface with RDDs (Resilient Distributed Datasets) in Apache Spark and Python programming language and commonly used among data scientists. 
PySpark provides an optimized API that can read the data from the various data source containing different files formats and it is also majorly used for processing structured and semi-structured datasets.
Using PySpark we can process the data by making use of SQL as well as HiveQL.
People who are familiar with Python and libraries such as Pandas, then PySpark is a good language to learn to create more scalable analyses and pipelines.
Brolly Academy provides Pyspark training in Hyderabad by highly experienced trainers to implement one end-to-end project that covers all the concepts of PySpark from basic to advanced levels.
Our experts designed the Pyspark certification course training material in such a way that it covers all the topics of PySpark and has up-to-date information which are required to get placed in an MNC by the end of the course. 
Our pyspark full course syllabus covers topics like – 
Introduction to Pyspark

Setting Up Python with Spark

workflow in Spark Architecture

Understanding Spark SQL, Spark Core, and Spark Streaming

Working with MLlib, Spark, and Python for Machine Learning etc. 
We provide Pyspark online training and self-paced video training for the students who are not able to attend the classroom training. Our Pyspark course fee is very affordable when compared to other training institutes in Hyderabad. 
A Pyspark course completion certificate will be handed over to all our students at the end of the training. We also provide 100% placement assistance to our students post completion of the training.
If you are looking for a career in Big Data, then pyspark is a good option for you and Brolly Academy is the right choice to kick start your dream career.
Want to get trained in Pyspark with real time industry experts from Top MNCs, Enroll into our Pyspark training in hyderabad.
Modes of Training For Pyspark Course
Pyspark training online

We offer the best Pyspark course online in Hyderabad with the best quality training, experienced instructors, placement assistance etc. This Pyspark course is an online program for the students who are not able to attend the classroom training. The course fee is very affordable and our training is based on real world experiences, practical examples and exercises to help you get started with Pyspark, all from the comfort of your home.
Classroom training

Our Pyspark classroom training is a hands-on course that teaches you how to use the framework and be able to apply Spark for Big data Analytics. With our Pyspark offline training and certification will help you gain the skills required to become a PySpark developer.
Pyspark Video course

We offer you the best quality of video tutorials for learning Pyspark that is designed to help you learn how to use Spark to write classy similar applications for quicker and superior conclusions, immediate measures, useful to a large range of use cases, architectures, and industry. It is a complete set of live instructional recordings, assignments and quizzes along with a digital Pyspark course completion certification.
Why choose us for the Pyspark Course?
Industry professionals as Instructor

We have 12+ years experienced working professionals as Instructor with technical skills such as - Apache Spark, Pyspark, SQL, Python ect. They will trained you through the training period by providing hands-on example and helps you gain the skills required to become a PySpark developer.
Industry recognized Pyspark Certification

The PySpark certification course offered by Brolly Academy will help you to understand the subject, its features and the implementation of this framework. With the help of our certification you can apply various job position on Pyspark and this certificate from Brolly comes with the lifetime validity. You will earn a Pyspark course compilation certificate after the successful completion of the course and become a PySpark expert.
Placement support

Our career coaching program for Pyspark course is designed to give our trainees a head start when it comes to getting a job post in our Pyspark training program. We help learners develop the skills needed to land a job as a Pyspark professional with the right resume writing tips and other job interview guidance.
Practical lab sessions

We also provide lab sessions and live projects to our students as a part of our Pyspark course. Our live projects help students to apply what they've learned in the classroom to real-life scenarios. We believe that the best way to learn is by implementing, so we set up a series of case studies that help our students to practice what they've learned throughout the training.
Flexible training batches

We've made our course offerings more flexible for students than before. Our Pyspark course training is now available to students at flexible timings, allowing them to work around their requirements. They can now attend our training sessions based on their convenience and schedule.
Job-oriented curriculum

We have a job-oriented Pyspark course curriculum that will help our learners learn the ins and outs of Pyspark technology in a more appropriate way. Our Pyspark course content is curated by industrial experts, with topics ranging from the basics of Pyspark to advanced use cases.
Pyspark is written in Python and it is easy to use for programmers who are familiar with Python. It is designed to be scalable and efficient, allowing users to process large amounts of data quickly.
The PySpark certificate course offered by Brolly Academy will help you to understand the course concepts, its features and how to work using it. You will be able to solve various real-time problems like in e-commerce, trade, etc by mastering the course with our expert guidance. 
You can also learn PySpark on your own with our self-learning video option whenever you want and can earn a course completion certificate after the successful completion of the course. 
Upon successful completion of the PySpark certification training in Hyderabad, Brolly Academy will provide you with an industry-recognized course completion certificate which has lifelong validity.
Note – There is no official certification for Pyspark.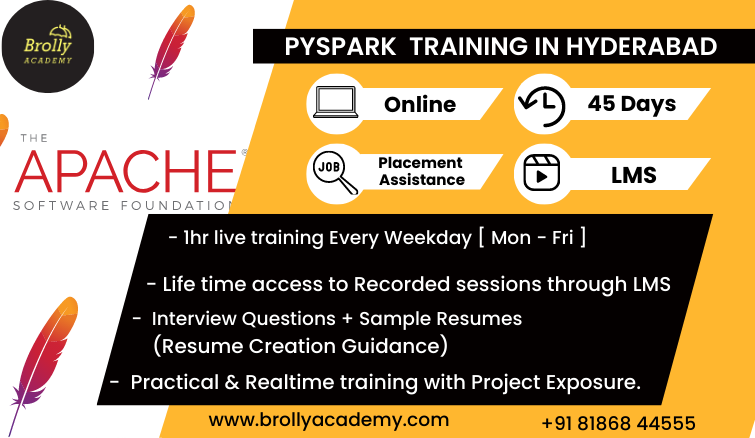 Advantages of learning Pyspark Course
Skills developed after the Pyspark Course
Prerequisites of Pyspark course
Career Opportunities in Pyspark
Who can enroll for this Pyspark Certification Course?
Is PySpark hard to learn?
PySpark is an API written using Python that allows users to work with Big Data. It's easier for people who are familiar with the Python programming language to use PySpark because they are already comfortable working within its syntax.
Is PySpark worth learning in 2022?
PySpark is an API written in Python. It is unique and more popular than Python because of the Scala features, therefore it is worth learning in 2022 amidst all the platforms available today.
Is PySpark better than Python?
Python is a general purpose programming language, and PySpark is specifically designed to work with Big Data. Since it is an API written language using Python along with Spark framework PySpark is a better choice. Scala features make it unique and more popular than Python.
What is the purpose of PySpark?
The main purpose of PySpark - It allows the user to build spark applications using Python APIs. It's library helps Python to easily integrate with Apache Spark. Pyspark also plays a vital role whenever the work has to be done with a large set of data or when analyzing a huge set of data.
Will I get hands-on training in Pyspark at Brolly Academy?
Yes, our course requires practical include hands-on training/labs.
What type of payment options are available to pay the course fee?
To know about the detailed information of the payment options please feel free to contact us.
Can I cancel and get a refound if I made the payment?
You can request a refund if you do not want to enroll in the course and should not attend more then 2 demo sessions. Our team will check the eligibility criteria and proceed forther.
How can I get the course completion certificate for online/self-learning options?
You will receive a digital certificate post completion of your training.
Where can I get Pyspark training near me?
You can get Pyspark training in Kukatpally and Pyspark training in ameerpet provided by Brolly Academy.
What if I miss any class in Pyspark?
No need to worry, Students can make up for missed sessions by attending our next live batch or we can also arrange backup classes for them.