Spanish Language Training in Hyderabad
100% Placement Assistance
Spanish Language Training in Hyderabad Batch Details
| | |
| --- | --- |
| Course Fee | 20,000 Rs |
| Course Duration | 2 Months |
| Timings | Monday to Friday (Morning to Evening) |
| Next Batch Date | 7th Feb 2022 AT 11:00AM |
| Training Modes | Classroom [HYDERABAD] / Online |
| Location | Hyderabad |
Key Features Of Spanish Language Training
Spanish Language Training Course Curriculum
About Spanish Language Training in Hyderabad
Spanish is a language originally from the northern area of Spain. It's also spoken in many Latin American countries and Equatorial Guinea. The Spanish name for Spain itself España is derived from the Phoenician tribe that settled there centuries ago: Hispania! The largest Spanish-speaking country in the world is Mexico, with over 121 million people. 
The second-largest population of Spanish speakers resides in the United States nearly 53 million residents then Colombia, Spain and Argentina. Spanish Language is a phonetic language, which means that it's spelled as it's pronounced. Spanish Language pronunciation contains only ten vowel and diphthong sounds which makes it considerably easier for learners.
Conveniently for native English speakers, Spanish is one of the easiest languages to learn. It is widely spoken in the countries of Spain, Central America and South American. The United States has the second highest population of Spanish-speaking people in the world after Mexico.
Our experts estimated that it will take you about six months to reach a level of proficiency called general professional proficiency, in which your reading and speaking skills are considered advanced. You can then use your Spanish to work in a variety of fields. Some people who learn Spanish become translators or interpreters. Others find jobs as teachers, travel guides, and so forth.
If you are interested in learning Spanish, look no further. Brolly Academy is dedicated to providing you with the best Spanish Language Training in Hyderabad. We want to ensure that you have all the tools needed for learning a new language, including Classroom Training, Online Training, Video tutorials, practice tests and much more. 
We have a variety of resources to help you learn Spanish, including: A comprehensive grammar guide that covers all aspects of the language. Videos with real native speakers who will teach you how to speak Spanish naturally. Audio files for pronunciation practice, as well as flashcards for learning new vocabulary words.
Brolly Academy offers the best, most authentic Spanish Language Training in Hyderabad. We offer a wide range of Spanish Language courses starting with Beginner, Intermediate and Advanced levels of training to help you achieve your goals with ease. Our personalized approach to learning ensures that each student gets what they need from our programs. With the reputation we have in the world of foreign language learning courses, at the end of the Spanish language training course you will be provided with the Spanish language course completion certificate, and the certificate we offer has global value. Our certification program offers three levels: Beginner, Intermediate and Advanced. 
We also offer classes for children, teens and adults. During this training period you will learn to read, write and speak Spanish fluently. Our experts will teach you the basics to advanced level of Spanish grammar, pronunciation and vocabulary so that you can begin to speak like a native speaker.
Brolly Academy's Spanish Language Training in Hyderabad also offers placement assistance services where our expert will guide you to get placed in different fields by completing this course.
Visit our free demo class to learn more about the Spanish Language and then enroll with Brolly Academy for the Spanish Language Training in Hyderabad.
Modes of Spanish Language Training
Why choose Brolly Academy for Spanish Language Training in Hyderabad?
Brolly Academy's Spanish Language training program in Hyderabad has earned a reputation as one of the best in Hyderabad by offering unique instruction and helping students develop careers that take advantage of their talents. Our expert trainers will guide you through the entire Spanish Language training program and help make you a skilled professional. 
The ability to speak and understand a foreign language is important for making oneself understood in the world, which is full of multinational corporations. Many have found success by hiring workers who are fluent in Spanish. With our institute's reputation for quality language courses, the certificate we offer has international value. Therefore, after completing a course here you will not hesitate to contact any multinational corporation or other organizations that are looking to hire people with those skills.
Our test preparation courses can help you pass any Spanish-language exam. You can take our classes here in Hyderabad and learn other languages from around the world! Top reasons to consider Brolly Academy for Spanish Language Training in Hyderabad. 
Brolly Academy is committed to providing quality, flexible training for people who are serious about advancing their careers. Our dedicated support team will guide you 24/7 whenever you need their guidance for any doubts you have in the language learning process. 
Spanish Language Certificate
The certificate we offer has international value that can be used to apply for jobs in Spanish Language. The certificate provided by us will add more value to your resume. 
Learning from remote location
Our online training and recorded video training facilities allow you to attend all the sessions from anywhere at your own convenience. Upgrade your Spanish language skills at Brolly Academy.
We conduct group discussions on each topic of the Spanish Language course for better understanding and fluency. We are also equipped with native Spanish-speaking tutors who provide one-on-one tutoring sessions. The aim of this course is to help students develop proficiency in Spanish language skills, including reading, writing, listening and speaking.
Brolly Academy's trainers are professional experts in the field of Spanish language. We've helped thousands of students and professionals across India improve their communication skills in Spanish. During training, they will coach you and help guide your decisions after the program is over.
Brolly Academy's Spanish Language certification program offers 6 levels of certification: Ex- Beginner A1, Elementary A2, Intermediate B1, Upper-Intermediate B2, Expert C1,  Mastery C2. 
This course is designed for learners of any age group, starting from Kids, Teenager, Students, Working professionals
Throughout your course, you'll have access to an E-book, LMS and other materials that include reading passages, grammar instruction and vocabulary lists for Beginner, Intermediate, and Advanced Spanish.
Testimonials of Spanish Language Training in Hyderabad
Certification in Spanish Language Training
By Enrolling in our Spanish Language Training in Hyderabad you can get the most effective Certification Training from our expert tutors in Spanish Language. You will receive the course completion certificate for the Spanish Language Training in Hyderabad after completion of the course. This course certification provided by us is recognized by the top companies across the world.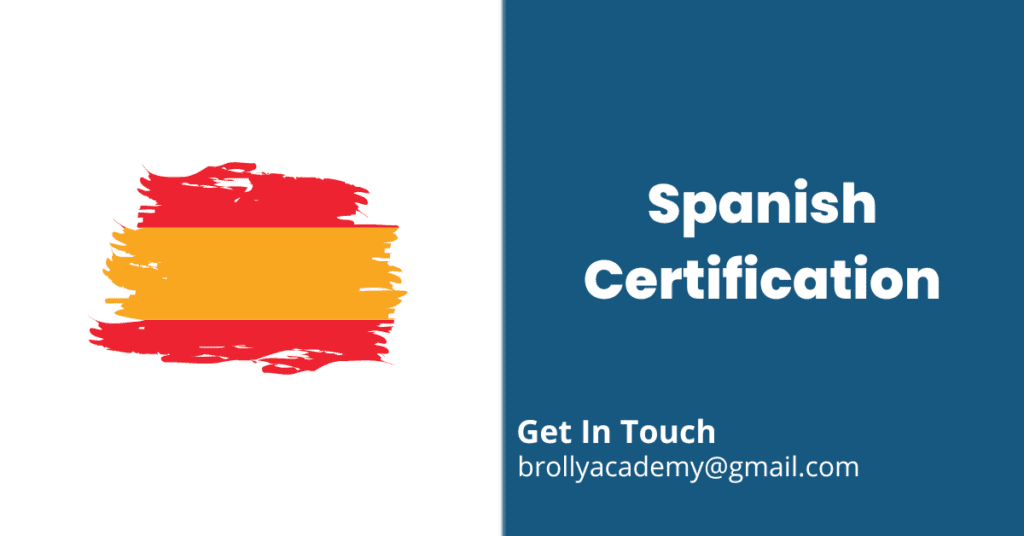 Advantages of Spanish Language Training Program
Employment Opportunities in Spanish Language -
Objectives of learning Spanish Language
Prerequisites to Learn Spanish Language
How many types of levels do you have in this Spanish Language Training Course?
We offers 6 types of Spanish Language in this training course - 1. A1 Level (Beginner) 2. A2 Level (Elementary) 3. B1 Level (Intermediate) 4. B2 Level (Upper Intermediate) 5. C1 Level (Proficiency) 6. C1 Level (Master)
What are the best certification for Spanish?
• CEFR language proficiency levels. • Basic (A1 and A2) • Independent (B1 and B2) • Proficient (C1 and C2) • Spanish language certifications tests. • DELE. • SIELE. • CELU.
Who is eligible to take the DELE exam?
Students taking C1 General courses should register for the DELE B2 exam. Students who have finished successfully four C1 General Courses should register for the DELE C1 exam.
Will you provide guidance after the compilation of this course?
Yes, our dedicated team will guide you even after the completion of the course they will help you to clear all your doubts in Spanish Language
Who can enroll in to this Spanish Language course?
Any one interested to learn Spanish Language can enroll for this course.
What is the full form and use of SIELE exam?
SIELE, (International Spanish Language Evaluation Service) the Spanish Institute of Foreign Languages and Communication, certifies proficiency in Spanish by administering four tests: Comprensión lectora y auditiva (Reading comprehension and listening comprehension), Expresión escrita-oral interactiva (Written expression-interactive oral).
What is the full form and use of DELE exam?
DELE ( Diploma of Spanish) diplomas boost your CV and give you a qualification that displays your Spanish skills. Plus, DELE certifies proficiency in many different languages up to level C2, which makes them valuable for life.
What level of Spanish do I need to work in Spain?
The C1 level, or "Effective Operational Proficiency", when you need to write well and produce professional deliverables in Spanish; the C2 level (or "Mastery") if your work is more closely related with translation.
Does the Spanish Language Online training come with a certificate?
Yes, you will receive a course completion certificate from our Brolly Academy in Hyderabad after successfully completing each level of the Spanish Language training program.
Will you provide a free demo on Spanish Language before enrolling in the subject at Brolly Academy?
Yes, we hold a free demo session before each course starts. This is an opportunity for all students who are interested in taking our Spanish Language training to get a better understanding of what they will be learning during the real class sessions.