Adobe Illustrator Online Course In Hyderabad
100% Placement Assistance
Adobe Illustrator Online Course - New Batch
Key Features Of Adobe Illustrator Online Course In Hyderabad
Course Curriculum Of Adobe Illustrator Online Course
About Adobe Illustrator Online Course In Hyderabad
Adobe Illustrator is a software program that has been around for more than 30 years and covers all commands. 
Since Adobe's expertise lies in this field, it is used by professionals to make our learning easier from them. 
Buying an Illustrator license will save you money and give you access to all the commands in one program. 
Using Adobe Illustrator you can make logos, textual styles, presentations, in sequential order and numerical pictures, posters, and flex. 
This is a vector-based program, so the pictures can be edited at any size. 
Illustrator was one of the first software packages to implement this feature and became one of the premier tools for designers everywhere. 
Adobe Illustrator was the main application used by graphic designers before other programs were created for that purpose. 
The Brolly Academy's Adobe Illustrator Online Course has been prepared for anyone who wants to refine their design skills. 
After completing this course, you will be able create graphics with ease and accuracy. We have highly skilled faculty who will guide you to gain in-depth knowledge and  understanding of the program. 
Brolly Academy is the best place to learn Adobe Illustrator course because we aim to help you to build a solid foundation of Adobe Illustrator.
Adobe Illustrator technology also our training program will provide you an opportunity to work on with a variety of real-time projects which will make your learning process much easier and will help you to advance your career opportunity in Adobe Illustrator. 
TheAdobe Illustrator Online Course In Hyderabad by Brolly Academy will give you in-depth knowledge of the Adobe Illustrator technology such as – Selecting and Aligning, Creating and Editing Shapes, Transforming objects, Drawing, Coloring & Painting, Type, Layers, Brushes, Using Effects, Appearance Attributes, Graphic Styles, Working with Symbols etc. 
Our Adobe Illustrator Course curriculum start from Basic to Advanced levels of Adobe Illustrator Online Course In Hyderabad. After completing the training, we will offer a Adobe Illustrator course completion certificate to all our trainees, which will add extra value to their resume.
 We offer Adobe Illustrator training in 3 different modes such as – Adobe Illustrator Classroom Training, Adobe Illustrator Online Course, and Adobe Illustrator Recorded Video Training. 
Anyone can learn this Adobe Illustrator training program without any prior knowledge. 
Brolly Academy provides all our trainees 100% placement assistance. 
This program is conducted by our dedicated team and they will guide you throughout the training and even after the training is completed. 
We will be assisting you with mock interview preparation, resume creation, and conducting Q&A sessions for your interview purposes.
Attend our free demo class on Adobe Illustrator and enroll with Brolly Academy for the best Adobe Illustrator Online Course In Hyderabad
Modes of Adobe Illustrator Training
Why choose Brolly Academy for Adobe Illustrator Training in Hyderabad?
Brolly Academy has earned a reputation as the best provider of Adobe Illustrator Online Courses in Hyderabad. 
Our unique approach to teaching and focus on student satisfaction makes us stand out from other providers. 
This Adobe Illustrator training program is conducted by our highly qualified professional expert trainers with 8+ years of experience in Adobe Illustrator.
At Brolly Academy where they will guide our candidates to become a skilled professional in this Adobe Illustrator technology and make you a job-ready candidate in the field. 
Here are some reasons why you should choose Brolly Academy for Adobe Illustrator Training in Hyderabad?
Guaranteed Job Assistance
Brolly Academy offers the best job assistance programs in Hyderabad for Adobe Illustrator. Our Job assistance team will guide all our candidates by giving them mock interviews, career counseling, Q&A sessions, and resume preparation facilities to ensure that they are completely prepared for their job Interviews.
Industry Oriented Training Concepts
At Brolly Academy we have the best professional tutors, who are aware of the technology concepts, upgrades, and various tools required in Adobe Illustrator Training. They will train our candidates according to industry standards so that they acquire training that is practical and relevant for real-world use.
Course Completion Guidance
At Brolly Academy, we provide all of our students with support and expert guidance throughout the entire course. Our dedicated team is here 24/7 to ensure that you receive the best possible training for your interview or job preparation needs even after the training is completed
Adobe Illustrator Course Completion Certificate
You will be awarded a completion certificate after completing the Adobe Illustrator course at Brolly Academy. This is your certificate of achievement, and it can be used to apply for jobs where Adobe Illustrator expertise is required.
With Brolly Academy's online training and recorded video facilities, you can attend or learn the Adobe Illustrator course from anywhere at your own convenience.
Brolly Academy conducts interview QandA sessions for all our students, with group discussions on each topic of the Adobe Illustrator course. This helps you get a better job in the Adobe Illustrator industry which is what we're all about!
Brolly Academy has top-notch tutors in Adobe Illustrator technology. Our instructors are real pros with a proven track record of training students and working professionals which is important to us, since we're all about helping you build skills that matter. They will train you during the training period and continue to guide your work by providing expert advice whenever needed.
Testimonials of Adobe Illustrator Training in Hyderabad
Certification in Adobe Illustrator Training
Brolly Academy's certification course provides online training, classroom-based learning, and self-paced video courses in both theoretical and practical ways for both freshers interested in the subject as well as professionals who want to improve their business knowledge. Brolly Academy's Adobe Illustrator Online Course is approved by industry leaders around the world. After completing our Adobe Illustrator Online Course certification, students will receive a certificate they can include on their resume and use to apply for jobs. At Brolly Academy, students become certified only after they have completed our Adobe Illustrator training and practical-based course.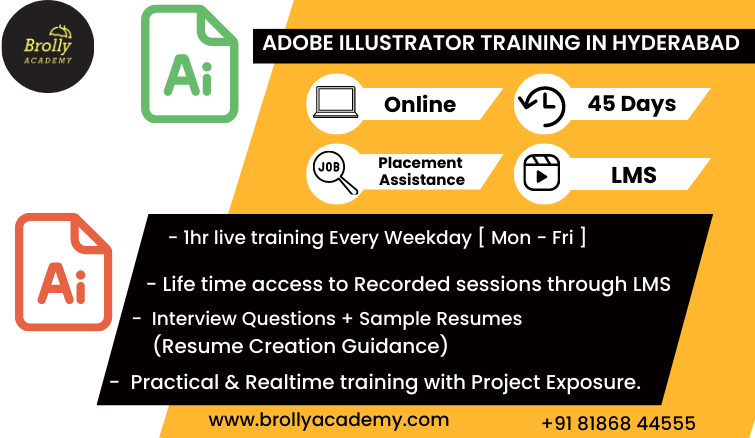 Advantages of Adobe Illustrator
Job possibilities in Adobe Illustrator
Objectives of Adobe Illustrator
Prerequisites to Learn Adobe Illustrator
Can I learn Adobe Illustrator without prior experience in programming?
Yes, you don't require prior programming experience to learn Adobe Illustrator.
What are the top reasons do I consider a career in Adobe Illustrator?
● It offers better community acceptance.
● It gives strong impact and even quality result.
● It is certainly a path-breaking yet an everlasting solution one can opt for.
● Enterprise applications are multiplatform/Designing & Animation.
● You can build a lucrative career in Adobe Illustrator.
Is it benefit learning Adobe Illustrator course?
This Adobe Illustrator training opens many career possibilities for the students and professionals. From Beginners to professionals, anyone can take up this Adobe Illustrator Online Course and learn advanced illustration, photo editing, logo designing, vector graphics, page layout designing, typography, etc Adobe Illustrator. After completion of the course learners can go for jobs such as - Motion Graphic Designer, Graphic & Web Designer, 3D Artist, 3D Animator, Illustrator, Freelance Graphic designer, Photoshop Designer, Computer Operator, Visualizer etc…
What are the scope of learning Adobe Illustrator course?
● The high requirement of an Adobe Illustrator expert in all various companies is a key part of marketing.
● There is a need for a graphic designer in all companies who can make their logo and product look more attractive.
● Big e-commerce companies like Flipkart, Amazon, Myntra need a graphic designer as they have to upload multiple images of the single product.
Is Brolly Academy provided demo class on Adobe Illustrator before enrolling?
Yes, Brolly Academy conducts free demo sessions before starting the Adobe Illustrator course for all our candidates.
Will I be getting a certificate by enrolling in Brolly Academy's online Adobe Illustrator training program?
Yes, we will provide all our candidates with a Adobe Illustrator course completion certification at the end of the course after they successfully completed the training.
What do you learn in this Adobe Illustrator Training?
● Learn to Draw vector graphics using Corel Draw.
● Create Logos, business cards and professional banners using Corel Draw.
● Become a graphic designer by learning Corel Draw.
Will I be provided a support session if I need a better understanding of Adobe Illustrator Training?
Brolly Academy is offering 24/7 support, If you have more questions or doubts regarding the Adobe Illustrator course, you can always get in touch with our experts.
Will I get guidance from Brolly Academy after the compilation of this course?
Yes, you will be provided proper guidance from our dedicated team even after the completion of the course for interview preparation, Resume making, etc in Adobe Illustrator.
Will I be provided the course syllabus of the Adobe Illustrator training at Brolly Academy?
Yes, we will provide the course syllabus in Adobe Illustrator for all our students who enrolled in our training program.