Game Technologies Training in Hyderabad
100% Placement Assistance
Game Technologies Training in Hyderabad Batch Details
| | |
| --- | --- |
| Course Fee | 20,000 Rs |
| Course Duration | 2 Months |
| Timings | Monday to Friday (Morning to Evening) |
| Next Batch Date | 7th Feb 2022 AT 11:00AM |
| Training Modes | Classroom [HYDERABAD] / Online |
| Location | Hyderabad |
Key Features Of Game Technologies Training
Game Technologies Course Curriculum
About Game Technologies Training in Hyderabad
Gaming technology is on the cusp of unlocking the true potential of web applications by creating immersive digital playgrounds where users can socialize with friends from around the world. The advancement of technology is what has allowed for better and bigger games to be created, but in reality, publishers would continue creating new products even if the technological advancements stopped. Gaming is one of the fastest-growing markets in India, and it's also becoming a career option of choice for many talented young students from diverse backgrounds. Game art professionals are currently in great demand across the globe.
As a top Gaming Technology training provider institute in Hyderabad, India Brolly Academy believes in in-depth practical oriented learning which is delivered at our institute by expert mentors through interactive teaching methodologies combined with traditional arts & digital technologies. Brolly Academy courses cover all the aspects of Game Technology from conceptualizing an idea to developing and publishing it. 
Learn one of the most rewarding careers as it is challenging and requires creativity and technical acumen. Learning this course at Brolly Academy under the expert guidance of our professional faculties in our institute will boost your career in this Game Technology field. Our course curriculum is set by expert working professionals in Game technology and teaches you to solve complex and logical problems using various tools and techniques. 
In this training you will develop knowledge in – Game Programming, Framework, Game Dynamics, 2D Interactive Prototyping, LUA Script, Graphical User Interface, 3DVertex, Blinn – Phong, FPS, Action, Casual Special Effects and many more and this will help you to build interactive software as part of a development team including artists, animators, designers, producers, and/or other programmers by Implementing effective design, production, testing techniques etc. 
within the field of game development. we offer three types of Game Technologies training: online training, classroom training and self-paced video training. The Game Technologies placement program at Brolly Academy will prepare you for interviews, practice Q&A sessions and develop strategies that make you ready for real-world situations. You will receive a course completion certificate in Game Technology after completing the course successfully and this will help you to get a job in this Game Technology field.
Enroll in Brolly Academy for Game Technologies training in Hyderabad and build a lucrative career.
Modes of Game Technologies Training
Why choose our Brolly Academy Institute?
Brolly Academy is a leading Training institute in Hyderabad, is known for its method of teaching. In Brolly Academy our expert trainers have over 15+ years of experience in the Game Technologies Industry. This Game Technologies training course by Brolly Academy provides you with the skills and expertise in the field and helps you to get ready for your mock interviews, resume creation and question-and-answer sessions. Here are some reasons why you should enroll in our Game Technologies Training course in Hyderabad:
Tailored Course Curriculum
Brolly Academy's training curriculum is designed to reflect the latest trends in the industry, and its expert designers make sure that it meets high standards.
Candidates will have access to the full video recordings of their instructor-led classes, which enables them to review and recap concepts even if they missed a session. They can also watch all of Brolly's live online classes from anywhere using LMS (Learning Management System).
Brolly Academy provides learners with a comprehensive experience by integrating classroom learning and online courses into one platform.
Upon completing their training at Brolly Academy, students may continue to receive assistance from instructors through interactive forums and social media.
Brolly Academy, an online learning platform, offers Game Technologies training to students around the world
Limited Game Technologies Batches
We limit our classes to a small number of students so that each one gets individual attention.
Students will have a wide variety of projects in their portfolio, which help them to enter the gaming industry.
Game Technologies Certification
We provide our students with a certificate of completion for the Game Technologies training course. With that certification, you have an excellent chance of finding a great job opportunity.
Testimonials of Game Technologies Training in Hyderabad
Certification in Game Technologies
This Game Technologies training course is designed for clearing Brolly Academy's Game Technologies certification. By enrolling in this Game Technologies Training, you will receive access to real-world industry scenarios and projects that are directly tied to your success as an employee. At the end of this Game Technologies Training program, there will be quizzes that test your knowledge of core concepts on Game Technologies. You can take these quizzes to prepare for your Game Technologies certification exams or just to check your understanding the course. Upon the successful completion of the training  Brolly Academy will award you with a Game Technologies course completion certificate.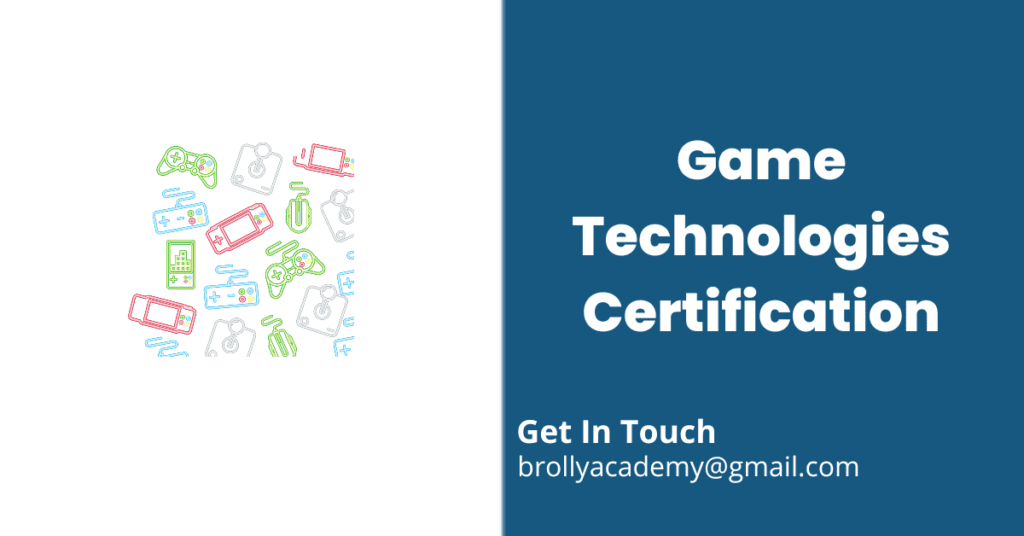 Advantages of Learning Game Technologies course
Employment possibilities in Game Technologies
Completion of the Game Technologies course you will learn
Prerequisites to Learn Game Technologies
Is opting a career in Game Technologies good?
Yes, Game Technology is one of the highest-paying and most in-demand fields today. With attractive salaries, personal freedom, and a chance to work with cutting-edge technologies like virtual reality, not many careers offer all these benefits.
Without having experience in programming can learn Game Technologies?
Yes, you don't require any programming experience to learn this course.
Will I Be Given Sufficient Practical Training In Game Technologies at Brolly Academy?
Our courses are designed to give a hands-on approach to the students in Game Technologies. The course is divided into theoretical and practical modules, with the latter allowing students to put their learning into practice by confronting current challenges in the industry.
What are the skills necessary in Gaming technology profession?
One needs to be skilled in the use of digital tools like Max, Photoshop, Z Brush, Substance Designer, etc., and have a rudimentary understanding of how game engines such as Unreal or Unity work. Also needs to have knowledge of the video game art creation pipeline, and the processes and techniques involved in the creation of digital assets for games.
How much can one earn in this Game Technology field?
Salaries offered in the gaming industry are comparable to other industries and are as per industry standards. The average salary is around 5-7 lakhs per annum for newcomers and can grow to 12 lakhs or more by the time one becomes an expert. There are incentives for employees in companies with a good track record.
Will I be getting a free demo class before enrolling in Game Technologies Training?
Brolly Academy offers free, demo classes on Game Technologies to give you a chance to learn about our training program before enrolling.
Will I get placement assistance program in the Game Technologies Training Course at Brolly Academy?
We will help you to prepare for job interviews and assist with writing updated resumes that we send to employers by providing placement assistance.
What will be the batch size of Game Technologies class at Brolly Academy?
Our expert instructors give personal attention to each student in Game Technology training sessions. We don't exceed more than 10 people in a batch.
What are the training modes offered by Brolly Academy for this Game Technologies Course?
Brolly Academy offers various types of Game Technologies training such as classroom instruction, one-on-one tutoring, self-paced video learning and online courses.
What if I miss any Game Technologies training class?
Our instructors provide you with recorded copies of each class so that you can listen to them again at your own.