Angular training in hyderabad
100% Placement Assistance
Angular training in hyderabad (Online Course Details)
| | |
| --- | --- |
| Trainer Name | Mr. Mohammed Sayyed |
| Trainer Experience | 11+ Years |
| Next Batch Date | 24-10-2022 |
| Training Modes: | Online Training (Instructor Led) |
| Course Duration: | 45 Days |
| Call us at: | +91 81868 44555 |
| Email Us at: | brollyacademy@gmail.com |
| Demo Class Details: | ENROLL FOR FREE DEMO CLASS |
Key Points of Angular Training in Hyderabad
Angular Training in Hyderabad Course Curriculum
About Angular Training in Hyderabad
Angular is a powerful web development framework which has been built on top of Google's open-source JavaScript framework AngularJS. It is an open-source project and it is a framework which has been developed by Google for developing web applications.
 It is a JavaScript framework which is used for developing single-page applications (SPA) or web applications. The Angular framework is designed to make it easy to build cross-platform single-page applications. 
Brolly Academy offers angular online training hyderabad with the best training facilities. We offer angular training courses for freshers as well as experienced professionals. 
Our team of expert instructors have more than 10 years of experience in teaching Angular to students from different parts of the world. We provide Angular training courses with the best infrastructure and the most experienced instructors. 
Our training programs are designed in such a way that they will help you to gain knowledge in the subject matter. Our training program includes topics like –
Angular architecture 

Angular commands 

Installation of Angular

Web application architecture 
You can learn Angular online  with us or take up our video course based on your preferences. Enroll with us for an Angular advanced course and certification training. 
Angular Training modes - Online + Video Course
Angular is one of the most popular Javascript frameworks in the world today. This framework has been widely used by some of the biggest companies in the world. We offer Angular training in Hyderabad via three different training modes, including –
Why choose us for Angular Training in Hyderabad?
At Brolly Academy we believe that students will only be able to apply what they learn if the lessons are presented in a way that makes sense. 
We make sure our tutors teach the Angular course according to this philosophy, so you can use your new skills and knowledge confidently and successfully in the Angular technology.
Our job assistance program will help you get the best job opportunities in your desired field.
 The assistance program includes a detailed job search guide, a resume builder, a professional cover letter template, and a job interview guide. we will help you craft a good sense of confidence that will make you job-ready.  
Our team at Brolly Academy is committed to providing quality training and support for students who are serious about their careers. 
We provide flexible timings, easy payment options, and dedicated support from our experts to help you achieve your goals. Our dedicated support team will guide you 24/7 with the right support.
 We provide certification training and prepare you with sufficient skills. 
We even reward our trainees with a valid Angular course completion certificate that is accepted by companies worldwide. The certificate provided by us will add more value to your resume and help you with job trials in Angular. 
Upgrade yourself with the latest technologies in Angular online training from our Brolly Academy.
Start learning from a remote location with our online training and recorded video training facilities, you can attend all the training sessions from anywhere, using any device, at your own convenience. 
 Brolly Academy's trainers are professional experts in the field of Angular with 9+ years of experience.
Our trainers are real-time experts with a good record of training students, working professionals, and corporates and will guide you throughout the training period with live demonstrations. 
Testimonials for Angular Training in Hyderabad - Online
Angular Certification Training
Brolly Academy is an eminent Angular training institute in Hyderabad providing Angular training certification. We offer technical and conceptual training in the concepts of Angular courses. 
We have the best trainers who will guide you throughout the program with adequate knowledge and support in the course. You also get to receive an Angular course completion certificate by Brolly Academy that comes with global accreditation. 
Our team will assist you with your queries and prepare you with the best training for the certification exams. 
Enroll today to make the most of our training on a range of Angular certification training.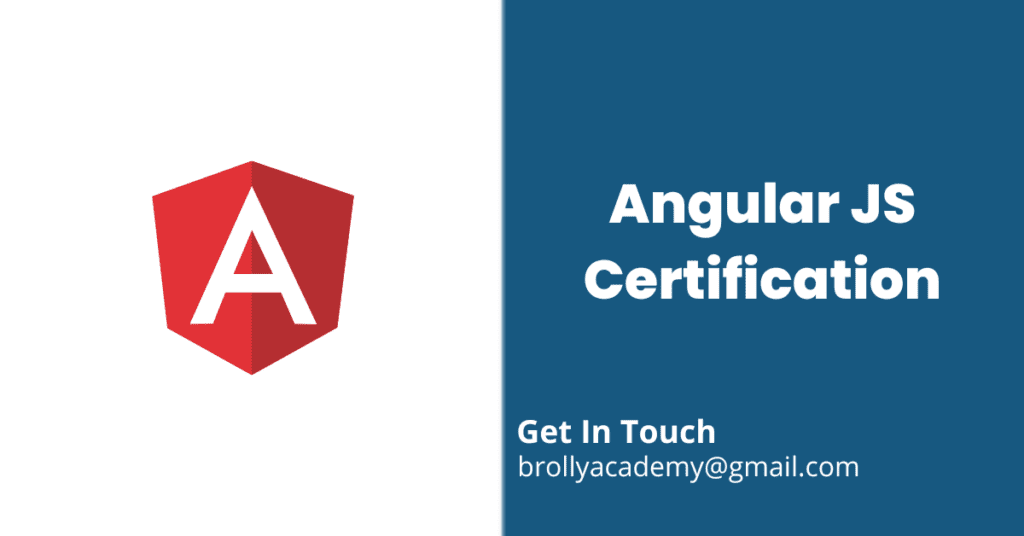 Benefits of Angular Training in Hyderbad
Skills developed Post Angular training in Hyderabad
Career opportunities in Angular
Angular is one of the most popular web application development frameworks that is being used by many developers around the world. It is a framework which has gained popularity over the last few years and it has been widely accepted as an alternative to other popular JavaScript frameworks like ReactJS. 
Angular is a must-learn skill for any developer who wants to take their career to the next level. 
Some of the Angular jobs  include – 
Prerequisites of Angular training
There are no given prerequisites for Angular training, however some of the preferred criterion include – 
What is Angular training?
Angular training offered by Brolly Academy is a detailed and complete Angular course that covers all the important and core concepts with live practical demonstrations from expert trainers.
Is angular easy to learn?
With the right guidance and training, learning angular can be easy and effective. At Brolly Academy, we offer a detailed training program that covers the basics as well as the advanced Angular topics.
Where can I find the best angular training in Hyderabad?
You can find the best Angular course online at Brolly Academy in Hyderabad.
Can I learn Angular without knowing coding?
Angular requires and uses coding like JavaScript so it is recommended that you have prior knowledge in coding.
Who can learn the Angular course?
Anybody with pre knowledge in HTML & CSS or any coding knowledge can easily and effectively learn the Angular course.
What is the average salary of an Angular Developer in Hyderabad?
The average salary of an Angular developer in Hyderabad is ₹ 4.5 Lakhs.
What is the Angular course duration?
The Angular course offered by Brolly Academy is a 2-month training program with job support.
What if I miss a class?
You can attend our immediate live batch or we can also make arrangements for backup sessions for you.
Do you offer placement assistance?
Yes, of course. We provide placement assistance to our trainees and ensure they are well prepared for jobs. However, we do not guarantee jobs after training as it comes down to your performance and capability during live interviews.