Oracle APEX Training in Hyderabad
100% Placement Assistance
Oracle APEX Training in Hyderabad Batch Details
| | |
| --- | --- |
| Course Fee | 20,000 Rs |
| Course Duration | 2 Months |
| Timings | Monday to Friday (Morning to Evening) |
| Next Batch Date | 7th Feb 2022 AT 11:00AM |
| Training Modes | Classroom [HYDERABAD] / Online |
| Location | Hyderabad |
Key Points Of Oracle APEX Training in Hyderabad
Oracle APEX Course Curriculum
About Oracle APEX Training in Hyderabad
Oracle Application Express (APEX) is a free Oracle product that enables developers to quickly create web-based applications on an Oracle database. It can be run in a browser and allows the creation of web apps by simply selecting pre-built components, configuring them, and bundling them up into one application. It runs in a web browser, allowing developers to create web applications and minimize the amount of code they have to write. Brolly Academy offers the best Oracle express training in Hyderabad with a detailed course program. The training program includes topics like fundamentals of Oracle APEX, using SQL workshops by maintaining database objects, database applications, creating forms and reports, knowledge in regions and pages, processing pages, customizing with buttons and items, aid navigation usage, hands-on experience with themes, templates, files, implementing high-end security, administering application development process, tabular forms and more. Brolly academy offers a wide range of courses that include both IT and software training courses in Hyderabad with updated course curriculums and modules. Upon completion of the course, you will receive a verified and customized Oracle APEX certification that is widely accepted by all companies and organizations. Having this certificate would greatly improve your career opportunities—it would be a great asset to have on your functional CV. This online course is intended for students who are interested in learning Oracle APEX, as well as IT professionals seeking to hone their skills. At Brolly Academy, our instructors have 8+ years of experience training and educating students from beginner to advanced levels. Brolly academy offers three different modes of training that includes Oracle APEX online training in Hyderabad, Oracle APEX video course training in Hyderabad and Oracle APEX classroom training in Hyderabad that is at pause for now considering the rising covid cases. Our placement assistance cell offers interview questions, referrals to employers, resume preparation training and mock interviews designed specifically for students. Enroll with Brolly Academy for the best Oracle APEX Training in Hyderabad.
Modes of Training For Oracle APEX Training in Hyderabad
Why choose us for Oracle APEX Training?
The Brolly Academy team consists of experienced professionals who have 8+ years of experience working with Oracle APEX technology
Oracle APEX class batches
We restrict class sizes to 5-10 in order for the teacher to bestow each student with personal guidance and keep up Oracle APEX course training quality in Hyderabad.
We help students gain practical experience in Oracle APEX by hosting workshops and study sessions where they can discuss the theory of the subject.
We will give students course materials, as well as an online learning management system. Our guides will be accessible with lifetime availability.
We have trained 45+ trainees with 20+ successful placements in some of the top companies in Hyderabad with excellent packages.
Our staff at Brolly Academy will do everything they can to help students who need assistance with the course including additional support with interview prep. You can reach any of us at any time and we respond back at the earliest.
A Brolly academy certificate of Oracle APEX completion will be given to students who enroll in the Oracle APEX training course. TheOracle Apex certification is highly regarded and has a lifetime validity.
The Oracle APEX classes are scheduled at a time when most people can attend, including working professionals and students.
Testimonials of Oracle APEX Training in Hyderabad
Oracle APEX Certification
You will receive a certificate from us upon completion of Oracle APEX training in Hyderabad. The certificate can be downloaded as either a hard or digital copy, based on your requirement. It has been proven that the Oracle APEX certification offered by Brolly academy can drastically help you crack interviews for desired positions and increase your starting salary by augmenting your career.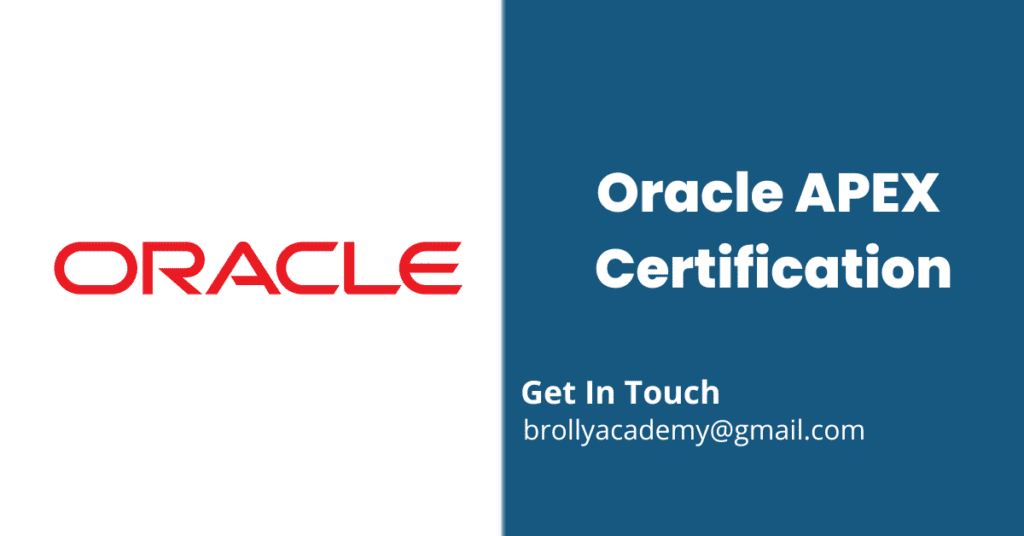 Advantages of learning Oracle APEX training in Hyderabad
Through adaptive and effective Oracle APEX technical assistance, Brolly Academy's well-developed training program allows students to obtain a valuable career. We conduct our training with updated versions of the technology and its curriculum to keep the trainees well-informed and progressively ahead of the competition.
Skills developed after the Oracle APEX course training
Prerequisites of Oracle APEX training course in Hyderabad
Career Opportunities in Oracle APEX
Which is the best Oracle APEX training institute in Hyderabad?
Brolly Academy offers the best technical Oracle APEX training in Hyderabad with comprehensive instruction in the core concepts of Oracle APEX.
What is the Oracle APEX training fee in Hyderabad?
The cost of Oracle APEX classes in Hyderabad varies depending on the type of training offered by different institutes. Our institute, Brolly Academy, offers APEX courses at an affordable cost
What is the average salary of a Oracle APEX developer in Hyderabad?
The average salary of a Oracle APEX developer in Hyderabad is ₨ 5.0 lakhs per year.
Where can I find Oracle APEX training near me?
We offer Oracle APEX training in Kphb and Oracle APEX training in Ameerpet, you can visit us or get in touch with us for further queries.
What if I miss a class?
We schedule special backup classes for students who miss sessions or allow them to attend the next session taken by our trainers.
Do you provide placement assistance?
Yes, we do. We provide Oracle APEX placement training in Hyderabad to help students land jobs after they finish the training program by providing career development services and real-world experience with industry professionals.
Who are the trainers at Oracle APEX training in Hyderabad?
Brolly Academy's Oracle APEX training sessions are taught by instructors who have extensive experience working with the tool.