Scrum Master Training in Hyderabad
100% Placement Assistance
Scrum Master Training in Hyderabad Batch Details
| | |
| --- | --- |
| Course Fee | 20,000 Rs |
| Course Duration | 2 Months |
| Timings | Monday to Friday (Morning to Evening) |
| Next Batch Date | 7th Feb 2022 AT 11:00AM |
| Training Modes | Classroom [HYDERABAD] / Online |
| Location | Hyderabad |
Key Points Of Scrum Master Training in Hyderabad
Scrum Master Course Curriculum
About Scrum Master Training in Hyderabad
Scrum is a reliable framework that was introduced to handle project management that eases liability, synergy and continual progress. This helps deliver top notch results within a short period of time. Scrum master plays a key role in facilitating and implementing the framework. Brolly Academy offers the best Scrum Master training in Hyderabad with a detailed course program. The training includes core topics like the foundations of Scrum, Manifesto of Agile, empirical processes, agile processes, scrum values, scrum applications, walk through of scrum master roles, traditional roles, scrum meetings including sprint planning meeting, release planning meeting, sprint review meeting, daily scrum meeting, artifacts of scrum, product backlogs, DoD – all about it, scaling teams, scaling product backlogs, scrum teams and more. Brolly academy offers a wide range of courses that include both IT and software training courses in Hyderabad with updated course curriculums and modules. You will receive Scrum Master certification upon the completion of the training program that is approved and received by most of the companies. The scrum master certificate will impact the job opportunities for our trainees who will also possess the required skills and competence. This can be linked to your professional resume or CV for a greater impact on improving your chances of getting hired by some of the top organizations. This Scrum master course is beginner friendly and even allows working professionals to partake for the certification. We possess trainers with an impeccable record of training and guiding professionals with a sprawling 9+ years of experience. Our modes of training include Scrum Master online training, Scrum Master video course in Hyderabad and Scrum Master classroom training making us one of the diverse and noteworthy institutes in Hyderabad. We also have excellent placement assistance programs conducted by experts to help you prepare for interviews by indulging you in various job driven activities and mock interviews. Enroll with us to get the best Scrum Master training in Hyderabad with a complete training package.
Modes of Training For Scrum Master Training in Hyderabad
Why choose us for Scrum Master Training?
You will be provided with Career counseling even after the completion of your ScrumMaster course training. The counseling will be undertaken by our expert trainers who will guide you and direct you with the right guidance in further pursuing a career in the field.
We promote virtual learning with our online and video course training that perfectly aligns with the convenience of students as well as working employees. Anybody can attend the training from any part of the word. 
We have specially allocated classes every week for students to interact with our trainers to discuss and deliberate their queries and doubts regarding the Scrum Masters course training. Our trainers will clear and clarify all your concerns with one-on-one sessions.
Interview prep + resume building
We at Brolly academy have a dedicated wing of experts who train students and prepare them for interviews. We have mock tests, mock interviews, Frequently Asked interview questions and more. We also emphasize on maintaining a good resume and help our trainees by helping them secure a professional resume. 
We have a support cell that is specifically placed to help students with their concerns and queries regarding the courses offered by us. They will be available 24*7 and you can reach out to them for any doubts or confirmations.
We have trained 30+ trainees with 15+ successful placements in some of the top companies in Hyderabad with excellent packages.
Get Scrum Master Certified
A Scrum Master certification will be given to every student enrolled in our training program. This certificate is widely accepted and certified to help you secure amazing job opportunities.
We only take in limited batches to ensure a healthy learning environment is created for our trainees wherein the trainer can pay individual attention to the students with a personalized learning experience.
Testimonials of Scrum Master Training in Hyderabad
Scrum Master Certification
You will receive a Scrum Master certificate customized by Brolly Academy after the successful completion of the course with an acceptance of all the major companies around the world. Our certification can be downloaded as a hard copy or a digital copy, as per request. It has been established that the quality training and Scrum Master certification provided by Brolly Academy has shown tremendous growth trajectories in career for our students and trainees by helping them crack interviews and secure excellent jobs in the field.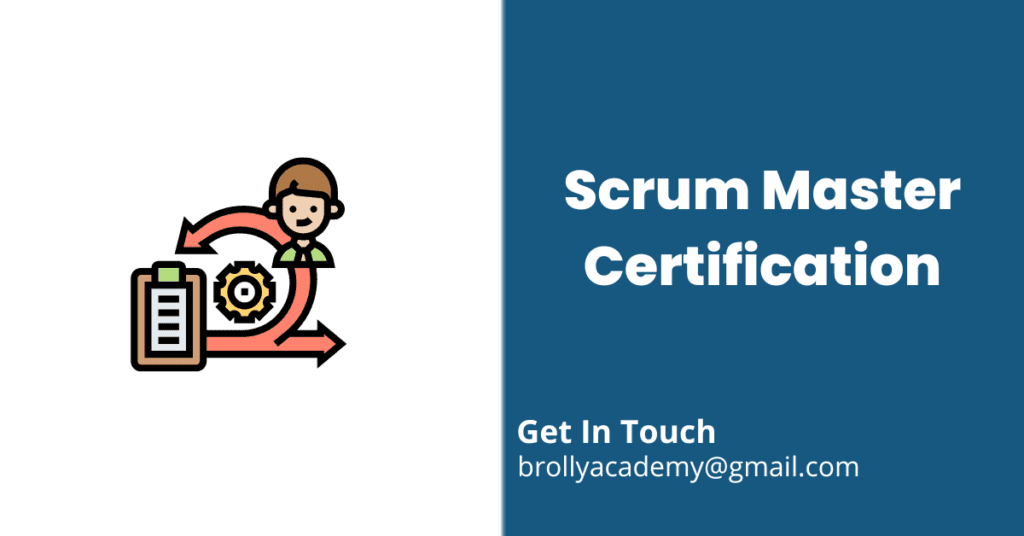 Advantages of learning Scrum Master training in Hyderabad
Our advanced Scrum Master training at Brolly Academy will help you gain complete understanding and competence in the course subject. The comprehensive training program allows our trainees to achieve excellence in Scrum and its functionalities. We organize our training with updated curriculum and expert trainers who are well experienced in leveraging the skills and knowledge in our students.
Skills developed after the Scrum Master course training
Prerequisites of Scrum Master training course in Hyderabad
Career Opportunities in Scrum Master
Which is the best Scrum Master training institute in Hyderabad?
Brolly Academy offers the best Scrum Master training in Hyderabad that covers all the important concepts and topics involved in it.
What is the Scrum Master training fee in Hyderabad?
The cost of Scrum Master courses in Hyderabad depends on the type of training different institutes offer. Our institute, Brolly Academy, offers Scrum Master courses at an affordable price.
What is the average salary of a Scrum Master developer in Hyderabad?
The average salary of a Scrum Master developer in Hyderabad is 6.5 lakhs per year.
Where can I find Scrum Master training near me?
We offer Scrum Master training in Kphb and Scrum Master training in Ameerpet, you can visit us or get in touch with us for further queries.
What if I miss a class?
Students can make up for missed sessions by attending our next live batch or we can also arrange backup classes for you.
Do you provide placement assistance?
Yes. To help our students land jobs after the completion of their training program, we assist them with mock interviews and resume preparation by providing personal guidance from industry experts as a part of our Scrum Master placement assistance.
Who are the trainers at Scrum Master training in Hyderabad?
The Brolly Academy's Scrum Master course is taught by trainers who specialize in the field and have ample working experience.