Tosca Training in Hyderabad
100% Placement Assistance
Tosca Training in Hyderabad (Online Batch)
Tosca Training in Hyderabad - Curriculum
Key Points of Tosca Training in Hyderabad
TOSCA stands for Topology and Orchestration Specification for Cloud Applications.

The tool was developed by TRICENTIS Technology & Consulting GmbH, the Austrian company. 

Tosca is a software testing tool that is used to automate end-to-end testing for software applications and it is created in VB6, C#, and Java.

 It is a cloud-based, codeless automation solution that helps you to automate any type of test, whether it's unit, integration, functional or performance testing. 

In addition to the automation testing functions it also includes integrated test management, Graphical user interface(GUI), Application programming interface(API) and Command line Interface(CLI).

Tosca is a 3rd generation model which is working on a concept called model-based architecture. 

By using this model-based architecture you can optimize a list coverage and you can manage your test data by offering a fully integrated set of capabilities for the design, generation end provisioning of test data.

Based on a risk assessment of the application under test's requirements, Tricentis Tosca uses risk-based test design to suggest the most effective test cases and identify the risk contribution of each test case.
Tricentis Tosca is a software testing tool that is used to automate end-to-end testing (functional and regression testing) for various software applications. 

This automation tool is the most popular tool and best suited to use in large-scale applications.

There are 150+ Application testing supported by TOSCA (Desktop, SAP, Web, Mobile, Web services, etc.)

It provides solutions for testing and quality assurance. It combines various aspects of testing such as test automation, test case design, test data design, etc.

It's user-friendly features help testers in automotive industries, Financial industries, education institutes, metal and mining enterprises etc.

Using Tosca, we can do test automation without the high maintenance and without much/zero programming knowledge.

You can automate test cases using a unique model-based test automation approach.

It is used to maintain manual and automated test cases in one single repository. 

Using Tosca, you can perform your UI and non-GUI function by using a consistent model. Test cases can combine UI controls and non-GUI elements (e.g.-Web services or database table) in the same test case without using separate tools.

Using Tosca you can create codeless, resilient automated testing using a novel approach that separates an application's technical information from the automation model, allowing you to increase automation rates to 90% more, lower maintenance costs, and increase productivity.

Risk based test optimization: Using a risk-based approach to testing allows you to reduce the amount of tests in your automation suite while reducing risk in your software releases. 

It provides business users an easy way to record their day-to-day actions, which can later be transformed into automated test cases; they may avoid manual testing.

Develop mobile tests quickly and use them as building blocks for end-to-end test scenarios on iOS and Android devices using native, hybrid, or mobile websites.
About Tosca Training in Hyderabad
Tricentis Tosca is a software testing tool that is used to automate end-to-end testing for software applications.
It is a cloud-based automation solution that helps you to automate any type of test, whether it's unit, integration, functional or performance testing.
It is a web-based software testing tool that enables you to perform automated regression testing.
It is a complete automation solution for all types of tests. If you're looking for the best Tosca training in Hyderabad, then look no further. 
Brolly Academy offers Tosca Training in Hyderabad that is  highly effective and proven with expert and experienced trainers. 
Our trainers will teach you Tosca and give you access to the right tools that can greatly accelerate your career. 
We offer Tosca certification training that is the most comprehensive and most practical certification training available. 
It is designed to help you gain the right skills and expertise to manage and execute live projects. 
Some of the topics included in our Tosca course content are – 
Fundamentals of Tosca 

Test cases and designs 

Conditions & Loops 

Methods of object identification 

Tosca Architecture and more. 
We also provide a course completion certificate to our trainees along with classes scheduled both online and offline. 
Enroll with Brolly Academy for Tosca training and certification.
Tosca is renowned as an enterprise grade tool because of its extensive use in large-scale industries and applications. 

It helps in driving impeccable results for its customers. Moreover, most testers in a variety of industries prefer using Tosca because of its user-friendly features. 

Around the world in 2022, over 448 companies have started using Tricentis Tosca as a test-automation tool. 

Companies using Tricentis Tosca for test-automation are majorly from the United States with 191 customers. United States – 41.16% Tosca customers. 

Other top countries using Tricentis Tosca are Australia and Germany with 31(6.68%) and 31(6.68%) customers respectively.
Tosca certification course is ideal for the following job roles. People working as  –
Tosca Training Modes at our Institute
We offer a complete, hands-on Tosca tool training in 3 different modes – 
Online training

Our tosca training online is an innovative learning experience that allows trainees to discuss, collaborate and share knowledge online in real time. Our experts provide virtual Tosca instructional assistance via e-learning platforms that can be attended from any part of the world.
Tosca Video course

Our Tosca video course is an informative & all-inclusive self-paced learning program that can be learnt at your own speed from the comfort of your home. You get a compilation of our live classroom recordings, additional quizzes and assignments along with a digital course completion certification.
Why choose us for Tosca Training in Hyderabad?
Certified trainers

Our team of Tosca course trainers has been training students and corporates for over 8 years now. We have certified Tosca trainers who are committed to providing you with the highest quality of training, while keeping the cost down.
Projects & Case Studies

We provide a unique, live training course that takes you from start to finish of Tosca, a popular project management software. We assign live projects and case studies as a part of our Tosca training with a specific methodology that focuses on practical enhancement.
Curated course material

We have an industry-oriented Tosca course curriculum that you can learn from with lifetime availability. Our curriculum is designed to help you learn and master the skills needed to run a successful Tosca business.
Placement cell

We have a dedicated placement support team to assist you with job placements and internships. We include multiple mock interview rounds, professional resume preparation and communication building skills as a part of our post-training assistance.
Pragmatic learning

We at Brolly Academy offer concept-based, practical, hands-on training to give our trainees an out-and-out understanding of Tosca with first-hand execution of concepts. We ensure all our students get an equal chance of implementing the concepts taught during the class under the diligent supervision of trainers.
GD's & Assignments

We conduct group discussions via our live online sessions where the trainees get to deliberate the course topics. You will be able to ask questions, provide feedback and get a personalized learning experience.
Testimonials for Tosca Training in Hyderabad
Tosca Certification Training
If you're looking to become a professional Tosca, the Tosca Certification is a high-level, professional-level certification that will help you become a certified Tosca professional. 
The Tosca certification is a comprehensive certification course for the entire Tosca software suite. 
We offer Tosca certification training that covers everything from the basics to advanced techniques and will give you the skills you need to succeed as a Tosca user. 

We also give out a Tosca course completion certificate by Brolly Academy.

 The certificate is verified with global accreditation and given to all our trainees upon the completion of the course.  

The academy is built around a holistic approach, which means that you will learn more than just about the subject matter that you are taking. 

Enroll today to take advantage of our training for an extensive Tosca certification training. 
Test Design Specialist Level 1 

Test Design Specialist Level 2 

Test Architect 1 Certification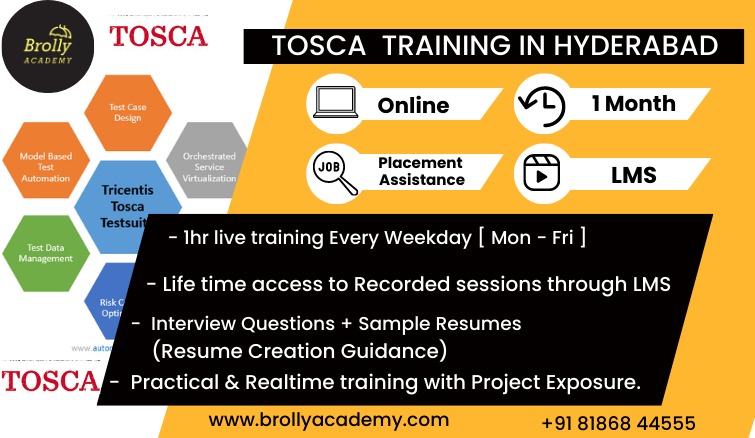 Process to Clear the Certifications
Automation Specialist Level 1  
The Automation Specialist Level 1 course is the first step to becoming specialized in automation with Tosca. You will first be required to take the training of Tosca.
Automation Specialist Level 2
The Automation Specialist Level 2 course is the second step to becoming specialized in automation with Tosca. This certification will become you a specialist in API testing.
The subsequent courses are then more specialized for different career options within test automation. 
Note –

According to Tricentis, presently in order to get the certification you have to submit your own test cases along with passing the exam. 
To determine if you pass the exam or not your test will be manually verified by a  Tricentis employee.
Automation Specialist Level 1 – (AS1)  

Automation Specialist Level 2 – (AS2)

Automation Engineer Level 1 – (AE1)

Automation Engineer Level 2 – (AE2)

Test Design Specialist Level 1 – (TDS1)

Test Design Specialist Level 2 – (TDS2)

Test Architect 1 Certification – (TAC)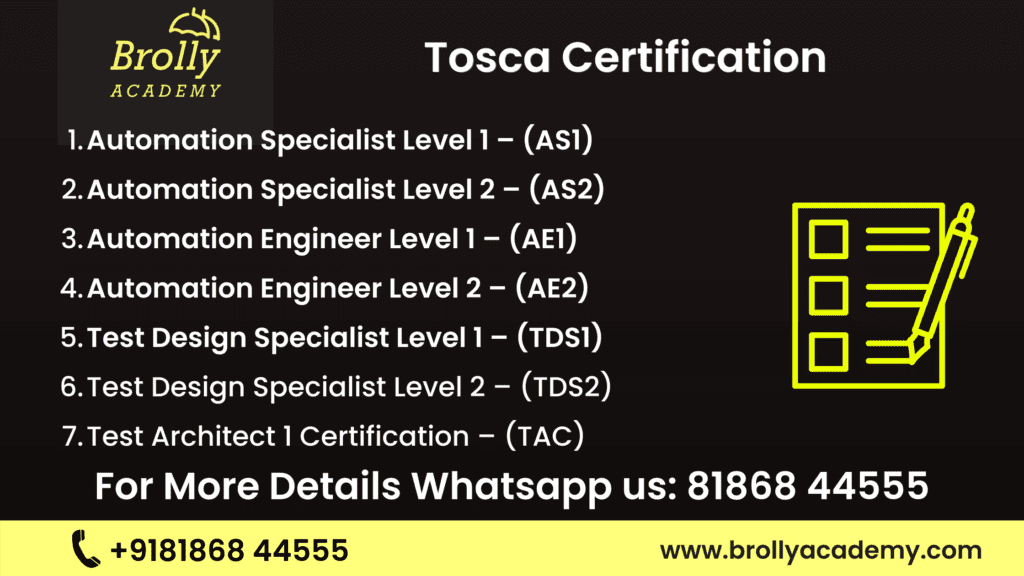 Skills developed Post Tosca training in Hyderabad
Career opportunities in Tosca
The world of automation is growing rapidly. The global workforce is projected to grow by 50% in the next decade, and automation will play a critical role in that growth. There are many job opportunities in Tosca Automation –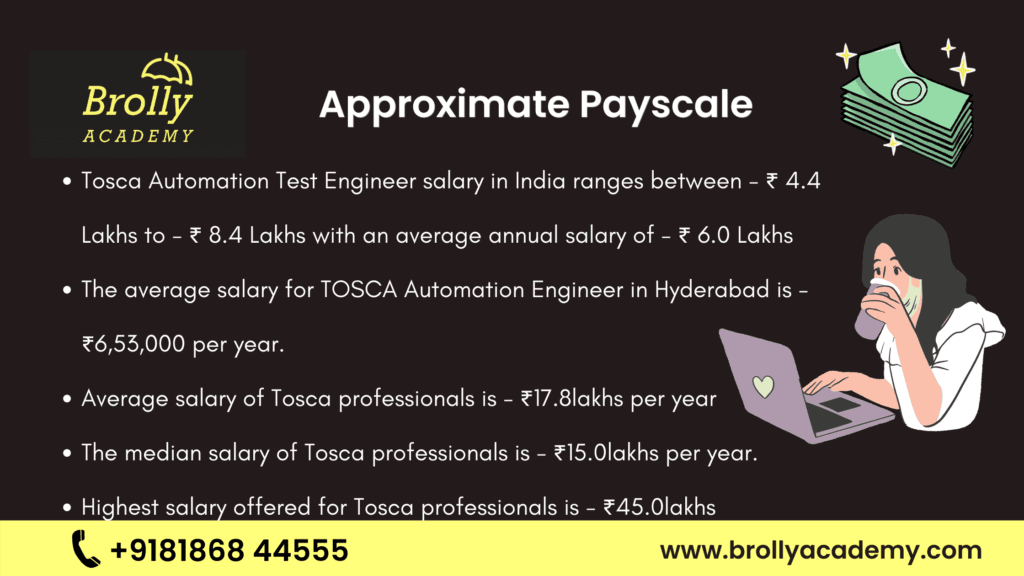 Prerequisites of Tosca training in Hyderabad