Tealium Training in Hyderabad
100% Placement Assistance
Tealium Training in Hyderabad Batch Details
| | |
| --- | --- |
| Course Fee | 20,000 Rs |
| Course Duration | 2 Months |
| Timings | Monday to Friday (Morning to Evening) |
| Next Batch Date | 7th Feb 2022 AT 11:00AM |
| Training Modes | Classroom [HYDERABAD] / Online |
| Location | Hyderabad |
Key Features Of Tealium Training
Tealium Course Curriculum
About Tealium Training in Hyderabad
Tealium connects customer data across the web, mobile, offline, and Internet-of-Things (IoT) so businesses can better connect with their customers. Tealium's turnkey integration ecosystem supports more than 1,300 built-in connections that empower brands to create a complete and real-time customer data infrastructure creating deeper insights into their customers' behavior and buying habits. Mike Anderson founded Tealium in 2008 and has led its development of market-leading tag management and unified marketing platforms. Before this, he served as a senior engineer at WebSideStory (Adobe Systems) where he was on the core architecture team.
Brolly Academy's Tealium course includes basic to advanced levels of training and our Tealium course is designed to get our trainees a job in a good MNC after the completion of the course. We have designed our Tealium course content, and syllabus based on industry requirements and this can be customized as per the student's requirements. Brolly Academy's Tealium placement support will help students to prepare for interviews, practice interview Q&A, resume making, and group discussion which makes our students ready for real-world situations in Tealium technology. 
Brolly Academy offers training in 3 different types of training modes such as online Tealium training, classroom Tealium training, and Tealium Self-paced Video course in Hyderabad. Our Tealium video course includes video recordings of Tealium live-class sessions, as well as materials such as sample resumes, etc. Brolly Academy offers certification programs for Tealium training. All our candidates will receive a course completion certificate in Tealium training at the end of the course from Brolly Academy.  
Enroll in Brolly Academy for Tealium training in Hyderabad and build a lucrative career.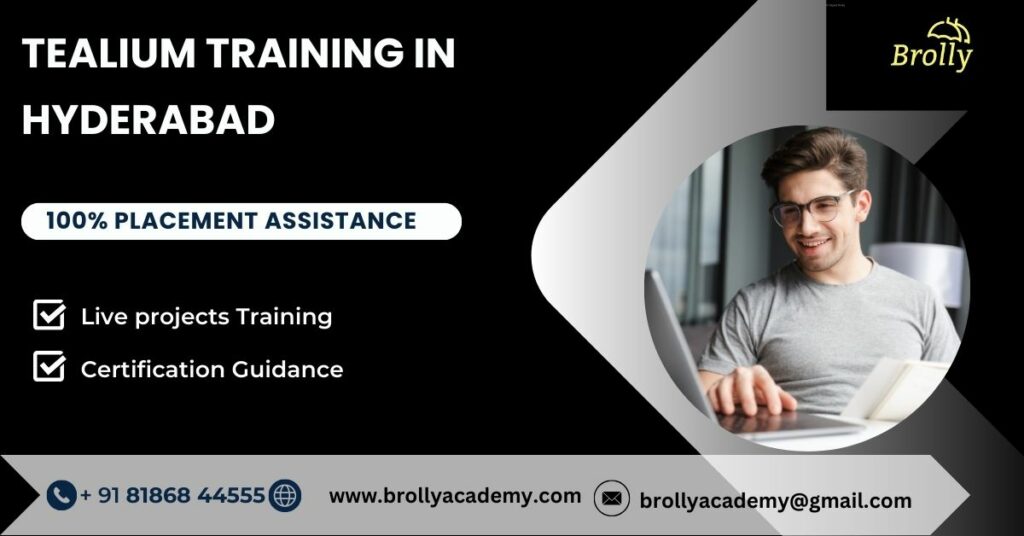 Modes of Tealium Training in Hyderabad
Why choose Brolly Academy?
Experts Live Interactive Session
Instructors will be available to answer questions and provide clarifications during the course. You can also ask fellow learners about anything that is unclear in particular subjects via our discussion forums; we encourage you to participate actively in this process so that everyone may benefit from your research efforts.
Real-time Interview Preparation
Our instructors provide training and preparation for job interviews that meet all industry standards. They provide mock interviews, Frequently Asked Questions, and help you maintain good resumes by providing some helpful formatting tips and templates.
Work on Real-time Tealium Projects
Brolly Academy's Tealium Training course provides high-level training covering the core concepts of this technology, as well as its application in real work environments.
Career Counseling Sessions
Once you know the skills, we recommend that you understand the eligible job roles, the scope of work, and opportunities. We'll also provide career counseling to help guide your path in your chosen field. This will make sure that our students carry top quality outputs to meet all industry standards.
Post Training Support Program
Our dedicated support team provides ongoing highquality assistance to students as they encounter challenges throughout their learning process.
Our instructors have experienced Tealium professionals with exceptional skills. They can impart knowledge to you during your training sessions, and make sure that when they're done you'll be prepared for the workforce. 
We at Brolly Academy limit the number of students in each class we trained with, so that each one gets the personal attention they need in the Tealium training.
Students who complete our Tealium training program will receive a certificate of course completion from Brolly Academy, which is widely accepted and recognized throughout the world. This increases their chances of securing a great job opportunity.
Certification in Tealium Training
Our Tealium training certification program is based on real-world industry scenarios and projects, giving you the skills you need to be successful in today's workplace. At the end of this course, after successful completion of the training, Brolly Academy will provide  students with Tealium course completion certificates and this certificate from Brolly Academy is recognized by top MNC companies worldwide. 
Advantages of Learning Tealium
Completion of the Tealium course you will learn –
Job Possibilities in Tealium
Prerequisites to Learn Tealium
Can I costomized the Tealium course curriculum at Brolly Academy?
Yes, you can customize the Tealium course curriculum as per your requirements at Brolly Academy.
How does the refund policy work at Brolly Academy?
At Brolly Academy, If you attend more than two live online sessions, however, your refund request will be denied. Also, our refund policy does not apply to self-paced video learning, since we allow students to go through live online classes.
Will I be given sufficient practical training in Tealium at Brolly Academy?
Brolly Academy's Tealium course is designed to give a hands-on approach to the students. The course has both theoretical and practical classes that teach the basics of each module.
Can I learn Tealium without having any prior experience in programming?
Yes, you can learn Tealium without having any prior experience in programming.
Will Brolly Academy provide me with Placement assistance after I completed the Tealium training?
Yes, Brolly Academy has a very active placement assistance cell that provides 100% placement assistance to our students after completing the training process. They will also guide students with mock interviews and Q&A discussions to all our students.
Will I be getting a free demo class on Tealium before enrolling in the training?
Yes, Brolly Academy offers free, hands-on demo classes on Tealium to help you decide if our training program is right for you before enrolling for it.
What is tealium collect?
Tealium Collect Tag for Google Tag Manager is a custom template that loads the Tealium Collect JavaScript file once per page. Each time a tag is triggered, it automatically flattens the dataLayer object into key-value pairs and posts the information to Tealium's data collection endpoint.
What are the items are required to use Tealium Predict?
To begin using the Tealium Predict product, you only need to have the AudienceStream CDP and Data Volume Minimums
Who are the company uses Tealium?
Active Network, LLC and Valtech SE.