Photoshop Training in Hyderabad
100% Placement Assistance
Photoshop Training in Hyderabad Batch Details
| | |
| --- | --- |
| Course Fee | 20,000 Rs |
| Course Duration | 2 Months |
| Timings | Monday to Friday (Morning to Evening) |
| Next Batch Date | 18th Sep 2023 AT 11:00AM |
| Training Modes | Classroom [HYDERABAD] / Online |
| Location | Hyderabad |
Key Features Of Photoshop Training
Photoshop Course Curriculum
About Photoshop Training in Hyderabad
Photoshop is a graphic design and photo-editing software that people use to alter or improve the appearance of images (often photographs). This program comes with built-in design features and a user interface that supports different mobile devices, desktops, etc. It is used to better perform design tasks such as – image creation, image editing, and image manipulation. Photoshop has been incorporated into Adobe Systems, which continues to release new versions of the program. 
The most recent version includes a redesigned interface that helps users take advantage of Photoshop's many features. This software tool is extensively used by editors, web developers, photographers, graphic designers, and creative professionals. Brolly Academy offers you the best online training in Photoshop. 
Our highly skilled experienced faculty helps you gain in-depth knowledge and a better understanding of the program and its way of working. If you are looking for a professional photoshop training institute in Hyderabad, Brolly Academy is the best place to learn because we will help you to build a solid foundation of Photoshop technology and also give you an opportunity to work on with a variety of real-time projects that will give you a better experience and this will help you to advance your career opturnitity in Photoshop. 
In this Photoshop training process you will get to work on real-time Photoshop projects and assignments that are highly relevant to the Photoshop technology created by our expert tutors. The Photoshop training by Brolly Academy will give the complete guide and get in-depth knowledge of the Photoshop technology such as – Adobe Photoshop CS4, Panels & Menus, Working With Images, Resize & Crop, Canvas Size & Canvas Rotation, Started with layers, Photo retouching, Special effects. 
This Photoshop Course curriculum has Basic to Advanced levels of Photoshop training, and this course curriculum has all the industry requirements to achieve the Industry level. After completing the training, we will offer a Photoshop course completion certificate to all our trainees, which will add extra value to their resume. We offer Photoshop training in 3 different modes: Photoshop Classroom Training, Photoshop Online Training, and Photoshop Recorded Video Training. Any one can learn this Photoshop training program.
 Brolly Academy provides all our trainees 100% placement assistance. This program is conducted by our dedicated team ans they will guide you throughout the training and even after the training is completed, and will be assisting you with mock interview preparation, resume creation, and conducting Q&A sessions for your interview purposes.
Attend our free demo class of Photoshop and enroll with Brolly Academy for the best Photoshop Training in Hyderabad.
Modes of Photoshop Training
Why choose Brolly Academy for Photoshop Training in Hyderabad?
Brolly Academy is known for providing the best Photoshop training in Hyderabad. Our exclusive training method and aims for student satisfaction made us stand out in the crowd. This Photoshop training program is conducted by our highly qualified professional expert trainers with 11+ years of experience in Photoshop at Brolly Academy where they will guide our candidates to become a skilled professional in this Photoshop technology and make you a job-ready candidate in the field. Here are some reasons why you should choose Brolly Academy for Photoshop Training in Hyderabad?
Brolly Academy offers the best job assistance programs in Hyderabad for Photoshop. Our Job assistance team will guide all our candidates by giving them mock interviews, career counseling, Q&A sessions, and resume preparation facilities to ensure that they are completely prepared for their job Interviews.
Industry Oriented Concepts
At Brolly Academy we have the best professional tutors and they are fully aware of the technology concepts, upgrades, various tools, and skills required in Photoshop Training. They will train our candidates according to the industrial standards.
At Brolly Academy all candidates provided the support and proper guidance from our team of experts even after the completion of the course. Our dedicated support team will guide you 24/7 whenever you need their guidance for any course or interview-related question even after the training is completed.
Get your Photoshop Certificate
You will be provided with a course completion certificate at our Brolly Academy after successfully completing the Photoshop training course. This Photoshop certificate provided by Brolly Academy is 100% valid and can be used to apply for jobs in Photoshop technology. This certificate will add more value to your resume.
With the help of Brolly Academy's online training and recorded video Photoshop training facilities, you can attend or learn the Photoshop course from anywhere, any time, at your own convenience. Upgrade yourself with the latest technologies of the Photoshop Training Programme from our Brolly Academy's training facility.
Brolly Academy conducts interview QandA session for all our students with group discussions on each topic of the Photoshop course for their better preparation for technical interview and this will help you to get a better job in the Photoshop industry. 
Brolly Academy has the best professional expert tutors in the field of Photoshop technology. Our tutors are real-time experts with a good record of training students, working professionals, and corporates. They will train you throughout the training period and even guide you after the training program is completed by providing their expert advice when ever you need them.
Testimonials of Photoshop Training in Hyderabad
Certification in Photoshop Training
Brolly Academy's Photoshop course is approved by industry leaders around the world. This certification course provided by Brolly Academy throws Online training, classroom training, and self-paced video learning in both theoretical and practical ways for both freshers and professionals which helps them learn the course in an easy way. After completing our Photoshop certification course, students will receive a course completion certificate from Brolly Academy that they can include on their resume and use to apply for jobs. At Brolly Academy, students become certified only after they have completed our Photoshop training and practical-based course.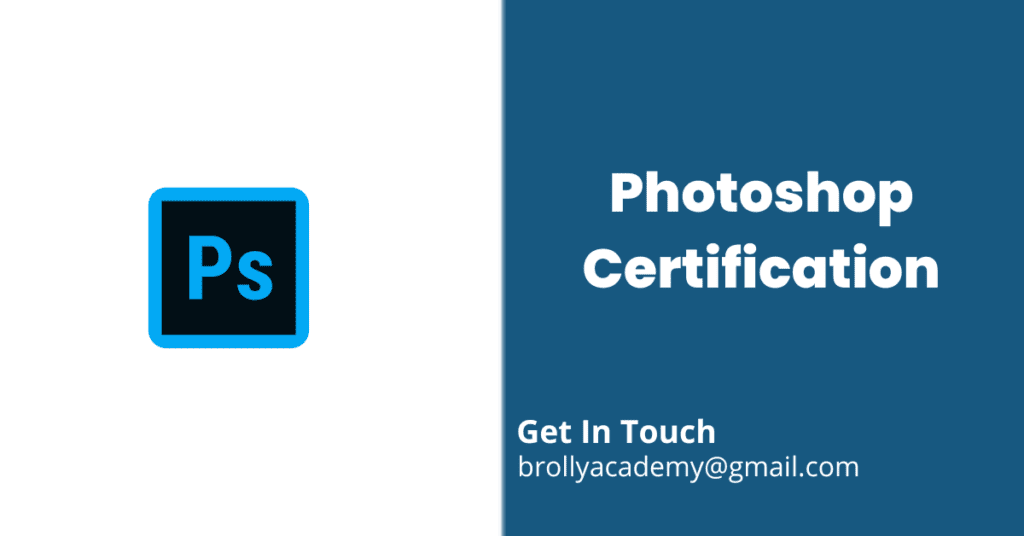 Job possibilities in Photoshop
Prerequisites to Learn Photoshop
Is Brolly Academy provided demo class on Photoshop before enrolling?
Yes, Brolly Academy conducts free demo sessions before starting the Photoshop course for all our candidates.
Will I be getting a certificate by enrolling in Brolly Academy's online Photoshop training program?
Will I be getting a certificate by enrolling in Brolly Academy's online Photoshop training program?
How to Establish a Career in Photoshop?
● Learn about the Photoshop family.
● Improve your knowledge with Adobe Photoshop courses
● Improve your skills by building a Photoshop portfolio.
● Help potential clients find you
● Teach Photoshop to others.
Will I be provided a support session if I need a better understanding of Photoshop Training?
Brolly Academy is offering 24/7 support, If you have more questions or doubts regarding the Photoshop course, you can always get in touch with our experts.
Will I get guidance from Brolly Academy after the compilation of this course?
Yes, you will be provided proper guidance from our dedicated team even after the completion of the course for interview preparation, Resume making, etc in Photoshop.
Who can learn the Photoshop course?
● Any Graduate
● Web Designers
● Web Developers
● Graphic Designers
● Photographers
● Photo Publishers.

What are the various tools used in the photoshop?
● Move Tool,
● Marquee Tools
● Lasso Tools
● Fast choice Tool/Magic Wand Tool
● Crop Tool
● Eyedropper Tool
● Brush Tool
● Clone Stamp Tool/Pattern Stamp Tool
● History Brush Tool
● Implement Tools
What are the different types of Implement Tools in Photoshop?
● Background implement Tool
● Magic implement Tool
Will I be provided the course syllabus of the Photoshop training at Brolly Academy?
Yes, we do provide the course syllabus in Photoshop for all our students who join our Training program.
How much is the average annual salary of a Photoshop Professionals?
The average annual salary of Photoshop Professionals is $54,845. However, the salary depends on your job role and industry.