PLC & SCADA Training in Hyderabad
100% Placement Assistance
PLC & SCADA Training in Hyderabad Batch Details
| | |
| --- | --- |
| Course Fee | 20,000 Rs |
| Course Duration | 2 Months |
| Timings | Monday to Friday (Morning to Evening) |
| Next Batch Date | 7th Feb 2022 AT 11:00AM |
| Training Modes | Classroom [HYDERABAD] / Online |
| Location | Hyderabad |
Key Points Of PLC & SCADA Training in Hyderabad
Core PLC & SCADA Curriculum
About PLC & SCADA Training in Hyderabad
PLC stands for programmable logic controller while SCADA stands for supervisory control and data acquisition. PLC is considered hardware while SCADA leans towards the software aspect. Both PLC and SCADA are used to control, analyze and observe equipment in the process of automation.
Brolly Academy offers the best PLC and SCADA training in Hyderabad with extensive training methods. The PLC and SCADA training we provide can easily be mastered and understood by the students. Our training program will give you a complete PLC and SCADA knowledge and skill. Brolly academy strives to always offer quality PLC and SCADA training in Hyderabad that can benefit the students and fulfill the purpose of the course.
PLC helps monitor the electromechanical processes while SCADA is a control system that analyzes and monitors infrastructure and control facilities in the industry. Our training program provides a detailed step by step process of the PLC and SCADA course. Along with the PLC and SCADA course, Brolly academy is known for its extensive range of software courses in Hyderabad. All our courses are certification based that guarantee a course completion certification towards the end of the course. The PLC and SCADA certificate offered by us can be attached to your professional resume for better work opportunities. This PLC and SCADA in Hyderabad goes well with beginners as well as advanced professionals interested in learning PLC and SCADA. Proper guidance and trainer assistance will be given to every student ensuring quality performance. Concepts revolving around industrial automation will be thoroughly studied throughout the duration of the training to help prepare the students in advance. It is perfect for engineering aspirants.
PLC and SCADA training in Hyderabad comes with 100% job assistance and top-notch training done with real-time case studies and projects. With Brolly Academy, you can easily get hired by the best companies. Enroll with us and be a part of our PLC and SCADA training program that is available in 3 modes, You get PLC and SCADA online training in Hyderabad, PLC and SCADA classroom training and PLC and SCADA self-paced video course training in Hyderabad. The training will be conducted by top PLC and SCADA trainers in Hyderabad with the best training methods and techniques. They will train you with the concepts of flags and scan, arithmetic and logical operations, error handling etc.
Enroll with Brolly Academy for the best PLC and SCADA Training in Hyderabad.
Modes of Training For PLC & SCADA Training in Hyderabad
Our course timings are flexible and user-friendly to make it easy for students.
Complete Hands-On-Training
Practical real-time experience of PLC and SCADA training with hands-on assistance. 
We have trained over 400+ students in PLC and SCADA with 200+ successful placements.
Brolly Academy does not charge additional or accessory charges or fees for any of the programs from the software training in Hyderabad.
We are led by a team of professional and certified PLC and SCADA expert trainers.
Our PLC and SCADA syllabus consists of updated concepts and data of PLC and SCADA to keep our students well-informed of the course. 
Enroll in our PLC and SCADA training in Hyderabad and get a certified course completion certificate.
You will be given lifetime access to our study material and LMS.
Testimonials of PLC & SCADA Training in Hyderabad
PLC & SCADA Certification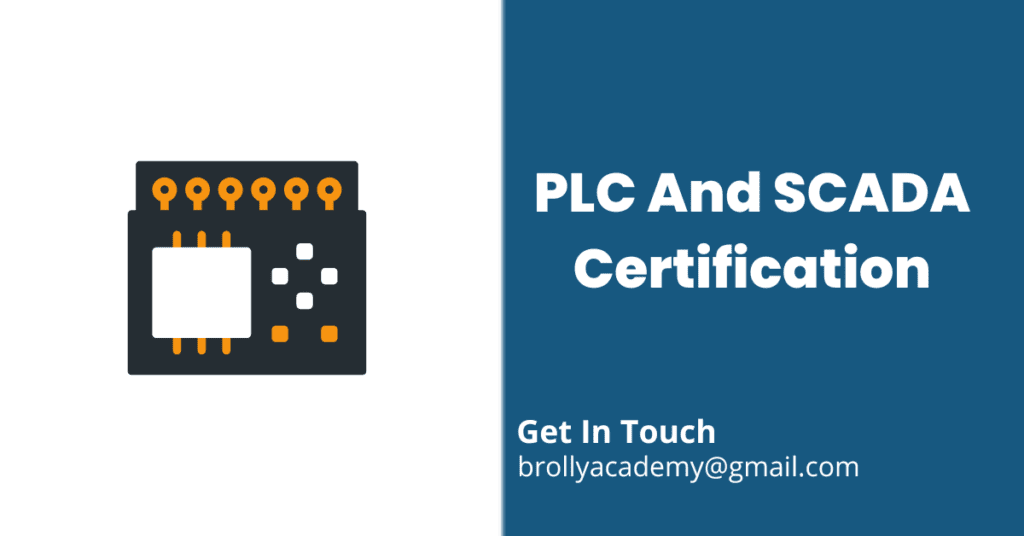 Advantages of learning PLC & SCADA Training Program
PLC and SCADA training in Hyderabad offers structured and tailored training to improvise the applied skills by providing all the prerequisite technical training required to master PLC and SCADA course for a better job experience and accountability. 
At the completion of the course you will get experiential knowledge in –
Job Opportunities in PLC & SCADA
What if I miss any class?
We will arrange backup classes for you or you can also join the next live session conducted by the same trainer to catch up with the pending work.
Will I get a placement assistant?
Yes, ofcourse. We provide placement assistance to the students enrolled in our batch along with resume preparation, mock interviews etc.
Can I attend a demo session before enrollment?
Definitely. We offer a free PLC & SCADA demo class in Hyderabad at our Brolly Academy. This will help give you a better idea of the course.
Who are the trainers at PLC & SCADA training?
The PLC & SCADA trainers are professionals with 6+ years of working experience. They use high-end training methods to train the students effectively for a good learning experience.
What if I have more queries?
You can always reach out to our team via the contact details provided on our website. We have a fast responsive team who will revert back at the earliest.
Will I get proper practical training in PLC & SCADA?
You will get hands-on real time practical exposure to PLC & SCADA during the course of the training program. We use case studies to teach all the core concepts of PLC & SCADA for the students to get a revised understanding of the course.