MicroStrategy Training in Hyderabad
100% Placement Assistance
MicroStrategy Training in Hyderabad Batch Details
Microstrategy Training Curriculum
Key Points of MicroStrategy Training in Hyderabad
What is Microstrategy used for?
About MicroStrategy Training in Hyderabad
MicroStrategy is an open source business intelligence platform. MicroStrategy is a cloud-based BI platform that is open source that is built on a distributed architecture.
It is a tool for data visualization and exploration that enables you to make sense of your data in a visual and interactive way. 
MicroStrategy can be used for reporting, data analysis, dashboard creation, and many other things.
The platform is based on the MicroStrategy Query Language (MYSQL), which is a dialect of SQL. 
If you've been looking for a way to learn microstrategy in a step-by-step, easy-to-understand way, you can get your hands on the best microstrategy course training online.
Brolly academy offers the best microstrategy training program that provides everything you need to learn microstrategy from scratch. 
Our MicroStrategy course includes topics like –
Fundamentals and Advanced MicroStrategy concepts
Installation & Configuration
OLAP services
Stack description in BI
Scorecards & Dashboards
Deployment of security models
MicroStrategy Administration
MicroStrategy Development
Our microstrategy trainers have been working with businesses for over a decade, and we know exactly what it takes to help you get the most out of microstrategy. 
We provide MicroStrategy free certificate training along with placement support.
Enroll with us to accelerate your career and proficiency in the field of Analytics.
Modes of MicroStrategy Training in Hyderabad
Brolly Academy offers microstrategy training in 3 different modes – Online, Offline and self-paced video course and each mode has its own objectives and benefits.
MicroStrategy Online Training

Our MicroStrategy training online program is designed to help you master MicroStrategy. - You will get a personalized, guided tour of MicroStrategy and gain a comprehensive understanding of how it works. - This latter approach gives you the opportunity to learn directly from our team of certified MicroStrategy consultants.
MicroStrategy classroom training

- Our MicroStrategy classroom training offers a one-on-one learning experience to master the world of business intelligence and data analytics. - It is designed to teach you how to use MicroStrategy so you can start using it right away to create amazing reports and dashboards. - The classes will be held in our centers at MicroStrategy training in Ameerpet and MicroStrategy training in Kphb, Hyderabad.
MicroStrategy Video course

- Our step-by-step video course covers the basics of using MicroStrategy. - The course includes a series of live classroom sessions that you can attend from anywhere, anytime. - It also includes an extensive collection of video tutorials that cover the most important features of MicroStrategy, including data visualization, reporting, dashboards, and more.
Why choose us for MicroStrategy Training?
Certified trainers

We have certified microstrategy trainers who can train you on the latest version of the tool. Our microstrategy training courses are designed to help you learn how to apply microstrategy in real-time scenarios. Our trainers who are experienced in the field will help you to get up and running with microstrategy.
E-learning

We offer MicroStrategy training via e-learning platforms and is available for all versions of MicroStrategy, including a fully supported 24/7 online learning environment. Our training is instructive and self-explanatory to ease the learning experience of the trainees across the globe. Our remote learning program is a self-paced, fully online training program that allows you to learn at your own pace.
Practical lab sessions

Our MicroStrategy lab sessions allow our students to learn how to use the MicroStrategy software in a hands-on setting. These sessions provide a unique opportunity for students and professionals to work with a real-world project using the latest version of MicroStrategy. We also have many industry partners that provide training and certification for our students.
Placement assistance

Our main aim is to provide the best training and education to the students, so that they can secure the best job in the industry. Our academy is a place where students can find their right career, learn new skills, get trained and develop themselves. Our team of professionals and experts are available to guide you with the job interview training and support.
Advanced curriculum

We also offer a curated and updated MicroStrategy curriculum that will help you master microstrategy. Our advanced MicroStrategy course teaches you everything about MicroStrategy from the basics to the advanced. We have a complete and comprehensive introduction to the concepts and topics with technical guidance from experts.
Certification prep

We provide microstrategy certification training and assistance and help you prepare for the examination. Additionally, a MicroStrategy course certification will be given to our trainees from Brolly Academy. The certification will also give you the opportunity to develop your career as a MicroStrategy expert by demonstrating your skills and expertise
Student diaries

We have impressive student testimonies and have trained 50 trainees with 20+ successful placements in the last 4 months. Our trainees have secured jobs with reputed firms and companies as interns and employees. We provide the best training for the students to learn the skills in MicroStrategy.
Lifetime access

You get lifetime access to our MicroStrategy course materials and videos. We have a set of videos and course materials that are available for you to download and use with assignments and quizzes. Our trainees get to access these series of free videos tutorials and course guides as a part of our training program.
Testimonials for MicroStrategy Training Online
MicroStrategy Certification Training
MicroStrategy certification training is a great way to get your career in analytics started. 
If you're looking to make a career change and move into a field that has a high demand for talent, this training can help you get your foot in the door.
The MicroStrategy certification training course is designed for those who wish to enhance their knowledge and skills in the field of Business Intelligence and Data Warehousing.
Our MicroStrategy certification training helps you to learn the basics of MicroStrategy, so you can easily apply what you've learned in the real world. 
We also give our students a MicroStrategy course completion certificate that is fully certified and acclaimed by companies all over.
Our trainees receive the certification upon the completion of the course and can get in a digital form or as a hard copy. 
The certification can add great professional value to your resume and can help advance your career prospects. 
The well-known and common MicroStrategy certifications include –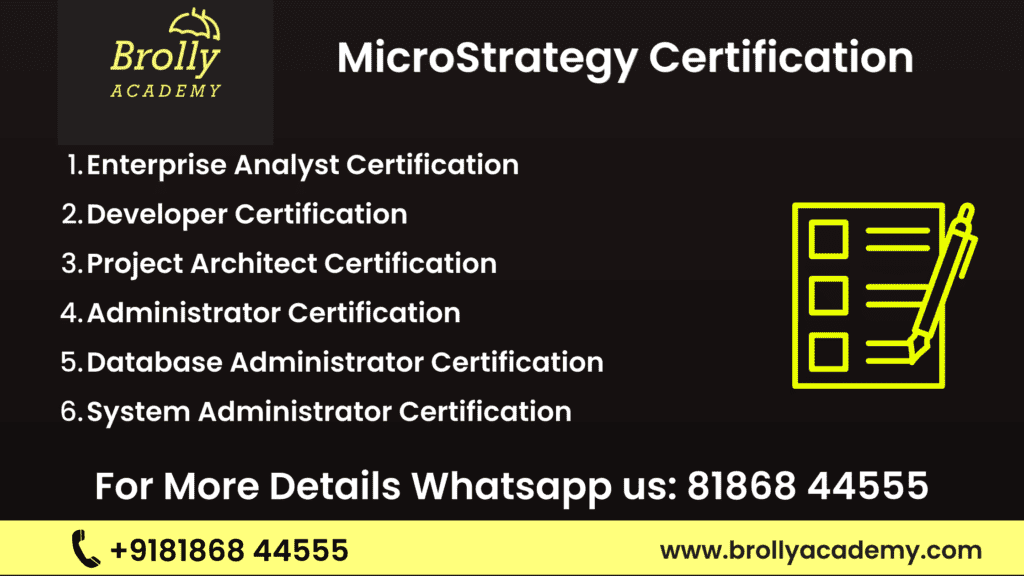 Benefits of MicroStrategy
Skills developed Post MicroStrategy training in Hyderabad
Prerequisites of MicroStrategy training
Career Opportunities in MicroStrategy
If you have a passion for the world of technology, then a career in MicroStrategy could be the perfect opportunity for you. A career in MicroStrategy could be the perfect opportunity for you to work on some of the most exciting projects in the world today.
Some of the MicroStrategy jobs include –
Market Trend in MicroStrategy
Who can take the MicroStrategy training online?
The MicroStrategy course offered by Brolly Academy can be taken up by freshers and people working as business analysts, analytics managers and developers.
Why should you learn MicroStrategy online?
This online training course will give you an in-depth knowledge and understanding of the skills and concepts of MicroStrategy will projects and live case studies.
What is the scope of MicroStrategy?
There is immense scope for MicroStrategy and professionals with the right skills with many job opportunities and career prospects.
Where can I find the best MicroStrategy training courses?
You can find the best MicroStrategy training in Hyderabad at Brolly Academy.
What is the average MicroStrategy salary in Hyderabad?
The average salary for a MicroStrategy developer in Hyderabad is 7 lakhs based on the experience and skills.
What will I learn in the online MicroStrategy training?
You will get a comprehensive learning of MicroStrategy with concept-based training and live practical demonstrations.
Who are the trainers at Brolly Academy?
The trainers at Brolly Academy are well accomplished with 8+ years of experience in the field of training and tutoring students.
Do you offer placement support?
Yes, we offer placement support and prepare you for interviews. However, we do not offer guaranteed jobs as it depends on your performance during the interviews.
Do I get a free demo before enrollment?
Yes, you can attend our free MicroStrategy demo class before enrolling for our training to gain a better understanding of our training program.
What if I miss a class?
You can attend our next live batch or our team can also arrange for backup classes so you will not miss out on any of the modules.