Power BI Training in Hyderabad
100% Placement Assistance
Power BI Training in Hyderabad Batch Details
Key Points Of Power BI Training in Hyderabad
What is Microsoft Power BI ?
Power BI is used by over 100,000 organizations worldwide, including Microsoft and Amazon. Power BI is available as an online service in the cloud or on-premises.
Power bi is used by a variety of people, including marketers and data analysts. If you want to use your data in an effective way, this is a skill worth learning.
About Power BI Training in Hyderabad
Power BI is a powerful and widely used, cloud-based business intelligence platform developed by Microsoft that helps users create an interactive visualization using business intelligence. It contains a suite of software that helps us to do end-to-end business intelligence activities.
Using Power bi users can create attractive reports and control panels that run on their own without the need for external help, also clients can view the insights or visuals on Mobile Phones using a Mobile APP "Power BI Mobile".
In Power bi suite the main software used for development is Power BI desktop that helps us to prepare, model, visualize their data, explore insights, and share them with others.
Microsoft Power BI can be used to create dashboards and reports and is very easy to use and learn. You can also use it to analyze data, create presentations, maps, charts, and graphs, interactive dashboards, reports and visualizations. 
This course will provide an introduction to Power BI and how it can be used to transform your business. It will also provide an overview of the different features of this software. 
Brolly Academy offers Power BI training in Hyderabad with a detailed course program. Our instructors are well-experienced professionals with a strong background in the field and well equipped to train you in the advanced concepts of Power BI.
Our Power BI course includes topics like – 
Extraction of data

Installing and configuring Power BI

Visualizing Data in Power BI 

Creating Dashboards 

Data Exploration and Reporting 

Creating Interactive Reports

Customizing Reports

Understanding Power View and Power Map

Aggregating data from multiple data sources etc.
After completing our Power BI certification course, you will receive a certificate certifying your expertise in Microsoft Power BI. The certificate will be sent to you once you complete all the training modules.
We offer both online and in-person training courses, as well as a placement assistance program that includes an intensive interview preparation workshop. 
Enroll with us to get the most comprehensive Power BI training in Hyderabad.
Power BI Course Online

Learn Power bi online with the help of our Microsoft Power BI training online program. In this program students can learn at their own pace and from anywhere with the access to our e-learning platform. Our online course provides both a broad overview of key concepts as well as more advanced features, Power BI Desktop layouts, BI reports, dashboards, Power BI DAX commands, functions etc. We've included a number of practical examples, case studies, and exercises that demonstrate the concepts with live expert guidance and assistance.
Power BI Classroom training

We provide Power BI classroom training at our power bi training in Ameerpet and power bi training in Kukatpally centers with real-world scenarios, hands-on experience, and personalized coaching from Microsoft Power BI Certified Trainers. Our classroom training draws on real-world applications to help students gain experience with what they will encounter in the workplace. The approach makes learning fun and engaging for beginners as well as advanced users with well infrastructure classrooms.
Power BI training videos (Self-paced)

Our Power BI's video course is made up of video tutorials that teach you real-world skills by walking you through the process step-by-step. The video course is self-paced, so you can learn at your own speed and convenience. Trainers offer clarification sessions to help students address questions and concerns. The modules are recorded and made available for download so that students can listen to them at any time and date. A digital certificate will be generated upon the successful completion of all the course modules.
Why choose us for Power BI Course?
Certified Microsoft Power BI trainers

Our Microsoft certified Power BI instructors are among the most knowledgeable in their field, and you will benefit from this expertise. They share their expertise about key concepts in technology, and teach both current and emerging skills. They've spent years training professionals and students alike.
Verified Certification

After completing this curriculum, you will receive a Microsoft Power BI certificate officially signed by Brolly Academy, which is widely accepted by companies and can greatly enhance your career prospects.
Doubt Clearing Sessions

Our tutors tailor their instruction to each student, helping those who are struggling and encouraging others as they master new skills. We provide our students with the knowledge they need and help them develop skills that will prepare them for a career. Our doubt clearing sessions are conducted by our experts every weekend.
Compact Training Batches

We take in only 10 students in each batch and provide them with a highly personalized and rigorous training program. Our training batches are small and highly focused on providing top notch training facilities to the students.
Placement Assistance

Our counselors help students learn job skills and gain professional polish. We assist them with everything from resume writing to interviewing techniques, and we match their skill sets with jobs that make the most sense for their career paths. In addition to resume and cover letter review, interview prep workshops are available for those seeking employment.
Lifetime Accessibility

A comprehensive lifetime learning management system for Power BI course is designed to help our students learn about the latest Microsoft Power BI concepts and stay current on industry developments. This facility comes with lifetime access and availability. One can watch the LMS as many time they want and learn from it.
Online Support Portal

We provide an online support portal for any assistance our students required during the training delivery or even after the completion of the training period. In this support portal students will benefit from our experts and also get guidance to crack the certification with ease.
Students Testimonials of Power BI Course
Power BI Certification Course
Our Power BI course certification training will help our learners get the most out of Power BI, and the comprehensive training will enable you to solve business problems and improve skills in the field of Microsoft Power BI. 
Our training will help you to master the concepts like Microsoft Power BI Desktop layouts, BI reports, dashboards, Power BI DAX commands, and functions, You will explore how to experiment, fix, prepare, and present data quickly and with ease during this training.
Upon successful completion of the Power BI certification course, Brolly Academy will provide you with an industry-recognized Power BI course completion certificate which has lifelong validity.
Power bi certification is a way to demonstrate your mastery of the product. It's also one of the best ways for you to get noticed by hiring managers and recruiters.  

Microsoft power bi certifications are globally recognised and accepted by employers and hiring managers.

The certifications are designed to reflect the skills that employers need. They also provide a way for you to demonstrate your knowledge, skills, and abilities (KSA) in Power BI.
What are they?
The two most important Microsoft Power bi certifications are:
Microsoft Power BI Data Analyst 

Analyzing Data with Microsoft Power BI 
Process to clear the certifications –
The best way to prepare for these certifications is to study the official Microsoft documentation. The exam itself will cover topics such as data models and relationships, data visualizations with charts and reports, dashboards, and sharing Power BI content with other users.
For the Microsoft Power BI Data Analyst exam, you must know how to:
Prepare and cleanse data.

Create tables, relationships and measures.

Map data from sources such as Excel or SQL Server.
Certification Fee –
The cost of obtaining certification in Microsoft Power BI courses is Rs. 4800 for a single attempt.
Certification Code –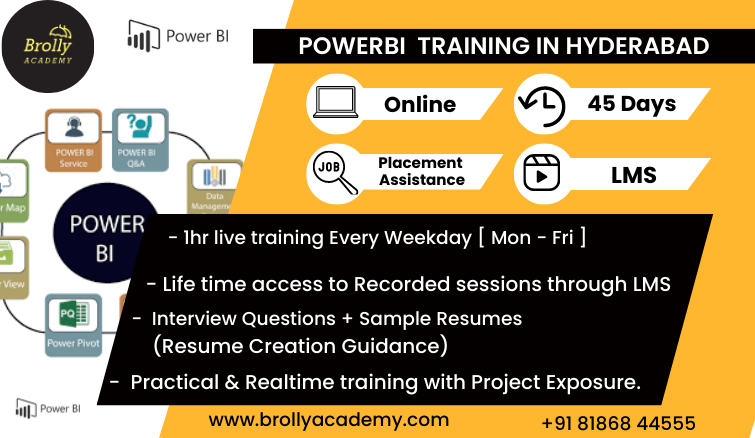 Advantages of learning Power BI Course
Skills developed after the Power BI Course
Prerequisites of Power BI Course in Hyderabad
Career Opportunities in Microsoft Power BI
The market trend for Power BI is up and to the right. Microsoft has made a number of recent announcements that will likely push the demand for this skill set even higher. 
Power bi course is easy to learn?
Yes, Power BI is easy to learn. Our expert trainers designed the power bi course syllabus in very easy to understand, simple and intuitive for new learners. Our course syllabus also provides advanced features for power bi users and master these advanced functions may be hard for new learners without prior experience in power bi but with our continues guiding and support from our trainers one can easily master the program.
Is power bi worth learning?
Currently Power BI is one of the top most business intelligence and data analytics platforms worldwide. If you're ambitious towards becoming a business analyst, you will certainly cross paths with this tool sooner or later. It has a variety of job opportunities and a valuable skill to have for long-term career growth in the market.
Is power bi a good career?
Yes, If you are desiring a career in analytics or business intelligence field, then Microsoft Power BI is one of the best skills in the today's market to add to your resume as Power bi has a variety of job opportunities and a valuable skill to have for long-term career growth in the market.
Is power bi in demand?
Yes, Power BI has emerged as the leader in business analytics among all bi tools. There is a huge demand for Power BI-certified professionals in top MNCs and bigger firms in today's market.
Can I learn power bi on my own?
Yes, with our self-paced Power BI video learning option you can learn and master power bi course, and if you have any doubt regarding the course you can directly ask our expert trainers with our doubt clearing sessions.
What is the cost of power bi certification?
To know the cost of the Power BI course offered by us please contact us or send us an e-mail by the details given in our website. We will share with you the detailed information about the pricing of the course.
What if I missed a class?
For missed sessions you can attend our next live batch or we can also arrange backup classes for you.
Where can I found Power BI training near me?
We offer Power BI training in Kukatpally and Power BI training in Ameerpet, you can visit us or get in touch with us for further queries.
Will I get placement assistance after completing the Power BI training?
Yes, we provided placement assistance program to all our trainees by assisting them with mock interviews and resume preparation while providing personal guidance from industry experts as a part of our Power BI placement assistance program.