SMM Training in Hyderabad
100% Placement Assistance
SMM Training in Hyderabad Batch Details
| | |
| --- | --- |
| Course Fee | 20,000 Rs |
| Course Duration | 2 Months |
| Timings | Monday to Friday (Morning to Evening) |
| Next Batch Date | 7th Feb 2022 AT 11:00AM |
| Training Modes | Classroom [HYDERABAD] / Online |
| Location | Hyderabad |
Key Features Of SMM Training
SMM Training Course Curriculum
About SMM Training in Hyderabad
Social Media Marketing is a form of internet marketing that uses social networking sites to market products or services by using content, images, and videos on those platforms in order to attract users. Social media is the most engaging platform, with billions of active users. We teach you how to use social networks for brand awareness and lead generation from creating content that engages your target audience, to understanding analytics so you can optimize your campaigns.
In our SMM training, we will be teaching in-depth about Facebook Marketing, Twitter Marketing, Instagram Marketing, Youtube marketing, Pinterest, and LinkedIn tactics. This Social Media Marketing (SMM) training in Hyderabad by Brolly Academy is designed for helping individuals to master the art of SMM strategies and techniques, tools, platforms, etc. It will help to develop creating brand awareness or social media presence on different platforms for promoting sales or services for any business is also something you will learn and understand throughout the training period.
Brolly Academy is known for providing the best SMM training in Hyderabad and providing a certification course in SMM training. This SMM training certification course is designed by our industry experts at Brolly Academy enables you to gain proficiency in SMM course. You will be provided to work on real-time projects and assignments throughout the SMM training period. Our SMM expert trainers provide students with a solid understanding of the technical and theoretical aspects of the SMM technology.
We offer both online and classroom training courses and also self-paced video courses to help our students choose the one that is best for their needs. After completing Brolly Academy's SMM training program, you will receive a certificate that recognizes your expertise in Social Media Marketing. This SMM training certificate will be awarded to you upon completing all the training modules. This includes a course description that can be shared on LinkedIn or other job search platforms. In addition, we also provide a placement assistance program which  includes an intensive interview preparation workshop. Enroll with us to get the Best SMM Training in Hyderabad.
Why Choose Our Brolly Academy Institute For SMM Training?
Brolly Academy is known for providing the best SMM training in Hyderabad with our exclusive training method. The training program is conducted by our highly qualified professional expert trainers with 15+ years of experience in Social Media Marketing where they will guide you to becoming a skilled professional in this Social Media Marketing Program and make you a job-ready candidate. Here are some reasons why you should consider Brolly Academy for SMM Training in Hyderabad?
Brolly Academy's Placement assistance programs in Hyderabad offer you the best SMM training in Hyderabad. Our dedicated team will conduct the placement assistance program by guiding our candidates for Interview preparation. This program includes mock interviews, career counseling, Q&A sessions, and resume preparation facilities, to make sure our candidates are fully prepared for their interviews.
A compulsory course completion certificate will be issued to all our students from Brolly Academy after they successfully complete the SMM training course in our Institute. We also provide a 2months internship in SMM to our trainees whoever is interested to do it. Our certificate is 100% valid and recognized by many companies, which can be used to apply for jobs in Social Media Merketing (SMM). The certificate provided by us will add more value to your resume.
Get Free Access To Advanced Paid Tools
We are training our trainees by providing paid tool access during the SMM training period with hands-on practical real-time working experience and our students can use it for free throughout the training program.
We have the best professional trainers in the field of Digital Marketing at our Institute who will guide for the SMM training. Our trainers are real-time experts with 15+ years of experience and have practical in-depth knowledge in SMM field. They have a good record of training students, working professionals. They will train you throughout the training period and even guide you after the training program is completed.
At our Brolly Academy, we will conduct interview QandA sessions for all our students with group discussions and also mock interviews on each topic of the SMM course for better preparation for your technical interview and this will help you to get a better job in the SMM line. We have a dedicated support team available 24/7 to help you with any technical queries you may have during the course.
Beginner Friendly SMM Curriculum
The SMM Course is designed by well-trained instructors, and its purpose is to make students industry ready so that their new skills will help land them a good salary hike in the field if Social Media Marketing.
Brolly Academy does not charge students any additional fees for the Social Media Marketing training programs or for any tools used during the training in Hyderabad. All tools are free with no extra charges.
We've designed our course schedule so that students can take classes at any time of day and access class materials online.
Testimonials of Social Media Marketing Training in Hyderabad
By Enrolling in Brolly Academy's SMM Training in Hyderabad you can get the most effective SMM Certification Training from our expert tutors. After completing the Social Media Marketing Training course at Brolly Academy you will receive the course completion certificate from us. This course certification provided by us is recognized by the top companies across the world, and this certification will double the value of your resume. You will get Brolly Academy's Course Compilation Certification along with we offer Brolly Academy's Internship Certification. This Internship certificate you will get only after completing the Internship program. Our certification programs are recognized by the top Industry and our aspirants get placed in many Multinational companies across the world. With the help of our certificate, you can apply for a leading job post in the Social Media Marketing field.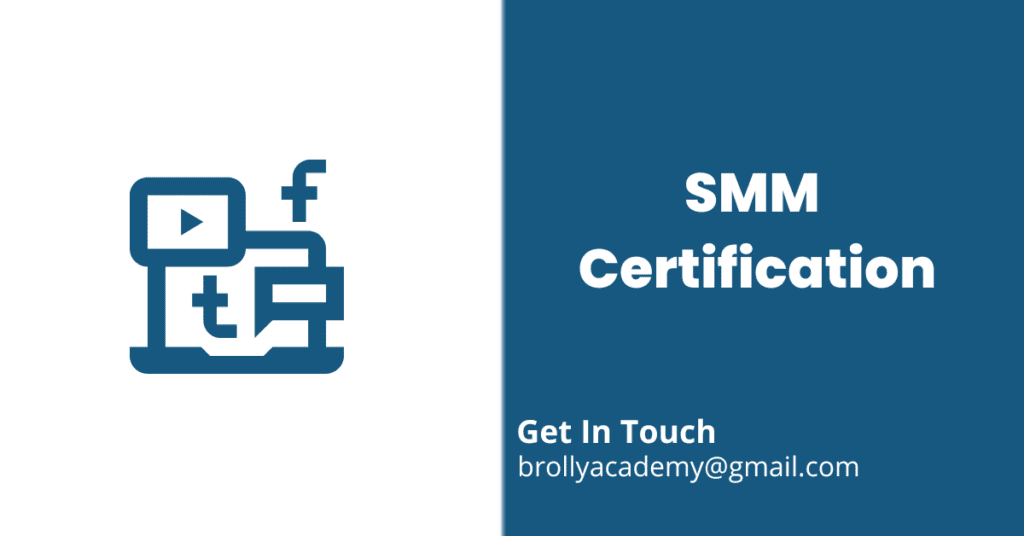 Social Media Marketing Platform That You Will Learn
Facebook Marketing is one of the most considered and utilized in Social Media Marketing strategies. We can promote our business worldwide, successfully and productively by using Facebook Marketing. Learn about Lead generation, business page creation, Facebook Ads creation and targeting, Creating loyal customers etc in the SMM training.
LinkedIn is a major business exchange & professional platform. It is also considered as one of the primary factors for business promotions. Learn how to optimize LinkedIn profile, LinkedIn groups, create and post ads, targeting options, reports analysis and more in the SMM training.
To keep engagement on a particular topic Twitter marketing is one of the best platforms in Social Media. You can get more traffic by adopting a successful Twitter marketing strategy. Learn to use trending hashtags, create ads budget and bid settings, conversion tracking, remarketing strategy in the training program.
Many people are using Youtube nowadays as a source of income by uploading videos/ promoting different businesses and generating an ample amount of revenue from it. Learn about how to Create and customize YouTube channel, rank YouTube videos, engagement metrics, YouTube tools, and plugins from this SMM training.
Instagram Marketing strategy helps to promote your business through complete unpaid as well as paid campaigns. You can calculate and figure out the reach for paid and unpaid campaigns easily based on the number of leads and sales generated. Learn about the content strategy for Instagram, how to use stories, hashtags, IG TV, Instagram ads, reports, and analysis throughout the training.
Learn about how to Set up Quora, how to write engaging content, create Quora business page, Quora campaigns, Quora advertising in the course.
Advantages of Learning SMM Course
Completion of the SMM Course you will learn
Prerequisites to Learn SMM
Who should take up this SMM course?
● Digital Marketing Career Aspirants.
● Bloggers Aspirants.
● Small Business Owners.
● Web Developers.
● College students
● Job Aspirants
● Affiliate Marketing
● Social Media Analyst
What is the SMM Salary as per Market?
The average salary for the Social Media Marketing field starts with 4LPA to 8LPA in India.
Which are the fields we can you Social Media Marketing?
Social Media Marketing used in the website to increase traffic, generating leads, and build brand value in the sectors of Tourism, Airlines, Banking, Beauty products, Entertainment, Health care, Fashion industry etc. using platforms like Facebook, LinkedIn, Instagram and Twitter.
Will I be provided to work with a project during the training?
Yes, our training is based on real time project oriented, you are also provided to work with it during the training.
Will I get an Internship after the completion of my SMM training at Brolly Academy?
Yes, we do offer a SMM internship for 2 months along with the course.
Will I get a refund if I want to cancel the training?
You will get a 100% refund only within the first 3 days of enrollment after that no refund can be issued from our institute.
Can I get a job assistance after the training?
Brolly Academy will provide you with a quality Social Media Marketing course in Hyderabad with job assistance. In this program we will help you to prepare a professional resume and conduct mock interviews that will help you during your interview placements.
Which are the most popular social media platform we use?
The most commonly used social media platforms are: Facebook, Instagram, Twitter, LinkedIn, etc.
Do I really neeed to know about Social Media Marketing?
Yes, today's world has shifted to the digital age. People of all agegroup have more interested in to this, and you can use social media for your business to increase the brand value and target audience on social media platform.
Do I need to pay extra amount for the course completion certificate?
No. The cost of the certificate is included in the programme package.