Dell Boomi Training in Hyderabad
100% Placement Assistance
Dell Boomi Training in Hyderabad Batch Details
Dell Boomi Course Curriculum
Key Points Of Dell Boomi Training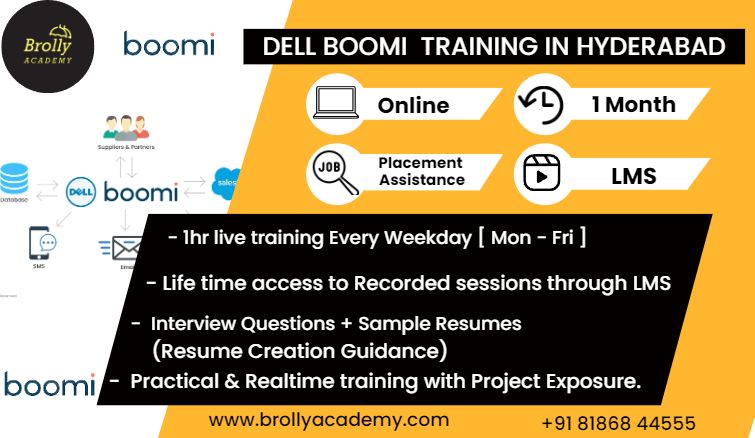 Dell Boomi is a cloud-based integration platform also known as IPaaS (Integration platform as a service)

Using a visual designer and several pre-configured components enables businesses to quickly integrate applications, partners, and clients via the web.

The platform enables users to transmit data across cloud-based and on-premises apps and design cloud-based integration procedures known as Atoms.

Dell Boomi makes it easier to connect to and integrate with business processes.

Boomi provides end-to-end functionality in addition to data quality governance, API management, application integration, workflow automation, and management of B2B/EDI networks.
About Dell Boomi Training in Hyderabad
Dell Boomi is one of the best cloud integration software products and a must-have for anyone using cloud technologies. 
It allows any combination of on-premise applications, Software as a Service and cloud to be connected with no need for appliances or cording.
The Dell Boomi integration platform makes it easier to use SaaS, PaaS, and cloud applications by simplifying the complex technologies used in these systems. 
Dell Boomi allows developers to create an integrated business process, where input data is transformed and then outputted. 
By taking this Dell Boomi course, you can become an expert in areas such as –
Atom Configuration

Building SOAP and REST in Boomi

Exception Handling

Different Connectors Process Deployment etc..
Brolly Academy provides Dell Boomi training in Hyderabad and focuses on applying real-world examples to advanced learning methods, giving people the learning they need to clear the Boomi certification exam with ease.
Our trainers are highly experienced professionals in Dell Boomi technology with 8+ years of experience and they will be training you to develop the skills required to become a proficient Dell Boomi expert. 
We are dedicated to providing a high-quality training in Dell Boomi in an affordable price range for all our candidates. 
Brolly Academy offers 3 types of training modes in Dell Boomi technology: online Dell Boomi training, classroom Dell Boomi training and Dell Boomi Self-paced Video learning. 
Our placement support team provide real-time guidance on how to approach the job market, Dell Boomi Resume preparation, Interview preparation to all our candidates that help them with landing in a good job. 
Upon successful completion of the course, a course completion certificate will be issued to all our candidates by Brolly Academy.  
Join Brolly Academy for Dell Boomi training in Hyderabad and build a lucrative career. 
Dell Boomi Online Training

Brolly Academy's Dell Boomi training online program offers a convenient and engaging way to learn this technology. Our online training session will be delivered through e-learning platforms which is a fully interactive instructor-led course that covers all the key concepts and practices needed to get started with dell boomi.
Dell Boomi Training Videos

Brolly Academy's Dell Boomi Video Course is a set of live classroom recordings, as well as dell boomi training material pdf. It offers a self-paced learning experience that covers all the core topics of Dell Boomi. Students can educate themselves from any part of the world at any time, with access from any device. They can attend our weekend doubt clarification if they have any doubts about the subject.
Why choose our Brolly Academy Institute?
Interactive Group Discussion

Brolly Academy promotes a communal learning environment where students can exchange their Dell Boomi expertise and discuss theories for a shared knowledge base.
Small Training Batches

Brolly Academy only takes in a small group of 10-15 students for training in each batch. We believe that this approach is more effective and provides a personalized learning experience.
Top-Notch Faculty

We have a team of well-experienced Dell Boomi instructors who are Professional real-time working consultants who offer hands-on experience based on live scenarios of Dell Boomi technology. They will guide you through the basics and advanced concepts.
Industry Relevant Curriculum

You can learn the latest Dell Boomi technology from Brolly Academy. Our Dell Boomi course curriculum is constantly updated to keep pace with the emerging technologies in this field, so our students are always ahead of others.
Post Training Support

At Brolly Academy we provide post training support to our students who enrolled for Dell Boomi course. Our dedicated team of experts has been training and mentoring individuals with an aim to give them a platform to develop their skills.
Remote Location Study

With Brolly Academy's remote learning (Online, Self-paced video) facilities one can now learn and become an expert in their chosen fields anywhere around the world. Enroll in our Dell Boomi remote learning options and jumpstart your career in today's technology.
Dell Boomi Certification

Brolly Academy's Dell Boomi course is designed to prepare you for the certification exam and help you become a certified Dell Boomi professional in the current technology field. Our trainers give you full-fledged training and prepare you for the Dell Boomi certifications.
Access to Dell Boomi LMS

We provide you free access to our online learning management system (LMS) upon enrollment. This will include access to our exclusive video recordings, live training courses, assignments and case studies of Dell Boomi training.
Market Trend in Dell Boomi
Dell Boomi is a platform for 100% native cloud integration allowing companies to automate business processes.

In 2022, more than 2726 businesses started using Dell Boomi as a tool for cloud integration.

Technology (98), Cloud (89), and Digital Transformation (87) are the top three industries using Dell Boomi for Cloud Integration.

The top three countries where Dell Boomi is used for cloud integration are the United States (65.05%), Australia (5.36%), and India (5.29%).

The market share of Dell Boomi in the cloud integration market is 2.10%.
Testimonials of Dell Boomi Training in Hyderabad
Brolly Academy's Dell Boomi training course is very effective and designed to clear the Dell Boomi certification exam conducted by Boomi. 
The entire course content is in line with this certification and prepares our students to tackle the Dell Boomi  technology easily, to get the best jobs at top MNCs. 
By enrolling in our Dell Boomi Training course, students will receive access to real-world industry scenarios and projects. 
Upon the successful completion of the Dell Boomi course Brolly Academy will provide a course completion certificate on Dell Boomi to its students which comes with a life time validity.
Different types of certification that Dell Boomi provides – 
Integration Developer Certification

Architect Certification

Administrator Certification

API Management Certification

EDI Certification

Flow Certification

MDH Certification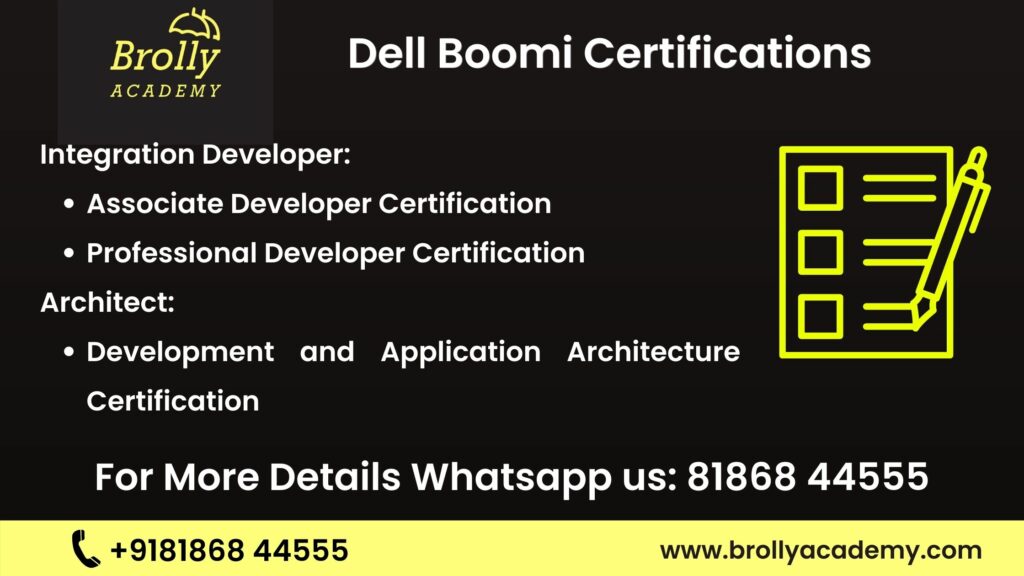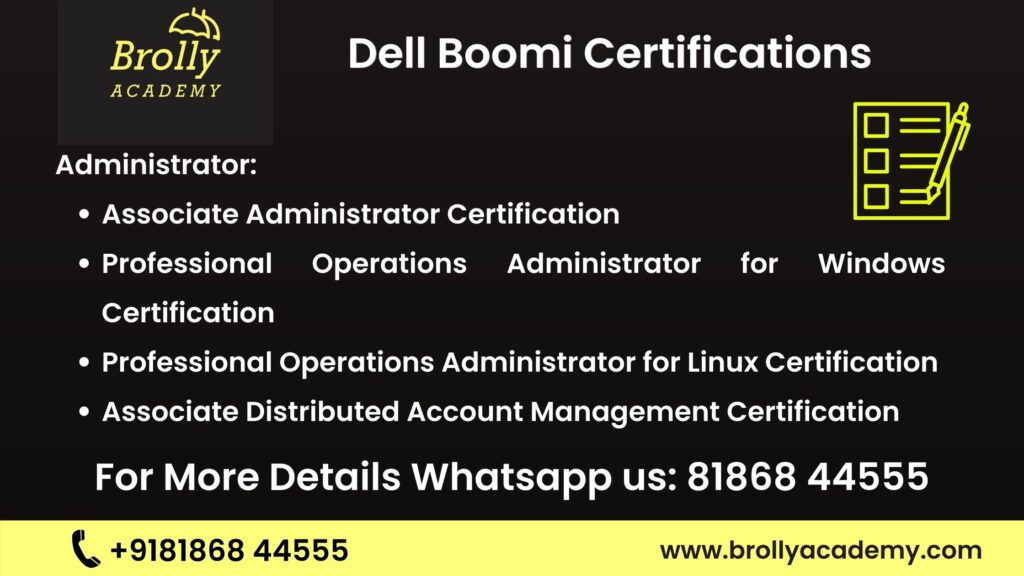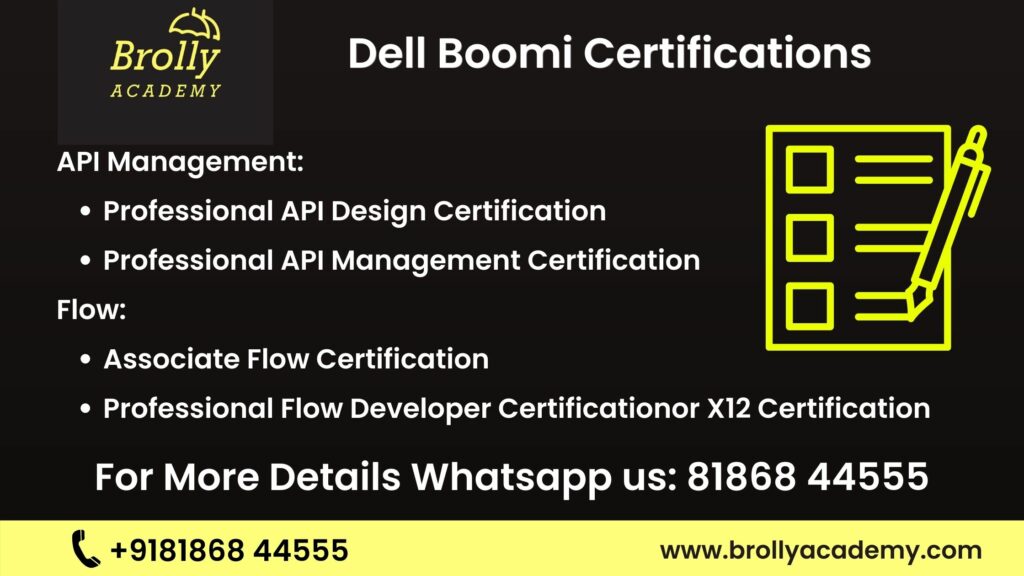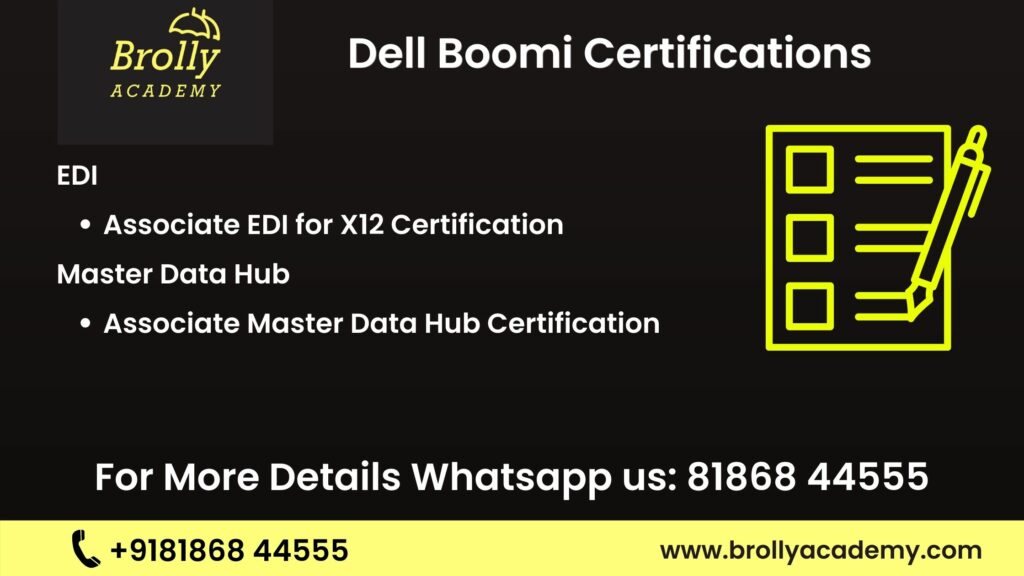 Advantages of Learning Dell Boomi course
Employment possibilities in Dell Boomi -
Dell Boomi has been a leading contender for the IPaaS market ever since it first entered the market.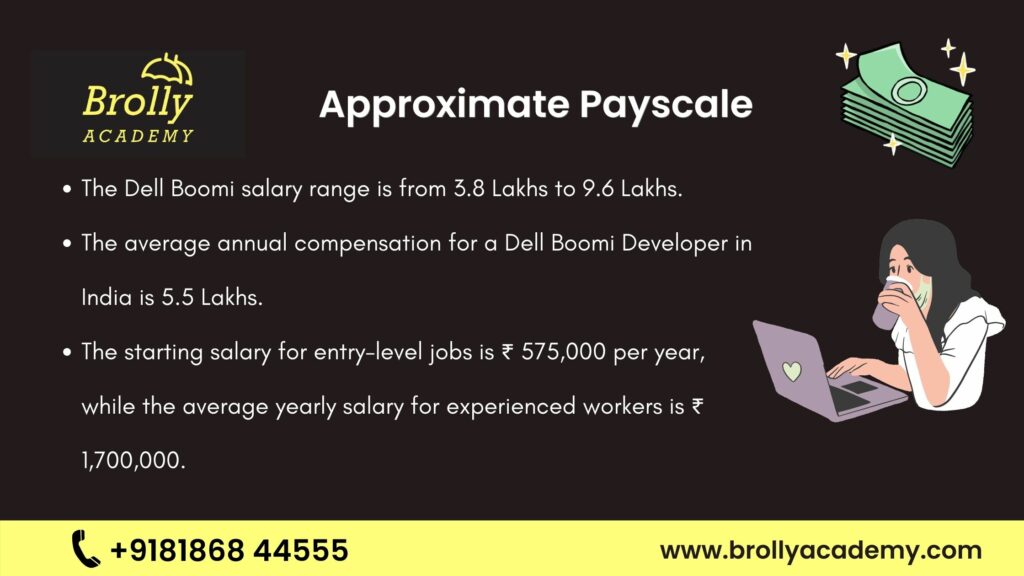 Completion of the Dell Boomi course -
Prerequisites to Learn Dell Boomi
Who can learn the Dell Boomi course?
Is dell boomi easy to learn?
Brolly Academy's Dell Boomi training provides comprehensive, hands-on instruction in the latest version of this technology.

With our step-by-step approach, you'll find it easy to learn and build a basic integration and master any advanced use cases as well.
Is Dell Boomi training worth to learn?
Learning Dell Boomi is one of the most in-demand skills. This training will increase your data integration skills and create more job opportunities.

By learning this program, you'll be able to command real-time scenarios and get ahead of your peers.
What is dell boomi technology?
Dell Boomi AtomSphere is an on-demand cloud integration platform for connecting applications and data across the cloud.

With it, businesses can design their own processes called Atoms connecting apps or systems in new ways each time they're used and transfer any kind of information between them.
What is Dell Boomi used for?
Boomi is a business unit acquired by Dell in 2010, specializing in integration platform as a service (iPaaS), API management and data preparation.
What is dell boomi developer job?
Dell Boomi developers are responsible for Developing, optimizing, and implementing scalable integrations to automate business processes using Dell Boomi.

Thay analyze source system data, determine needs, and provide inputs to design solutions in dell boomi.

Providing administration of the Dell Boomi Integration platform, including process integration, maintenance and deployment/release management; security support; error resolution.

They provide ongoing production support to the existing clients.
What are the dell boomi job description?
Analyze source system data, determine needs, and provide inputs to design solutions.

Administration of the Dell Boomi Integration platform, including process integration, maintenance, and deployment/release management.

Security aspects as well as support for customers dealing with errors are also included in this responsibility.
How much is the dell boomi license cost?
Pro Plus Additional functionality to support real-time integration needs costs - $2,000/month.

Enterprise Advanced features to support complex enterprise needs costs - $4,000/month.

Enterprise Plus Advanced features and connectivity to support large enterprise needs costs - $8,000/month.
What are the dell boomi jobs for freshers?
Dell boomi SME
Dell boomi Developer
Dell boomi professional, etc…
How much is the dell boomi salary in india?
The average dell boomi salary in India is ₹ 1,400,000 per year.
How much is the dell boomi developer salary?
Dell Boomi developer salary in India ranges between ₹ 3.8 Lakhs to ₹ 10.0 Lakhs with an average annual salary of ₹ 5.6 Lakhs.
Will brolly academy provide Dell boomi interview questions?
Yes, we offer a placement assistance program that includes interview questions for job interviews, mock interviews with feedback from instructors and more.
What is the dell boomi course duration?
The Dell Boomi course duration at brolly academy is 2months.
How much is the dell boomi certification cost?
Please contact us on the contact details available on our website or send us an email to know about the complete information about the certification cost.