Windows Powershell Training in Hyderabad
100% Placement Assistance
Windows Powershell Training in Hyderabad Batch Details
Windows Powershell Course Curriculum
Key Points of Windows Powershell Training in Hyderabad
About Windows Powershell Training in Hyderabad
Do you want to learn how to automate tasks, write scripts, and manage projects in a Windows environment to improve your IT skills? Look nowhere else! Brolly Academy is proud to provide thorough PowerShell training in Hyderabad to help you unlock the full potential of this adaptable technology.
You become an expert in automating batch processing and creating system management tools through Brolly Acadamy's PowerShell training in Hyderabad. With the help of WS-Management, CIM allows management and other administrative activities on local and distant systems, to facilitate your work. 
Along with practical projects and assignments, this PowerShell training in Hyderabad covers the PowerShell command line, network configuration cmdlets, PowerShell command syntax, passing pipeline data, enumerating objects, PSDrivers, PSProviders, scripting constructs, manipulating variables, error handling, and Windows PowerShell remoting. 
Additionally, trainees will learn how to automate networking, Azure cloud, and monitoring-related duties. To launch your career as a successful PowerShell developer, enroll in our PowerShell online training in Hyderabad.
Modes of Course - Windows Powershell Training in Hyderabad
Windows Powershell Course Online:

We at Brolly Academy have the privilege to provide an engaging and thorough Windows PowerShell Course Online. Our online course provides a method to learn PowerShell scripting and automation from the comfort of your own home. It is designed to fulfill the demands of IT professionals, beginners, and advanced users alike.
Windows Powershell Classroom Training:

Our Windows PowerShell Classroom Training provides a structured and interactive way to learn PowerShell for people who prefer an in-person, classroom-based learning experience. Participate in discussions, ask queries, and work together with your peers. A dynamic and enriching learning experience is fostered by our interactive classroom environment.
Windows Powershell Self-paced Video Training:

Our Windows PowerShell Self-paced Video Training is the perfect option if you like to learn at your own pace. You can always access the course materials and video lectures. Adapt your training to your responsibilities and availability by studying at your own speed. Enjoy unlimited access to the course materials so you may review and reinforce your understanding whenever you want.
Why choose us for Windows Powershell Training in Hyderabad?
Expert Instructors:

Our training course is instructed by seasoned IT experts with more than 10 years of PowerShell experience. They bring practical knowledge from the field into the classroom, giving you insights and best practices that go beyond the limits of theory and textbooks.
Comprehensive Curriculum:

Our training course is carefully structured to cover everything from basic PowerShell concepts to advanced scripting and automation methods. Our curriculum is designed to match your unique needs and ability level, whether you are a beginner or an experienced IT professional.
Practical Learning:

We think that utilizing PowerShell is the best method to understand it. Because of this, we place a significant value on practical training and real-world situations. Through practical learning and projects, you'll have the chance to put what you've learned into reality.
Certification:

After successfully completing our Windows PowerShell training course, you'll be awarded a certificate that certifies your knowledge which is accepted by the industry including the top organizations. This certification could help you progress professionally.

Placement Assistance:

We are dedicated to helping you succeed in both your training and in your job. Our placement assistance program is intended to assist you in finding job opportunities that complement your abilities and career goals, helping you get into the workforce.
Affordable Fees:

We recognize the value of reasonable costs for education. Our training courses are reasonably priced so that everyone who wants to become a professional can receive top-notch PowerShell training.
Testimonials for Windows Powershell Training
Benefits of Windows Powershell
Secure scripting engine:

PowerShell's configuration management functionality gives the user control over security. Users can select which scripts to put through a visual review using this functionality. Given that dangerous scripts are difficult to spot visually, customers might benefit from automated security policies. This policy is only in action when the user chooses it to be. PowerShell only executes scripts that have been given an identifying name when it is made active. This is a reasonable alternative to running harmful programs on your computer, which might let hackers from the internet.
Automation and Scripting:

Powerful automation skills are one of Windows PowerShell's most well-known strengths. It enables IT specialists to automate repetitive tasks, minimizing the demand for manual involvement. This reduces the chance of human error while also saving time. It is possible to script and schedule tasks like software installation, log analysis, and user provisioning to free up IT staff time for more strategic projects
Easy access to information:

PowerShell can open data that is difficult to access, despite the fact that all command lines have access to the computer's file system. PowerShell is based on the Microsoft.NET framework, which explains this. With the help of this special function, IT specialists can automate and remotely manage each Windows PC connected to a business network. IT administrators can have complete visibility and control over every file system in their network with only one line of command-line code.
Scalable Management:

We are aware that updating the operating system on a PC merely requires a few clicks. However, it can take a while to install those upgrades on a small office's handful of desktop PCs and laptops. Consider how long it would take to update 563 various PCs across a few locations without harming your workforce's total productivity. When performing a task more than once, smart IT administrators use PowerShell to script a cmdlet. PowerShell can swiftly do any task that can be completed with a few mouse clicks via a graphical user interface.
Integration:

Numerous Microsoft services and products are smoothly integrated with PowerShell. This means that among other things, PowerShell cmdlets can be used to handle Microsoft Azure, Office 365, Exchange Server, SharePoint, and SQL Server. It streamlines administrative procedures and makes Microsoft-centric systems easier to operate.
Consistent API:

Windows is known for using APIs like Windows Management Instrumentation (WMI) & Component Object Model (COM) that are inconsistent or insufficient. As a result, they are ineffective in transporting requests to and from browsers. However, PowerShell is an API that third parties use that is entirely comprehensive and consistent. This is the Power Shell's REST API. Utilizing the "Invoked-RestMethod" cmdlet, it is triggered. It only takes a request via HTTP or HTTPS to activate this. An API request would be made to obtain data from a URL.
Windows Powershell Training Certification
At Brolly Academy, we're dedicated to giving you the top-notch IT training you need to succeed in the ever-changing tech industry. Our commitment to your professional development is evidenced by the Windows PowerShell Training Certification that we have provided.
The curriculum for our certification program is extensive and covers every aspect of PowerShell automation and scripting. We make sure you get a well-rounded education, covering everything from fundamental ideas to sophisticated scripting skills.
Upon successfully completing our certification program, you'll receive a globally recognized certificate from Brolly Academy. With this certification, you can stand out on the job market as someone who is knowledgeable about PowerShell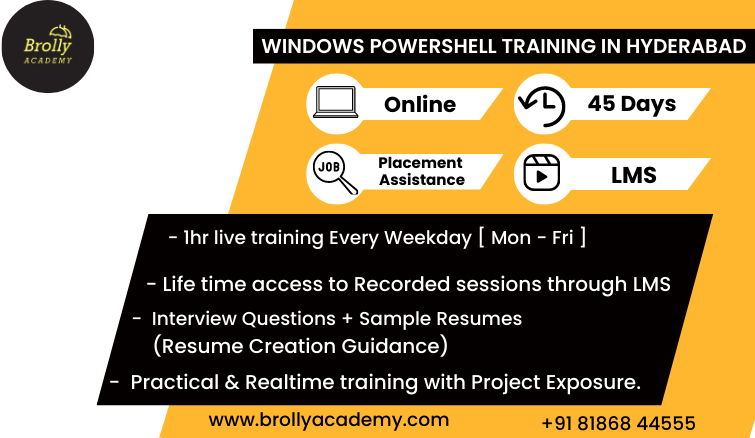 Skills Developed Post Windows Powershell Training in Hyderabad
Career Opportunities in Windows Powershell
Windows PowerShell offers a wealth of interesting job prospects in the field of information technology in addition to being a potent scripting and automation tool. Windows PowerShell experts are in high demand as businesses rely more and more on automation and effective system management.
learning Windows A wide range of job paths in the dynamic world of information technology are made possible with PowerShell. PowerShell competence is a vital skill that can help you succeed in your chosen professional path, regardless of whether you are interested in system administration, cloud computing, security, or database management.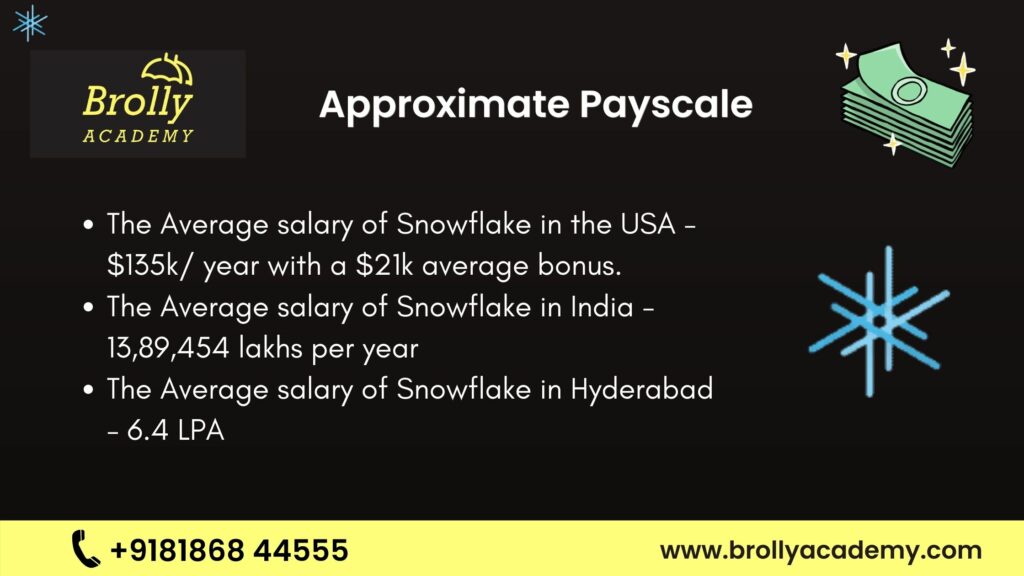 Prerequisites of the Windows Powershell Course
1. What is Windows PowerShell?
Microsoft created Windows PowerShell, a potent command-line shell and scripting language. It's intended to streamline administrative processes and improve Windows system management.
2. Is Windows PowerShell only for IT professionals?
No, Windows PowerShell can help anyone who wants to automate operations or carry out advanced system management on Windows systems, even if it is a useful tool for IT experts.
3. How do I open Windows PowerShell?
Press the Windows key, type "PowerShell," and then press Enter to launch Windows PowerShell. Additionally, there are options to launch particular editions like PowerShell 7 or PowerShell ISE.
4. Who can benefit from Brolly Academy's Windows PowerShell training?
Anyone wishing to improve their scripting and automation skills on Windows systems, including IT professionals, system administrators, developers, and others, should take the Windows PowerShell course offered by Brolly Academy.
5. Are the trainers at Brolly Academy experienced in PowerShell?
Yes, all of our instructors have many years of practical expertise and a thorough understanding of PowerShell. They are committed to seeing you succeed in using PowerShell and have a wealth of real-world expertise.
6. What are the prerequisites for enrolling in the Windows PowerShell training program?
There are no specific prerequisites for beginners. However, having some basic knowledge of Windows operating systems can be beneficial.