SCCM Training in Hyderabad
100% Placement Assistance
SCCM Training in Hyderabad Batch Details
Key Features Of SCCM Training
SCCM Training Course Curriculum
About SCCM Training in Hyderabad
System Center Configuration Manager is a systems management software product by Microsoft for managing large groups of computers running Windows, Mac OS X, or Linux. It can also be used to manage mobile operating systems like iOS and Android. Configuration Manager offers remote control, patch management, software distribution, and operating system deployment features. Microsoft System Center Configuration Manager is a systems management software product for managing large groups of computers running Windows, Mac OS X, Linux, or UNIX, as well as mobile operating systems such as iOS.
Brolly Academy's SCCM training programs equip professionals with the skills needed to implement the system. During this SCCM training in Hyderabad, you'll learn how to use the configuration manager site system roles; analyze a working SCCM console; and establish network firewall settings for SQL database servers. This course would provide students with the tools to define project boundaries and identify customer requirements, and deploy configuration management clients for hardware and software inventory. The online instructor-led course includes advanced topics such as mobile device management, endpoint protection, and power management.
We at Brolly Academy work on providing quality SCCM training that will give the students a detailed knowledge of the course, its technicalities, and skills. Our expert mentors will guide them through the SCCM program to ensure that they land a high-paying job.
The certificate provided by Brolly Academy for completing the SCCM course can be used to enhance your resume and this certificate is recognised by many corporate companies world-wide.
SCCM training in Hyderabad by Brolly Academy is available in three different modes: in-class SCCM training; online SCCM training; and self-paced recorded SCCM video Training. You will be trained by our top-notch expert trainers in this SCCM training course, as they will teach you how to apply the various applications and their implications.
In addition to providing a high-quality SCCM training program, Brolly Academy also offers its trainees access to our free job placement assistance program.
Enrolling in our SCCM training course in Hyderabad at our Brolly Academy can help you become a Microsoft Certified System Center Configuration Manager.
Why choose our Brolly Academy Institute?
We are known as the best SCCM Training Institute in Hyderabad for our exclusive training method. The training program is led by our expert trainers with more than 10 years of SCCM industry experience who will guide you through the training and help you become a professional in this SCCM training program that will make you a work-ready candidate. By enrolling in our SCCM course, you will get the best mentorship for mock interview preparation, resume creation and Q&A session for your interview purpose.
Here are some reasons why you should enroll in our SCCM course in Hyderabad.
We've designed our course schedule to accommodate students' needs by offering flexible times and user-friendly features.
Brolly Academy's trainers have the best experience in SCCM, with 9+ years of real-life work expertise. They will ensure that students are trained effectively within our training program so they acquire all necessary skills from our experts!
Because we train small groups of 10 students per batch, our teachers are able to give each student individual attention.
We at Brolly Academy provide a dedicated support team for all of our students, no matter what hurdles they're facing.
No additional or accessory fees are charged for any of Brolly Academy's Hyderabad-based software training programs.
Upon completion of our SCCM certification course in Hyderabad, students will receive a certificate that employers recognize as evidence of their proficiency with the software program.
We will provide you with lifetime access to our study guide and learning management system
Our placement team will guide you through each step of the job-hunting process, including how to apply for jobs, prepare for interviews and more.
Testimonials of SCCM Training in Hyderabad
Certification in SCCM Training
SCCM Training Certificate Trained by our real-time expert tutors at Brolly Academy in Hyderabad is very effective. The entire course content is developed based on real scenario-based concepts. Our certification is recognized by the top companies across the world, and this certification will double the value of your resume. With the help of our certificate, you can apply for a leading job post. This certificate you will get only after successfully completing the training period.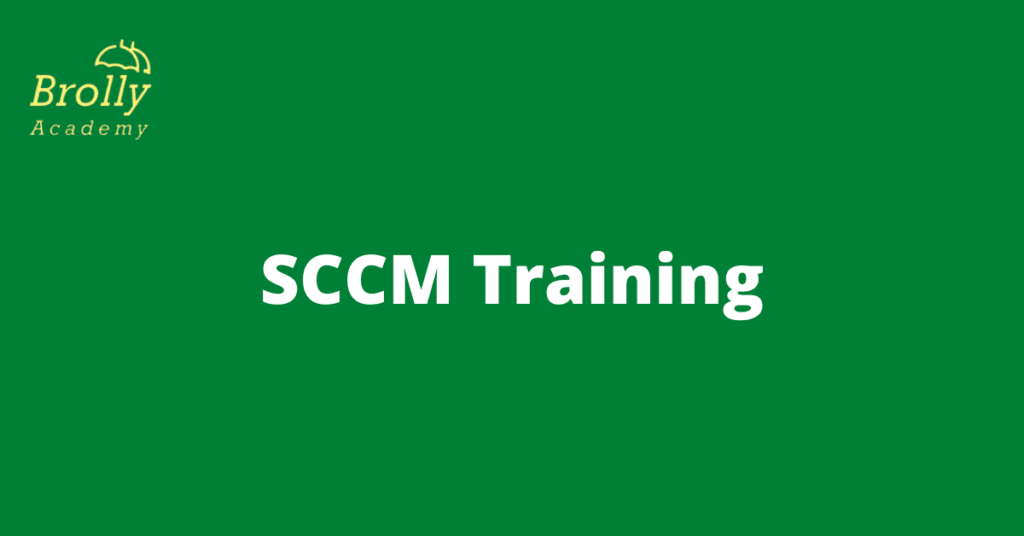 Advantages of this SCCM course
Objective of SCCM course:
Prerequisites to Learn SCCM
There are no specific requirements, Anyone who is interested in learning this module can register online and start learning configuration and deployment concepts.  However,
What are the assistances can I expect from you?
You will be provided the Resume preparation, Mock Interview Preparation and Certification guidance at our Brolly Academy.
What if I have more questions regarding SCCM Training?
You can always contact us if you have any further questions about SCCM training.
How much will it cost me for the SCCM Course?
For more information about the SCCM course fee structure, please visit our website or contact us at the number given.
Will I get a job assistance after the compilation of this SCCM Training?
Yes, at Brolly Academy we help our students prepare for interviews and create resumes. This service is available to all graduates of our SCCM Training certification program.
Who will be my trainer in the SCCM course?
At Brolly Academy, our SCCM expert trainers will guide you throughout your training they have extensive experience in the industry.
Do you provide training on the latest technology version of SCCM?
Yes, our courses are updated regularly to keep up with changes in technology.
What if I miss any classes on the SCCM Course?
We will reschedule the SCCM classes to accommodate your schedule, as long as we are aware of all possible options.
Who should take this SCCM training course?
● Windows Administrators ● System Administrators ● IT professionals ● Desktop Engineers ● Professionals who want to extend their skill set with advanced technologies.
Can I get access to the course material online?
Yes, you will be able to access our student portal with study materials, videos, and top-MNC interview questions for a lifetime once you enrolled.
What are the six areas of SCCM which work in union for identifying, defining and monitoring the scope?
There are six areas of SCCM which works in union for identifying, defining and monitoring the scope such as - Requirements Management, Solutions Development, Benefits Management, Change Management, Change Control, Configuration Management.