Cognos Training in Hyderabad
100% Placement Assistance
Cognos Training in Hyderabad Batch Details
Key Points Of Cognos Training in Hyderabad
About Cognos Training in Hyderabad
Cognos is a business intelligence software that helps organizations to better understand their data, make faster decisions and increase profitability. It offers several features including dashboards, scorecards, reports and analytics. It is a comprehensive enterprise-level BI solution that helps organizations to gain insights into their business. It provides users with an easy-to-use and intuitive interface, which makes it suitable for both technical and non-technical users. Brolly Academy offers the best Cognos training in Hyderabad with a detailed course program.  
The training will cover the following topics like Introduction to Cognos, Installation of Cognos BI Suite, Creating Data Sources ,Creating Reports, Creating Dashboards, Adding Calculations to Reports, Creating Scorecards, Data Analysis with Cognos, BI Security in Cognos, BI -Creating a Custom Report, Using Cognos BI in an Oracle E-Business Suite Environment, Querying Data with the Query Designer, Creating Data Models and Relationships, Using Data Views -Implementing Security in Cognos BI and more. 
Brolly academy offers a wide range of courses that include both IT and software training courses in Hyderabad with updated course curriculums and modules. Brolly Academy's training program will prepare you to take the Cognos certification exam. Completing this advanced course will give you a distinct advantage in the job market, as well as distinguish your skills from those of other candidates. 
The certificate will be issued when the student finishes all of the modules included in a course. Brolly Academy's cognos certification course can verify your skills and experience. This expert training is given by trainers with 8+ years' experience in the industry and is specifically designed for both working employees and students. We offer online training, video-based courses in Hyderabad and classroom-oriented training to suit the learning needs of all kinds of trainees. Our placement cell helps guide students by training them for interviews and job placements. 
Enroll with us to get the most comprehensive Cognos training in Hyderabad.
Modes of Training For Cognos Training in Hyderabad
Why choose us for Cognos Training?
Our experts are highly skilled and experienced with complete technical knowledge of industry specifics and requirements. They can provide guidance or fulfill your career-related apprehensions, while respecting the complexity involved in such matters. 
Learn Cognos anytime, anywhere
Cognos online and video training is easy to understand, whether you're learning in your own time or with a group. Our instructors work hard to make sure that classes are consistently scheduled and well-run.    
No additional or hidden charges are imposed for any of Brolly Academy's course training in Hyderabad. The courses are conducted by well-trained and experienced faculty members who are experts in their respective fields.
We train students with the given curriculum and guide them through job interviews by providing multiple exclusive frequently asked interview questions, a round of mock interviews and mock tests. These exercises help build communication skills.
Our support staff is always available for students with queries related to the training, fee structure, class timings and more. They will guide you or direct you whenever required with a usual quick response time.  
We have trained 50+ trainees with 20+ successful placements in some of the top companies in Hyderabad with excellent packages.
Students completing our Cognos training in Hyderabad program will receive a credential that demonstrates their achievements and makes it easier for them to obtain work at leading companies around the world. Our Cognos certificate also comes with a global acceptance.
We accept a small number of students at any given time, so that our trainers can provide each student with individual attention and offer them personal training. We take great pride in the success of our students and their achievements.
We will provide you with lifetime access to our learning management system, where we have assembled the most comprehensive study guide. This is a comprehensive, easy-to-use study guide that includes all the core concepts of Cognos.
Testimonials of Cognos Training in Hyderabad
After completing this course, you will receive a Cognos certificate customized by Brolly Academy that has been accepted by all major companies around the world. Our certification can be downloaded as a hard copy or digital copy as per your request. After completing this course, you will receive a Cognos certificate customized by Brolly Academy that has been accepted by all major companies worldwide. You may choose to download the certification as either an electronic copy or in hard-copy format. 
The course is designed in such a way that it will help you learn Cognos from scratch. This course is ideal for individuals who want to learn Cognos from scratch and those who want to upgrade their skills. This course will also be useful for existing Cognos users who want to gain more knowledge about the product. Brolly Academy's training and certification program is the most comprehensive training program and some of the well known Cognos certificates include –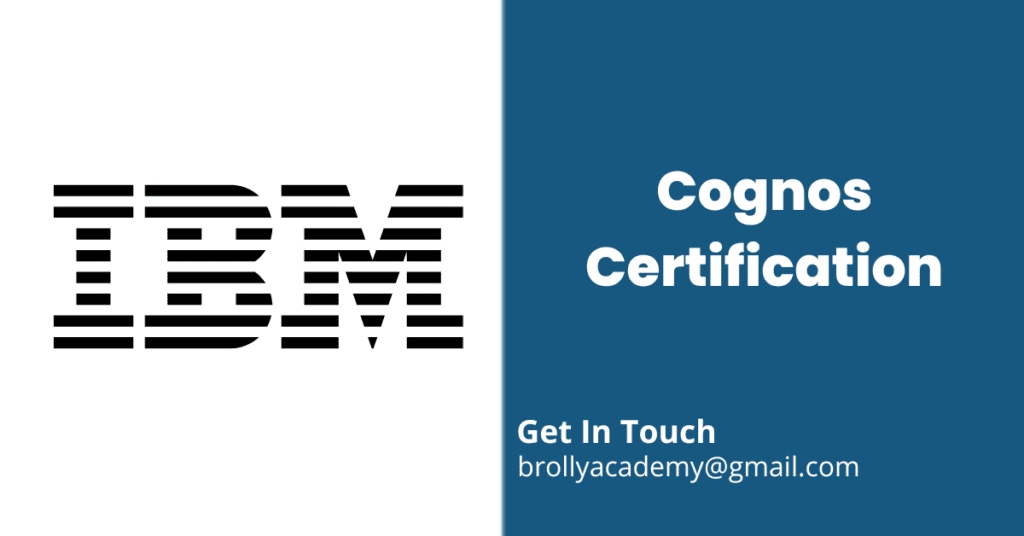 Advantages of learning Cognos training in Hyderabad
Brolly Academy's advanced Cognos training will help you gain complete understanding and competence in the course subject. Our training program provides students with an excellent working knowledge of Cognos. The curriculum builds on previous courses, bringing students to higher levels of expertise. The training will give you the skills and knowledge needed to create Cognos reports. Our training program is designed to maximize students' learning potential and prepare them for real-world applications. Students will learn the skills they need to create reports using Cognos. Our instructors are highly qualified and experienced with teaching the subject matters.
Skills developed after the Cognos course training –
Prerequisites of Cognos training course in Hyderabad
Career Opportunities in Cognos
Which is the best Cognos training institute in Hyderabad?
Brolly Academy offers the best Cognos training in Hyderabad that provides excellent advanced training and coaching services.
What is the Cognos training fee in Hyderabad?
The cost of Cognos courses in Hyderabad varies from one institute to another. Brolly Academy offers the course at an affordable price without compromising on quality
What is the average salary of a Cognos in Hyderabad?
The average salary for a Cognos in Hyderabad is Rs.2,88,000 per year.
Where can I find Cognos training near me?
We offer Cognos training in Kphb and Cognos training in Ameerpet, you can visit us or get in touch with us for further queries.
What if I miss a class?
Students can make up for missed sessions by attending our next live batch or we can also arrange backup classes for you.
Do you provide placement assistance?
Yes. To help our students land jobs after the completion of their training program, we assist them with mock interviews and resume preparation by providing personal guidance from industry experts as a part of our Cognos placement assistance.
Who are the trainers at Cognos training in Hyderabad?
The Brolly Academy's Cognos course is taught by trainers who specialize in the field and have ample working experience.