Tableau training in Hyderabad
100% Placement Assistance
Tableau Software Training in Hyderabad Batch Details
Tableau Course Curriculum
Key Points of Tableau training in Hyderabad
The following are some of Tableau's primary uses and applications:
Who needs it?/who uses it:
About Tableau training in Hyderabad
You can create interactive dashboards and develop your data visualization abilities with Brolly Academy Tableau training in Hyderabad.
The most common business intelligence data visualization tool is Tableau, now the most prioritized skill utilized by many MNCs and other reputed organizations. 
A job in Tableau can provide you with competitive compensation in both small and large businesses. Due to the increasing demand for the technology, competent tableau developers should expect to see an increase in salary in the near future. 
Fact tables, data marts, data modeling, tableau desktop, tableau online, tableau server, and tableau public are among the fundamental Tableau concepts covered in this course. 
We provide hands-on experience with connecting to the data, publishing to the tableau server, sorting, filters, building views, and filtering issues through our live projects and real-world scenarios. 
So, if you want to advance your skill set and launch your career as a Tableau developer, business analyst, or data analyst, or if you're looking for employment, a Tableau training certificate could be extremely helpful.
Best practices for dashboard design, packaged workbooks, and the most recent Tableau features are all covered in this Tableau training in Hyderabad. To become a professional and certified Tableau Developer, enroll in our Tableau online course in Hyderabad.
Modes of Training - Tableau
Our Tableau training program is offered in a variety of forms and is intended for both students and working professionals. It is a comprehensive, step-by-step training program that offers you a choice of 3 different training modes.
Tableau training online:

From beginner to expert levels, we offer online training in Tableau. Our online training is delivered through online learning environments with interactive lessons from knowledgeable instructors. Anywhere in the world, regardless of geography or time constraints, can participate in online training sessions.
Tableau classroom training:

You can attend our Tableau offline course at our training centers in Ameerpet and Kukatpally. It offers a personalized, one-on-one learning environment with expert live demonstrations and engages with the instructors directly, and get clear your doubts immediately if you have.
Tableau self-paced video course:

Our video course for Tableau is set up as a self-paced learning path. You receive a collection of expert-produced video tutorials along with tests and assignments. Earn a digital course completion certificate for Tableau while studying at your own pace from the convenience of your home.
Why choose us for Tableau training?
Experienced certified instructors:

With more than 10 years of experience in Tableau, our certified experienced trainers can help you to understand each and every concept in a detailed manner in a simple way. Both novices and seasoned professionals who wish to learn Microsoft Azure Data Engineer from the beginning can enroll in our training program.
Updated curriculum:

We adhere to an updated curriculum for the Tableau course that has been selected by knowledgeable trainers and instructors. The curriculum has been created to help you acquire the necessary skills and knowledge and is intended to give you the most recent, useful Tableau training. To help you track your progress and develop your skills, the curriculum is divided up into modules with homework assignments and tests.
Post-training assistance:

We have a special training program that helps students with their post-Tableau training. In addition to assisting you with interviews and internships in Tableau, we also give you access to some of the most popular interview questions. To help the students to get jobs at big companies, we perform several mock interviews, resume writing, and interview coaching.
Real-world practical scenarios:

We offer training for the Azure Data Engineer course that is primarily focused on technical topics. There are theoretical and practical elements to the training. A comprehensive distribution of practical labs is also included to help you practice and perfect the skills you learn.
Flexible class schedules:

We offer flexible scheduling for our Tableau training to accommodate all types of learners, such as working people, corporations, and students. In addition to corporate training, we give a free sample class and self-paced, online, instructor-led sessions. The sessions for the classes might be in the morning or the evening, and they are held throughout the week.
unlimited access to the media:

We provide course content, LMS access, video recordings for all of our learners, and a host of additional tools in order to provide you with the greatest training experience possible. You will have lifetime access to our media resources for Tableau if you are already enrolled in Brolly Academy. You will also be given a link to the course syllabus, which contains all of the information you need to know to become a Tableau expert.
Testimonials for Tableau training
We offer Tableau certification training that is meant to assist you in getting ready for the Tableau certification test. This course covers the fundamental concepts, features, and abilities of Tableau in addition to giving a thorough understanding of the Tableau platform.
We also offer a Brolly Academy course completion certificate, which is recognized and accepted by the majority of organizations. Each participant will receive a certificate after the course completion, either in the form of a hard copy or a digital certificate, depending on your preferences.
Tableau has certifications based on 3 levels. They are Foundational level, Intermediate level, and Associate level.
What are they?
Foundational level:
Tableau Desktop Specialist certification
Intermediate level:
Tableau Certified Data Analyst certification
Associate level:
Tableau Server Certified Associate certification

Tableau Certified Associate Consultant certification (Partner Certifications)

Tableau Certified Associate Architect certification (Partner Certifications)
Certification fee
Tableau Desktop Specialist certification – $100

Tableau Certified Data Analyst certification – $250

Tableau Server Certified Associate certification – $250

Tableau Certified Associate Consultant certification (Partner Certifications)

Tableau Certified Associate Architect certification (Partner Certifications)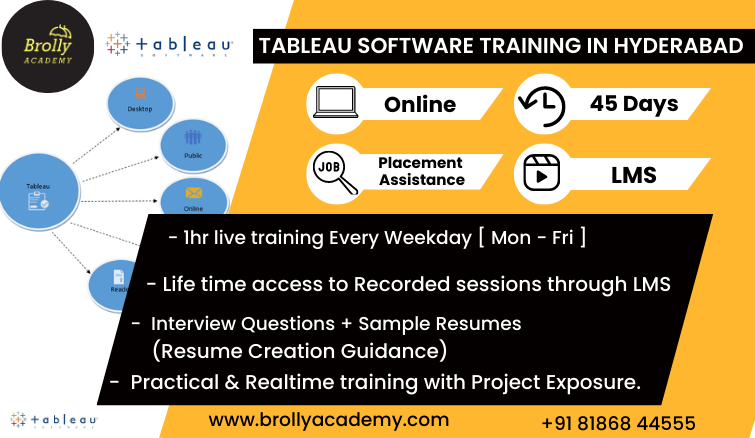 Skills developed Post Tableau training in Hyderabad
Career opportunities in Tableau
Tableau is the engine that drives the automated world, thus career opportunities there are booming every day. Numerous data analyses are needed for automation, and Tableau provides the data for those analyses. Additionally, tableau is building out a niche for itself in the fields of data analytics and business intelligence.
Numerous businesses are switching to Tableau, which daily generates a large number of tableau job possibilities. There will be a huge need for data scientists and tableau specialists by the end of 2023. Therefore, if you are considering a career in tableau, you have come to the proper place. Enroll now to start your new career.
Some of the well-known job designations of the tableau are
Prerequisites of Tableau training
what is tableau course?
You can master Tableau Desktop, a platform for reporting, data visualization, and business intelligence, with the help of the Tableau course. With the help of our Tableau training, you may advance your analytics profession and acquire real-world experience.
is tableau easy to learn?
With enough time and practice, anyone can become proficient with Tableau, which is regarded as a reasonably simple-to-learn data analysis and visualization tool. Most users learn this program in between two to six months on average.
Is coding necessary for Tableau?
There is no doubt that Tableau software has the best data visualizations. Tableau's in-depth insights are yet another powerful advantage. Tableau is an intuitive tool that doesn't need any prior technical expertise or coding knowledge.
is tableau good for career?
Tableau careers are in high demand since the data visualization tool is becoming more and more popular in both large and small businesses. There seems to be no better time than "now" to become certified in Tableau and pursue a career in business intelligence & data analytics, according to google trends.
how long does it take to learn tableau?
Most users learn this program in between two to four months on average. This process can take considerably longer if you want to learn how to use all of Tableau's features.
is tableau difficult to learn?
Learning Tableau is not difficult. Tableau offers a gentle first learning curve and is simple for beginners to understand.
is tableau desktop free?
All full-time students have free access to Tableau Desktop. Learn how to start.
which tableau certification is best?
The Best Tableau Certifications Business Analyst Master's Program Data Analyst Master's Program Business Analytics Nanodegree Tableau Server Certified Associate Tableau Server Certified Professional
What distinguishes Tableau Public and Tableau Desktop?
For those who work with business intelligence and data warehousings, such as analysts and BI professionals, Tableau Desktop is designed. Anyone who is interested in learning about data and distributing their results as data visualizations should use Tableau Public. writers, bloggers, students, journalists, and more.